If you are looking for a delicious and healthy salad that will satisfy your taste buds, look no further than the Roasted Chayote Goat Cheese Salad. This salad is a combination of roasted chayote, tangy goat cheese, crunchy walnuts and a tangy lemon mustard dressing that will tantalize your taste buds.
This Roasted Chayote Goat Cheese Salad is perfect for a quick and easy lunch or as a side dish for a dinner party. It is healthy, delicious, and easy to make. The flavors and textures in this salad are sure to please your taste buds and make you feel satisfied and full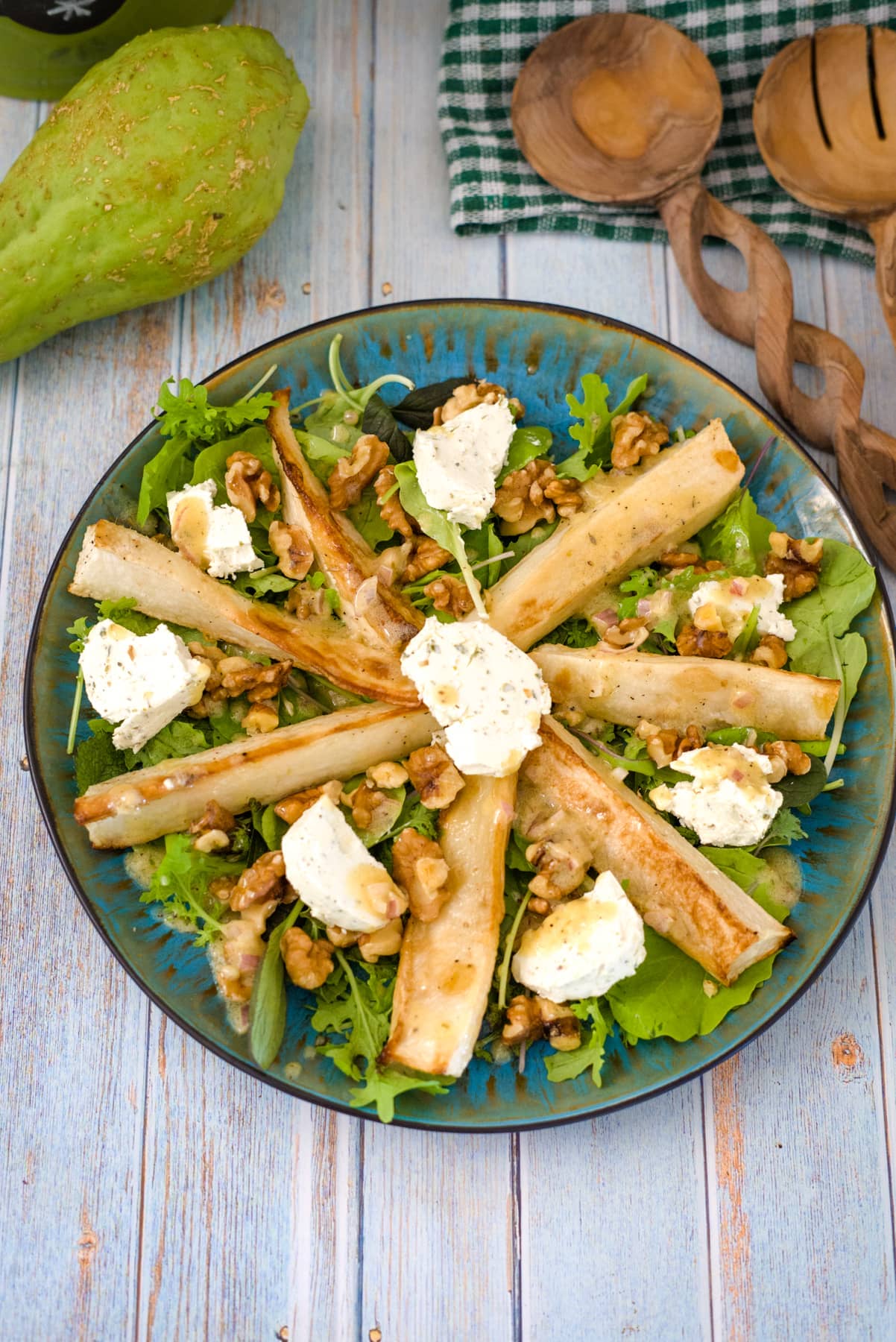 We love chayote for it's versatility. It can be used in both sweet and savory dishes. Roasting it, gives it a great flavor that goes great with goats cheese. Adding it to a tasty salad just seemed perfect for lunch!
This post may contain affiliate links. Please read my disclosure policy for more information.
Jump to:
WHAT IS CHAYOTE?
Chayote, also known as vegetable pear, is a type of squash that is native to Mexico and Central America, but now widely cultivated in many countries including the United States. The fruit is pear-shaped, light green or white, and has a mild flavor and a slightly crunchy texture when cooked. It is a versatile ingredient and can be used in many dishes, including soups, stews, salads, and stir-fries. Chayote is also a good source of dietary fiber, vitamin C, potassium, and other nutrients.
Chayote is also known as choko and christophine. We call it Christophine in Saint Lucia and it's very popular here.
Chayote can be used as a low carb replacement for apple crumble or is great baked and stuffed with cheese.
CARBS IN CHAYOTE
Christophine, also known as chayote or vegetable pear, is a low-carb vegetable that can be a great addition to a low-carb diet. According to the United States Department of Agriculture (USDA), one cup of raw chayote contains approximately 4.5 grams of carbohydrates, with 2.8 grams coming from dietary fiber. This means that there are only 1.7 grams of net carbs (total carbs minus fiber) per cup of raw chayote.
It is important to note that the carbohydrate content of chayote can vary depending on the preparation method and serving size. However, overall, chayote can be considered a low-carb vegetable and can be included in a variety of low-carb sweet and savory dishes.
INGREDIENTS
This is a simple low carb salad but is packed with flavor. All you need is:
Chayote - Ripe and firm are best.
Goats cheese - we use a goats cheese log
Salad leaves - a mixture of baby salad leaves is a good selection but baby spinach or arugula works well too.
Walnuts - the crunch and creamy texture pairs well with the other ingredients
Salad Dressing - for the salad dressing we have kept it simple with a lemon and mustard dressing.
HOW TO PREPARE CHAYOTE
The roasted chayote could be prepared ahead of the salad assembly. Preparing a chayote is the same as preparing a pear.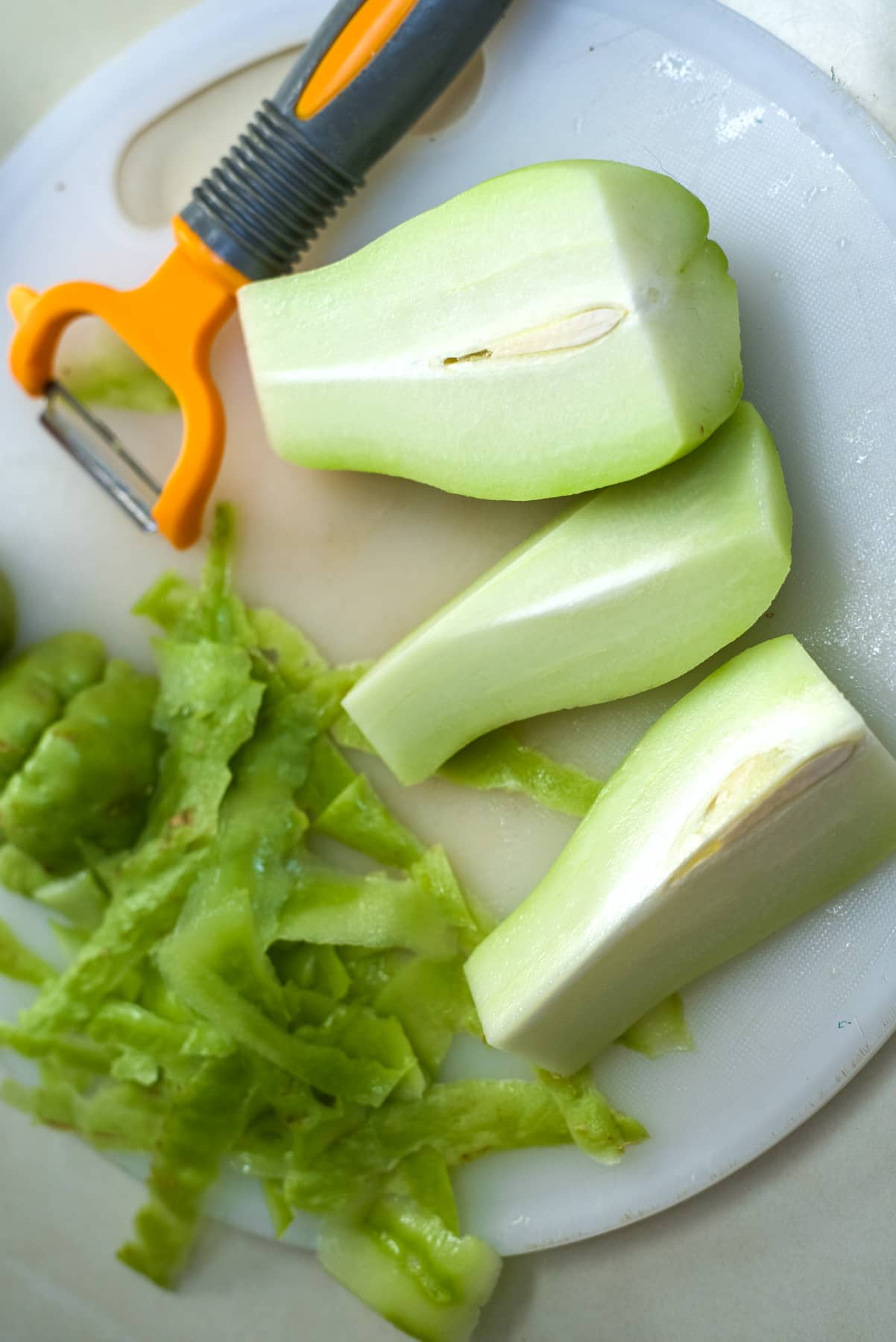 Peel the chayote skin and remove the core.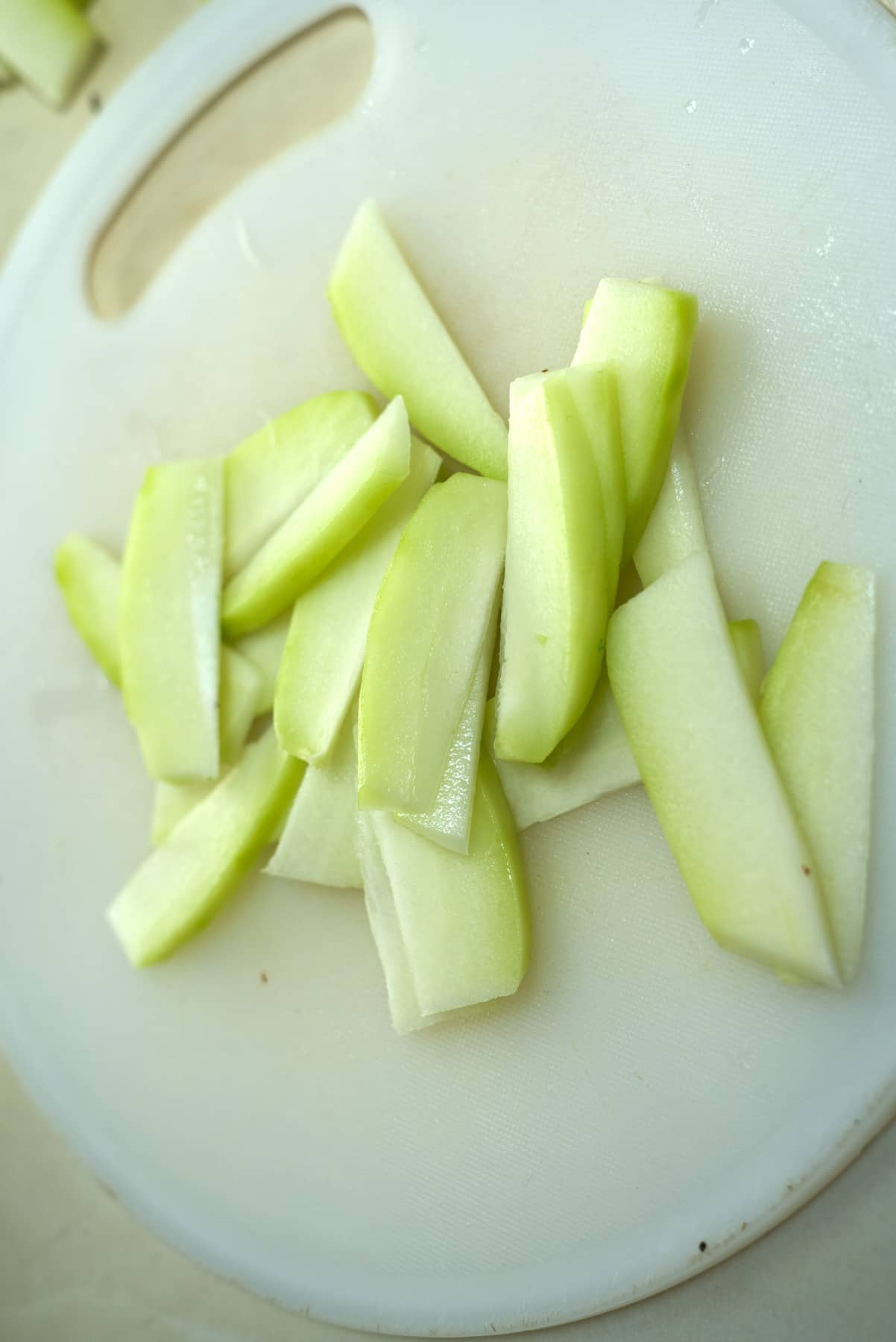 Cut into strips ready for roasting
HOW TO MAKE ROASTED CHAYOTE SALAD
The first stage of making this tasty salad is to roast the chayote. We roast it in the oven, drizzled in olive oil but it could be cooked in the air fryer too.
Once the chayote has been cooked, the dressing is made, and the salad assembled. Easy and delicious.
STORAGE
Ideally, a salad is best served freshly made. Any leftovers can be stored in the fridge in an air tight container and should be consumed the next day.
RECIPE TIPS
The chayote can be cooked ahead of assembly. It does not need to be warm and we serve it chilled with the other ingredients.
Swap the goats cheese with Feta or Ricotta.
Walnuts can be substituted with pecans or almonds.
Add unsweetened cranberries for a dash of color and extra taste.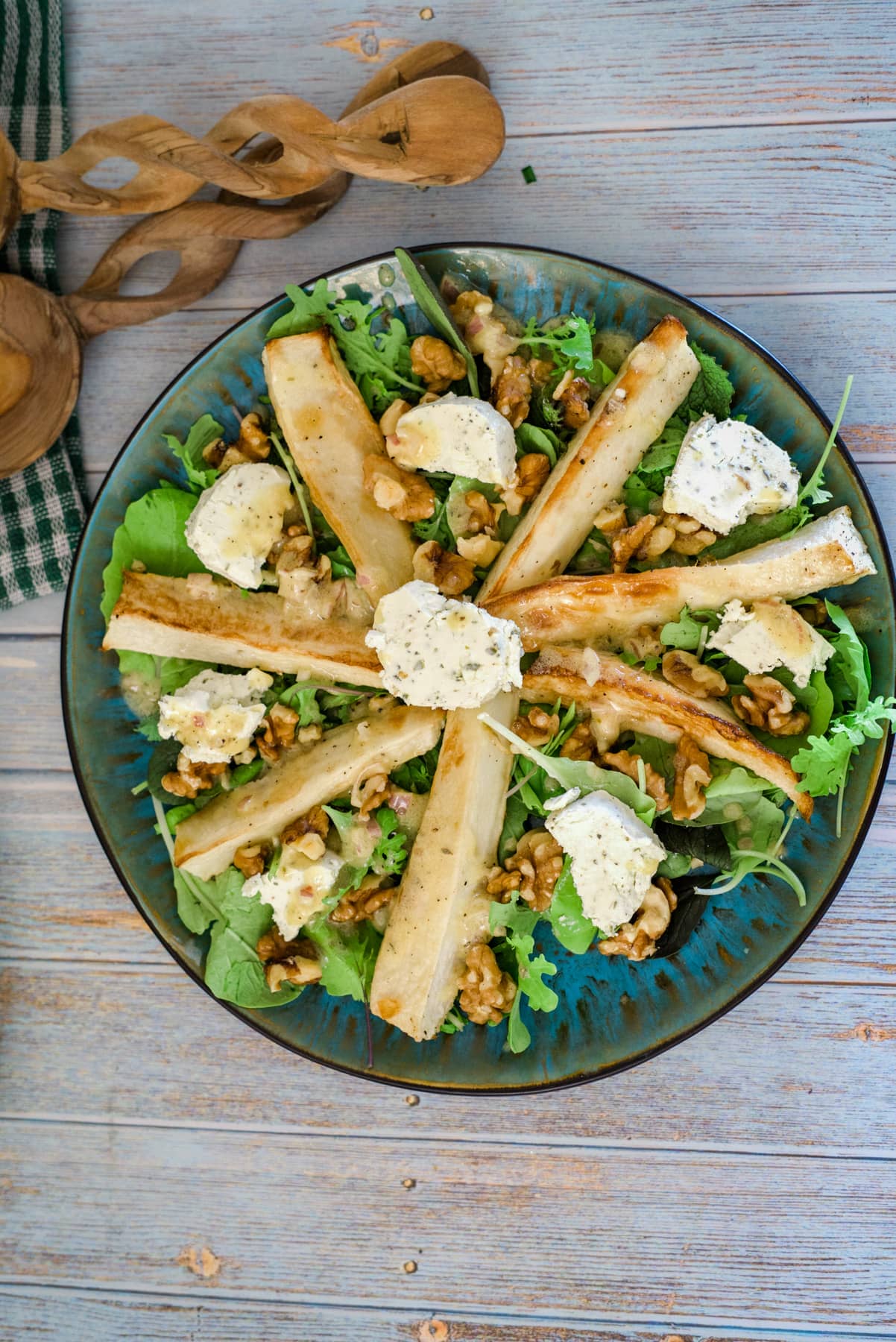 MORE KETO SALAD RECIPES
The joy of being a vegetarian or vegan is that we know our way around a salad! We have many recipes to choose from.
Roasted Chayote Goats Cheese Salad
This Roasted Chayote Goat Cheese Salad is perfect for a quick and easy lunch or as a side dish for a dinner party. It is healthy, delicious, and easy to make. The flavors and textures in this salad are sure to please your taste buds and make you feel satisfied and full
Ingredients
2

large

chayote

2

tablespoons

olive oil

4

oz

goats cheese

4

cups

mixed salad leaves

¼

cup

walnuts

chopped
Dressing
1

shallot

finely chopped

1

tablespoon

lemon juice

1

teaspoon

Dijon mustard

2

tablespoons

olive oil

½

teaspoon

salt

¼

teaspoon

black pepper
Instructions
Preheat oven to 400°F (200°C).

Peel the chayote, remove the core and slice into strips.

Toss the slice chayote with olive oil, salt, and black pepper in a bowl.

Arrange the chayote on a baking sheet lined with parchment paper.

Roast the chayote in the preheated oven for 20-25 minutes until tender and slightly caramelized. Remove from the oven and set aside.

In a large mixing bowl, add the mixed greens, crumbled goat cheese and chopped walnuts.

Add the roasted chayote to the mixing bowl and toss gently.

In a small mixing bowl, add the salad dressing ingredients and whisk.

Drizzle the dressing over the salad and serve immediately.
Notes
The net carbs will be the total carb count minus the fibre count. Carb count excludes sugar alcohols.
*Disclaimer: Nutritional information provided is an estimate only and generated by an online calculator.
YOUR OWN NOTES
Nutrition
Calories:
301
kcal
Carbohydrates:
10
g
Protein:
10
g
Fat:
25
g
Fiber:
5
g
The information shown is an estimate provided by an online nutrition calculator.