This crustless cottage cheese quiche dish is a perfect combination of creamy cottage cheese, nutritious spinach, and a medley of flavorful ingredients. The absence of a crust makes it lighter and easier to prepare, while still delivering a satisfying and wholesome meal.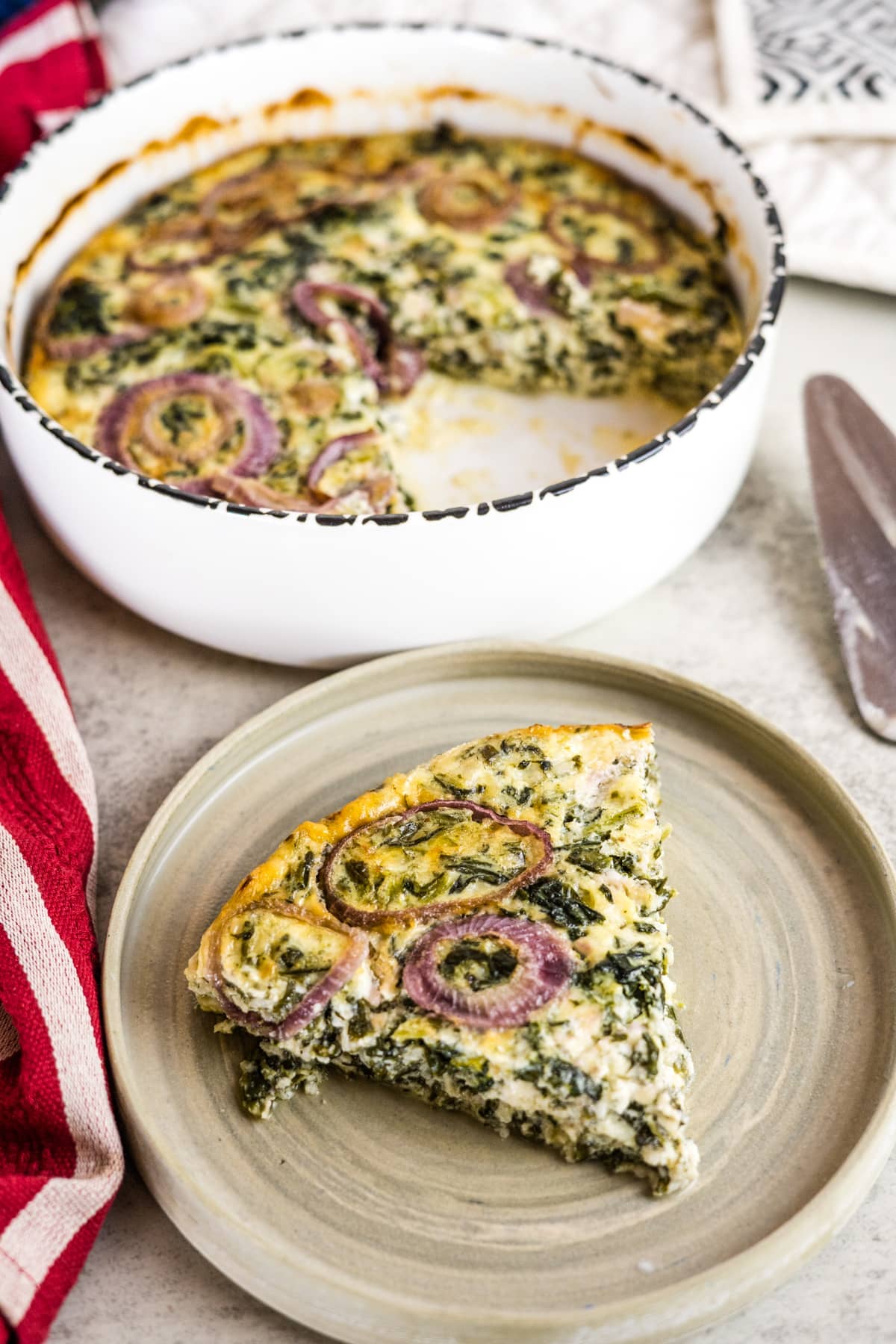 Whether you're looking for a quick and healthy breakfast, a savory brunch option, or a light dinner, this crustless quiche will surely impress both your taste buds and your guests.
This post may contain affiliate links. Please read my disclosure policy for more information.
Jump to:
Is Cottage Cheese Keto-Friendly?
In general, cottage cheese is relatively low in carbohydrates, with around 3-5 grams of carbs per 100 grams. It also contains a good amount of protein, which is an essential macronutrient in the ketogenic diet. The protein in cottage cheese can help you feel full and satisfied, which is beneficial when following a low-carb, high-fat diet like keto.
Cream-free quiche
The cottage cheese provides a creamy texture and adds moisture to the quiche, eliminating the need for cream. However, if you prefer a richer taste, you can substitute some or all of the cottage cheese with full-fat sour cream or Greek yogurt. Just keep in mind that it may slightly alter the nutritional profile of the quiche.
Why add cottage cheese to a quiche?
Incorporating cottage cheese into a quiche can contribute to its taste, texture, and nutritional profile. It provides creaminess, moisture, protein, and essential nutrients, making it a versatile and beneficial ingredient in quiche recipes.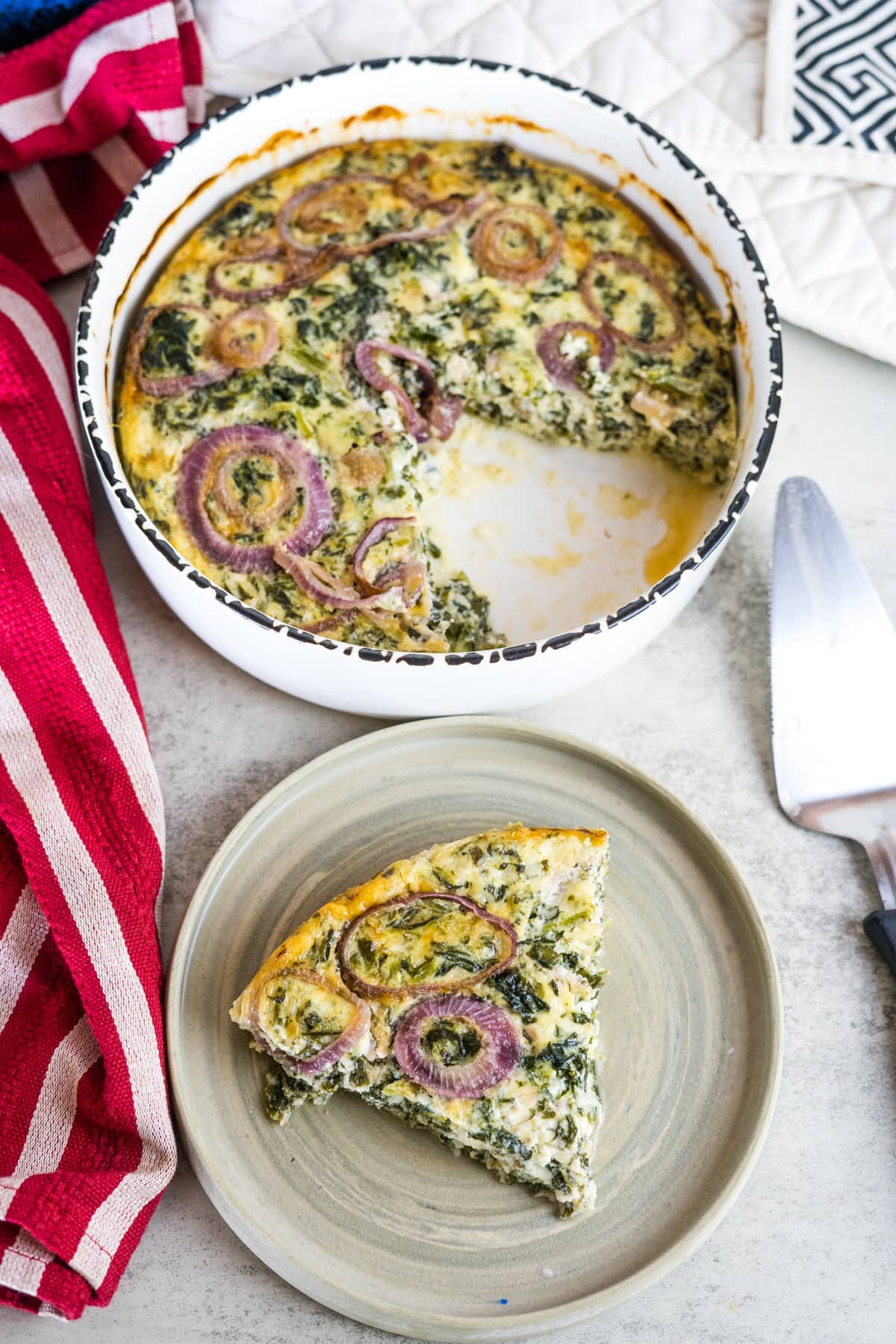 Ingredients
With a tub of cottage cheese and a few other basic ingredients, you have a great tasting quiche, ready to be made.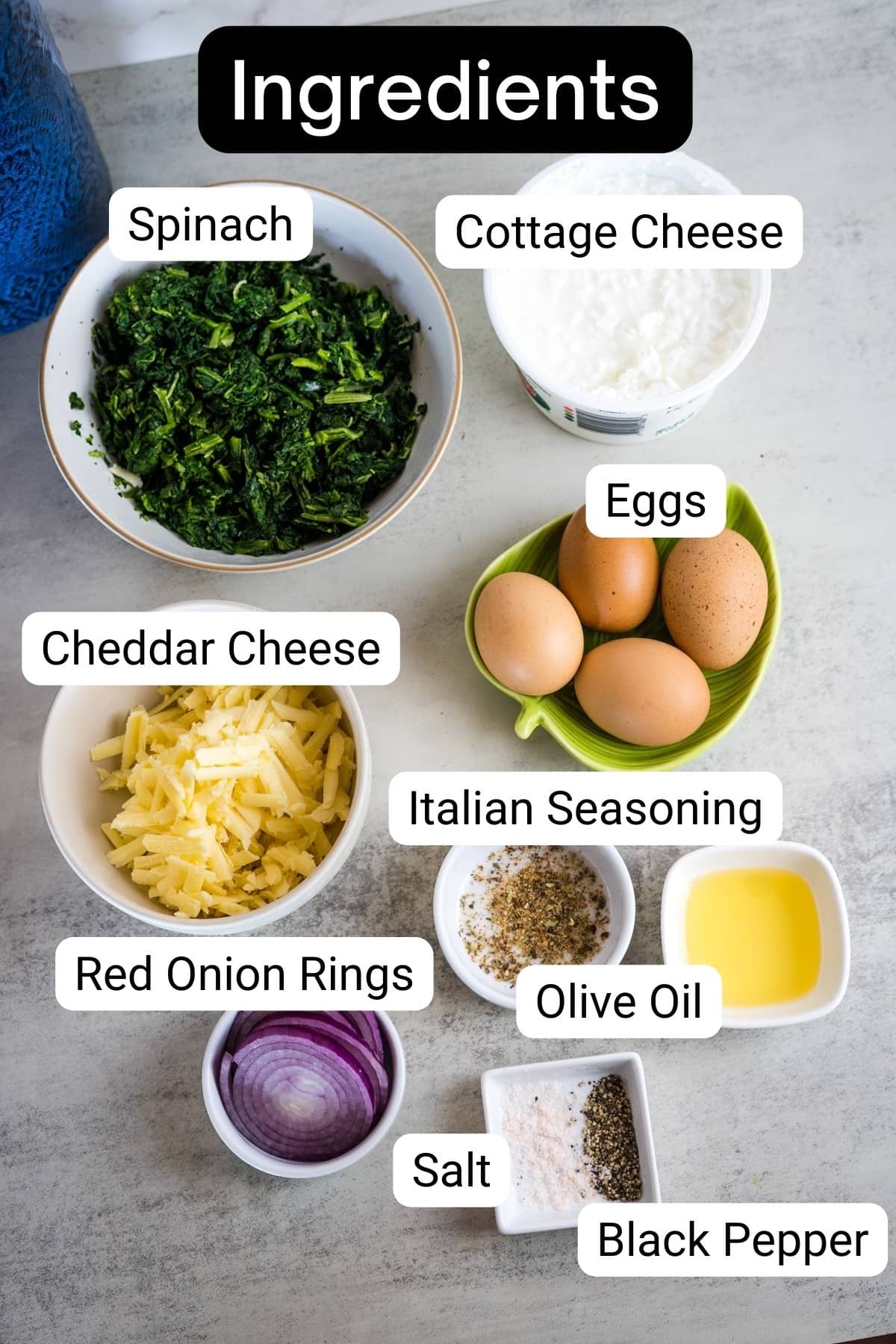 Spinach - we use defrosted spinach for ease of cooking. If you use fresh spinach, the amount used should be the cooked volume of the recipe card.
Cottage cheese - full fat cottage cheese is preferable.
Eggs - Medium to large size
Cheddar cheese - this can be substituted with other cheese, preferably a medium to hard cheese for the quiche to take a firm shape.
Red onion rings - this can be substituted with green onions or omitted for a lower carb quiche.
Italian seasoning - any other combination of herbs that compliment spinach can be used.
How to make a crustless cottage cheese quiche
This is an easy recipe to make and one that can be adapted to your own tastes.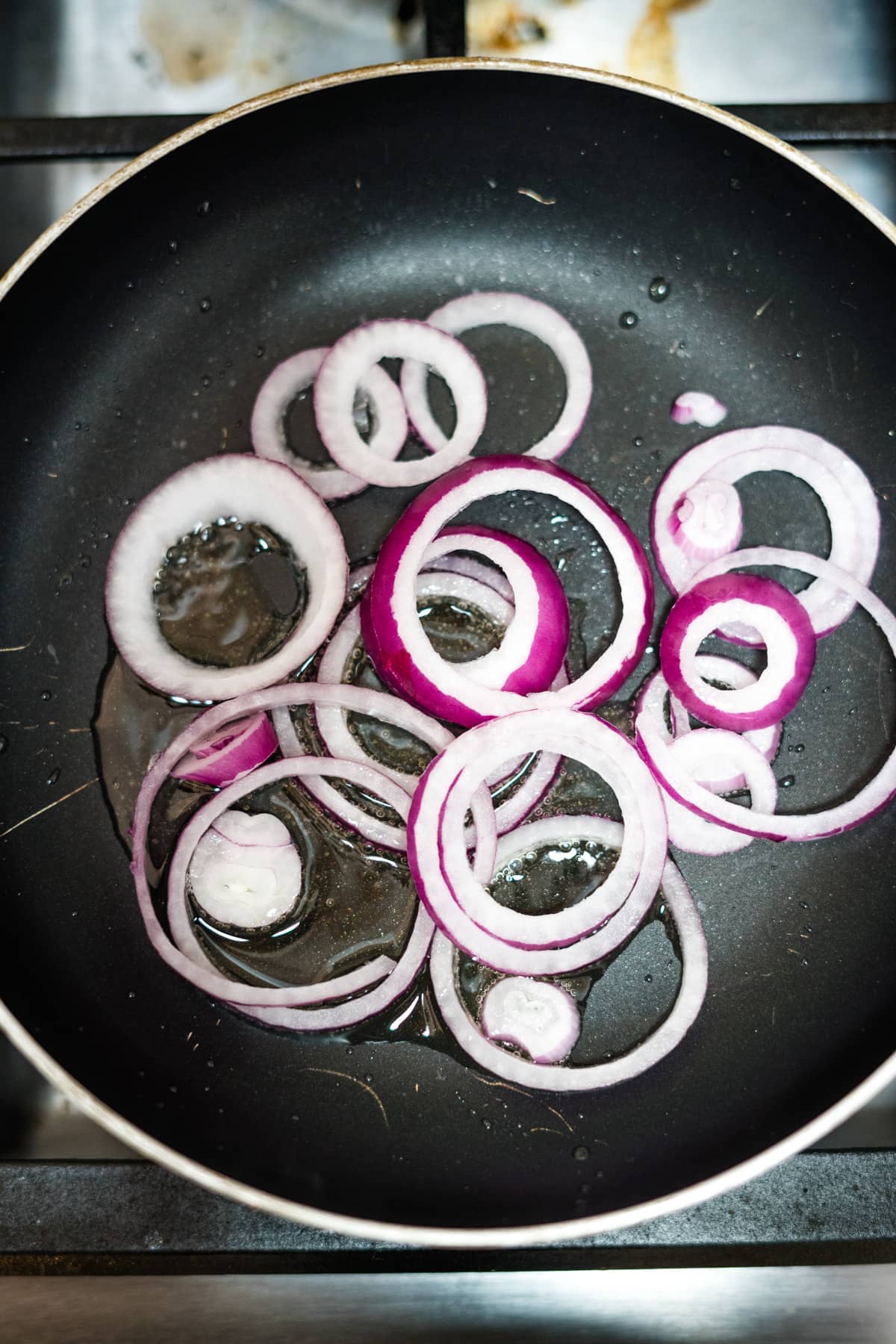 Cook onion rings in pan.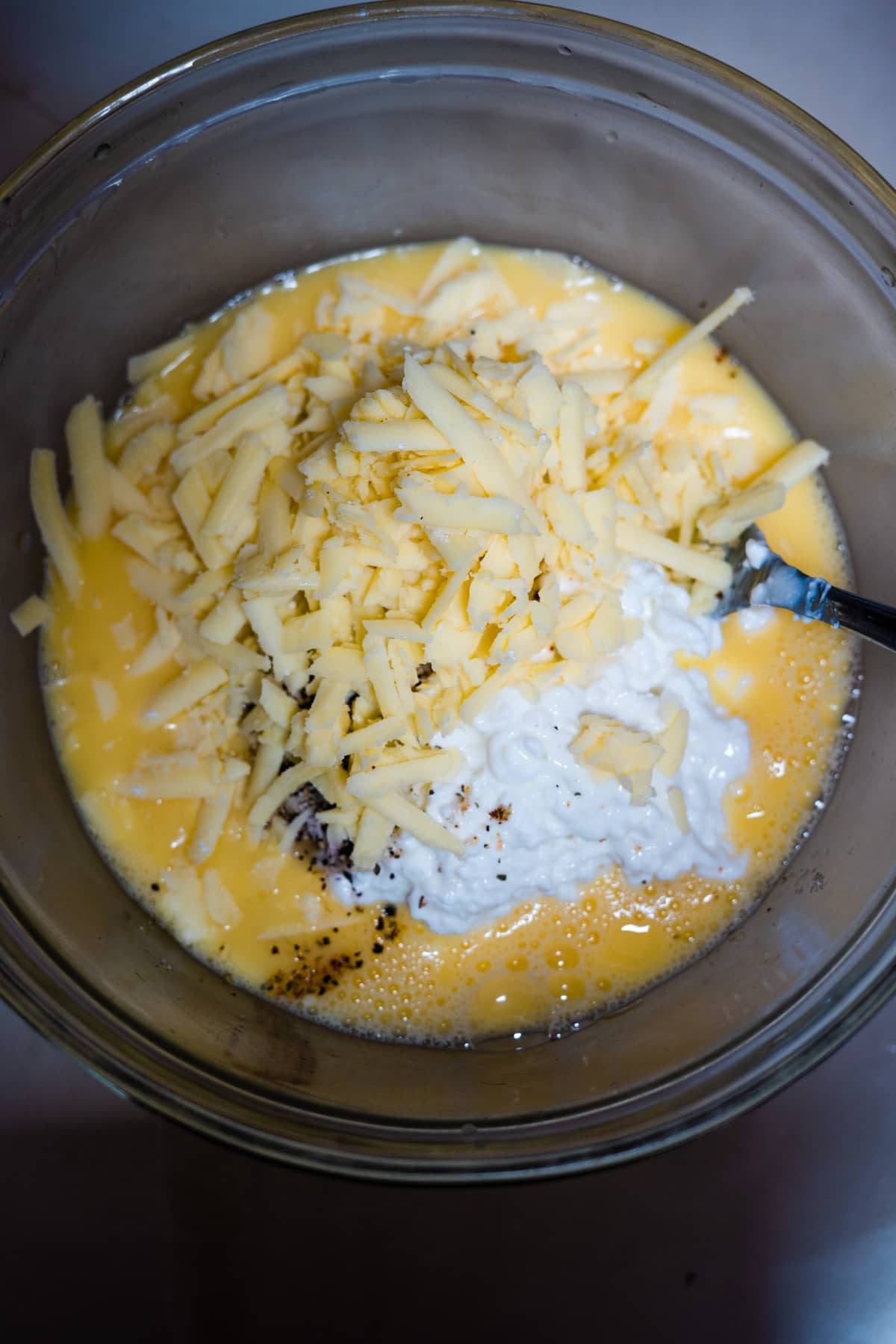 Mix quiche ingredients in bowl.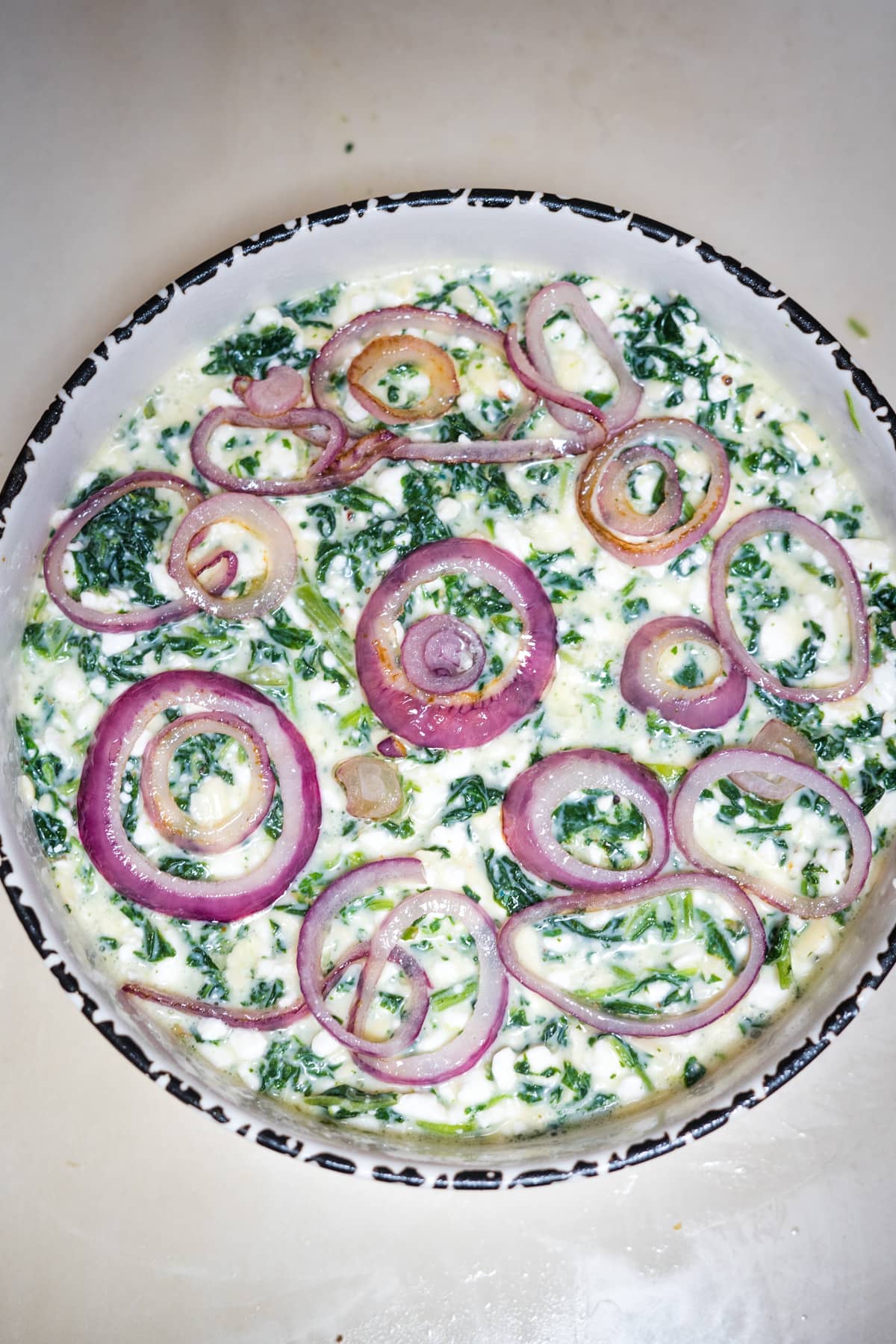 Pour the mixture into greased dish and top with red onion rings.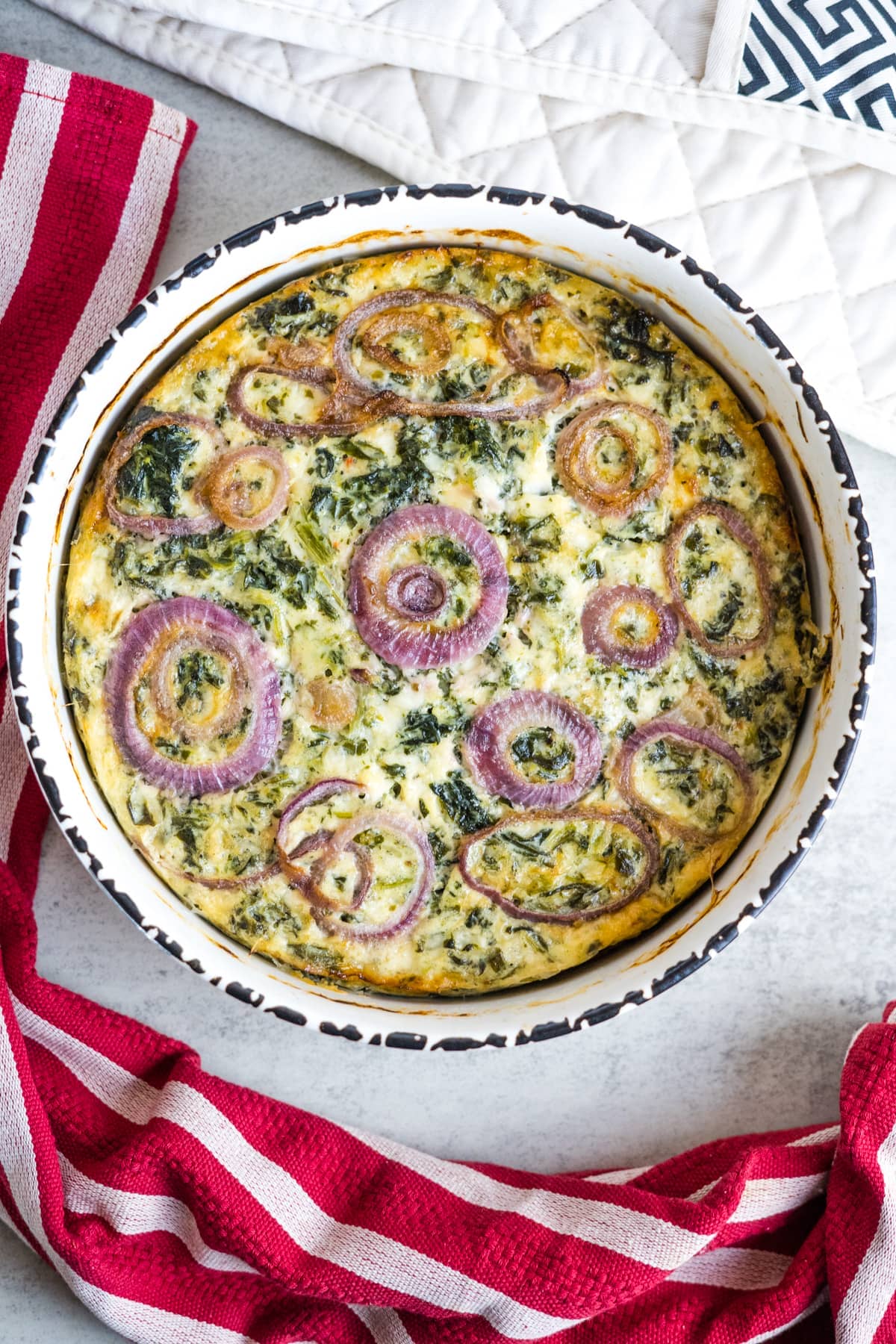 Bake until firm.
Storage
If you have any leftovers, or make this ahead of serving, cover the baking dish with plastic wrap and keep in the fridge. Reheat in the oven or enjoy cold. This crustless quiche will last up to 3 days in the fridge.
Recipe Tips
If the quiche is taking time too cook after 40 minutes, increase the temperature.
Once cooled, the quiche will drop in height in the baking dish.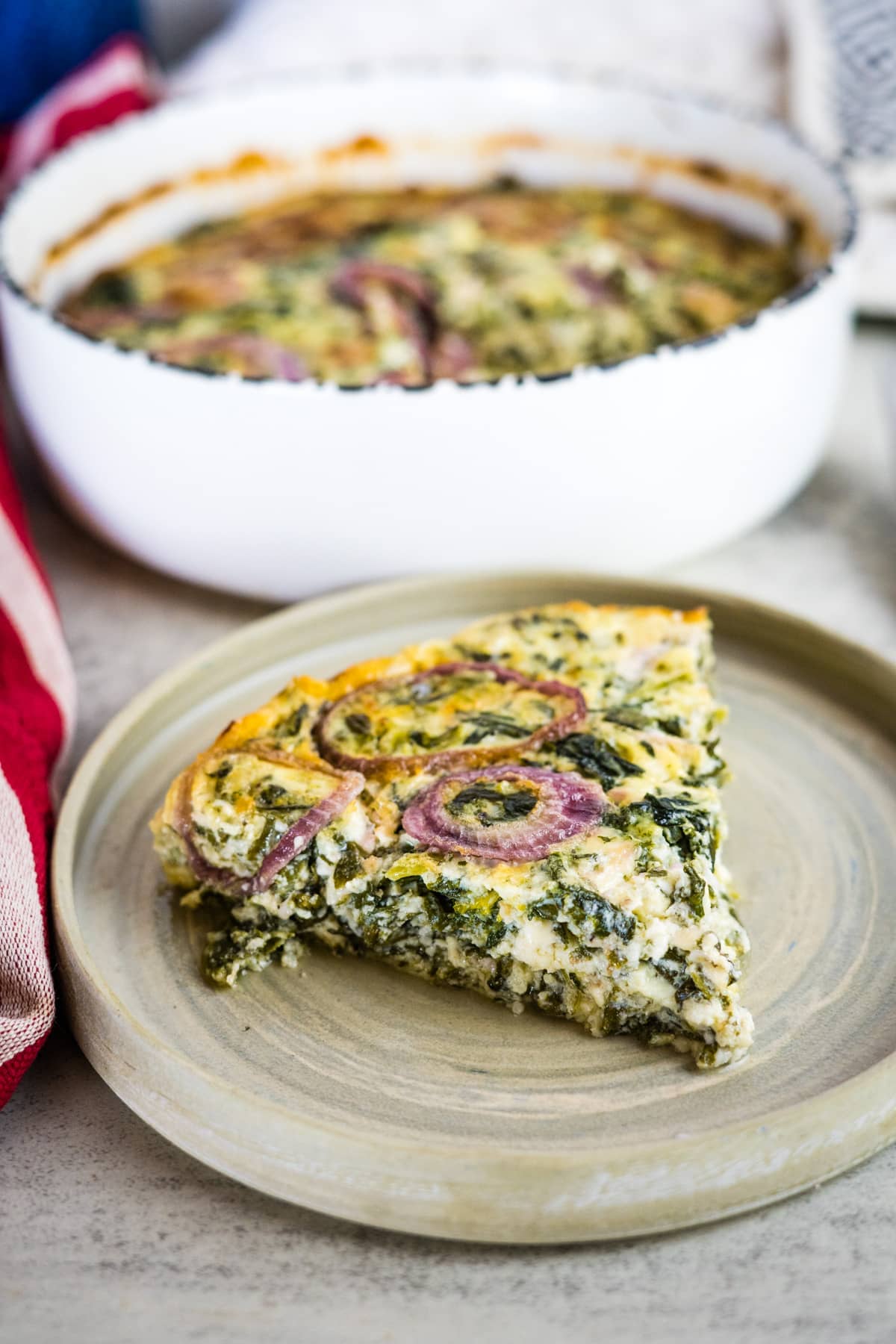 Crustless Cottage Cheese Quiche Variations
If you are not a fan of spinach, you might enjoy these other variations for a cottage cheese quiche.
Mediterranean: Add chopped sun-dried tomatoes, Kalamata olives, and crumbled feta cheese to the cottage cheese mixture. Sprinkle with dried oregano and serve with a side of tzatziki sauce.
Veggie Delight: Incorporate a variety of vegetables such as bell peppers, mushrooms, zucchini, and cherry tomatoes into the quiche. Sauté them before adding to the cottage cheese mixture for extra flavor.
Mexican-Inspired: Spice things up by mixing in diced green chilies, sliced jalapeños, and a sprinkle of cumin and chili powder. Top with grated Monterey Jack cheese and serve with salsa and avocado slices.
Spinach and Mushroom: Enhance the spinach flavor by sautéing sliced mushrooms before adding them to the cottage cheese mixture. Season with garlic powder and nutmeg for a delicious combination.
Greek-Inspired: Mix in chopped spinach, crumbled feta cheese, and sliced black olives into the cottage cheese base. Sprinkle with dried oregano and serve with a side of Greek salad.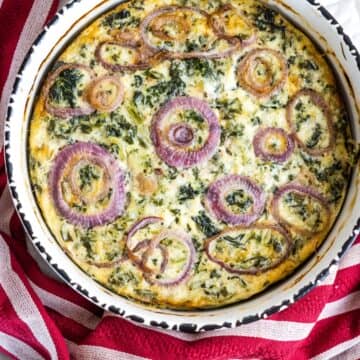 Crustless Cottage Cheese Quiche
Creamy and protein-packed, this crustless cottage cheese quiche is a delicious and nutritious twist on the classic. Packed with fresh spinach and aromatic seasonings, it's a wholesome, low-carb option that will satisfy your cravings without the need for a crust.
Ingredients
10

oz

defrosted spinach

4

large

eggs

16

oz

cottage cheese

1

cup

Cheddar cheese, grated

½

cup

red onion, cut into rings

1

teaspoon

Italian seasoning

½

teaspoon

salt

½

teaspoon

black pepper

1

tablespoon

olive oil
Instructions
Preheat your oven to 375°F (190°C) and lightly grease a 9-inch pie dish or a baking dish of similar size with cooking spray or butter.

Heat the olive oil in a pan on a medium heat and gently cook the red onion rings for 5 minutes until soft and slightly golden.

In a large mixing bowl, whisk together the cottage cheese and eggs until well blended and smooth.

Add the defrosted spinach, shredded cheddar cheese, Italian seasoning, salt and pepper to the bowl. Stir everything together until all the ingredients are evenly incorporated.

Pour the mixture into the greased pie dish, spreading it out evenly.

Place the cooked red onion rings on top.

Place the dish in the preheated oven and bake for about 45-50 minutes, or until the quiche is set and the top is lightly golden brown.

Once baked, remove the quiche from the oven and let it cool for a few minutes before slicing and serving.

Enjoy the crustless cottage cheese quiche warm or at room temperature. It pairs well with a fresh salad or some roasted vegetables for a complete meal.
Notes
Makes 8 servings.
A 9-inch pie dish can also be used. Add another egg for extra volume.
Any nutritional analysis on the website is based on an estimate, calculated by Spoonacular from the individual ingredients in each recipe. Variations may occur for various reasons, including product availability and food preparation. We make no representation or warranty of the accuracy of this information.
YOUR OWN NOTES
Nutrition
Serving:
1
serving
Calories:
180
kcal
Carbohydrates:
5
g
Protein:
14
g
Fat:
12
g
Fiber:
1
g
Net Carbohydrates:
4
g
The information shown is an estimate provided by an online nutrition calculator.