Enjoy this delicious recipe for Keto Palak Paneer. Palak Paneer is a popular Indian dish made with spinach (palak) and Indian cottage cheese (paneer). This recipe is a low-carb, high-fat version of the traditional dish, making it perfect for those following a ketogenic diet.
With a creamy spinach base and tender cubes of paneer, this dish is both flavorful and filling. It's also easy to prepare, making it a great option for a weeknight dinner.
Palak Paneer is a harmonious blend of flavors and textures, with the creaminess of the spinach sauce and the chewiness of the paneer creating a satisfying and comforting meal.
This post may contain affiliate links. Please read my disclosure policy for more information.
Jump to:
IS PANEER KETO?
paneer is considered a keto-friendly food as it is low in carbohydrates and high in protein and fat. Paneer is a type of Indian cottage cheese that is made by curdling milk with an acidic agent like lemon juice or vinegar.
Paneer is an excellent source of protein and contains a good amount of fat, making it a filling and satisfying food that can help you meet your macronutrient goals on a keto diet. It is also low in carbohydrates, with approximately 1-2 grams of carbs per 1-ounce serving, which makes it a great alternative to higher-carb cheese options.
SAAG PANEER V PALAK PANEER
Saag Paneer and Palak Paneer are two popular Indian dishes that are similar in many ways, but there are some key differences between them.
The main difference between the two dishes is the type of greens used. Saag Paneer is made with a mix of greens, including spinach (palak), mustard greens, and other leafy greens like collard greens or kale. On the other hand, Palak Paneer is made primarily with spinach.
Another difference is in the preparation of the dish. Saag Paneer is typically cooked with a blend of spices, including ginger, garlic, and garam masala, while Palak Paneer is typically cooked with a simpler blend of spices that includes cumin, coriander, and turmeric.
INGREDIENTS
Grab your spices, spinach and paneer and get ready to make this easy dish.
Spinach - in this recipe we used fresh baby spinach but you could used defrosted frozen spinach.
Paneer - use homemade or store bought.
Cream - we used heavy cream but you could use yogurt, or omit for a dryer dish.
Ghee - This can be substituted with butter or olive oil.
HOW TO MAKE PALAK PANEER
This is a quick and easy dish ready to eat in under 30 minutes.
Saute seasoned paneer cubes.
Cook onions, garlic, spices and chili.
Add spinach and saute
Return the paneer to the pan.
STORAGE
If you do have any leftovers, or make too much for one meal, keep the keto palak paneer in an air tight container in the fridge. It should last up to 4 to 5 days.
CAN YOU FREEZE PALAK PANEER?
Yes, you can freeze Palak Paneer, but the texture and flavor of the dish may change slightly after being frozen and reheated. Ensure that the dish is entirely cool and stored in an air tight container or zip lock bag.
Defrost the palak paneer in a fridge before reheating.
WHAT TO SERVE WITH PALAK PANEER
This dish can be served as a side or main dish. Enjoy a plate of it by itself or serve with a mixture of other keto Indian dishes, such as our keto garlic naan, turmeric cauliflower, mushroom bhaji keto roti, or cauliflower rice.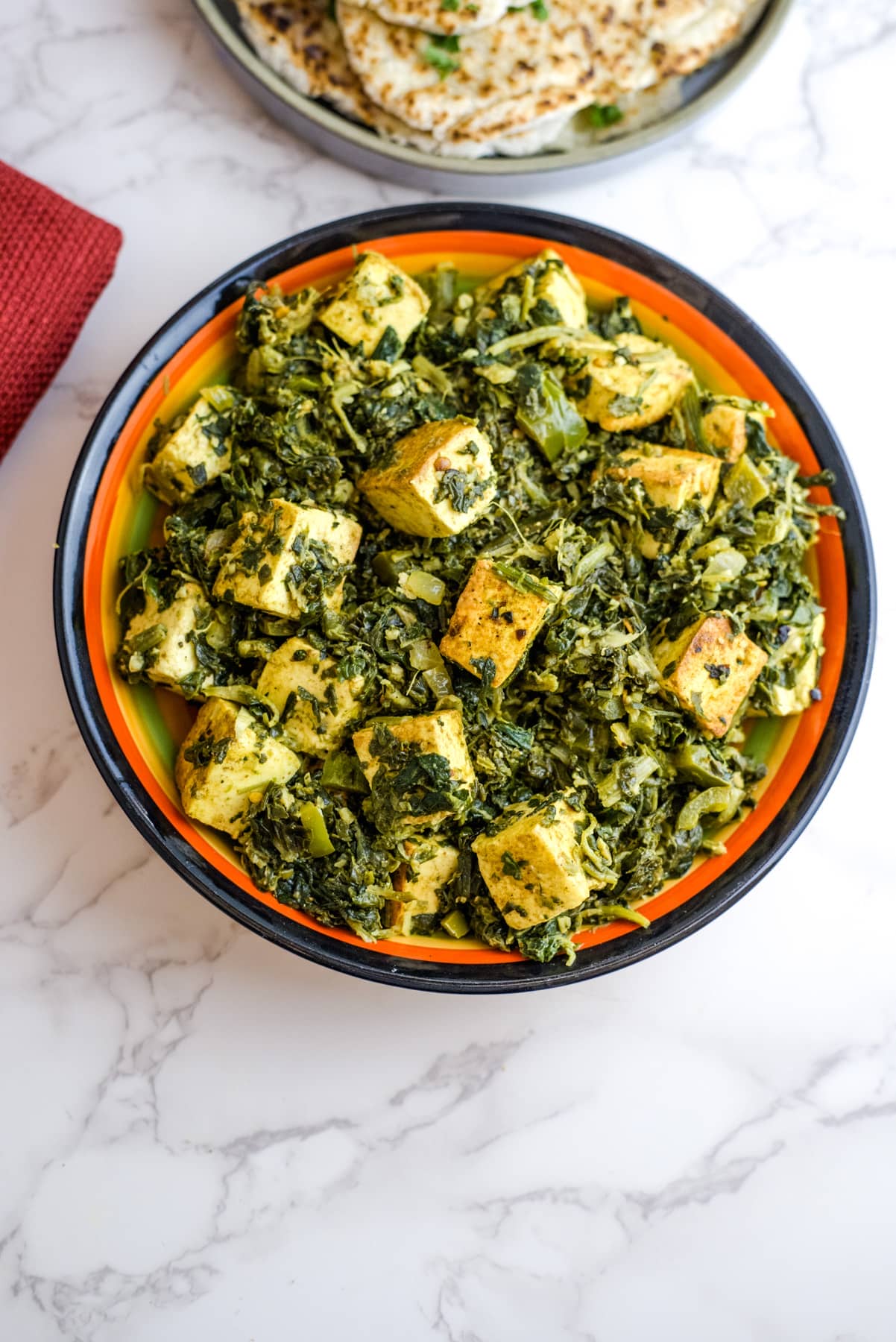 RECIPE TIPS
Fresh spinach is the key ingredient in Palak Paneer, so it's important to choose fresh and tender leaves for the dish. Avoid using tough or wilted spinach as it may affect the texture and flavor of the dish.
While store-bought paneer is readily available, making paneer at home is easy and ensures that you have a fresh and high-quality ingredient for the dish. To make paneer at home, all you need is milk and an acidic agent like lemon juice or vinegar.
Frying the paneer cubes in a little bit of oil or ghee before adding them to the spinach mixture gives them a crispy texture and helps to prevent them from breaking apart in the dish.
For a richer and creamier Palak Paneer, you can add a little bit of cream or yogurt to the dish before serving. This also helps to balance out the acidity of the lemon juice.
MORE KETO PANEER DISHES
We are big fans of paneer and enjoy these other low carb recipes using it.
Keto Palak Paneer
Palak Paneer is a harmonious blend of flavors and textures, with the creaminess of the spinach sauce and the chewiness of the paneer creating a satisfying and comforting meal.
Ingredients
10

oz

paneer

cut into cubes

1

teaspoon

salt

¼

teaspoon

turmeric

1

teaspoon

garam masala

2

tablespoons

ghee

or butter

1

small

onion

chopped

3

cloves

garlic

minced

1

tablespoon

fresh ginger

grated

2

jalapenos

deseeded and chopped

½

teaspoon

coriander, ground

½

teaspoon

cumin

½

teaspooon

red dried chilis

12

oz

baby spinach

1

tablespoon

lemon juice

4

tablespoons

cream, heavy

or yogurt
Instructions
Season the paneer cubes with the salt, turmeric and garam masala.

In a large pan or skillet heat the ghee on a medium heat.

Fry the paneer cubes in the pan until lightly golden on all sides. Remove from the pan and set aside.

Add the onions to the pan and cook for 5-8 minutes until soft.

Add the minced garlic, ginger and chopped jalapeno. Cook for 2 minutes.

Add the remaining spices, stir well and cook for 1 minute.

Add the spinach, cream and lemon juice and cook for 2 minutes.

Stir in the cooked paneer cubes and cook for 3 minutes.

Serve with keto naan bread or roti.
Notes
Makes 4 servings
The net carbs will be the total carb count minus the fibre count. Carb count excludes sugar alcohols.
Any nutritional analysis on the website is based on an estimate, calculated by Spoonacular from the individual ingredients in each recipe. Variations may occur for various reasons, including product availability and food preparation. We make no representation or warranty of the accuracy of this information.
YOUR OWN NOTES
Nutrition
Serving:
1
serving
Calories:
360
kcal
Carbohydrates:
9
g
Protein:
13
g
Fat:
31
g
Fiber:
3
g
The information shown is an estimate provided by an online nutrition calculator.