This mushroom and leek cottage pie with cauliflower mash is a healthier and keto vegetarian-friendly take on the traditional cottage pie, offering a rich, comforting, and flavorsome dish.
The mushroom and leek filling is a flavorful blend of earthy mushrooms, aromatic leeks, and garlic, simmered together with tarragon. This combination creates a rich, satisfying base that's both hearty and keto vegetarian-friendly.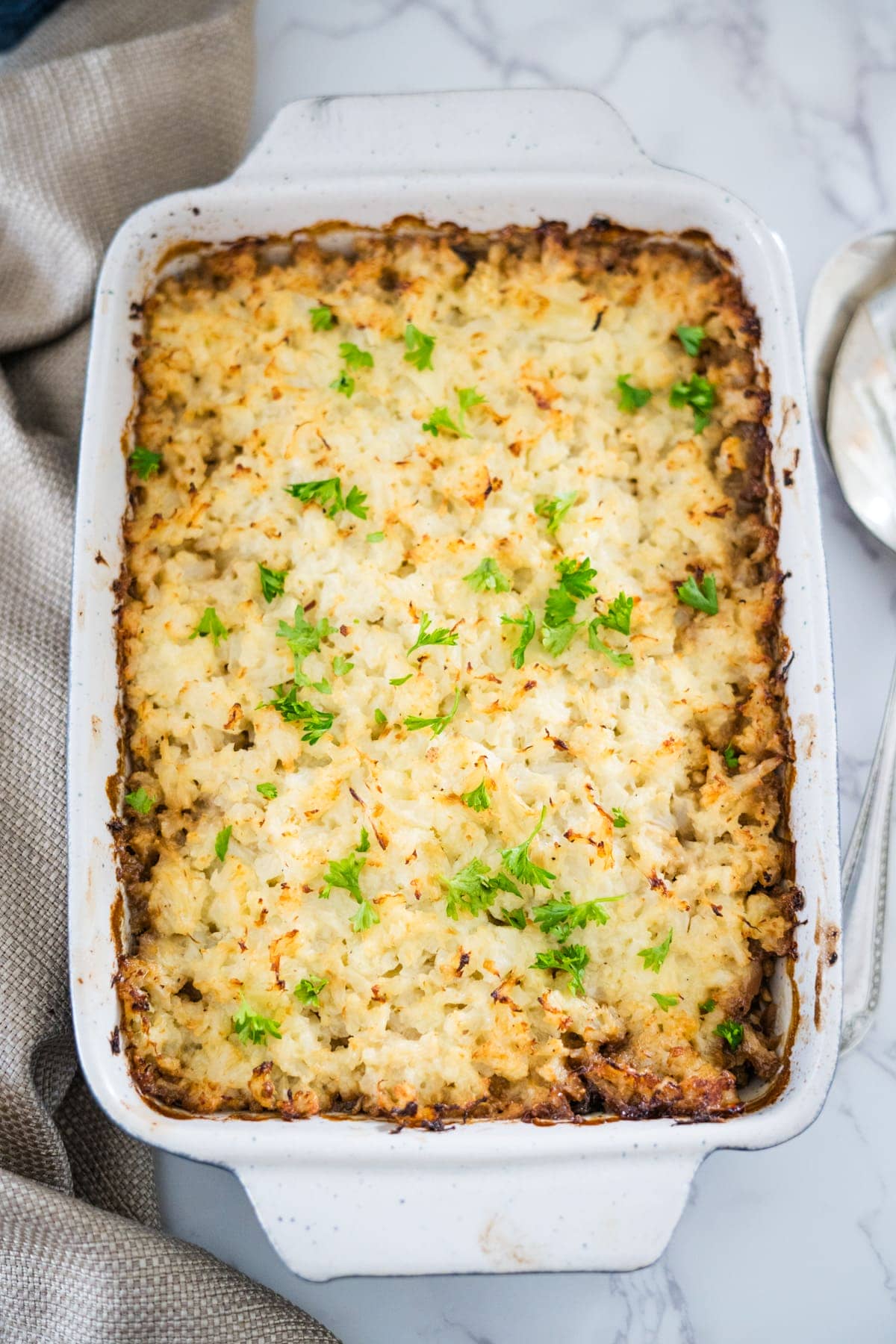 On top, instead of the usual mashed potatoes, the dish is finished with a velvety cauliflower mash. The cauliflower is cooked until tender and mashed with Cheddar cheese, butter and sour cream, providing a luscious and slightly nutty flavor to complement the earthiness of the mushrooms and leeks.
The finished cottage pie boasts a wonderful balance of textures and flavors. The creamy cauliflower mash topping melds perfectly with the savory, umami-packed mushroom and leek mixture, offering a dish that is both wholesome and comforting, perfect for a cozy family meal or a special dinner. Its visual appeal is inviting, with the golden-brown topping inviting diners to savor a taste of this modern take on a classic comfort food.
Jump to:
Are leeks low carb?
In 1 cup (89 grams) of chopped raw leeks: There are approximately 9-10 grams of total carbohydrates, of which around 1-2 grams are fiber. This would bring the net carbs to roughly 7-8 grams per cup of chopped raw leeks.
Leeks are rich in various vitamins, minerals, and antioxidants while being relatively low in net carbohydrates.
Ingredients
Gather your ingredients, get chopping and mashing for a delicious vegetarian keto shepherds pie.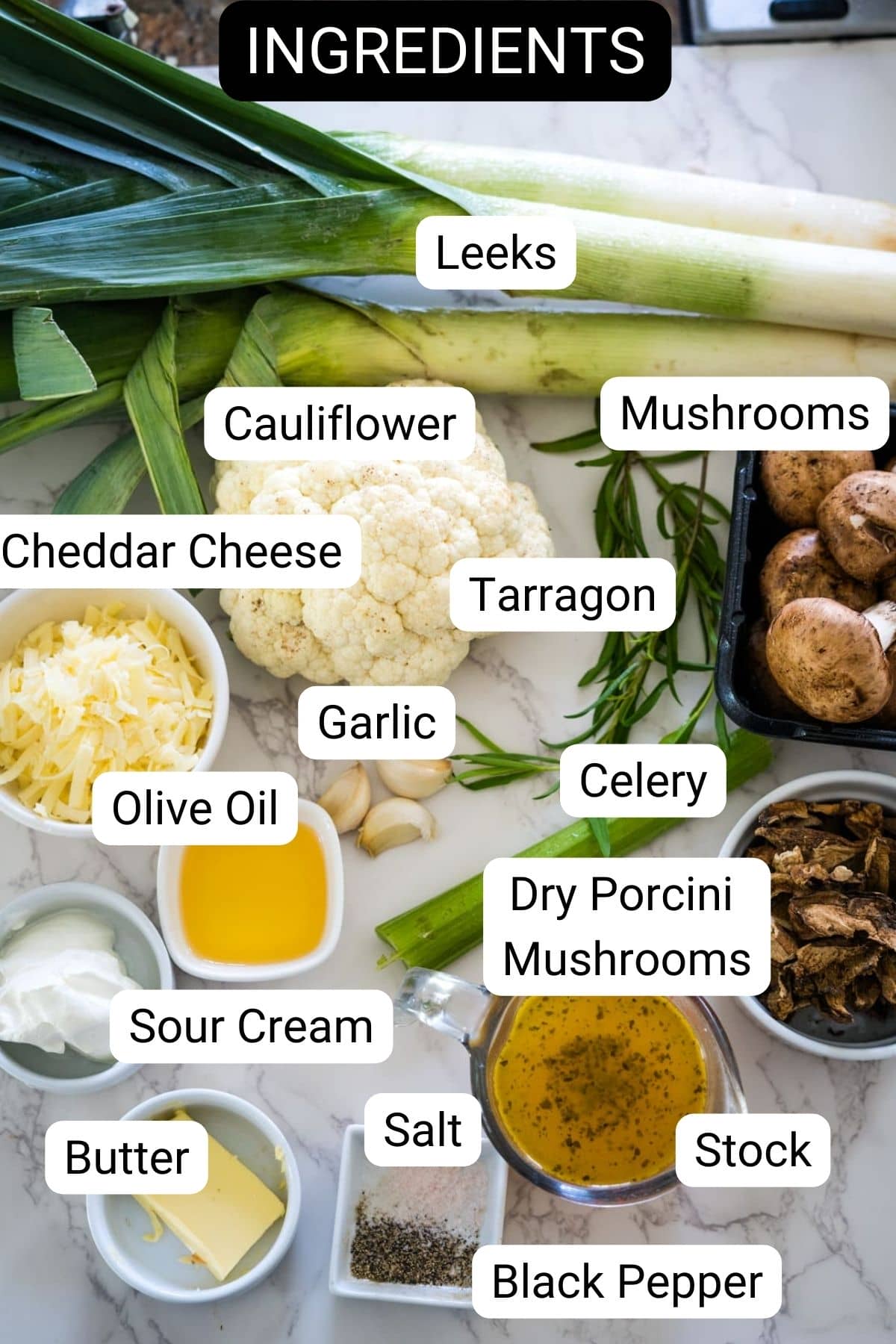 Leeks - choose fresh and firm leeks.
Cauliflower - a medium sized head for the mash topping.
Mushrooms - we used a mixture or cremini mushrooms and dried porcini mushrooms for a depth of flavor. Use any mushrooms you enjoy.
Celery - entirely optional.
Tarragon - goes great with leeks and mushrooms. Try to use fresh rather than dried.
Sour cream - added to the topping and filling for a creamy texture.
Stock - also known as broth. Vegetable of course!
Cheddar cheese - for the cauliflower mash topping. Other hard cheeses could be used.
How to make mushroom and leek cottage pie
This is an easy recipe to make and much the same as a regular cottage pie but without the meat and potatoes!
When baked in the oven, the cauliflower topping forms a golden crust, adding a delightful contrast to the bubbling, flavorful mushroom and leek filling underneath. The aroma of the dish as it bakes is inviting, with a medley of savory scents wafting through the kitchen.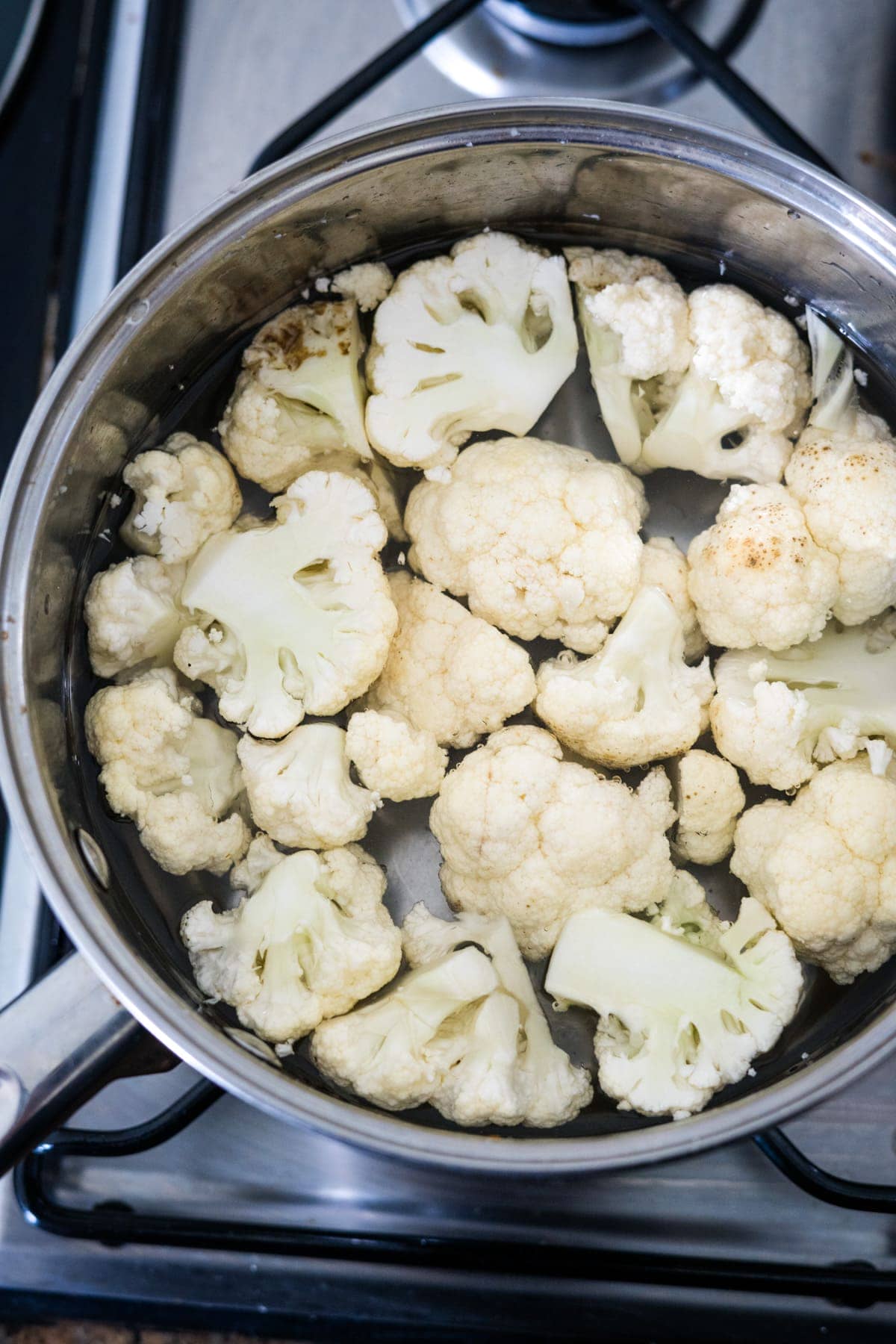 Boil the cauliflower until soft.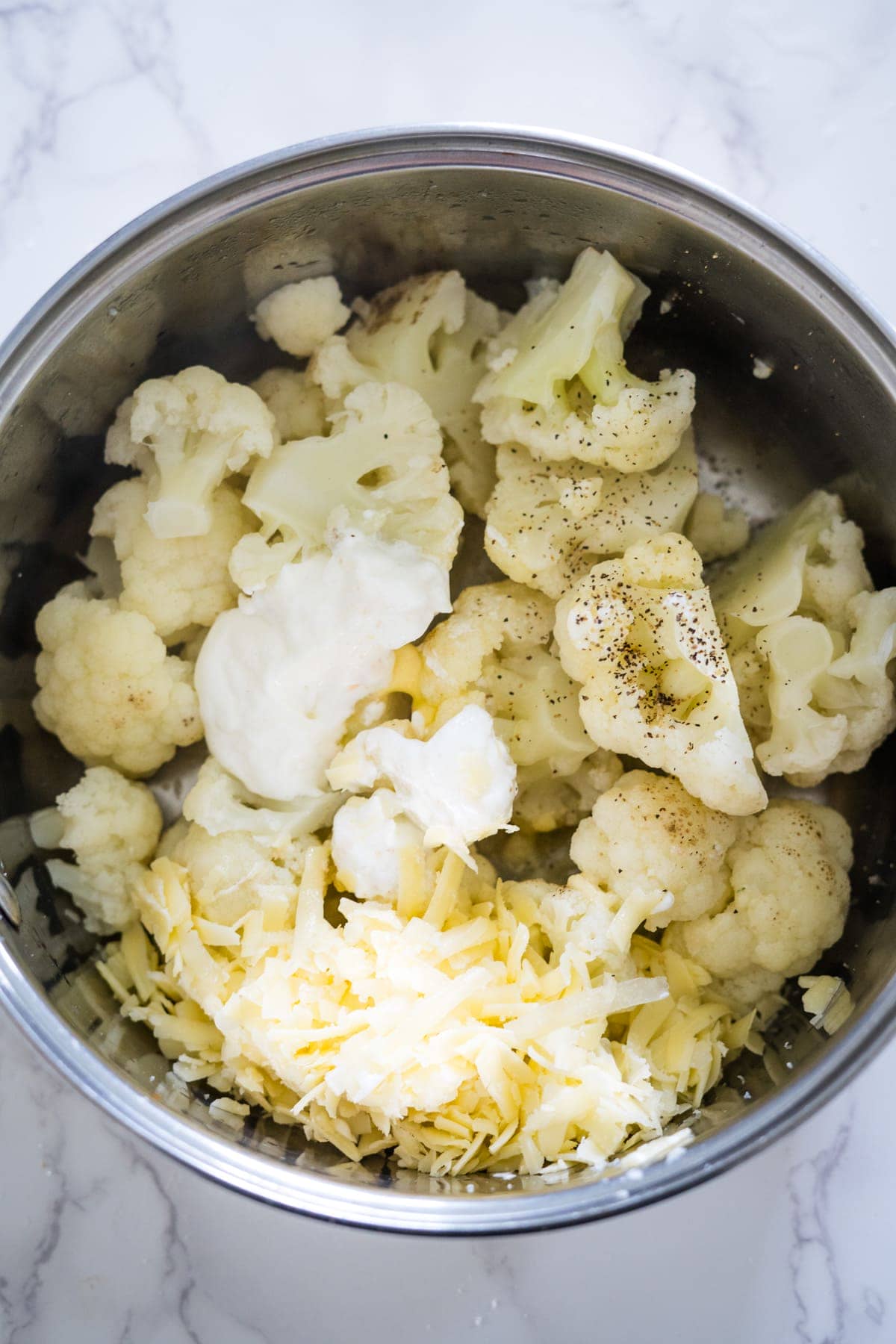 Mash with Cheddar, sour cream and butter.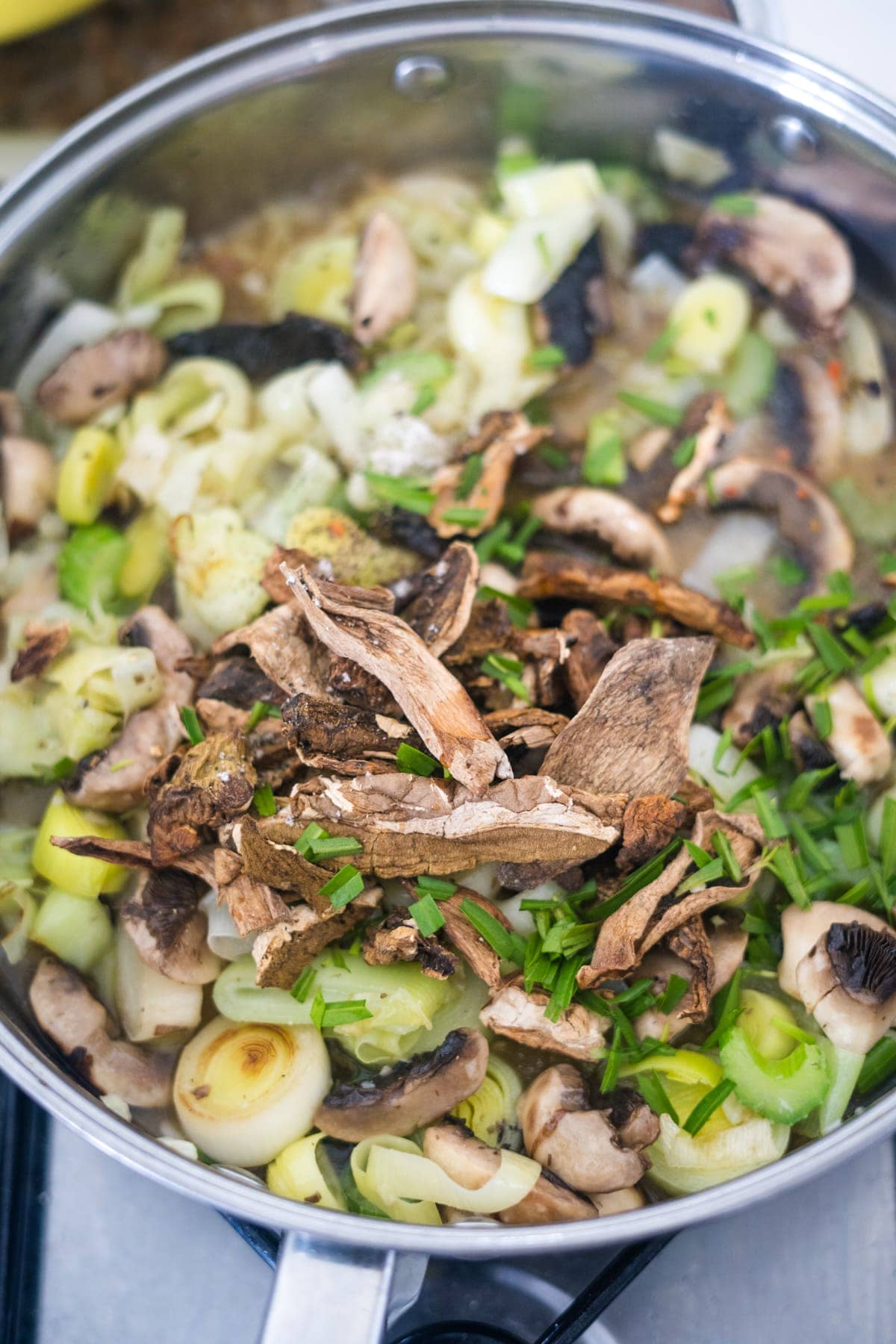 Sautee leeks and mushrooms. Add stock and tarragon.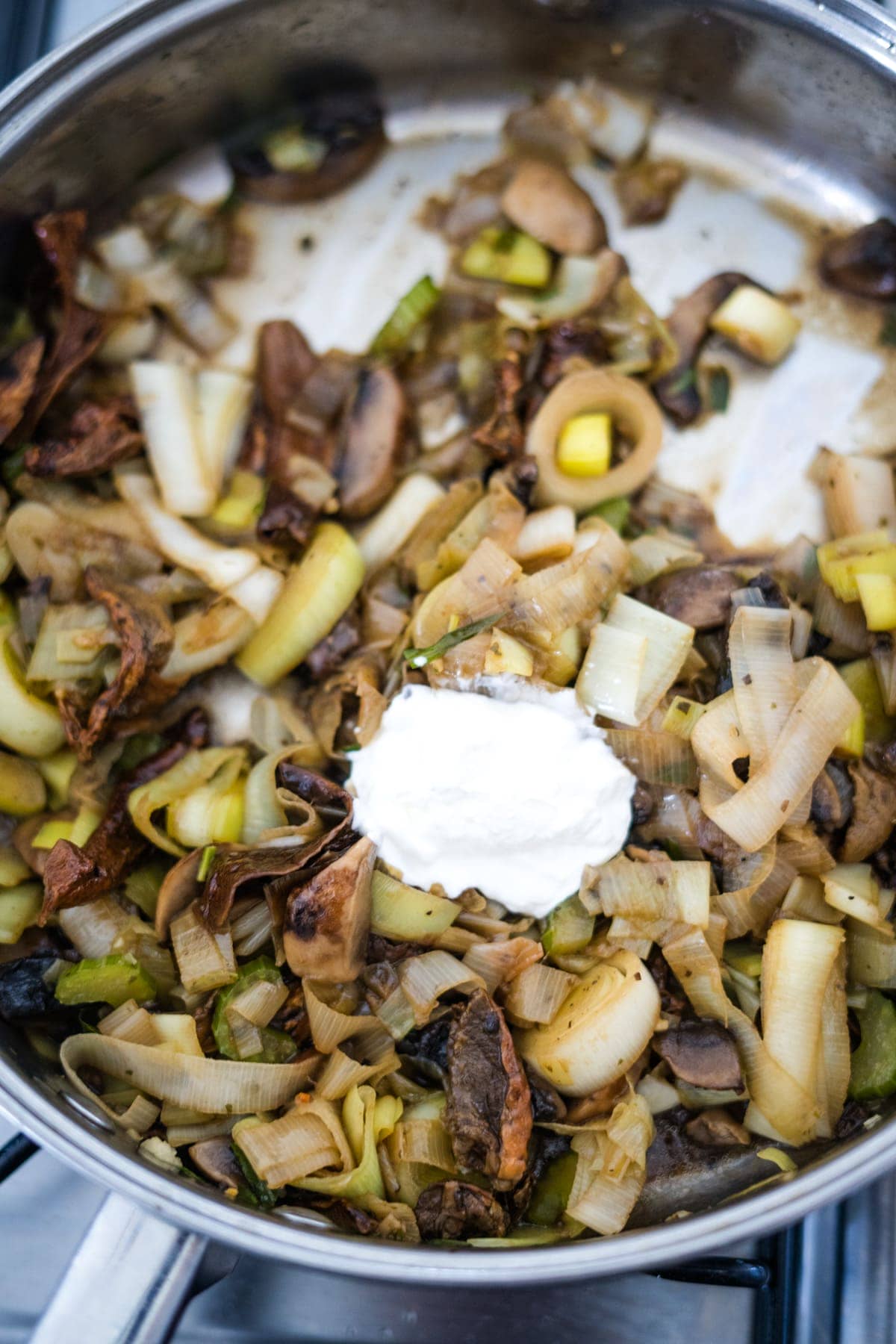 Add sour cream and mix well.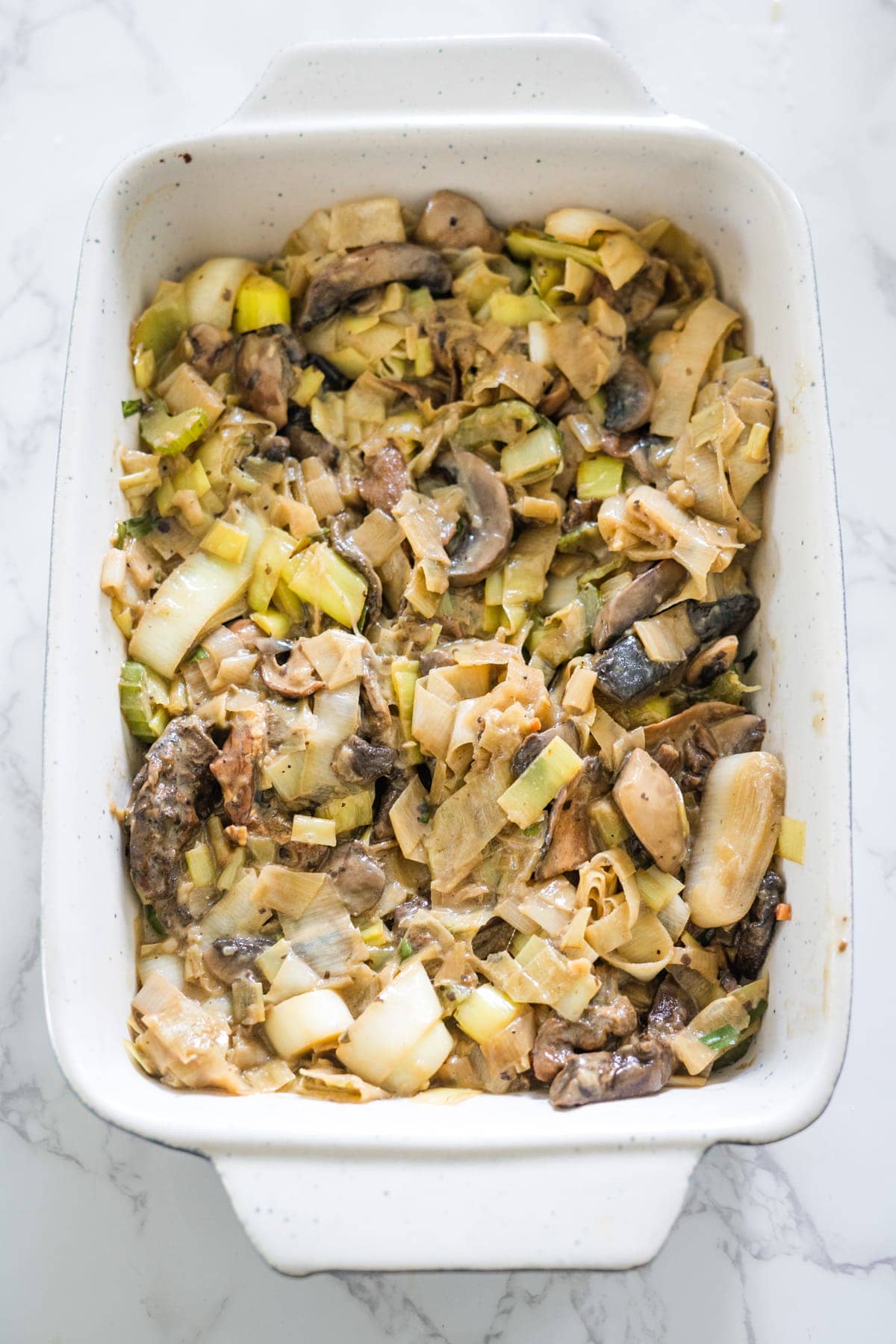 Layer the mushroom leek mixture into baking dish.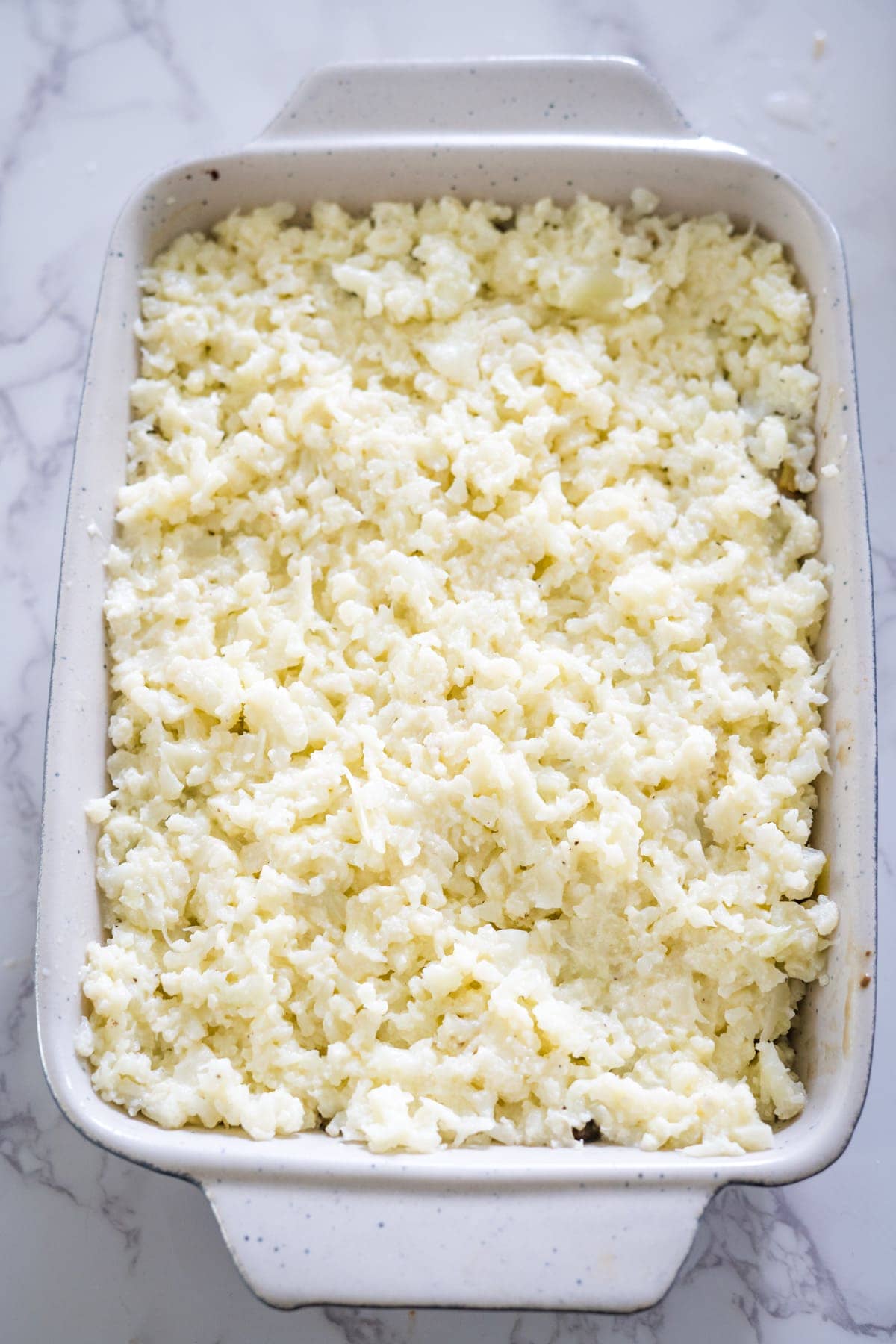 Top with the cauliflower mash and bake.
Let the pie rest for a few minutes after it's baked. This helps to set the layers and makes it easier to cut and serve.
How to make this vegan
This keto cottage pie can easily be made keto vegan or you can try our vegan shepherd's pie recipe.
Substitute the Cheddar cheese with nutritional yeast.
Use a vegan butter in place of the butter.
Sour cream can be swapped with a vegan sour cream, or omitted.
Storage
Once the cottage pie has cooled to room temperature, cover it tightly with plastic wrap or transfer it to an airtight container.
Place the covered dish in the refrigerator.
This dish can typically be refrigerated for up to 3 to 4 days.
Freezing
If you'd like to freeze the cottage pie, it's best to freeze it before baking if possible. Assemble the pie but do not bake it.
Wrap the unbaked pie tightly with plastic wrap and foil to prevent freezer burn.
Label the package with the date and store it in the freezer.
It should keep well for up to 2 to 3 months when frozen.
Reheating
To reheat a refrigerated vegetarian cottage pie, you can either reheat the whole dish in the oven or microwave individual portions.
If reheating from frozen, it's best to thaw it in the refrigerator overnight before reheating.
Reheat in the oven at around 350°F (175°C) for 20-25 minutes until it's heated through and the top is slightly golden and bubbly.
Microwave individual portions until they are thoroughly heated.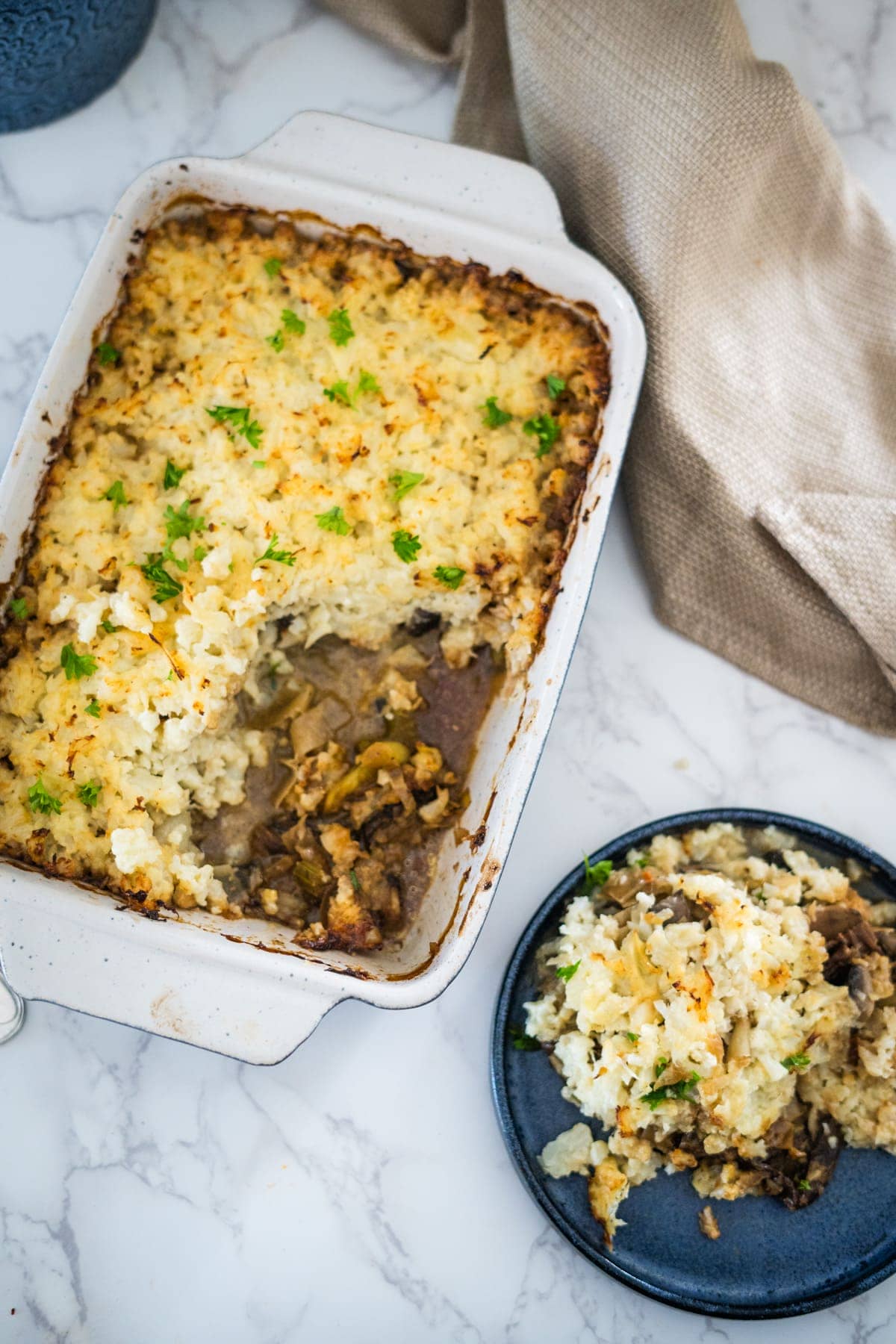 Keto Cottage Pie Recipe Tips
Choose a variety of mushrooms like cremini, shiitake, or portobello for a more complex flavor.
Ensure the mushroom leek filling is not too watery. If the mushrooms release a lot of liquid during cooking, allow it to simmer for a bit longer to reduce the liquid content.
Make sure the cauliflower is well-cooked and very tender before blending. This will result in a smoother mash.
Drain the cooked cauliflower well to prevent excess moisture in the mash. Excess water can make the mash too runny.
When spreading the cauliflower mash, aim for an even layer to cover the entire surface. A fork or spatula can help create patterns or ridges, which will crisp up in the oven.
If you desire a golden crust, sprinkle a bit of cheese on top of the cauliflower mash before baking.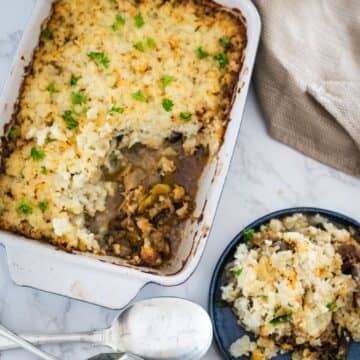 Mushroom and Leek Cottage Pie with Cauliflower Mash
This Mushroom Leek Cottage Pie with Cauliflower Mash is a healthier and keto vegetarian-friendly take on the traditional cottage pie, offering a rich, comforting, and flavorsome dish.
Ingredients
Filling
8

oz

cremini mushrooms, chopped

3

oz

Dry Porcini mushrooms

2

tablespoons

olive oil

2

medium

leeks, finely chopped

3

cloves

garlic, minced

1

stick

celery, finely sliced.

2

tablespoons

fresh tarragon, chopped

300

ml

vegetable stock

2

tablespoons

sour cream

1

teaspoon

salt

1

teaspoon

black pepper
Topping
1

medium

head of cauliflower

1

oz

butter

2

tablespoons

butter

4

oz

Cheddar cheese, grated

½

teaspoon

salt

½

teaspoon

black pepper
Instructions
Prepare the Topping
Boil or steam the cauliflower until very tender, then drain well.

Mash the cauliflower and add the Cheddar cheese, sour cream, butter, salt and pepper. Blend well until combined.
Prepare the Filling
In a large pan or skillet, heat the olive oil and add the leeks, cooking until softened.

Add the garlic and celery and cook for 2 minutes.

Add the chopped mushrooms and cook until they release their moisture and start to brown.

Add the stock, salt, pepper and dry porcini mushrooms and cook for 5 minutes.

Add the tarragon and cook for a further 2 minutes.

Remove from the heat and stir in the sour cream for a creamy mixture.
Assembly
Preheat the oven to 375°F (190°C).

Spread the mushroom leek filling in an 9 x 13 inch ovenproof dish.

Carefully spread the cauliflower mash over the top of the filling, creating an even layer.

If desired, sprinkle some grated cheese on top for a golden crust.

Place the dish in the preheated oven and bake for 20-25 minutes or until the top is slightly golden and the filling is bubbling at the edges.

Once done, allow it to cool for a few minutes before serving.
YOUR OWN NOTES
Nutrition
Serving:
1
serving
Calories:
275
kcal
Carbohydrates:
15
g
Protein:
11
g
Fat:
14
g
Fiber:
6
g
Net Carbohydrates:
7
g
The information shown is an estimate provided by an online nutrition calculator.