Our Tempeh Bolognese recipe is a delightful low-carb twist on the classic Italian favorite. This plant-based alternative retains all the rich, savory flavors of traditional Bolognese sauce while offering a healthy, protein-packed low carb and gluten-free recipe.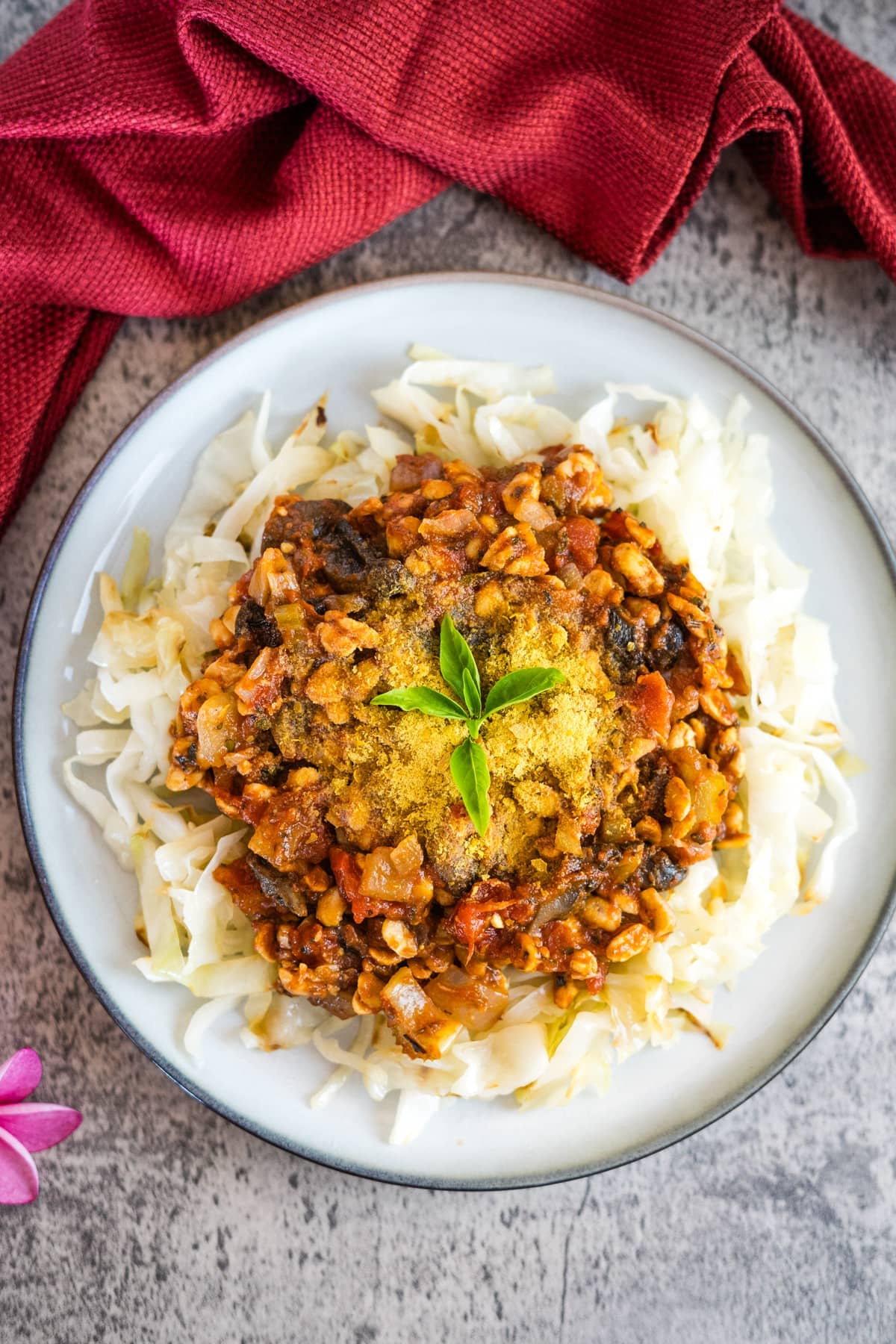 Crumbled tempeh is cooked with mushrooms in a tomato and herb sauce for a tasty meal that can be served with low carb noodles or rice.
This post may contain affiliate links. Please read my disclosure policy for more information.
Jump to:
What is tempeh?
Tempeh is primarily made from soybeans, although it can also be made from other legumes like chickpeas, black beans, or lentils. The soybeans are soaked, cooked, and then fermented with a specific type of mold called Rhizopus oligosporus. This fermentation process binds the soybeans into a compact, cake-like form.
Tempeh has a firm and slightly chewy texture, making it an excellent meat substitute in various dishes. Unlike tofu, which is softer and more porous, tempeh retains its shape and has a more robust texture.
Is tempeh low carb?
Yes, tempeh is relatively low in carbohydrates compared to many other plant-based foods. A typical 3-ounce (85-gram) serving of tempeh contains approximately 7-9 grams of total carbohydrates with 2-3 grams of fiber.
Tempeh is known for being a rich source of plant-based protein, making it an excellent choice for those following vegetarian or vegan diets. It also provides a variety of essential vitamins and minerals, particularly B vitamins, iron, and calcium. Additionally, the fermentation process involved in making tempeh can enhance its nutritional value and make certain nutrients more bioavailable.
Ingredients
All you need to make this tasty vegan bolognese is a few ingredients.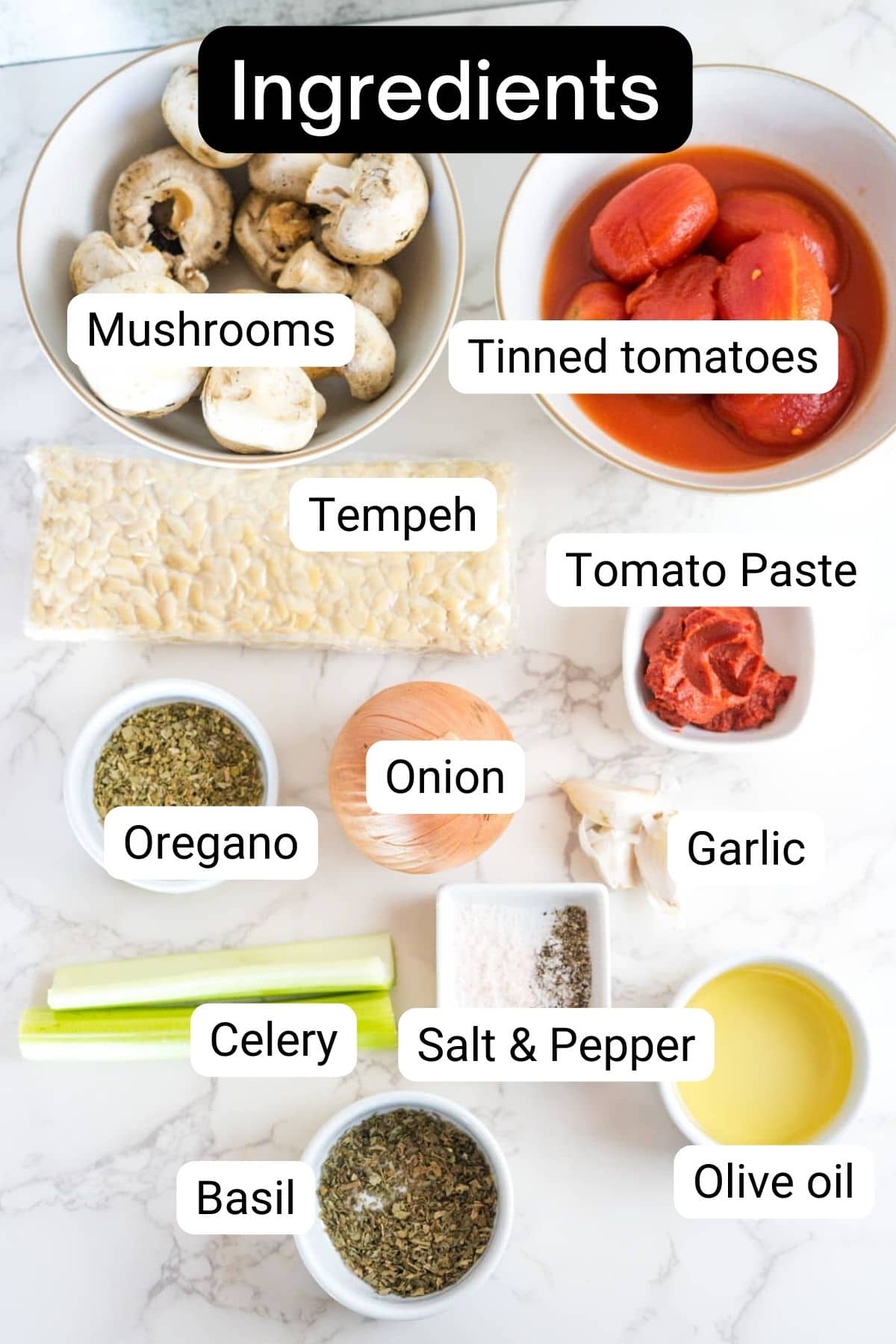 Tempeh - A fermented soybean product known for its nutty flavor and impressive protein content. It's crumbled and cooked to perfection, mimicking the texture of traditional ground meat.
Tomatoes - A can of crushed tomatoes provides the essential tomato base, offering a burst of freshness and natural sweetness to the sauce.
Mushrooms - Entirely optional but they go well with the crumbled tempeh.
Herbs - Dried basil and oregano add to the bolognese flavor. Fresh herbs could be used too.
How to make tempeh bolognese
This is a simple recipe that takes no time at all to make.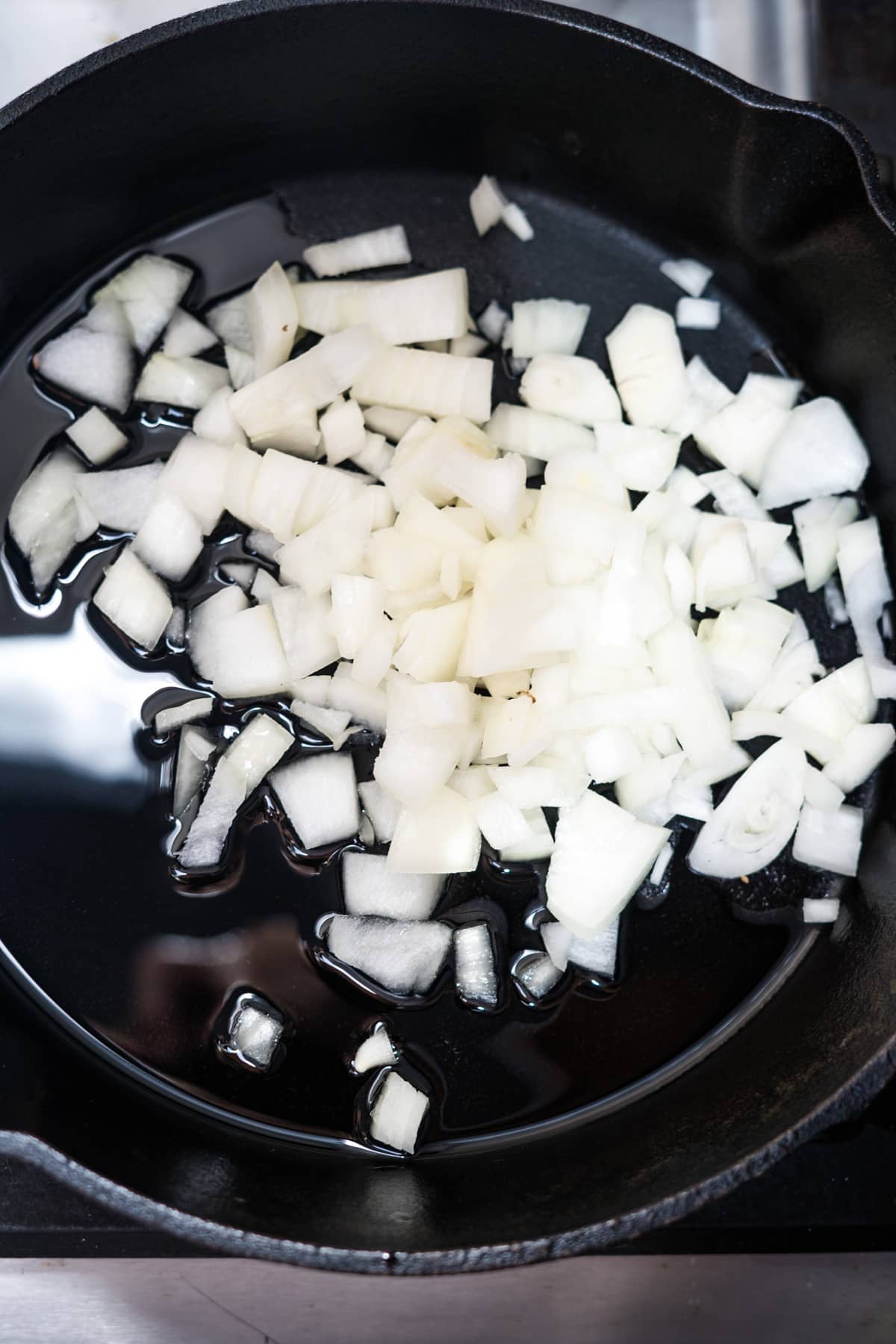 Cook the onion.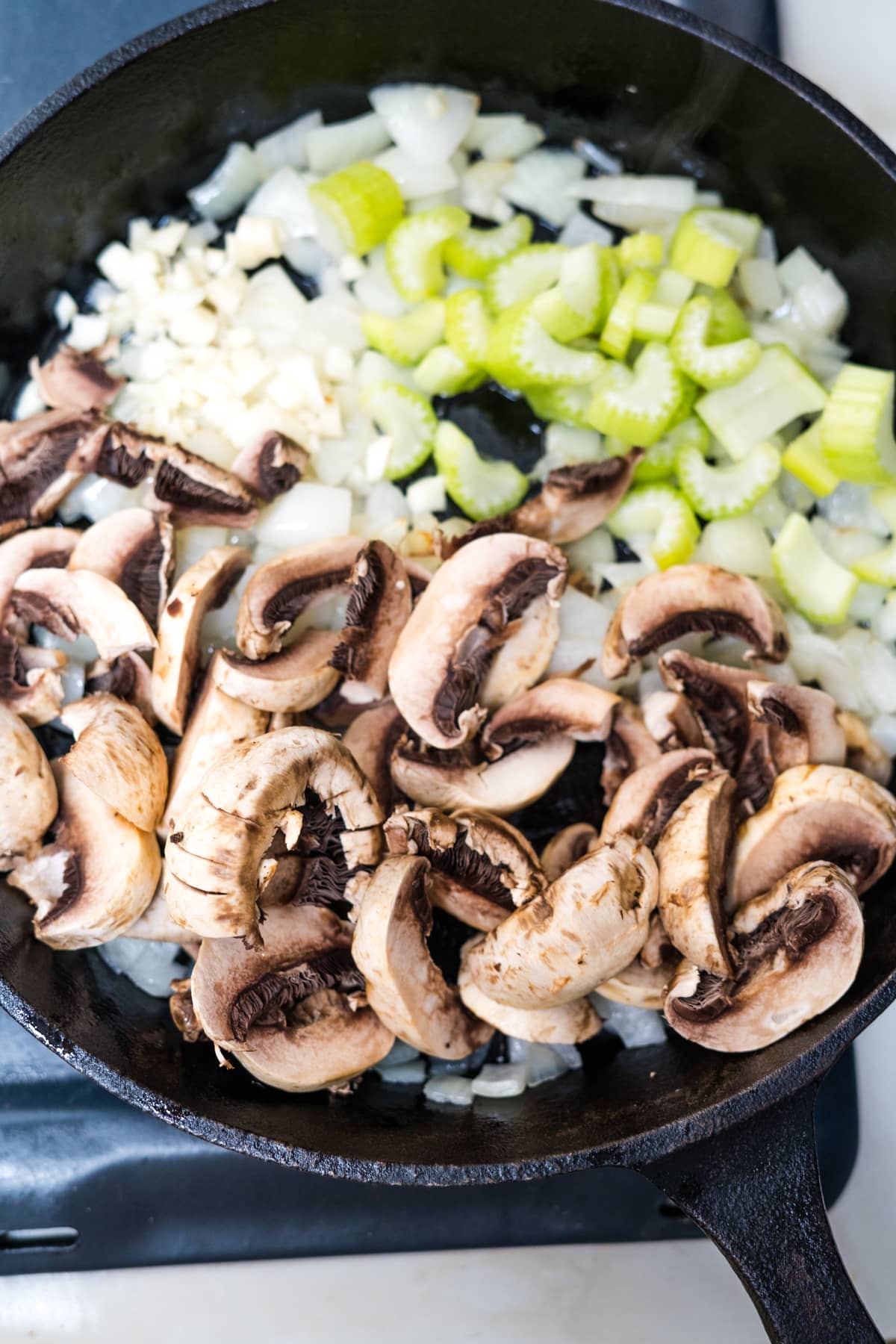 Add mushrooms, garlic and celery.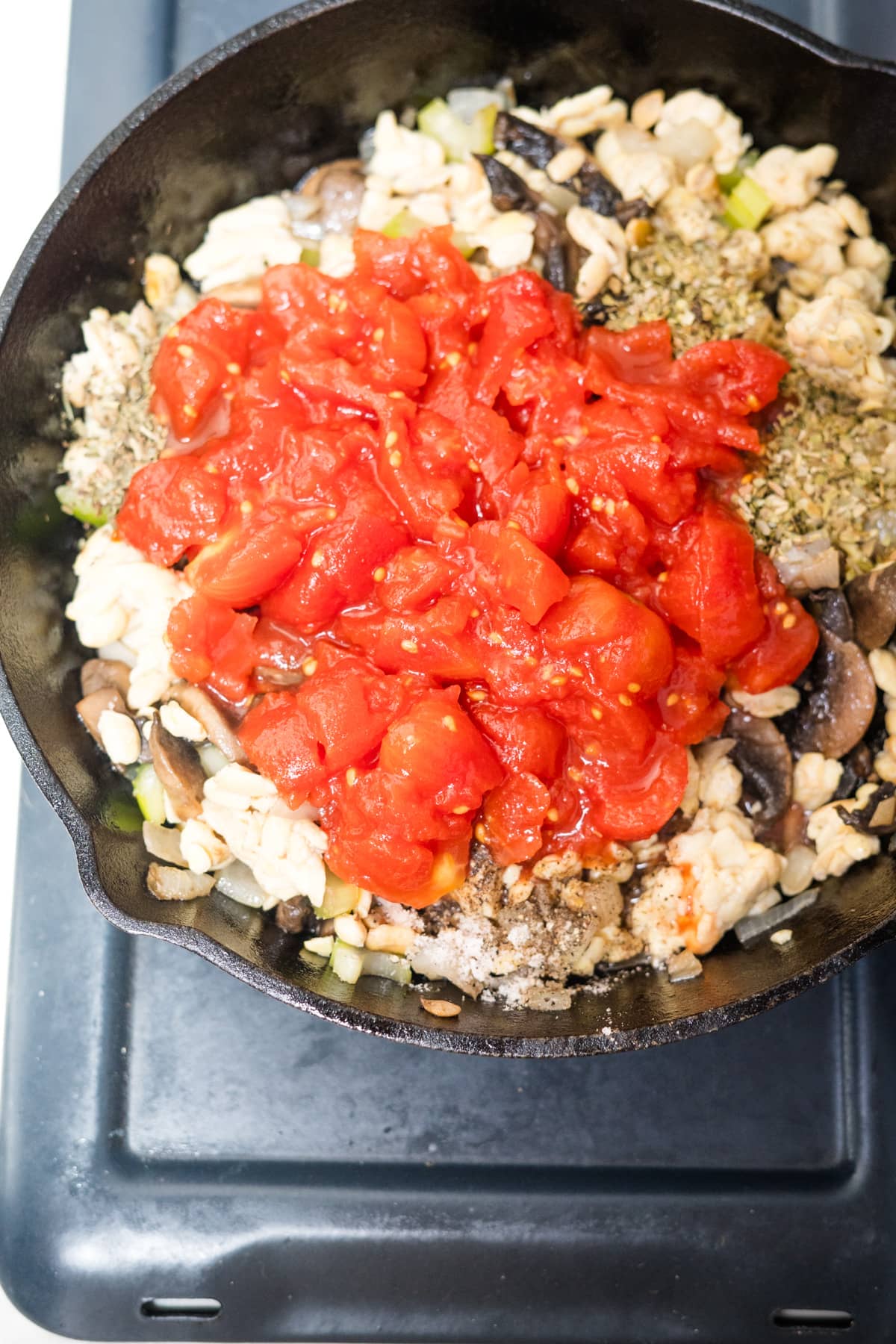 Add tempeh, tomatoes and seasoning.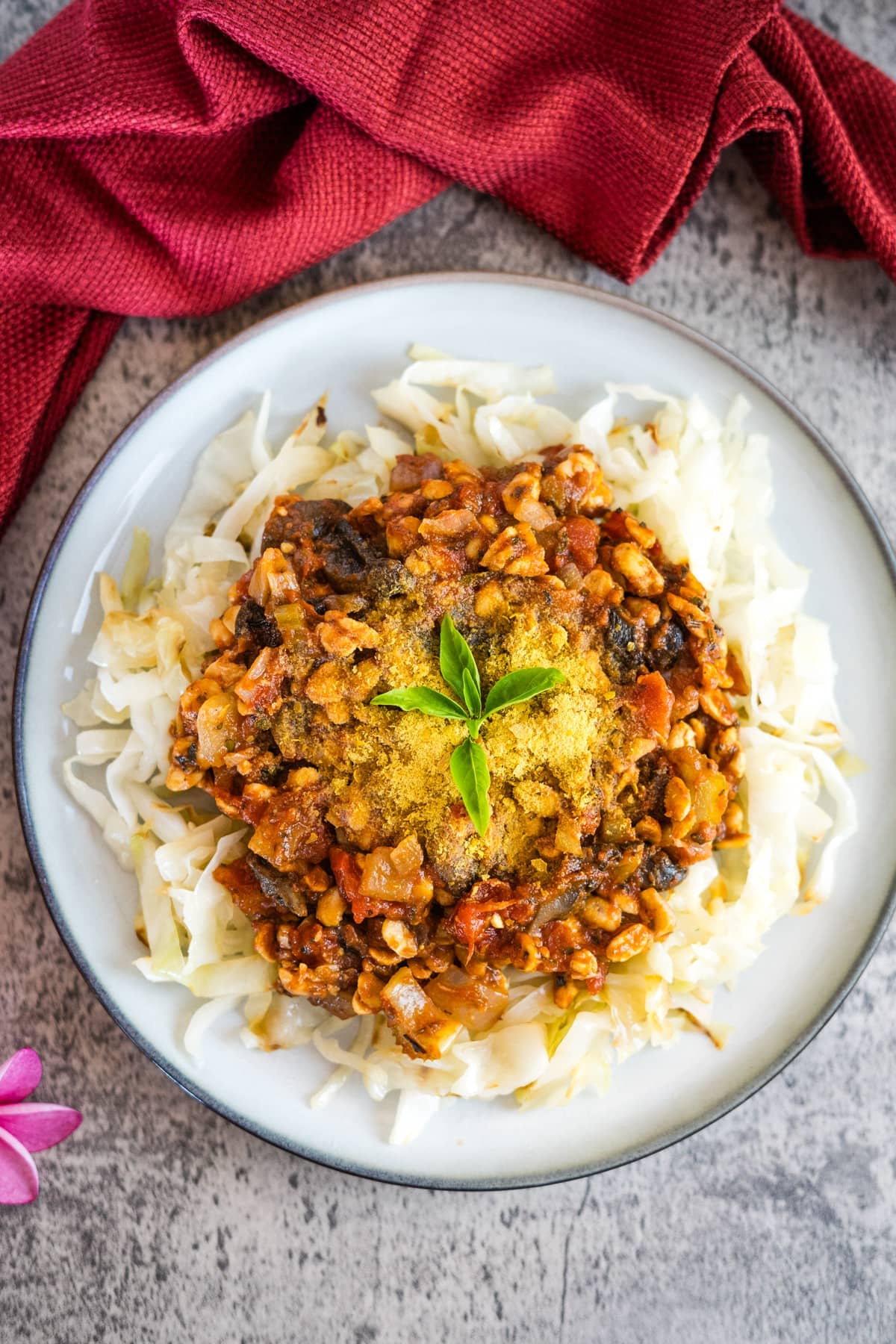 Serve with low carb noodles.
Storage
Before storing, allow the tempeh bolognese to cool down to room temperature. Placing hot food directly in the refrigerator can raise the temperature inside the fridge and promote bacterial growth.
Transfer the tempeh bolognese to airtight containers. Glass or plastic containers with tight-fitting lids work well. You can also use resealable plastic bags if you prefer.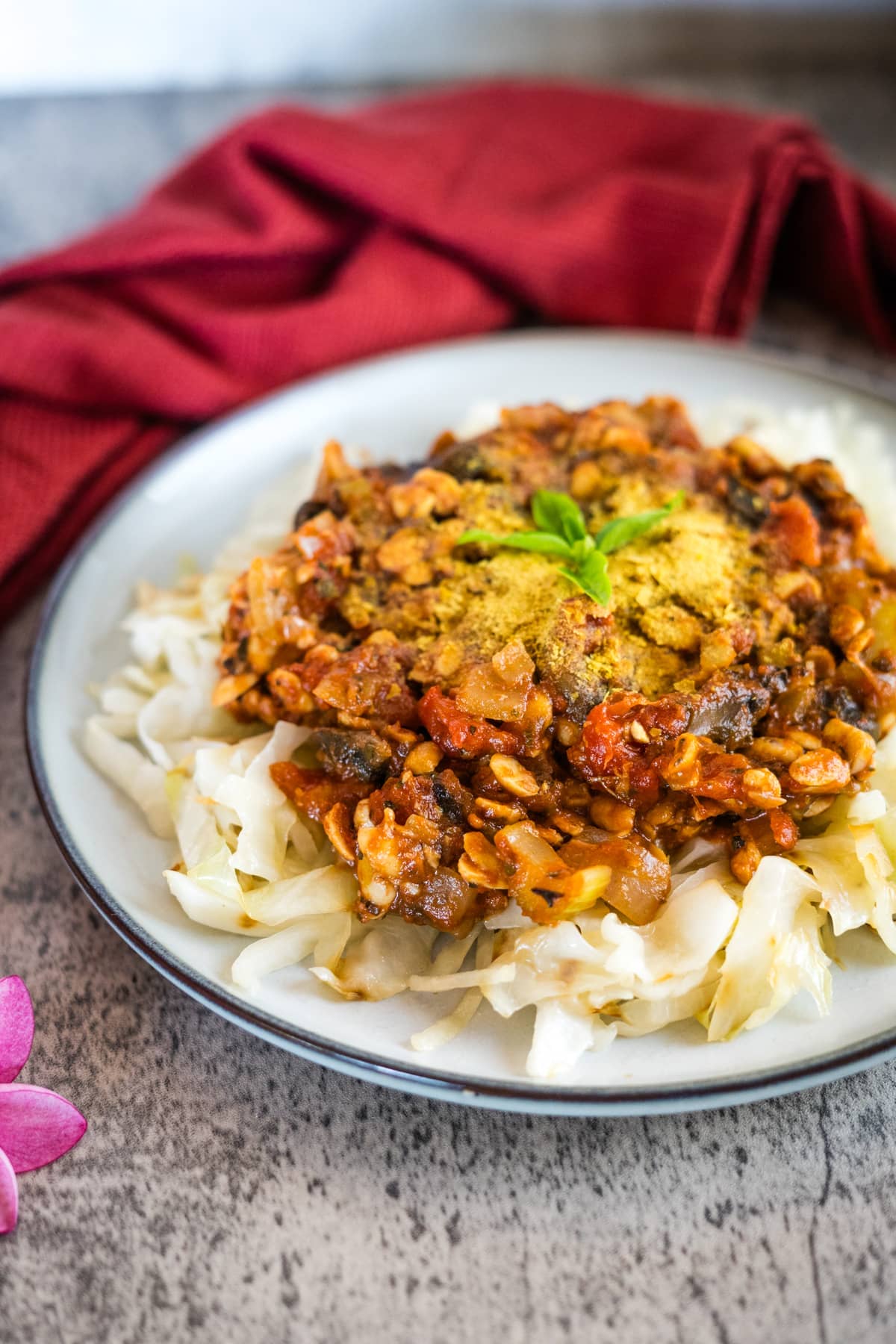 Freezing
If you want to store the tempeh bolognese for a longer period, consider freezing it. Transfer the cooled bolognese into airtight freezer-safe containers or heavy-duty freezer bags. Label the containers with the date for reference. Properly stored, tempeh bolognese can be frozen for up to 3 months.
Thaw the bolognese in the refrigerator overnight. Reheat it in a saucepan or microwave, stirring occasionally, until it's heated throughout. Again, you may need to add a little water if it's too thick.
Serving Suggestions
When serving low-carb tempeh bolognese, you'll want to pair it with side dishes and accompaniments that are also low in carbohydrates. Here are some delicious and low-carb serving suggestions:
Zucchini Noodles (Zoodles): Zucchini noodles are an excellent low-carb alternative to traditional pasta. Simply spiralize zucchinis and sauté them briefly in olive oil until they're tender. Top the zoodles with the tempeh bolognese sauce.
Spaghetti Squash: Cut the squash in half, remove the seeds, and roast it in the oven until you can easily scrape the flesh into spaghetti-like strands with a fork.
Steamed or Sautéed Greens: Serve the tempeh bolognese over a bed of steamed or sautéed leafy greens like spinach, kale, or Swiss chard. The greens provide a healthy and low-carb base for the sauce.
Cauliflower Rice: You can either purchase pre-made cauliflower rice or make your own by pulsing cauliflower florets in a food processor. Sauté the cauliflower rice in a bit of olive oil and season it with salt and pepper before serving with the bolognese.
Cabbage Noodles: Thinly slice cabbage and gently fry it in oil or butter until soft then serve as noodles.
Mixed Salad: Create a simple mixed salad with fresh greens, cherry tomatoes, cucumber slices, and a vinaigrette dressing. The fresh and crisp salad provides a refreshing contrast to the rich and savory bolognese sauce.
Cauliflower Mash: Similar to mashed potatoes, cauliflower mash is a creamy and satisfying side dish that is low in carbs. Steam or boil cauliflower florets until tender, then mash them with butter or olive oil, garlic, and your preferred seasonings.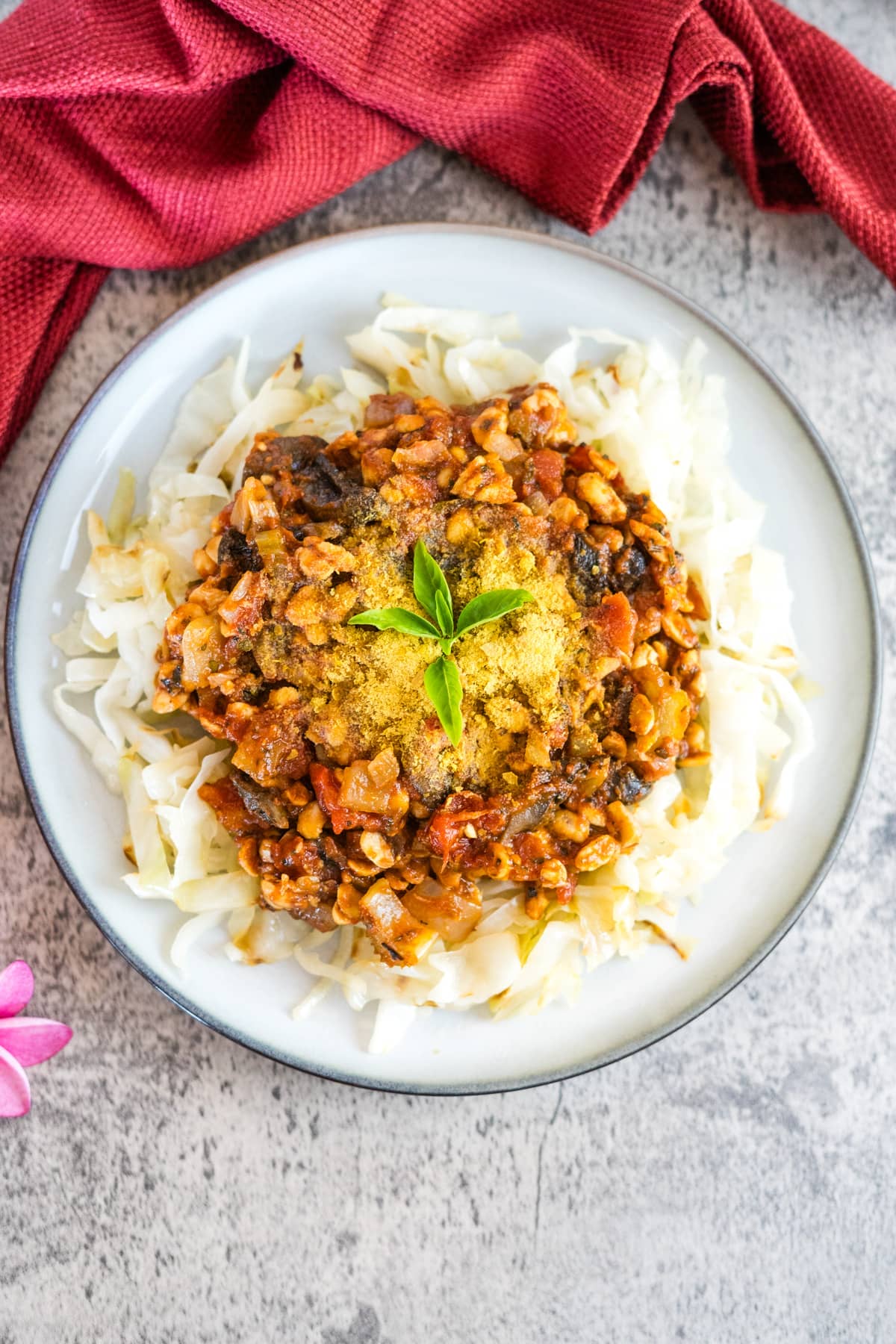 More easy tempeh recipes
If you enjoy tempeh, try these other low carb recipes: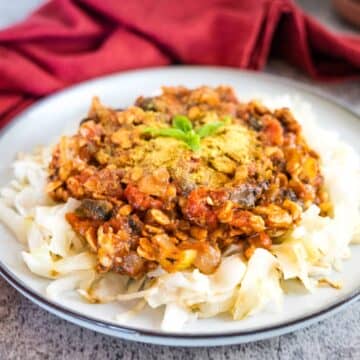 Tempeh Bolognese
This hearty and flavorful tempeh bolognese sauce is a great alternative to traditional meat-based Bolognese sauce. Low in carbs, vegan and gluten-free.
Ingredients
8

oz

tempeh

8

oz

mushrooms, sliced

1

medium

onion, peeled and chopped

2

sticks

celery, chopped

3

cloves

garlic, minced

14

oz

canned tomatoes

1

tablespoon

oregano, dried

1

tablespoon

basil, dried

½

teaspoon

salt

½

teaspoon

black pepper

2

tablespoons

olive oil
Instructions
Start by crumbling the tempeh into small pieces. You can use your hands or a fork to break it up into a texture resembling ground meat.

Heat the olive oil in a large skillet or saucepan over medium heat. Add the chopped onion and sauté for 5-7 minutes.

Add the mushrooms, celery and garlic and continue to cook for a further 5 minutes, stirring occasionally.

Add the crumbled tempeh to the skillet with the sautéed vegetables. Cook for another 5-7 minutes, stirring occasionally, until the tempeh starts to brown.

Stir in the canned tomatoes, dried oregano, dried basil, salt and pepper. Reduce the heat to low, cover, and simmer for about 15-20 minutes, stirring occasionally. This will allow the flavors to meld together.

Once the sauce has thickened and the flavors have melded, taste it and adjust the seasonings if needed. If you prefer a smoother texture, you can use an immersion blender to partially blend the sauce. Serve the tempeh bolognese over the prepared low-carb pasta.
YOUR OWN NOTES
Nutrition
Serving:
1
serving
Calories:
239
kcal
Carbohydrates:
16
g
Protein:
15
g
Fat:
14
g
Fiber:
4
g
Net Carbohydrates:
12
g
The information shown is an estimate provided by an online nutrition calculator.