If you're a fan of crispy and flavorful snacks, then you're in for a treat with these delicious Air Fryer Paneer Fries. Paneer, a popular Indian cheese, takes on a whole new level of scrumptiousness when transformed into crispy fries using the magic of an air fryer. With their golden-brown exterior and soft, melt-in-your-mouth interior, these paneer fries are an irresistible snack or appetizer option.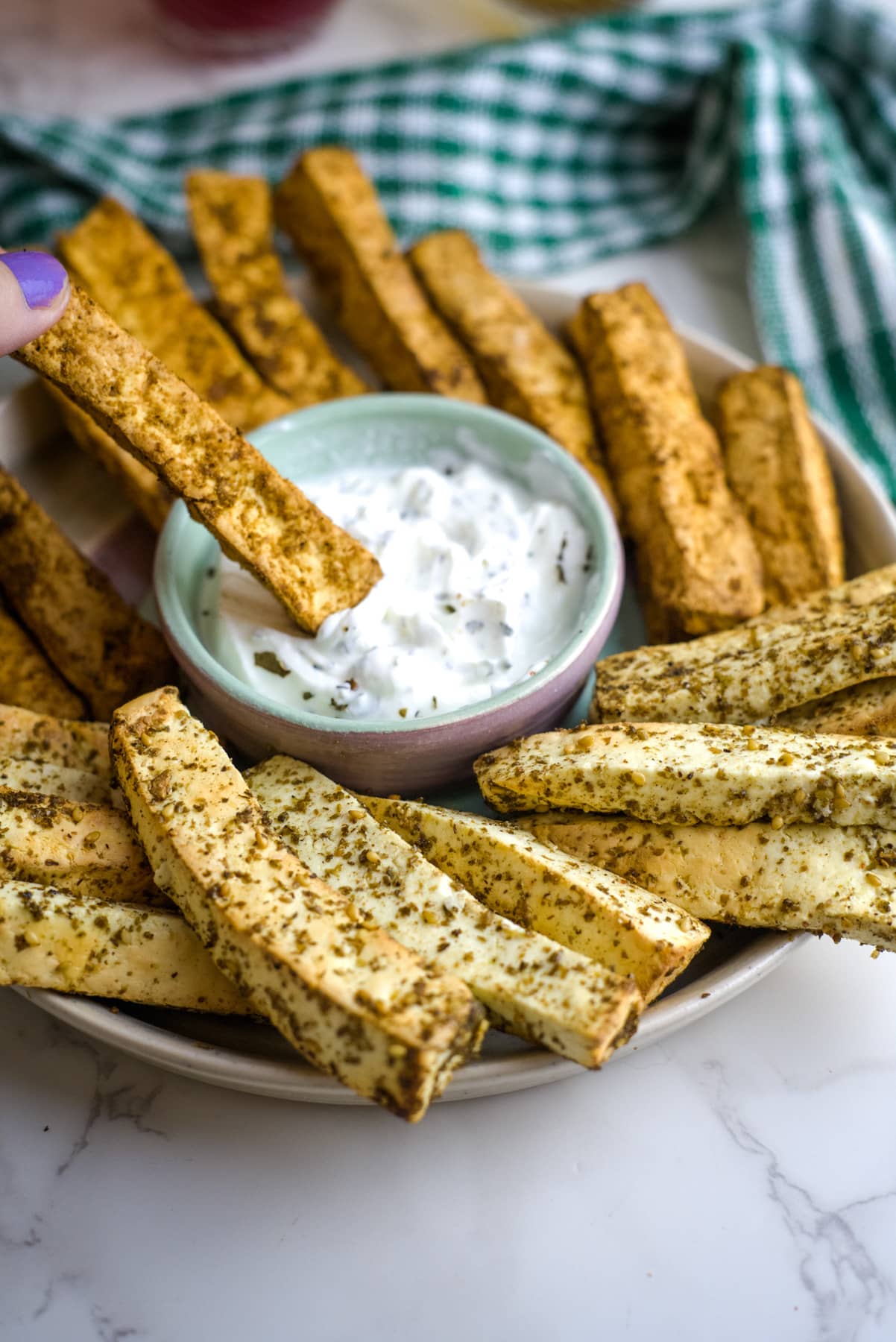 Paneer, known for its mild and creamy taste, is perfect for adapting to various cooking techniques. When combined with the air fryer's ability to achieve a crispy texture using minimal oil, you get a healthier alternative to traditional deep-fried snacks without compromising on taste.
This post may contain affiliate links. Please read my disclosure policy for more information.
Jump to:
Carbs in Paneer Cheese
Paneer contains a very low amount of carbohydrates. On average, 100 grams of paneer cheese provides around 1.2 grams of carbohydrates. Paneer is also known for its high protein content. It typically contains about 18-20 grams of protein per 100 grams.
Ingredients
To make these paneer fries, you'll need a few basic ingredients like paneer, spices, and a coating to achieve that crispy exterior. The spices can be adjusted to suit your taste preferences, making it a versatile snack that can be customized to your liking.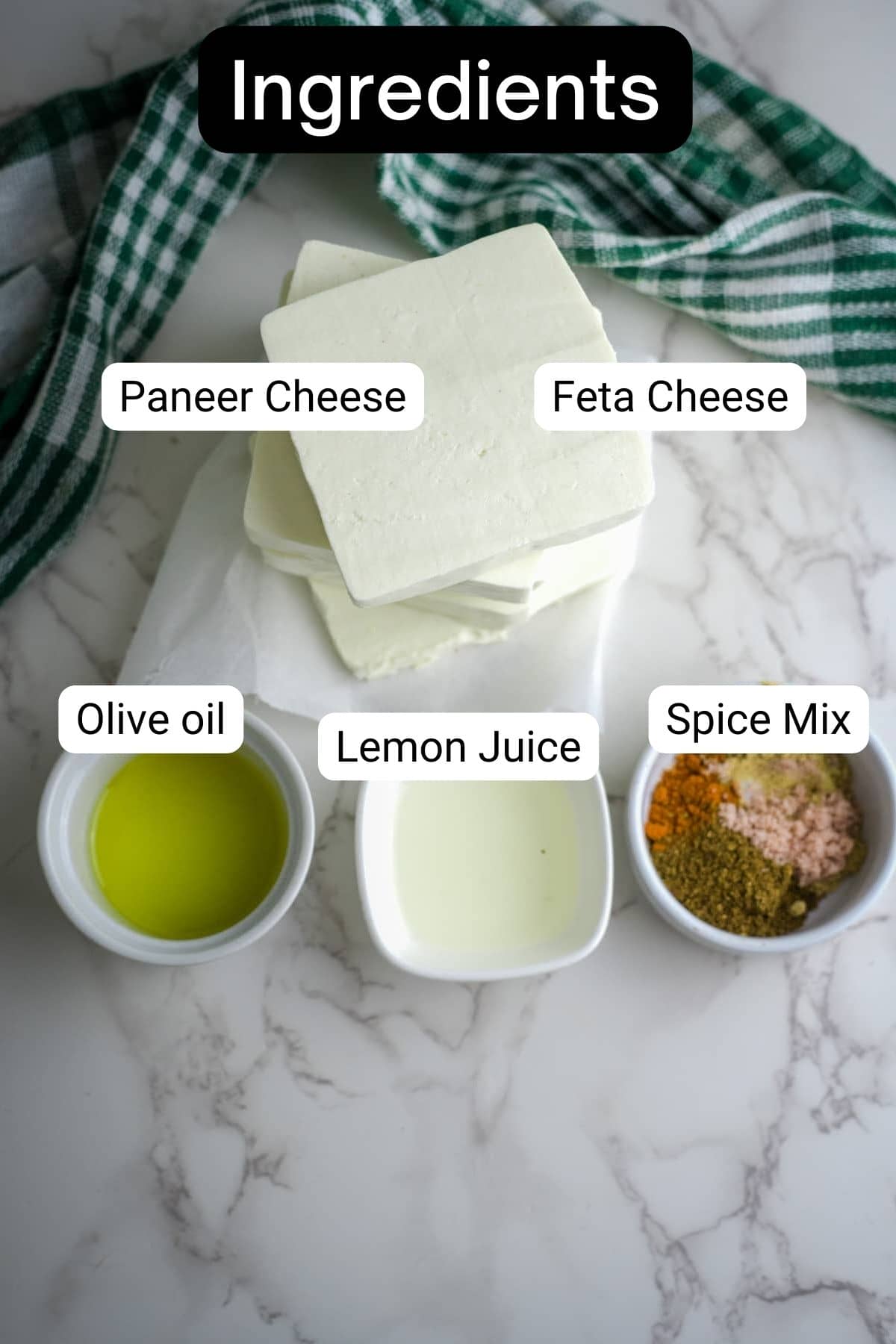 We have made this recipe with two different spice mixes. A spicy seasoning and a Zaatar seasoning. The details of each seasoning is in the recipe card below.
How to Make Air Fryer Paneer Fries
The process is relatively simple. First, the paneer is cut into fry-shaped sticks. Then, it's marinated in a blend of spices and oil to infuse it with flavor. Then they are placed in the air fryer, where they cook to perfection, giving you a delightful snack that's ready in minutes.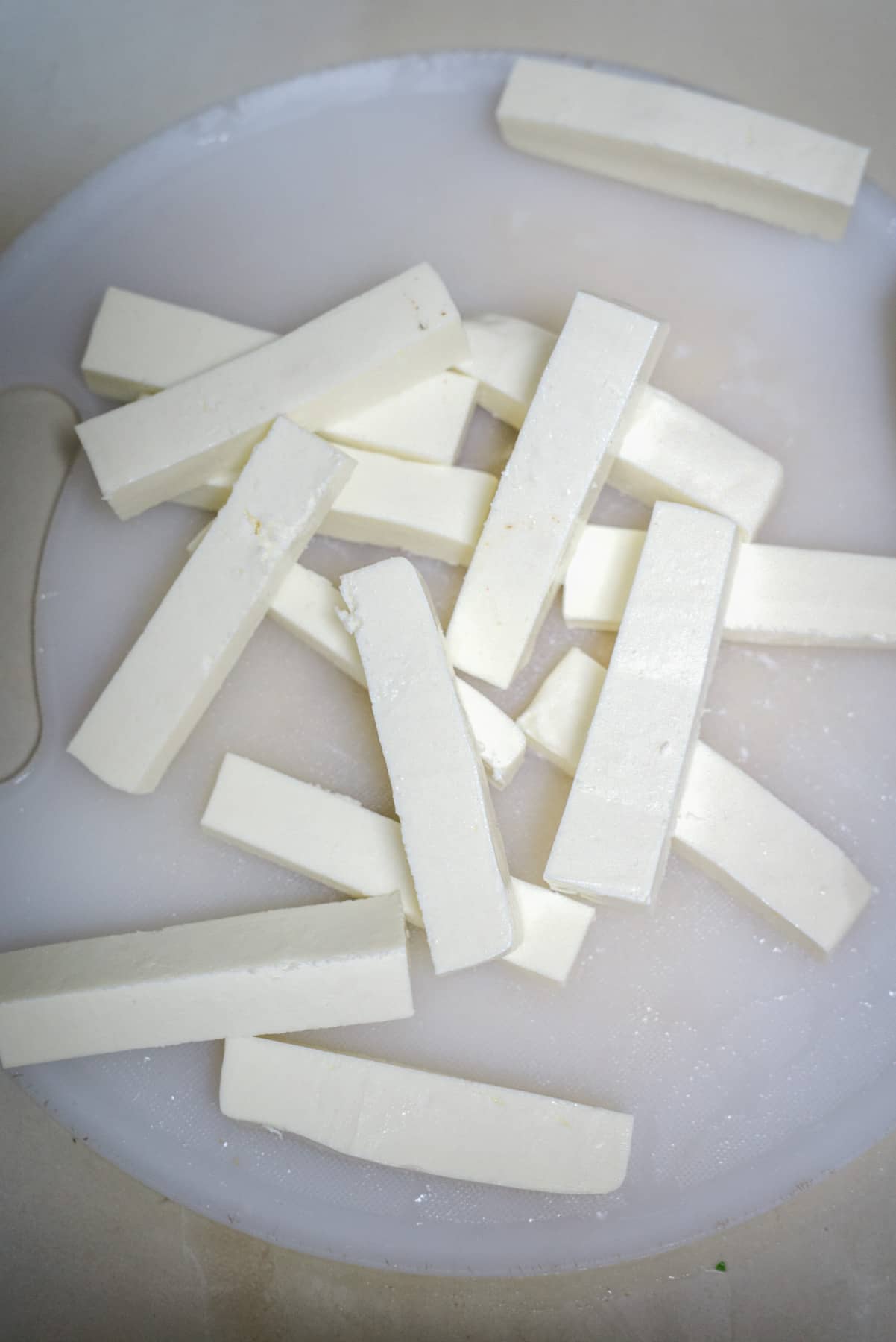 Slice the paneer into strips.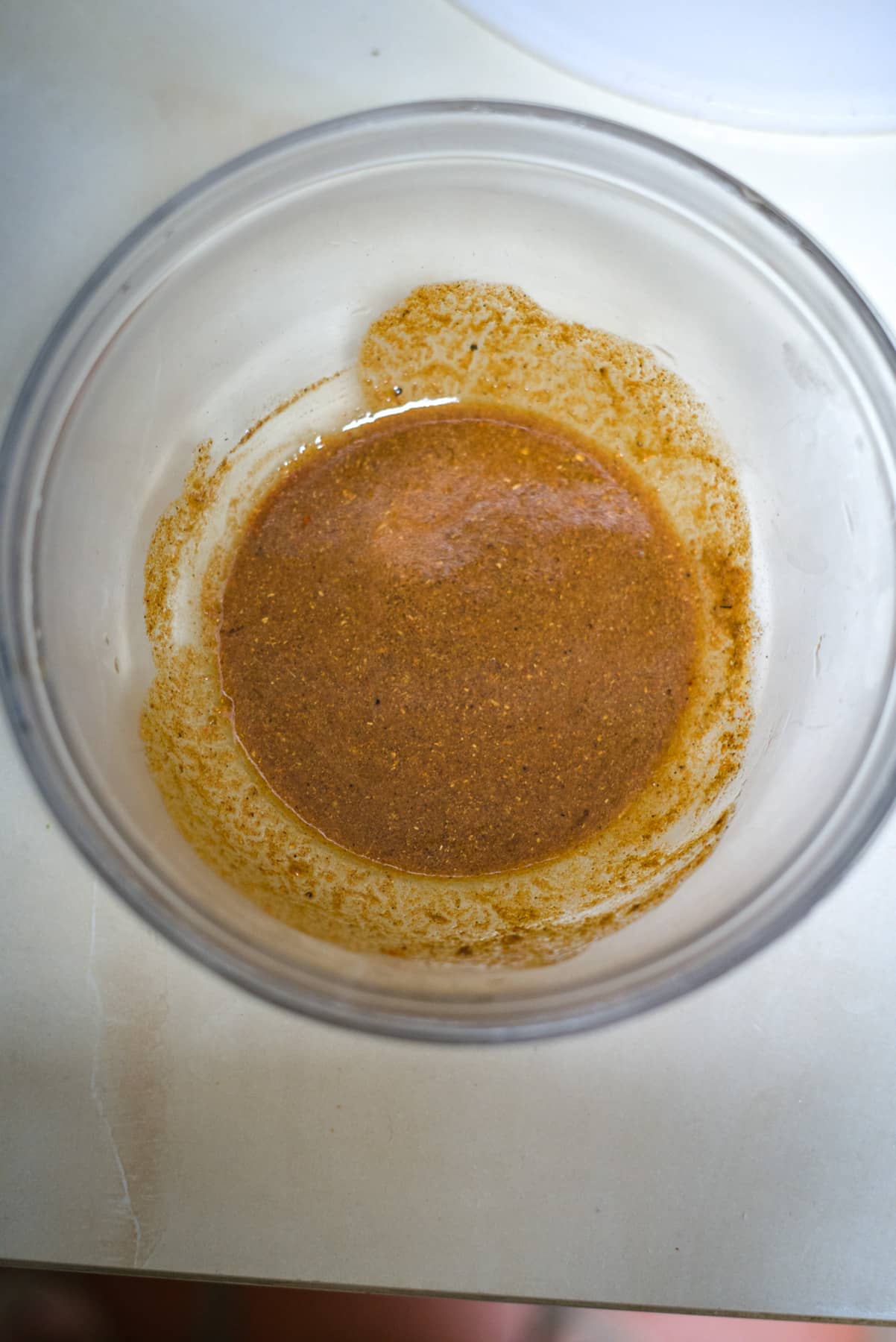 Mix oil and spices together for spicy fries.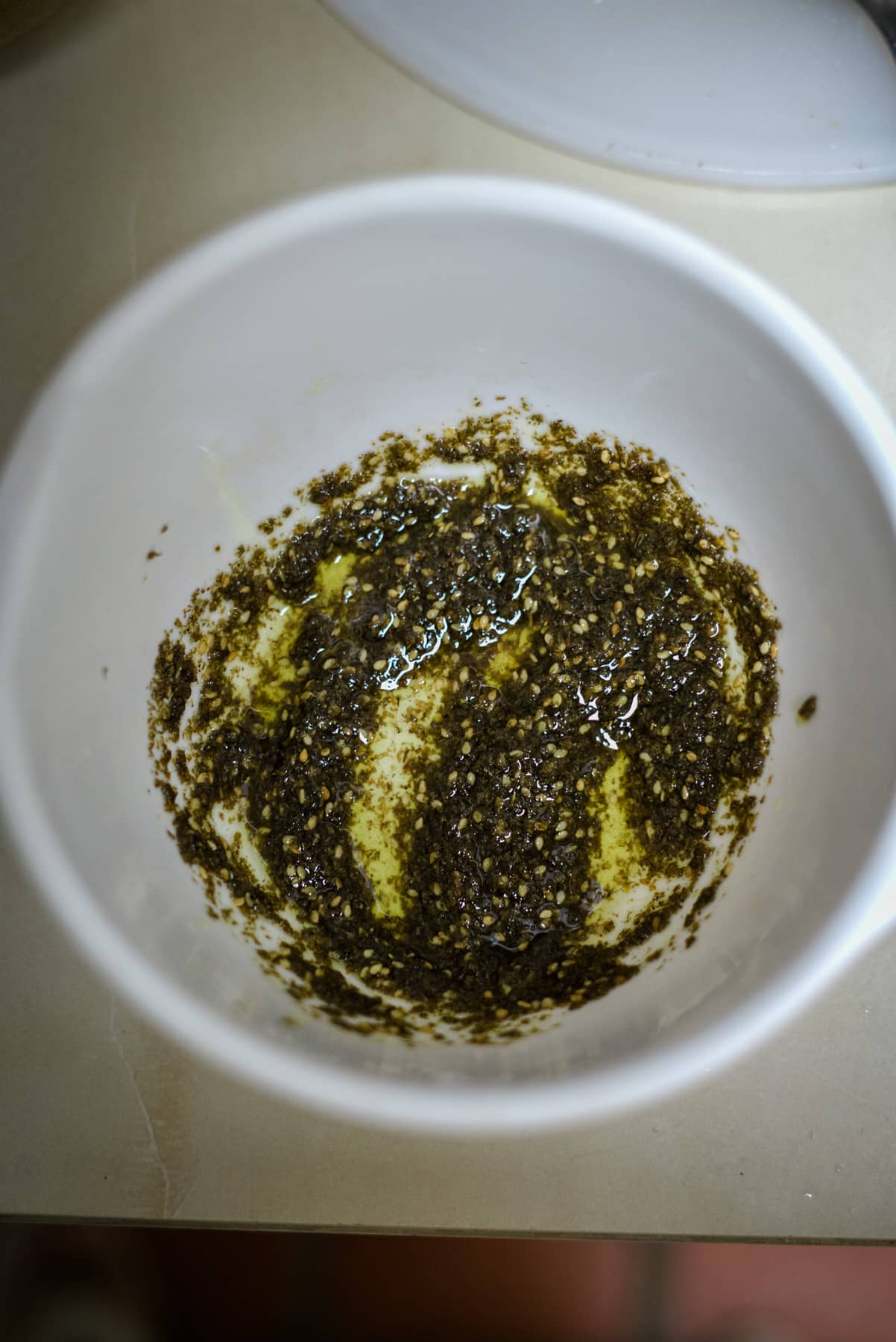 Mix the zaatar fries mixture.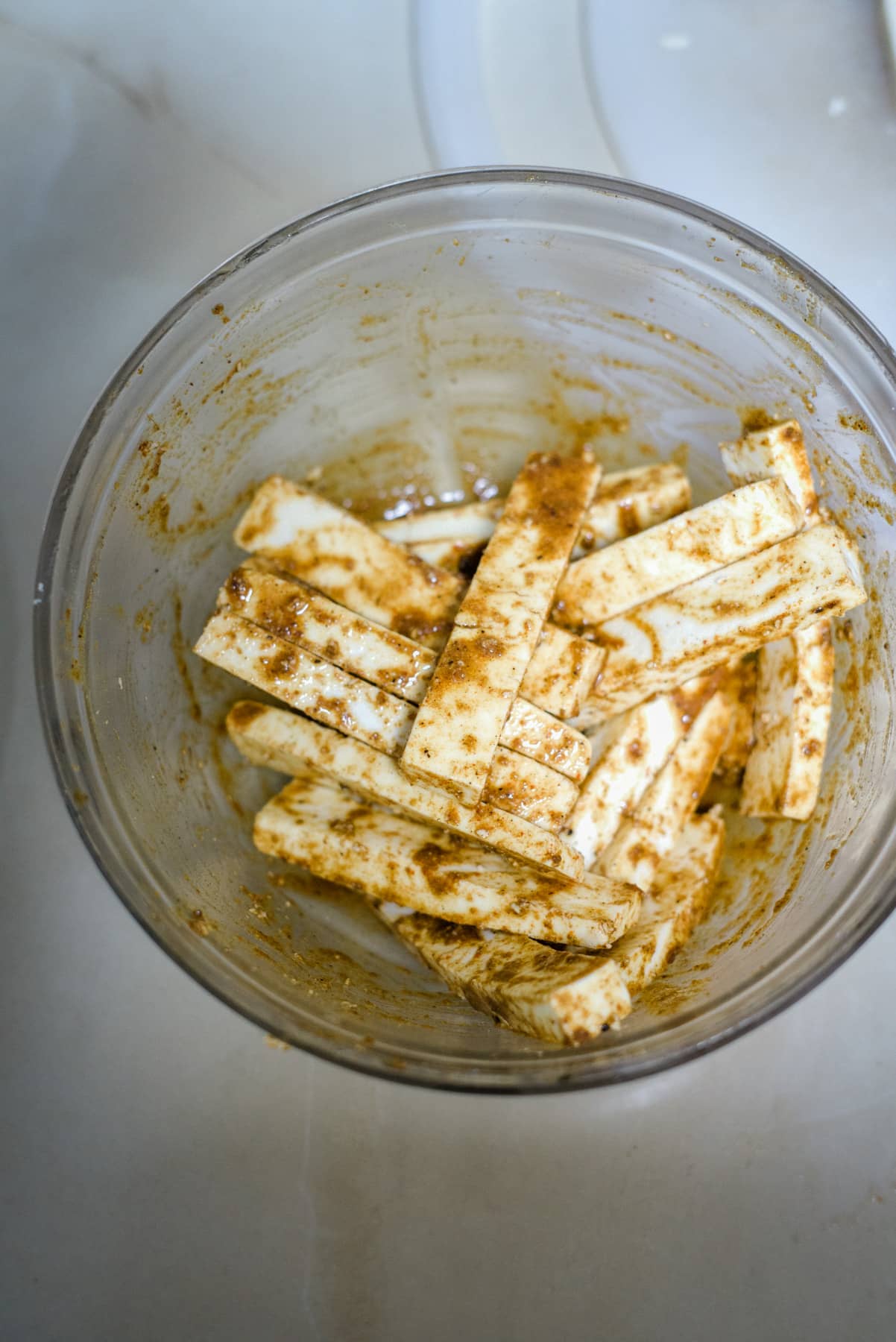 Toss paneer sticks in seasoning for cooking.
Baking Paneer Fries
Baking paneer fries is a great alternative to air frying if you don't have an air fryer or prefer the baking method. Place the seasoned paneer fries on a parchment line baking tray and bake for 15-20 minutes at 220C/425F degrees.
Storage
Ideally, air fryer paneer fries are best enjoyed freshly made. If you have any leftovers, store them in an air tight container in the fridge. Reheat in the air fryer for a couple of minutes.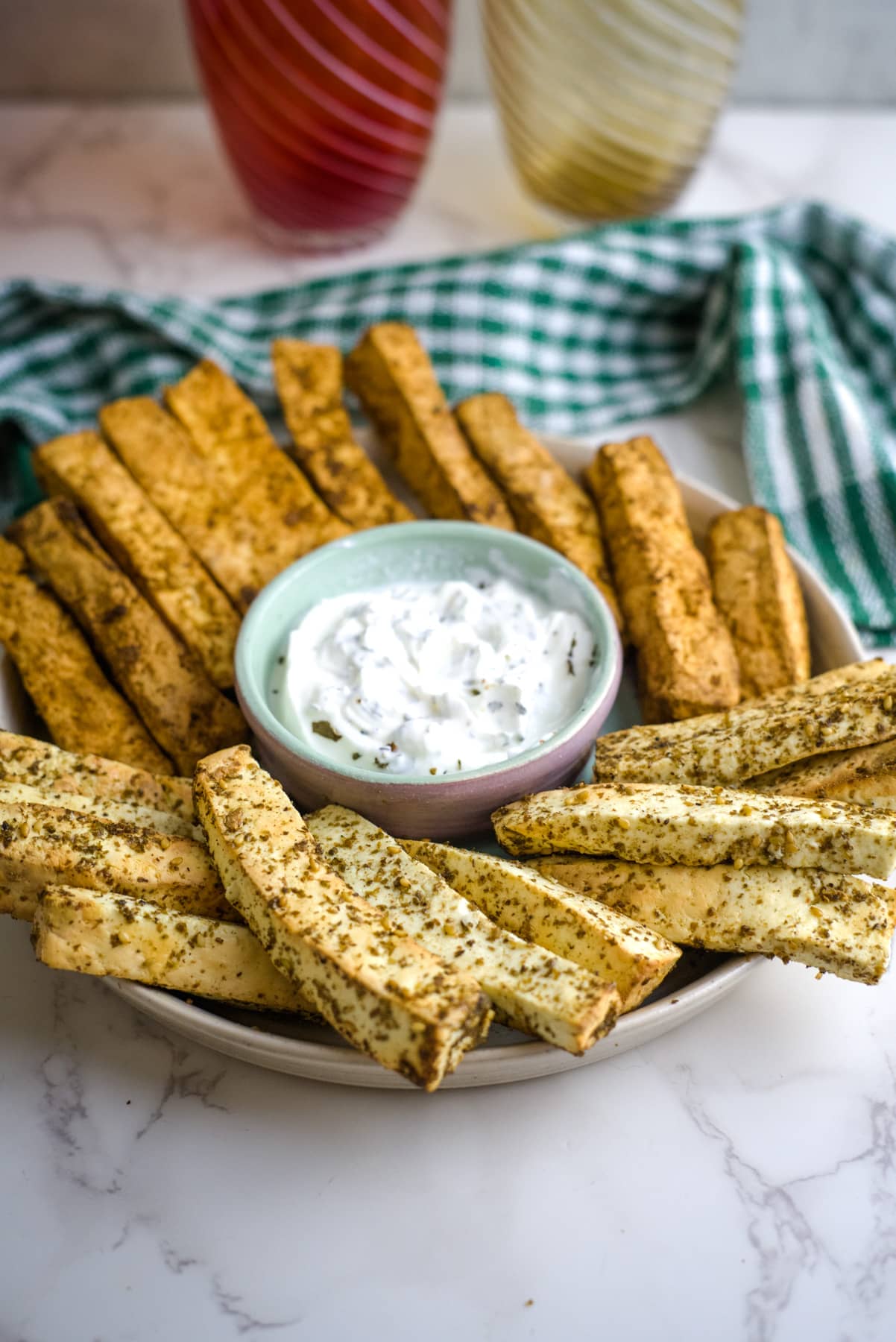 Variations
There are numerous ways to add flavor and create delicious variations of paneer fries. Here are a few ideas to get you started:
Spicy Masala Paneer Fries: Add a kick of spice by tossing the paneer fries in a blend of spices like chili powder, cumin, coriander, turmeric, and garam masala. This variation pairs well with a tangy mint chutney or yogurt dip.
Tandoori Paneer Fries: Infuse the paneer fries with the flavors of tandoori masala by marinating them in a mixture of yogurt, tandoori spices, ginger, and garlic. This variation gives the fries a smoky and slightly charred taste.
Herbed Paneer Fries: Sprinkle a combination of dried herbs like oregano, basil, thyme, and rosemary onto the paneer fries before air frying. This variation adds a delightful aromatic flavor and pairs well with a garlic aioli dip.
Lemon Pepper Paneer Fries: Drizzle the paneer fries with a squeeze of lemon juice and sprinkle them with freshly ground black pepper and a touch of salt. This variation offers a zesty and tangy twist.
More Keto Air Fryer Recipes
Enjoy your air fryer with these keto vegetarian recipes.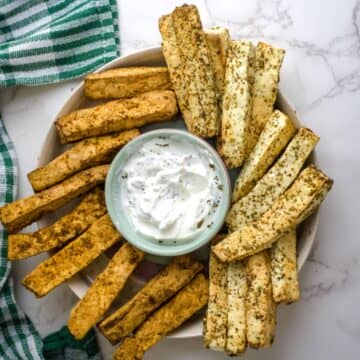 Air Fryer Paneer Fries
So, if you're looking to try something new and delicious, give these Air Fryer Paneer Fries a go. With their crispy exterior, soft interior, and delightful blend of spices, they're sure to become a favorite among paneer lovers and snack enthusiasts alike
Ingredients
Spicy Seasoning
1

tablespoon

lemon juice

1

tablespoon

olive oil

½

teaspoon

chili powder

1

teaspoon

ground ginger

¼

teaspoon

salt

1

teaspoon

garam masala
Zaatar Seasoning
3

tablespoons

zaatar

1

tablespoon

lemon juice

2

tablespoons

olive oil
Instructions
Cut the paneer into ¼ inch thick strips. The thinner, the crispier your paneer fries will be so this can be varied.

In a medium bowl, mix the spice seasoning mix.

In another medium bow, mix the zaatar seasoning mix.

Toss half the paneer strips in the spice seasoning mix and the remaining strips in the zaatar mix.

Preheat the air fryer according to the manufacturers instructions.

Place the paneer strips in the air fryer basket in a single layer. Cook for 10-12 minutes at 2002C/400F degrees.

Serve with a dip and enjoy!
Notes
Makes 4 servings. Portions will vary depending upon the thickness of the paneer slices.
Any nutritional analysis on the website is based on an estimate, calculated by Spoonacular from the individual ingredients in each recipe. Variations may occur for various reasons, including product availability and food preparation. We make no representation or warranty of the accuracy of this information.
YOUR OWN NOTES
Nutrition
Serving:
1
serving
Calories:
287
kcal
Carbohydrates:
4
g
Protein:
9
g
Fat:
26
g
Fiber:
1
g
Net Carbohydrates:
3
g
The information shown is an estimate provided by an online nutrition calculator.