Enjoy a spicy dish with this buffalo tofu recipe. Made with just a few ingredients in the air fryer, it's an easy and spicy keto vegan recipe. Enjoy as an appetizer for game days, or part of a main dish.
Tender cubes of tofu, coated in a light seasoning are air fried to achieve a delectable golden-brown crispiness. Then, they're generously slathered in a fiery and tangy buffalo sauce for a spicy treat.
If you enjoy our buffalo cauliflower bites, you will like this crispy tofu recipe. Or if you are tired of cauliflower, turn to tofu!
This post may contain affiliate links. Please read my disclosure policy for more information.
Jump to:
Is tofu keto-friendly?
Tofu can be considered keto-friendly and is often included in ketogenic diets. Tofu is low in carbohydrates and high in protein, which aligns with the macronutrient ratios typically followed in a ketogenic diet.
A 100-gram serving of tofu generally contains around 2-3 grams of net carbohydrates, which is the total carbohydrate content minus the fiber content. This amount can vary slightly depending on the tofu brand or type, so it's always a good idea to check the nutrition labels for precise information.
Tofu is also a valuable source of plant-based protein, providing approximately 8-10 grams of protein per 100-gram serving.
Ingredients
The tofu's mild and absorbent nature makes it the perfect canvas for soaking up all the zesty flavors and aromatic spices that make Buffalo tofu bites so beloved.
Tofu - firm tofu that will be pressed to remove the excess water.
Hot sauce - Franks hot sauce is a great sugar free spicy sauce to use.
Almond flour - helps to make a crispy coating and keeps the recipe low carb and gluten-free.
Garlic Powder - Adds a touch of flavor.
Onion Powder - Is added to the coating.
How to make Buffalo Tofu
The key to making great buffalo tofu is to use the right kind of tofu. There are two types of tofu that are good for making buffalo tofu: Firm and extra firm tofu. Both versions work really well and the kind you choose can be based on your preference.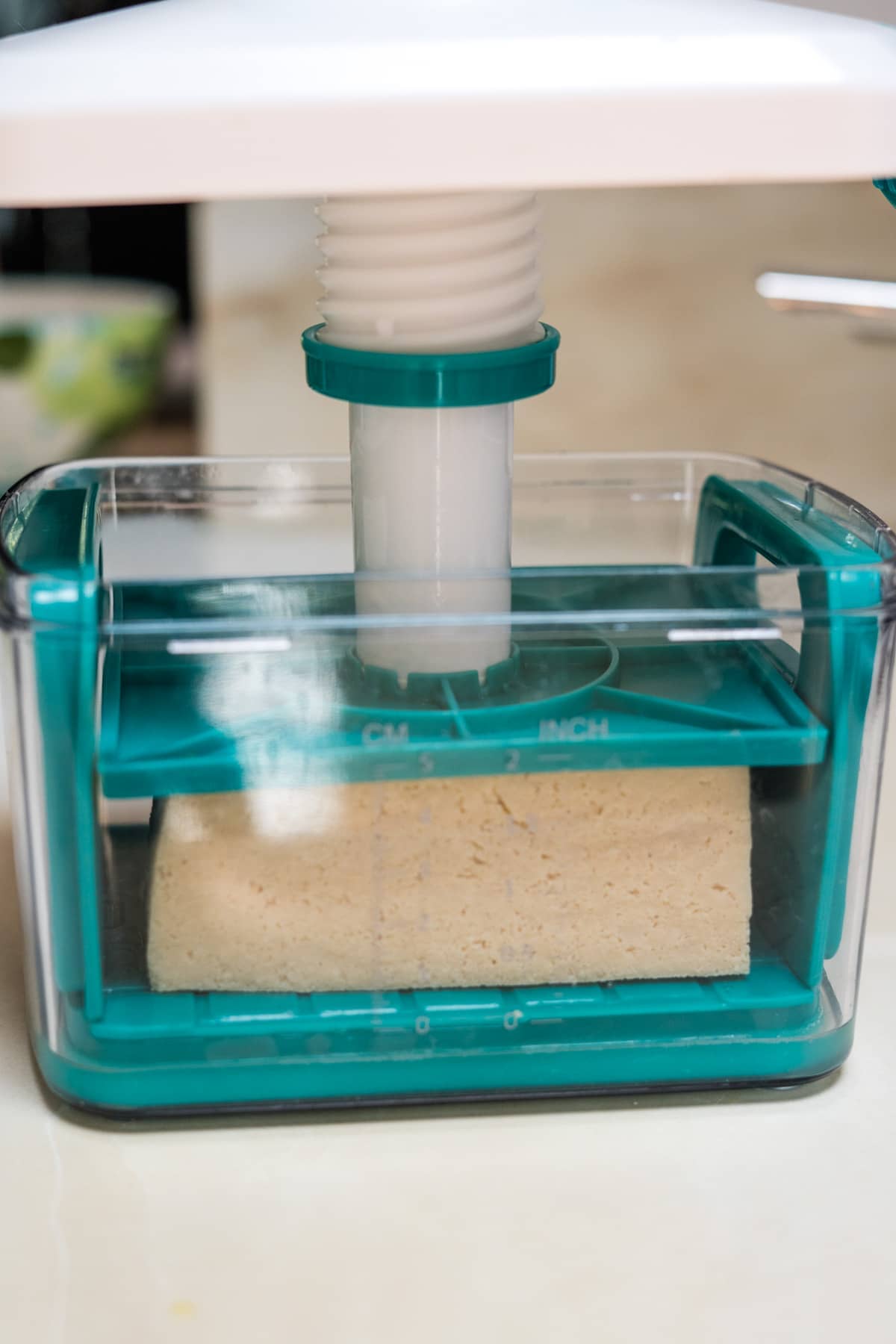 Press the water from the tofu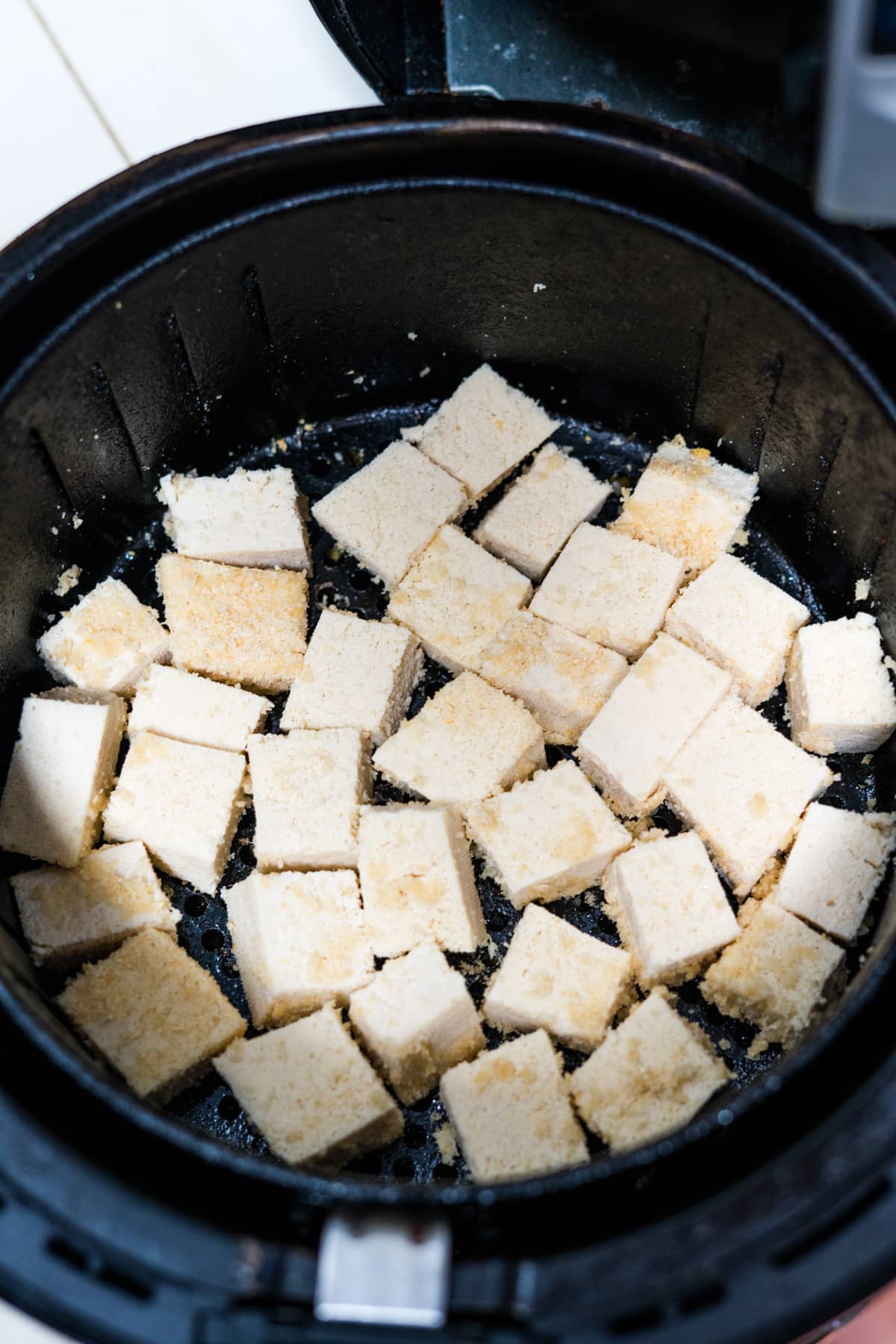 Coat the tofu and cook in air fryer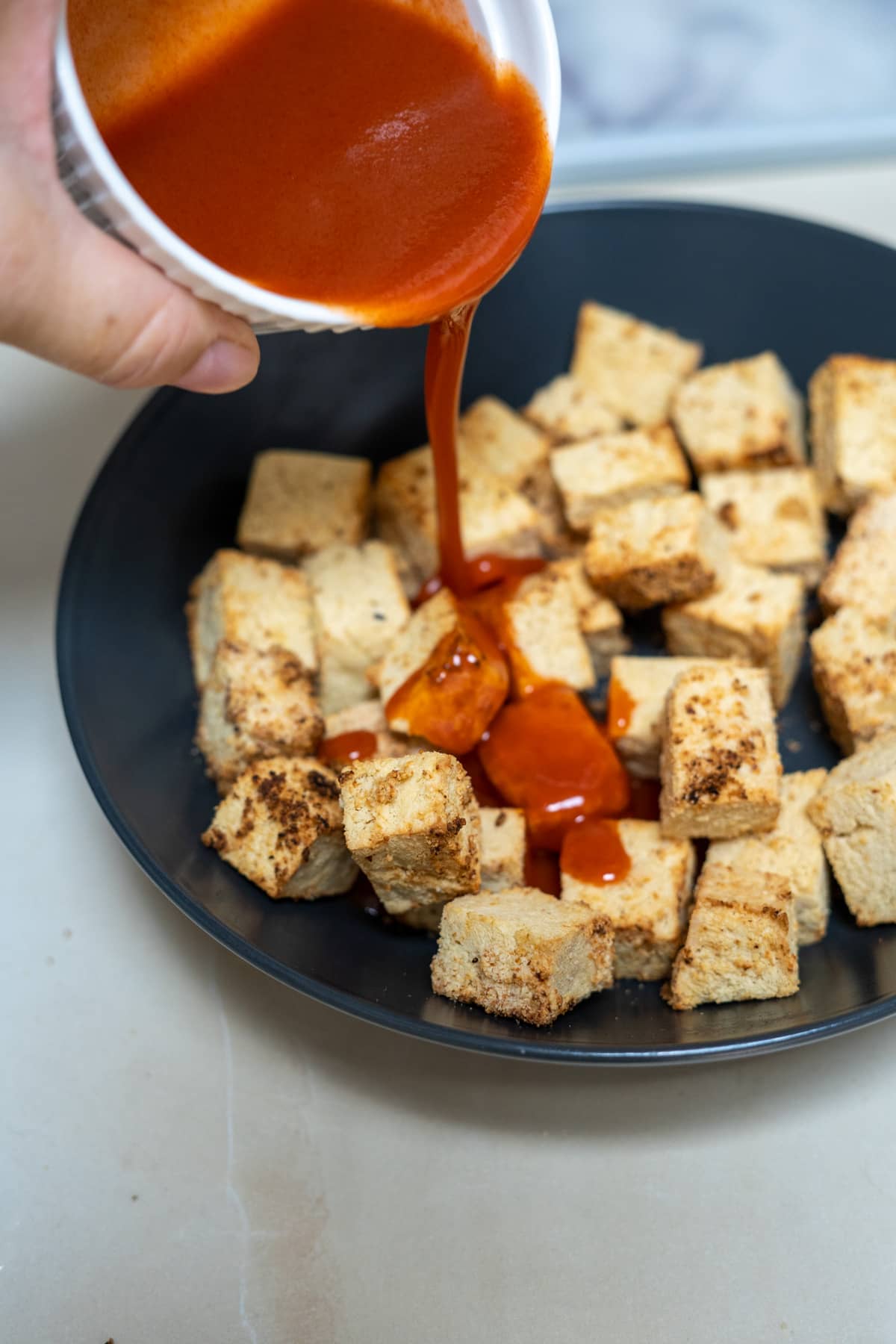 Toss cooked tofu in hot sauce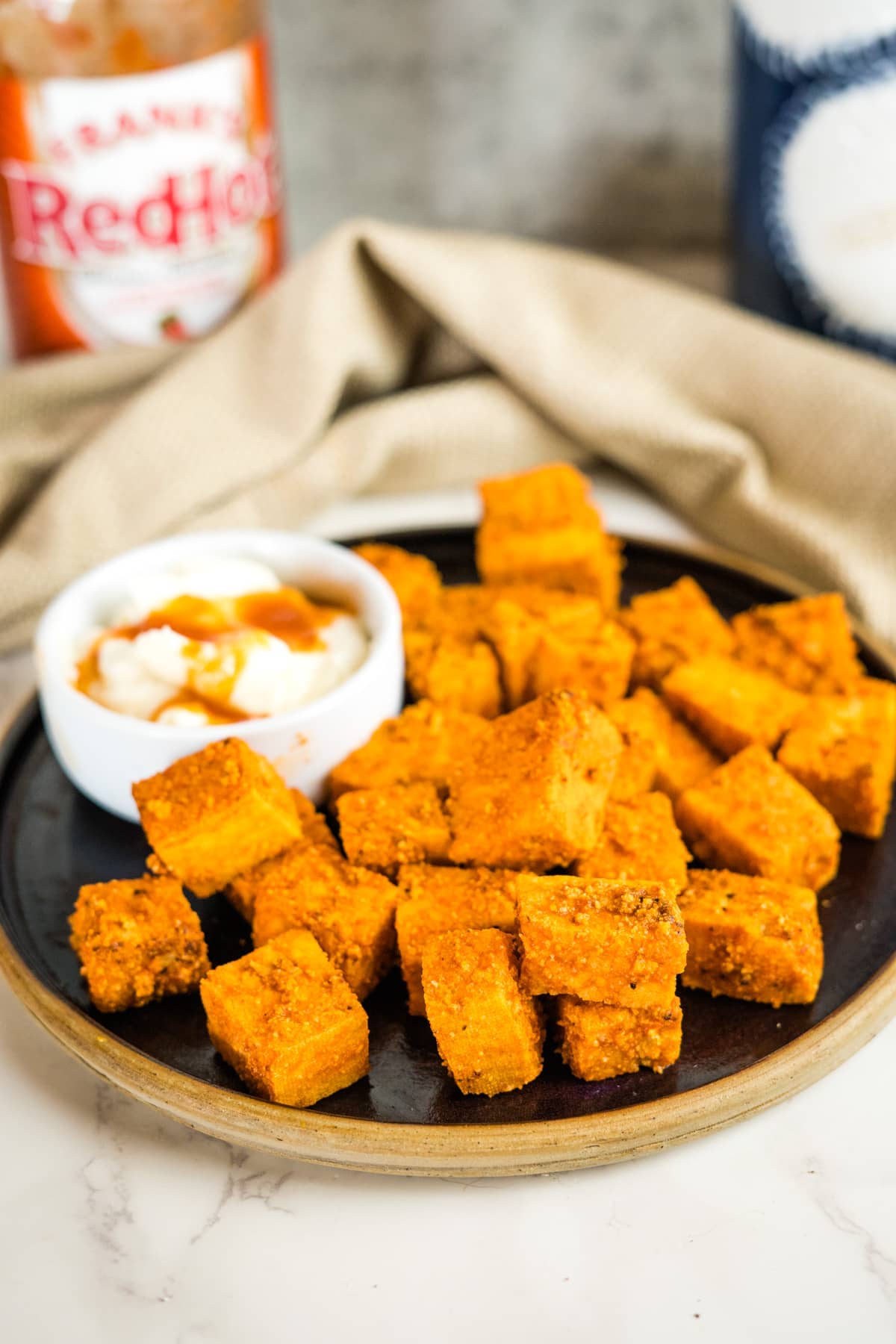 Eat and enjoy
How to press tofu
Pressing helps remove excess water from the tofu, allowing it to absorb flavors better and achieve a firmer texture when cooked.
You can use a tofu press as pictured below for an easy squeeze or place the block of tofu, covered in paper towels in between two plates with a weight on top of it. Allow the tofu to be pressed for at least 30 minutes, but ideally up to an hour. The longer you press, the more water will be expelled, resulting in a firmer texture.
Storage
Place the cooked buffalo tofu in an airtight container or wrap it tightly with plastic wrap. Store it in the refrigerator to keep it fresh. Consume it within 3-4 days for the best quality.
To reheat buffalo tofu, you can use methods like baking or air frying to restore its crispiness. Place the tofu on a baking sheet or in an air fryer and heat it at a moderate temperature until it reaches your desired warmth. Keep an eye on it to prevent overcooking.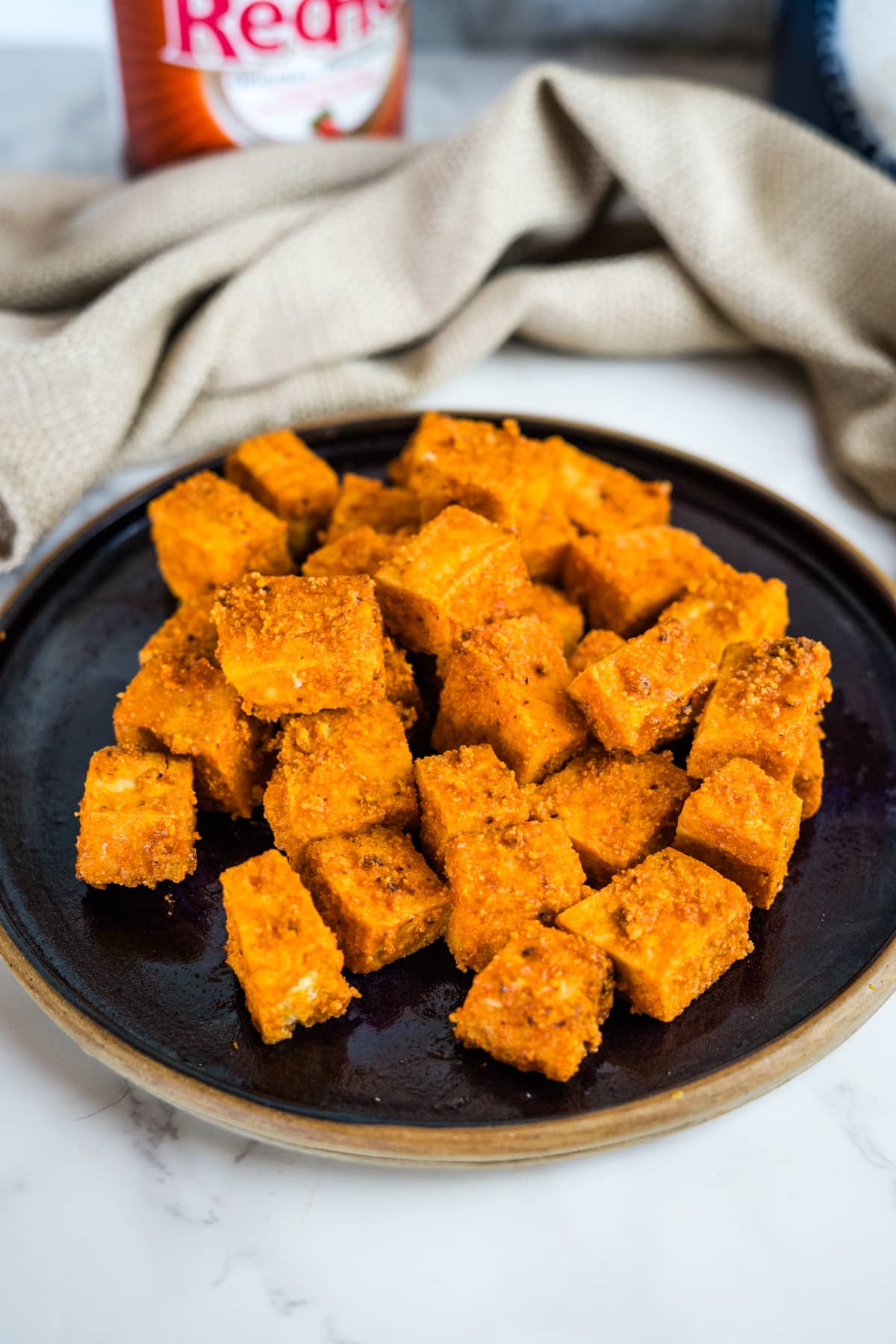 How to bake Buffalo tofu
If you don't have an air fryer, these tasty tofu bites can be baked in the oven by placing them on a parchment lined baking tray at 200C/400F degrees for 30 to 40 minutes, turning over half way through cooking. Once crispy, toss them in the hot sauce.
Serving Suggestions
Buffalo tofu is incredibly versatile and can be enjoyed in various ways. Here are some serving suggestions to make the most of your buffalo tofu:
Buffalo Tofu Wings: Serve your buffalo tofu as a delicious appetizer or party snack. Arrange the crispy tofu cubes on a platter, garnish with fresh herbs, and serve alongside your favorite dipping sauces, such as ranch dressing, blue cheese dressing, or even a spicy sriracha mayo.
Buffalo Tofu Wrap: Create a flavorful and satisfying wrap by stuffing a low carb tortilla or lettuce leaf with buffalo tofu, along with crisp lettuce, sliced tomatoes, avocado, and any other desired fillings. Drizzle with additional buffalo sauce for an extra kick.
Buffalo Tofu Salad: Add a zesty twist to your salad by topping it with buffalo tofu. Combine fresh greens, cherry tomatoes, cucumber slices, and any other desired vegetables. Place the buffalo tofu on top and drizzle with a tangy vinaigrette or creamy dressing.
Buffalo Tofu Tacos: Fill soft or crispy keto cheese taco shells with buffalo tofu, shredded lettuce, diced tomatoes, and your favorite toppings like sliced avocado, chopped cilantro, and a squeeze of lime juice. Serve with a side of salsa or guacamole.
More keto air fryer appetizer recipes
Make more tasty low carb treats with these keto vegetarian air fryer recipes:
Buffalo Tofu
Indulge in the perfect blend of crispiness and heat with our Air Fryer Buffalo Tofu bites. Perfect for game day or as a snack.
Instructions
Press tofu for about 30 minutes. ( Drain tofu, wrap in paper towels or clean tea towel, and place heavy items on top to press). Or use a tofu press.

Mix the almond flour, garlic powder, onion powder and salt in a shallow bowl.

Cut the tofu into cubes (or strips) and roll in the shallow bowl to lightly coat the pieces.

Preheat the air fryer according to the manufacturers instructions.

Place the tofu cubes in the air fryer basket in a single layer and cook at 200C/400F degrees for 15 to 18 minutes. Give the basket a shake half way through for even crispiness.

Place the tofu cubes in a bowl, pour the hot sauce over and toss until all pieces are covered.
Notes
Makes 2 servings
Any nutritional analysis on the website is based on an estimate, calculated by Spoonacular from the individual ingredients in each recipe. Variations may occur for various reasons, including product availability and food preparation. We make no representation or warranty of the accuracy of this information.
YOUR OWN NOTES
Nutrition
Serving:
1
serving
Calories:
215
kcal
Carbohydrates:
8
g
Protein:
20
g
Fat:
12
g
Fiber:
3
g
Net Carbohydrates:
5
g
The information shown is an estimate provided by an online nutrition calculator.