This low carb mushroom and tofu soup is a delicious and satisfying bowl of soup. Packed with earthy mushroom flavors and the creaminess of tofu, it's a perfect choice for a cozy meal on a chilly day.
This soup was a surprise for me as it was packed with much more flavor than I had anticipated. As I enjoyed a bowl of it I wondered about having another the next day for breakfast!
Jump to:
Carbs in Mushrooms
Mushrooms are relatively low in carbohydrates compared to many other foods. On average, fresh mushrooms contain approximately 2-3 grams of carbohydrates per 100 grams of raw weight. Keep in mind that the carbohydrate content can vary slightly depending on the type of mushroom, but generally, they are considered a low-carb food.
What Type of Tofu to Use in Soup
When making tofu soup, it's important to choose the right type of tofu to achieve the desired texture and flavor. The choice of tofu can vary depending on your personal preferences and the type of soup you're making. Here are some common types of tofu and their best uses in soup:
Silken Tofu: Silken tofu is very soft and delicate. It's best suited for creamy soups, such as miso soup or smooth pureed soups, where you want the tofu to blend seamlessly with the broth and create a silky texture. It's not recommended for soups where you want tofu to retain its shape.
Soft Tofu: Soft tofu is slightly firmer than silken tofu but still relatively delicate. It's a good choice for soups like Korean sundubu jjigae or any soup where you want the tofu to break apart easily and add creaminess to the broth.
Firm or Extra-Firm Tofu: Firm and extra-firm tofu are the best choices for soups where you want the tofu to hold its shape and provide some texture. They work well in hearty soups like the low carb mushroom and tofu soup mentioned earlier or in stir-fry soups. You can cube or slice firm tofu to add substance to the soup.
Smoked Tofu: Smoked tofu can add a unique smoky flavor to your soup. It's great for soups where you want a subtle smokiness, such as in split pea soup or bean soups.
Remember that you can adjust the firmness of the tofu to your liking. If you prefer a softer texture, use softer tofu, and if you want more texture, opt for firmer tofu. Ultimately, the choice of tofu depends on the specific recipe and your personal taste preferences.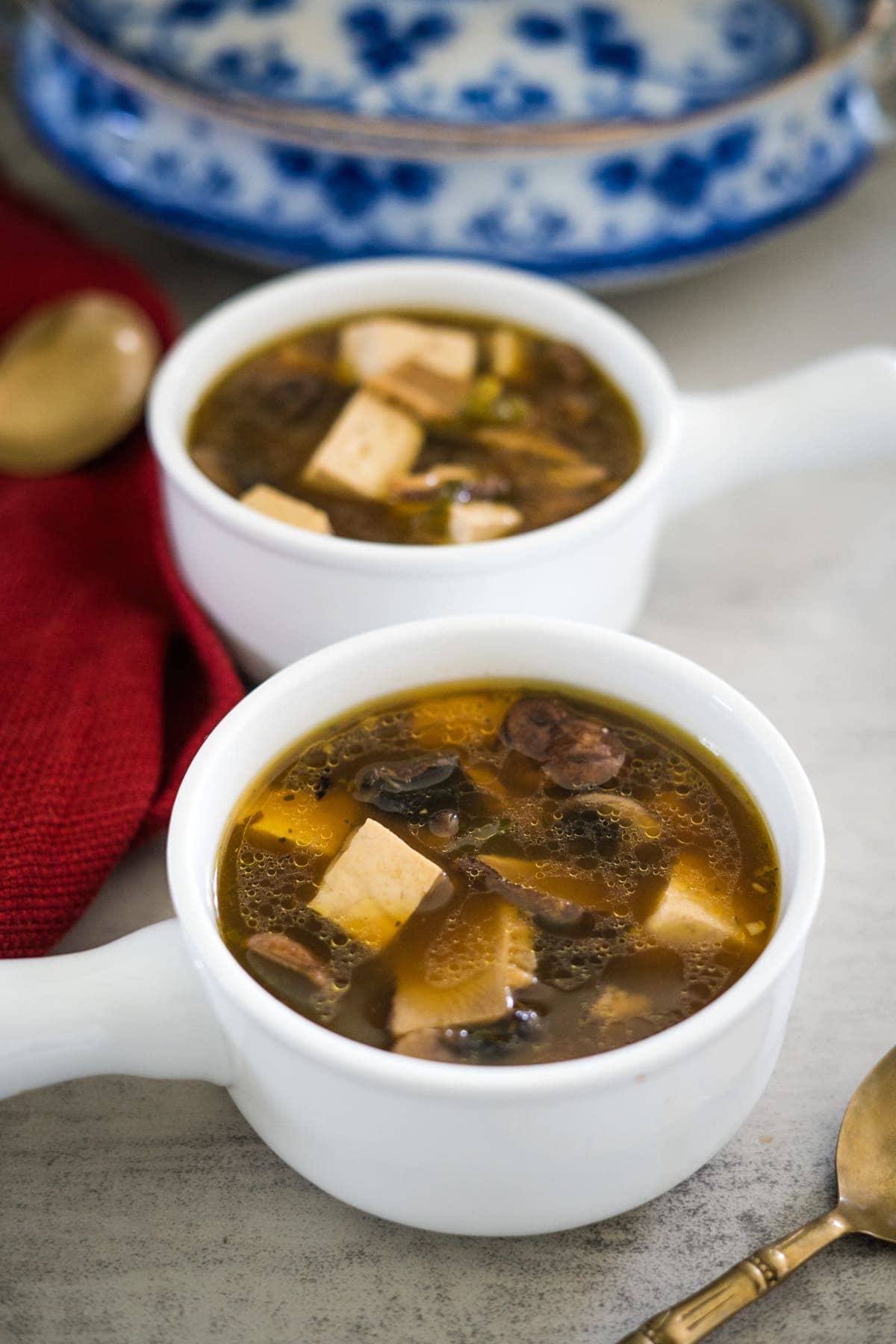 Ingredients
The seasonings for this low carb, vegan and gluten-free tofu mushroom soup can be adjusted to your own taste.
Shiitake mushrooms - Dried shiitake mushrooms are a fantastic addition to soups because they impart a deep, umami-rich flavor and a wonderful aroma to the soup.
Cremini mushrooms - we use these for their flavor but they could be substituted with portobello mushrooms.
Tofu - firm tofu is used to give the soup a creamy texture without the need for dairy. It contributes a mild, neutral flavor that allows the other ingredients to shine.
Vegetable broth - low sodium is preferable. The water from the dried Shiitake mushrooms is used too.
Tamari - a gluten free substitute for soy sauce.
Jalapeno - adds a touch of heat. Red chili flakes could be used in place.
Lemon grass - can be omitted but adds to the soup flavor.
Ginger - fresh ginger for a touch of heat and flavor.
Garlic - fresh rather than powdered.
Olive oil - coconut oil can be used too.
Prepare the Mushrooms
For a quick recipe, the mushrooms need to be prepared first. As we use dried Shiitake mushrooms, they need to be rehydrated, with the liquid reserved later for the soup stock.
The cremini mushrooms are cut into quarters for a chunky soup but you could opt to slice them.
Place the dried shiitake mushrooms in a bowl and pour over boiled water. Let them soak for at least 10 minutes.
Cream and cut the cremini mushrooms into quarters.
How to Make Mushroom Tofu Soup
This is an easy recipe to make and takes under 30 minutes.
Sautee the jalapeno, ginger and garlic.
Add the cremini mushrooms.
Add the stock, lemon glass, shiitake mushrooms and water from the dried mushrooms.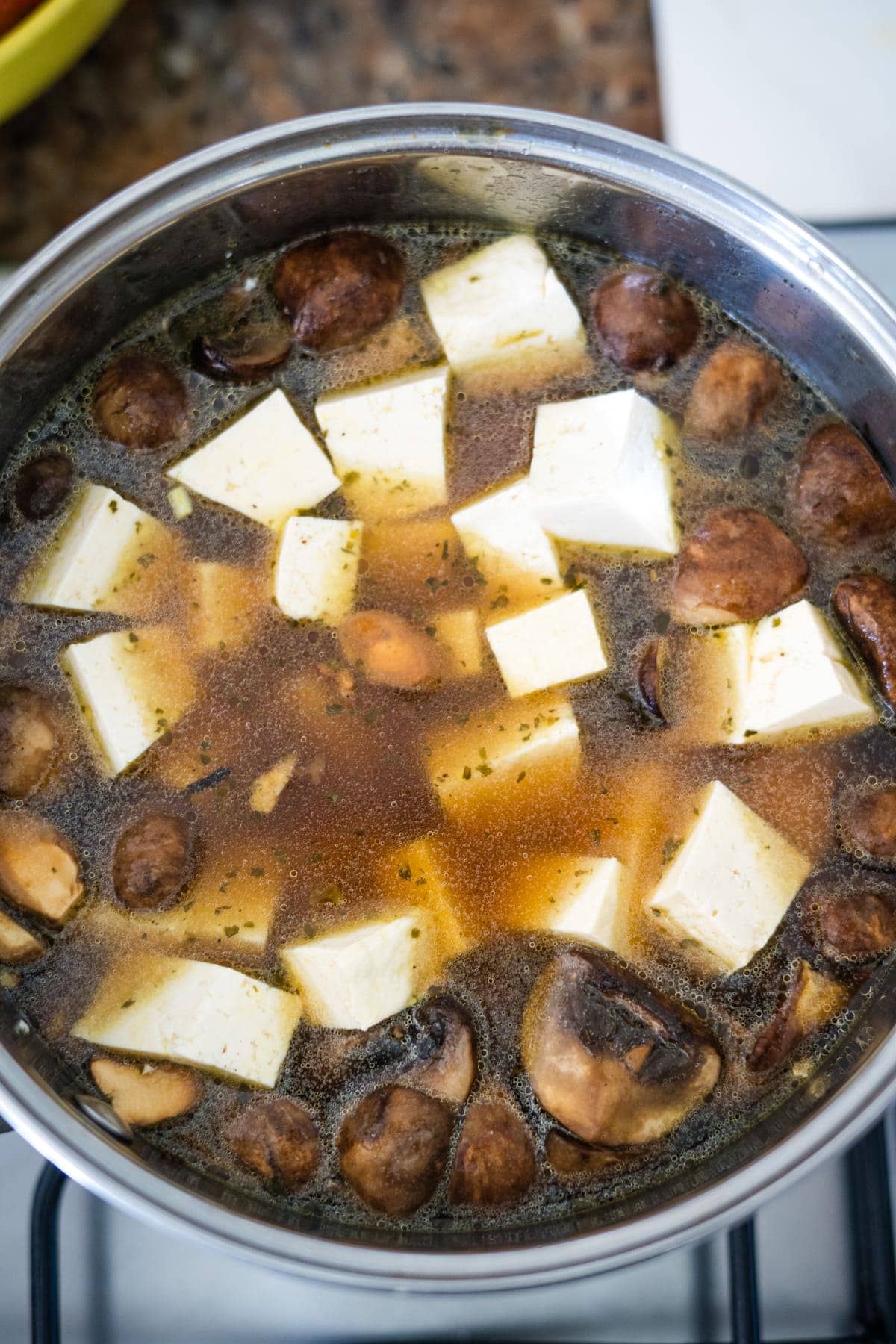 Finally, add the cubed firm tofu and simmer.
Storage
Allow the soup to cool to room temperature before storing it. Hot soup should not be placed directly in the refrigerator as it can raise the temperature inside, potentially affecting other items.
Transfer the cooled soup into an airtight container. You can use a large, lidded pot or individual containers with tight-sealing lids.
Place the sealed container in the refrigerator are store the tofu mushroom soup in the refrigerator for up to 3-4 days.
Freezing
To freeze, pour the soup into a freezer-safe container, leaving some space at the top for expansion. Seal it tightly.
Frozen tofu mushroom soup can be stored for up to 2-3 months in the freezer.
When ready to consume, remove the soup from the freezer and thaw it in the refrigerator overnight. Reheat the soup on the stovetop over low to medium heat until it reaches a safe and enjoyable temperature. Stir occasionally to ensure even heating.
Recipe Tips
Experiment with aromatics like shallots, leeks, or celery in addition to garlic to add depth to the soup's flavor.
Don't forget to season the soup properly with salt and pepper. Taste the soup as you go and adjust the seasonings to your preference.
Be mindful not to overcook the tofu. It only needs a few minutes to heat through. Overcooking can make it mushy.
Soups often taste even better the next day as the flavors meld. Consider making it a day ahead for a richer taste.
If the soup is too thick, add more stock to thin it out.
More Low Carb Soup Recipes
Mushroom Tofu Soup
Indulge in the savory delight of low carb mushroom tofu soup—a creamy and earthy blend that's both wholesome and satisfying. Perfect for vegetarians and vegans seeking a comforting, flavorful dish.
Ingredients
¾

cup

shiitake mushrooms, dried

1

cup

cremini mushrooms, cut into quarters

2

tablespoons

olive oil

4

cloves

garlic, minced

2

inches

fresh ginger, grated

1

jalapeno, deseeded and chopped

1

stalk

lemon grass

2

tablespoons

tamari sauce

1

teaspoon

salt

¼

teaspoon

black pepper

14

oz

firm tofu, cut into cubes

4

cups

vegetable stock
Instructions
Rehydrate the Dried Shiitake Mushrooms
Place the dried shiitake mushrooms in a bowl.

Boil water and pour it over the dried mushrooms, ensuring they are completely submerged.

Let the mushrooms soak for about 10-15 minutes, or until they become soft and pliable.

Once rehydrated, strain the mushrooms and reserve the soaking liquid.
Prepare the Soup Base:
In a large pot, heat the olive oil on a medium heat and add the jalapeno, garlic and ginger. Cook for 2 minutes.

Add the cremini mushrooms and cook for 3 to 5 minutes until cooked.

Add the tamari sauce, salt, pepper and shiitake mushrooms. Mix well and cook for 2 minutes.

Add the stock, water from the mushrooms and lemon grass stalk and cook for 5 minutes.

Add the tofu cubes and simmer for 10 minutes.

Remove the lemon grass stalk and serve.
YOUR OWN NOTES
Nutrition
Serving:
1
cup
Calories:
129
kcal
Carbohydrates:
9
g
Protein:
7
g
Fat:
8
g
Fiber:
1
g
Net Carbohydrates:
8
g
The information shown is an estimate provided by an online nutrition calculator.