This delicious no bake chocolate tart is an easy keto vegan dessert and a great avocado recipe too. With a nutty no bake crust, the creamy chocolate avocado filling makes a rich and decadent dessert.
With just a few simple ingredients and minimal effort, this no-bake tart is ready to impress your taste buds and wow your guests. It's a delightful dessert option that allows you to indulge without compromising on your dietary preferences or health goals.
So, whether you're following a keto, vegan, or simply seeking a scrumptious guilt-free treat, the Keto Vegan No-Bake Chocolate Avocado Tart is a must-try delight that will leave you craving for more. Enjoy a slice of this heavenly creation and savor the goodness of chocolate and avocado in every bite!
This post may contain affiliate links. Please read my disclosure policy for more information.
Jump to:
Carbs in Avocado
Avocado is relatively low in carbohydrates compared to many other fruits and vegetables, making it a popular choice for those following low-carb or ketogenic diets. Here is the approximate carbohydrate content in a standard serving size of avocado, which is about ½ of a medium-sized avocado (about 100 grams):
Total Carbohydrates: Approximately 8.5 grams
Dietary Fiber: Approximately 6.7 grams
Net Carbohydrates: Net carbs are calculated by subtracting the dietary fiber from the total carbohydrates. For avocado, the net carbs are approximately 1.8 grams per 100 grams.
Avocado Tart Filling
Using avocado as a chocolate tart filling is an excellent idea, especially for those looking to create a creamy, rich, and healthier dessert option. Avocados have a smooth and buttery texture, which works exceptionally well in creating a velvety chocolate filling.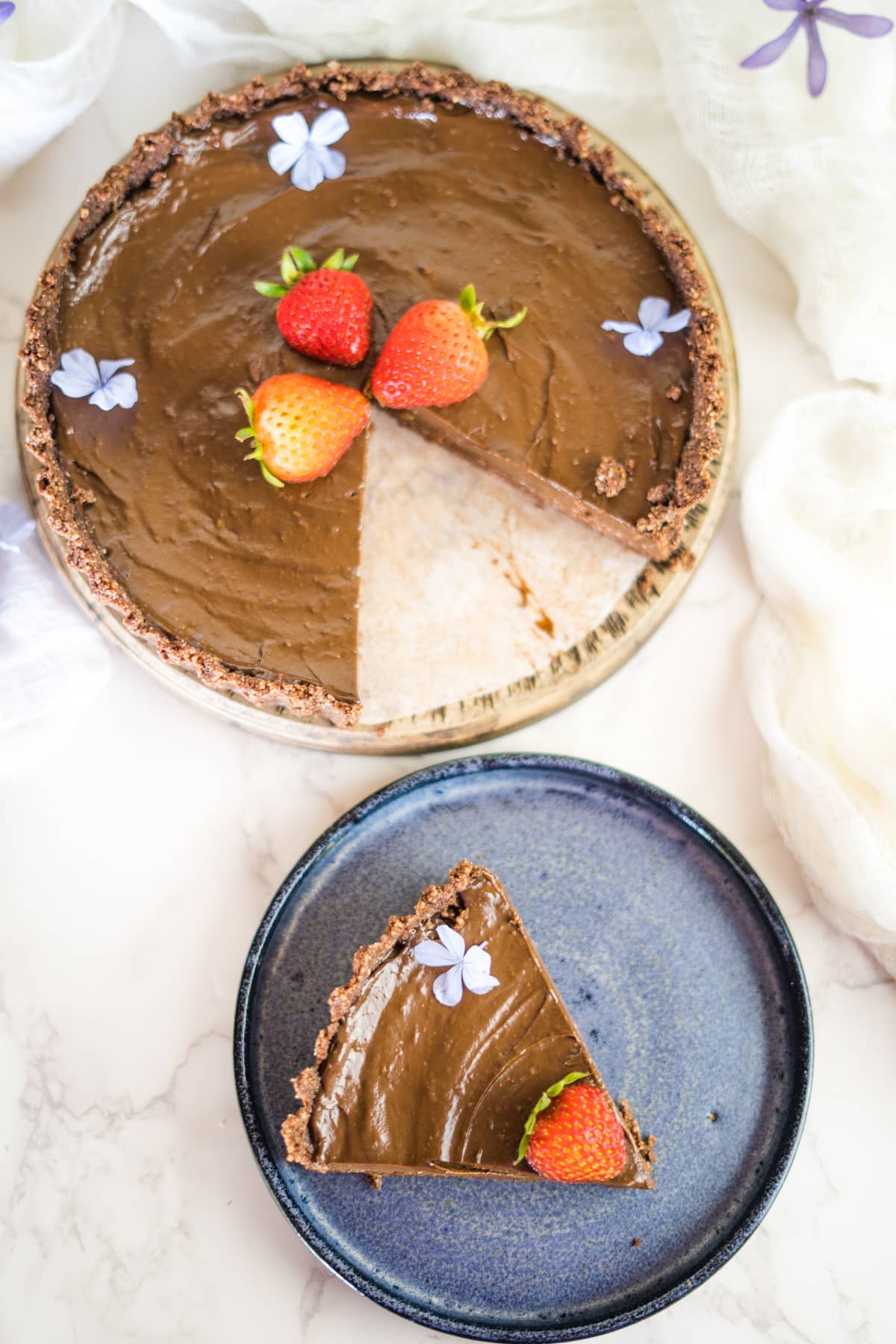 Ingredients
This is a simple recipe with just a few keto pantry ingredients.
Hazelnuts - these can be substitute with other keto-friendly nuts. We use hazelnuts as they are a great flavor combination with chocolate.
Almond Flour - roasted almond nuts can usual be used for the base.
Avocado - ensure that they are ripe and soft, but still green with no brown spots.
Low carb sweetener - we used allulose as it dissolves well without an icy after taste. However, any other low carb sweetener such as monkfruit or Swerve can be used.
Cocoa powder - use a sugar free cocoa powder.
Coconut oil - organic is preferable if you have it
Salt - salt helps to enhance the chocolate flavor.
Recipe Suggestions
Add warm spices such as cinnamon, ginger or nutmeg to the avocado filling.
For a creamier filling, add coconut cream to the chocolate avocado filling. It may require longer chilling time before serving.
If the crust of your tart becomes too soft after refrigeration, you can briefly pop it in the freezer for about 15-20 minutes before serving. This will help it regain its firmness without affecting the overall taste.
How to make vegan no bake chocolate tart
This is an easy recipe and can be made ahead before serving. Store it in the fridge a day ahead to ensure that it has thoroughly set and chilled.
Tart crust ingredients in food processor.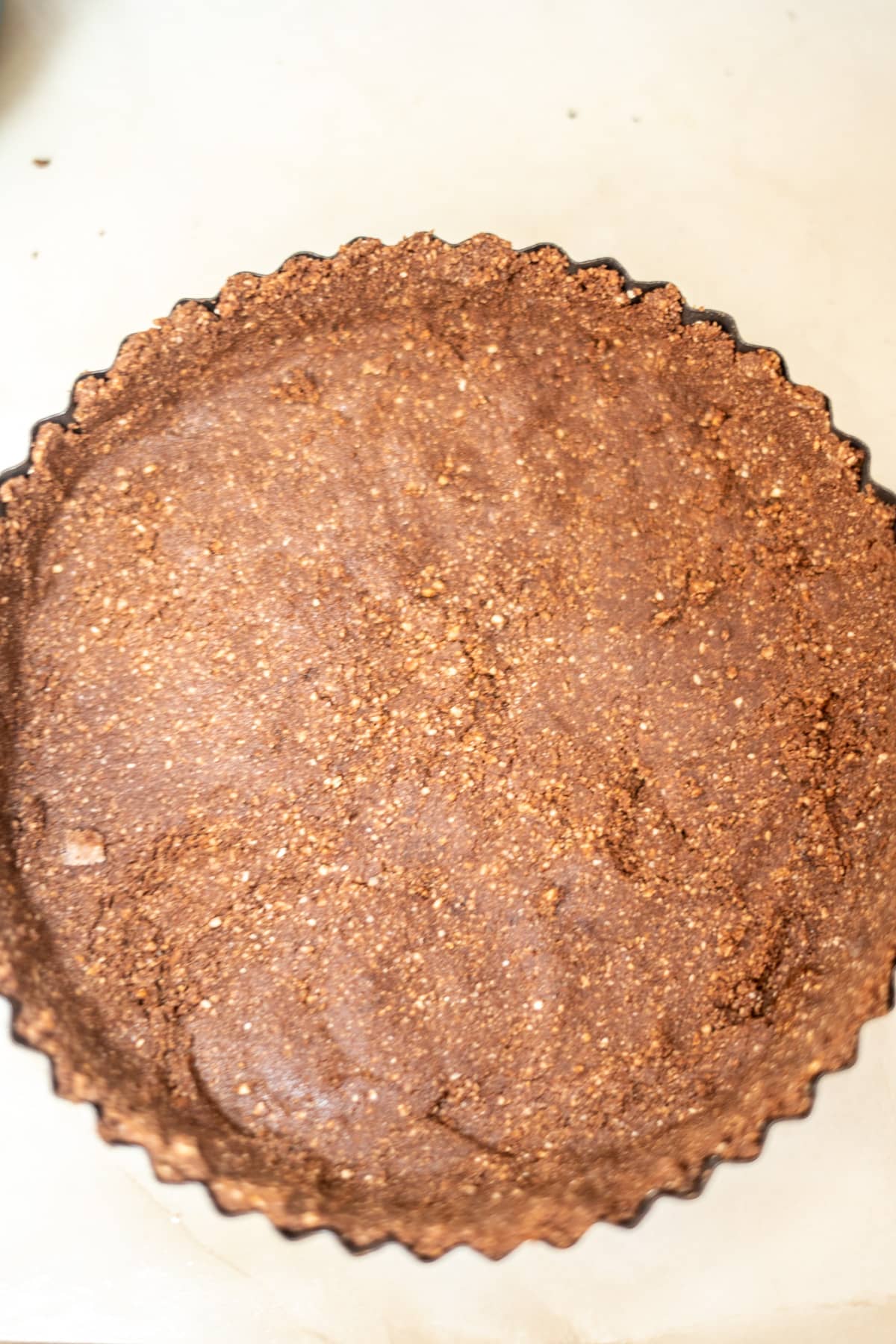 Crust pressed into tart case and chilled.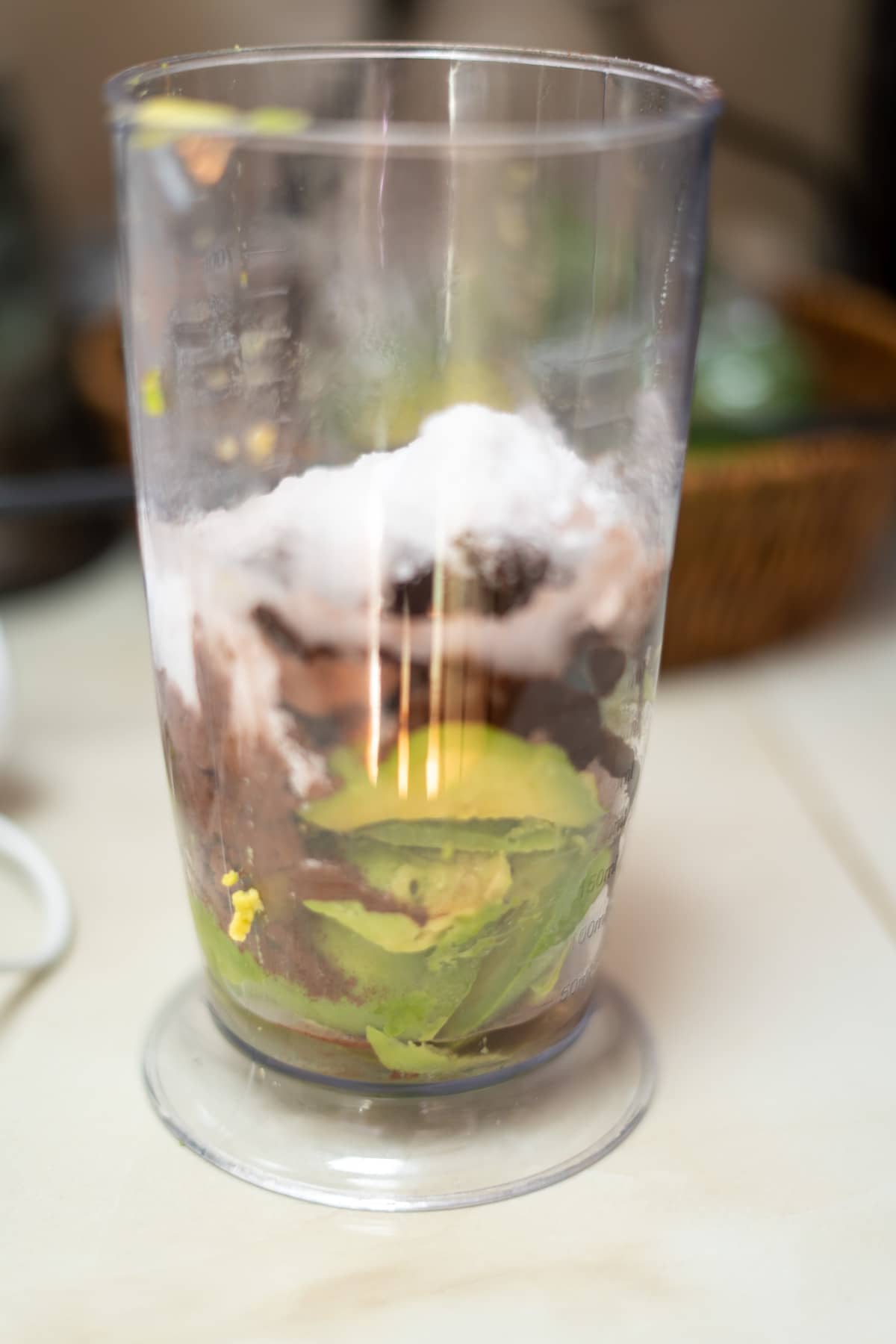 Avocado chocolate filling blended.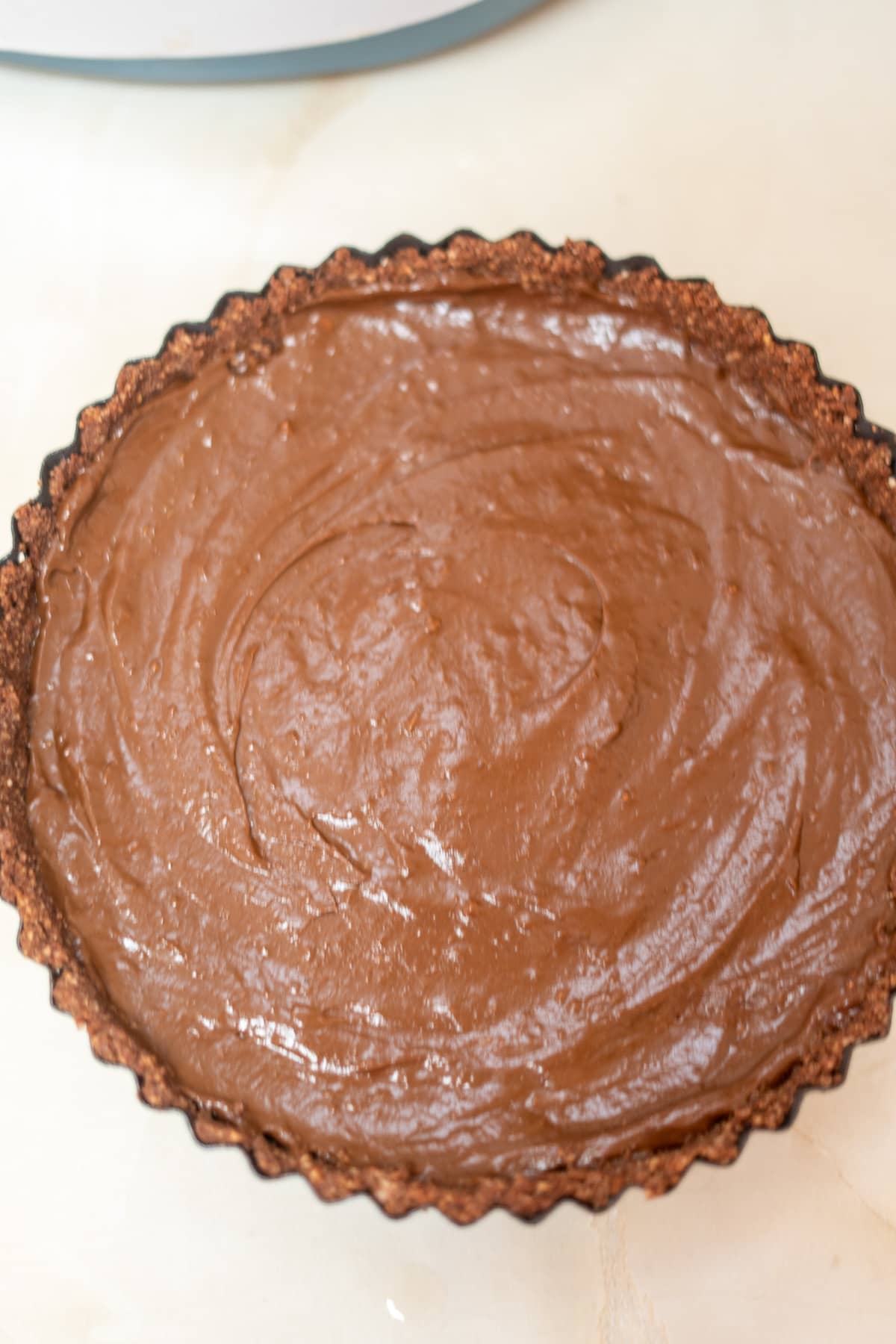 Avocado chocolate filling spooned into tart case and chilled.
Storage
After preparing the tart, cover it with plastic wrap or place it in an airtight container. Then, store it in the refrigerator. The cold temperature will help preserve the freshness of the tart and prevent the avocado filling from becoming too soft.
Avoid Freezing
While some desserts can be frozen, it's not recommended to freeze a tart with an avocado-based filling. Avocados have a high water content, and freezing them can alter their texture and result in a mushy consistency when thawed.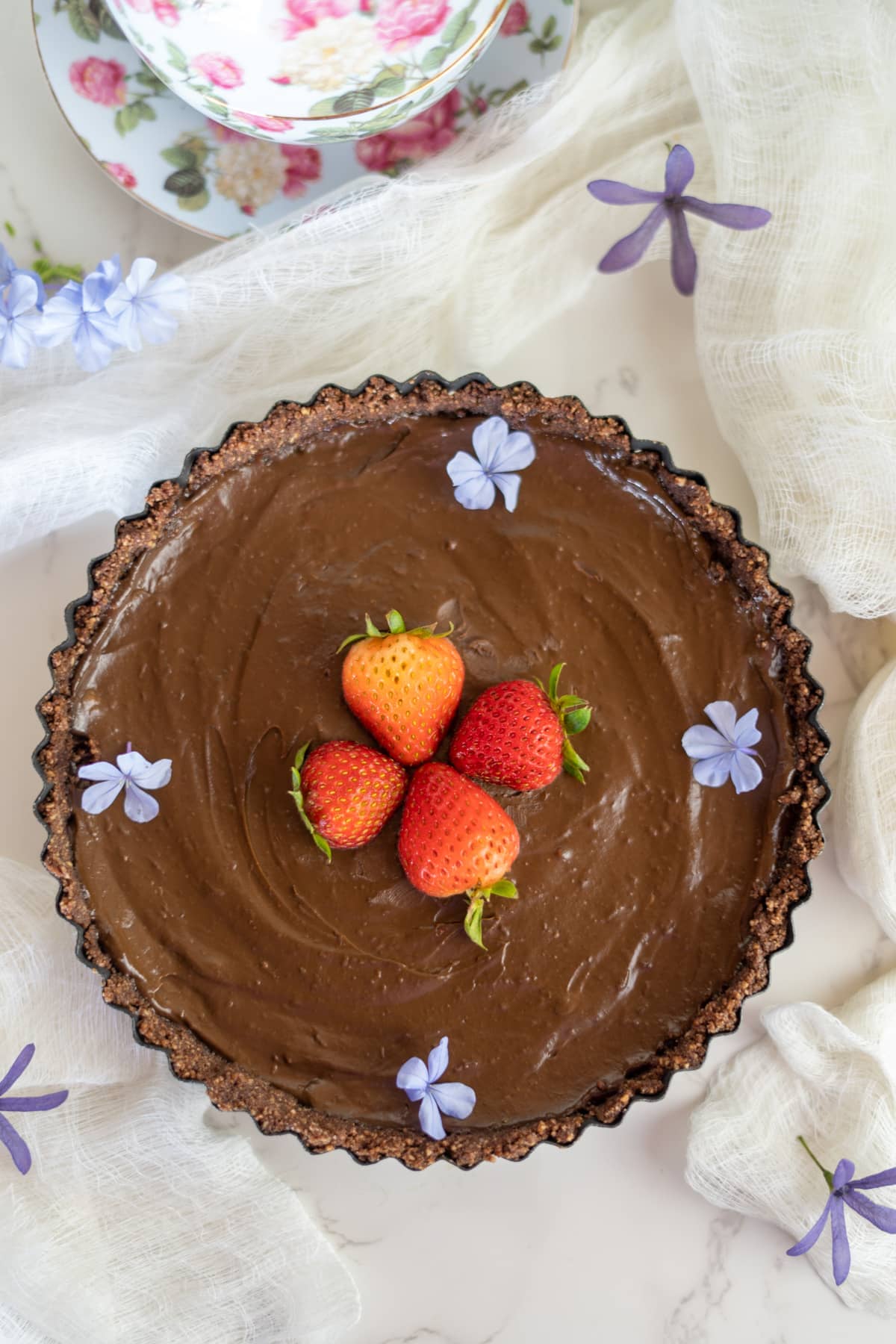 Consume within a few days
For the best taste and texture, it's advisable to consume the tart within 2-3 days of preparation. Avocado-based fillings can start to oxidize and lose their vibrant color over time, so it's best to enjoy the tart while it's fresh.
Keto No Bake Chocolate Tart
Enjoy this luscious no-bake chocolate avocado tart as a delightful and healthy dessert! It's a perfect treat for anyone following a keto or vegan lifestyle, and it's sure to impress your friends and family with its indulgent flavors and smooth texture.
Ingredients
Crust
¾

cup

almond flour

¾

cup

roasted hazelnuts

3

tablespooons

coconut oil

3

tablespoons

cocoa powder, unsweetened

3

tablespoons

allulose

or other low carb sweetener

½

teaspoon

salt
Filling
3

large

avocados, ripe

½

cup

cocoa powder, unsweetened

½

cup

allulose

or other low carb sweetener

¼

cup

coconut oil
Instructions
Make the Crust
Place all the crust ingredients in a food processor and blitz until combined.

Press the mixture firmly into the bottom and sides of a 8-inch tart pan, creating an even layer.

Press the mixture firmly into the bottom and sides of a 9-inch tart pan, creating an even layer.
Make the Filling
Cut the avocados in half, remove the pit, and scoop out the flesh into a blender or food processor.

Add the cocoa powder, melted coconut oil and sweetener to the blender with the avocados.

Blend all the ingredients together until you achieve a smooth and creamy filling. Taste and adjust sweetness if needed.
Assemble the Tart
Take the tart crust out of the refrigerator and pour the chocolate avocado filling into the crust.

Smooth out the top with a spatula to create an even layer.
Chill and Serve
Cover the tart with plastic wrap and refrigerate it for at least 2-3 hours, or until the filling is firm and set.

Once the tart is chilled and set, it's ready to serve. Optionally, garnish with fresh berries, shaved chocolate, or a dusting of cocoa powder.
Notes
Makes 8 slices 
Any nutritional analysis on the website is based on an estimate, calculated by Spoonacular from the individual ingredients in each recipe. Variations may occur for various reasons, including product availability and food preparation. We make no representation or warranty of the accuracy of this information
YOUR OWN NOTES
Nutrition
Serving:
1
serving
Calories:
327
kcal
Carbohydrates:
15
g
Protein:
7
g
Fat:
31
g
Fiber:
10
g
Net Carbohydrates:
5
g
The information shown is an estimate provided by an online nutrition calculator.