Star fruit sorbet is a delightful low carb frozen dessert that captures the unique and tropical flavor of star fruit, also known as carambola. This sorbet is not only delicious but also sugar-free and gluten-free, making it a healthier option for those looking to satisfy their sweet cravings without the excess sugar and calories.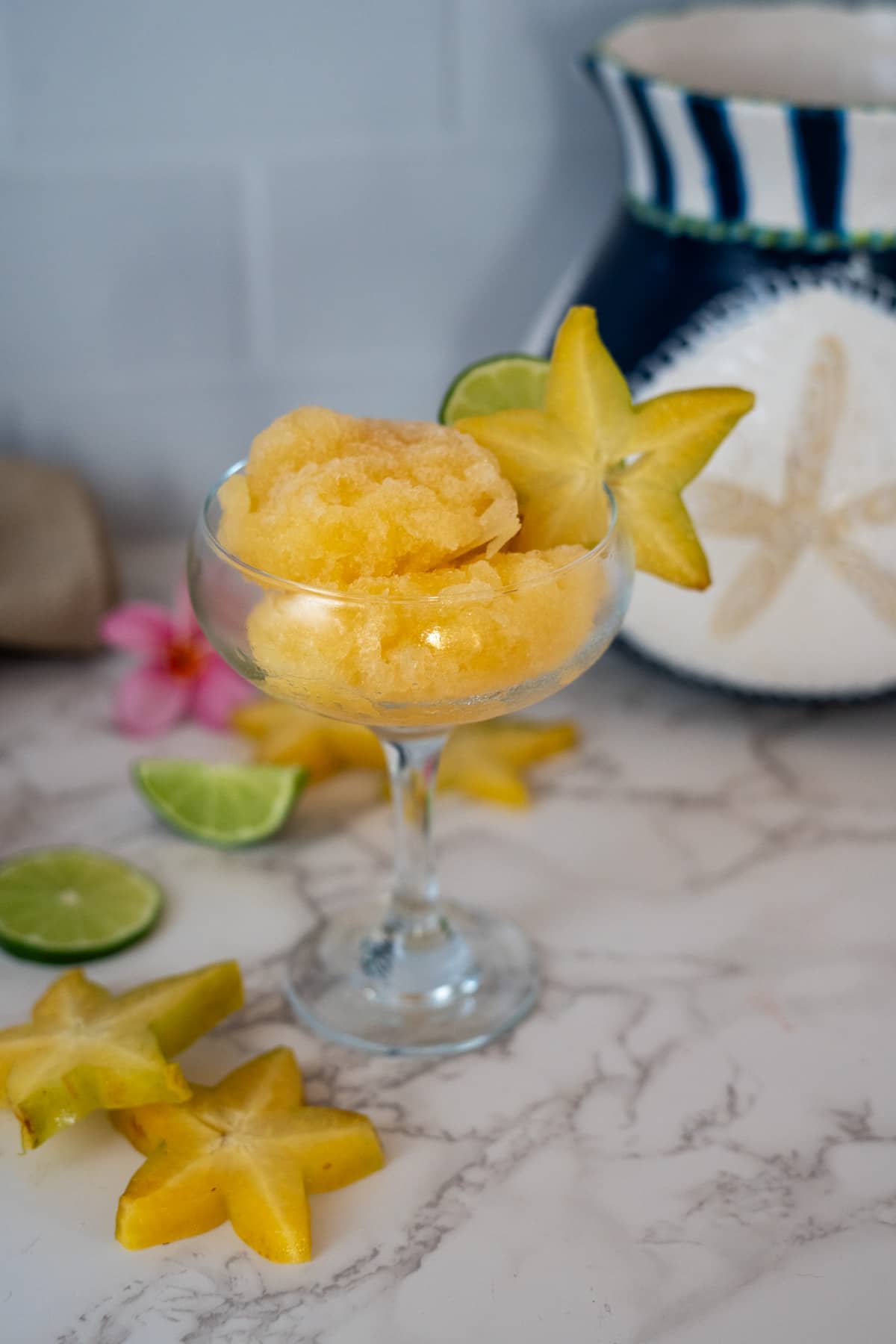 With its vibrant tropical flavor and sugar-free nature, star fruit sorbet is a delightful way to enjoy the unique taste of star fruit in a guilt-free and refreshing dessert. So, indulge in this exotic treat and savor the taste of the tropics right at home.
This post may contain affiliate links. Please read my disclosure policy for more information.
Jump to:
What is star fruit?
Star fruit, also known as carambola, is a tropical fruit native to Southeast Asia but grown in many tropical regions globally. Its defining feature is its star-shaped cross-section when sliced, with a sweet and mildly tangy flavor. The skin is edible, adding a slight bitterness. Star fruit is low in calories and a good source of vitamin C, fiber, and antioxidants. It's commonly eaten fresh, used in culinary dishes, and can be juiced or blended for various recipes.
However, individuals with kidney problems should avoid it due to its oxalic acid content.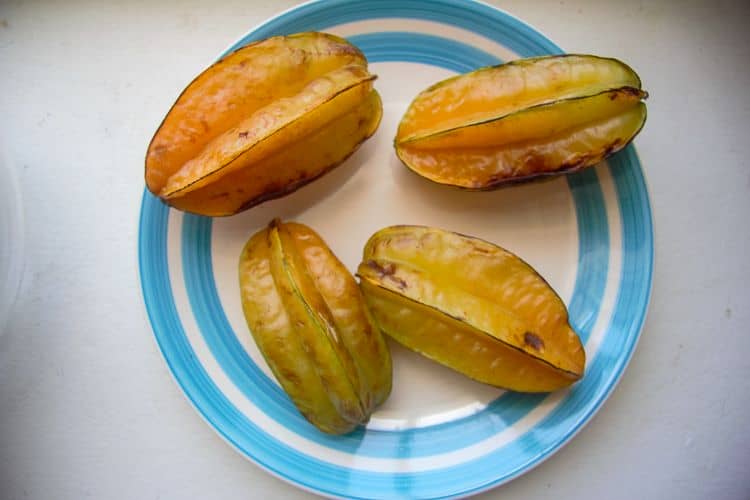 Is star fruit low carb
Yes, star fruit (carambola) is relatively low in carbohydrates, making it a suitable choice for those following a low-carb or ketogenic diet. The exact carbohydrate content can vary depending on the size and ripeness of the fruit, but generally, star fruit contains about 3-4 grams of net carbs per 100 grams of fruit.
Ingredients
Just 3 ingredients make this easy sugar free sorbet. In this sorbet, we use allulose, a low-calorie sweetener, to replace traditional sugar, making it suitable for those watching their sugar intake or following a low-carb diet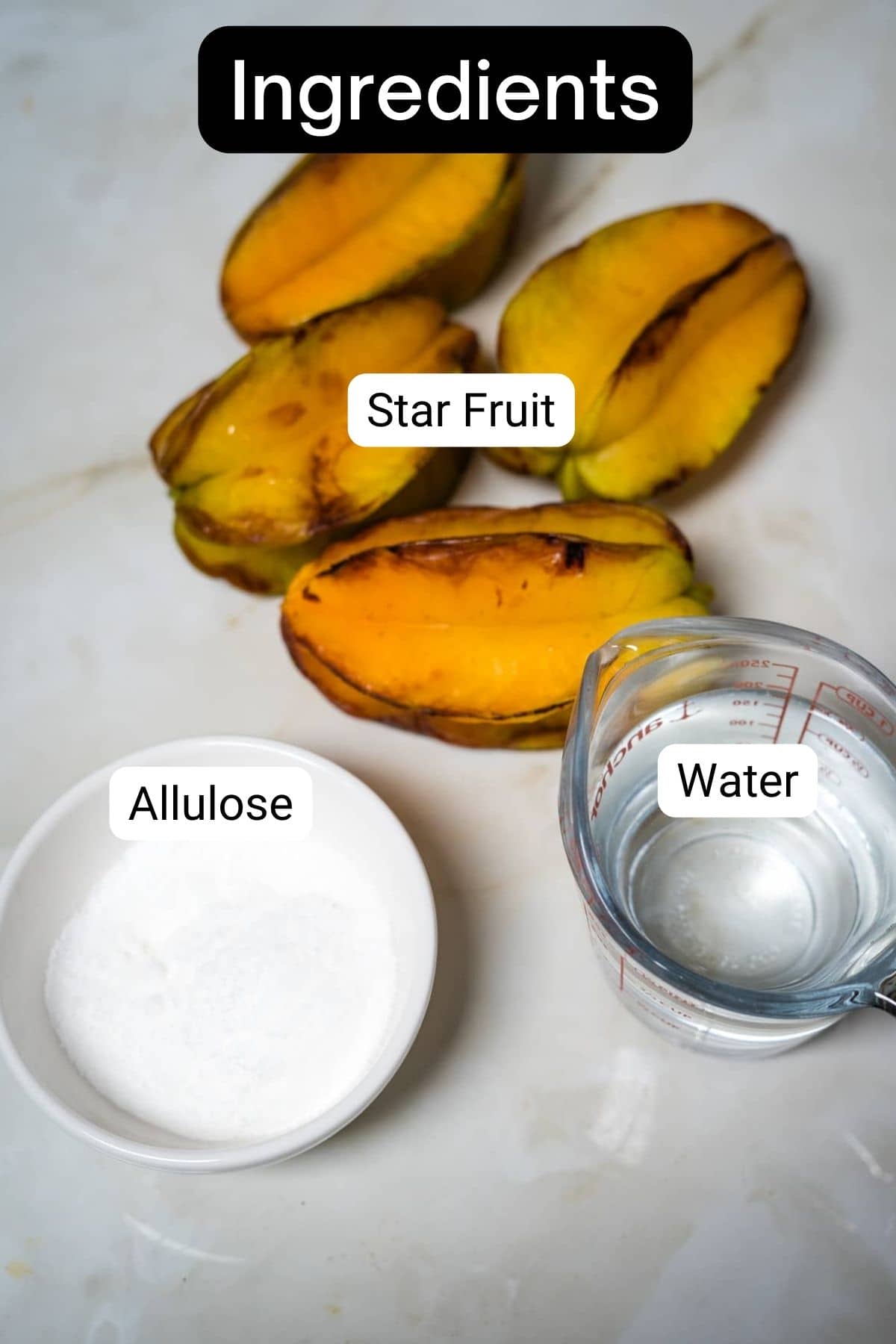 Star fruit - ripe and golden but must be prepared before blending.
Allulose - our preferable low carb sweetener for a sorbet as it does not crystallize once frozen. You can use another low carb sweetener such as monk fruit or Swerve.
How to make low carb star fruit sorbet
This is an easy recipe to make. We use an ice cream machine but you could make it without and stir occasionally as it freezes.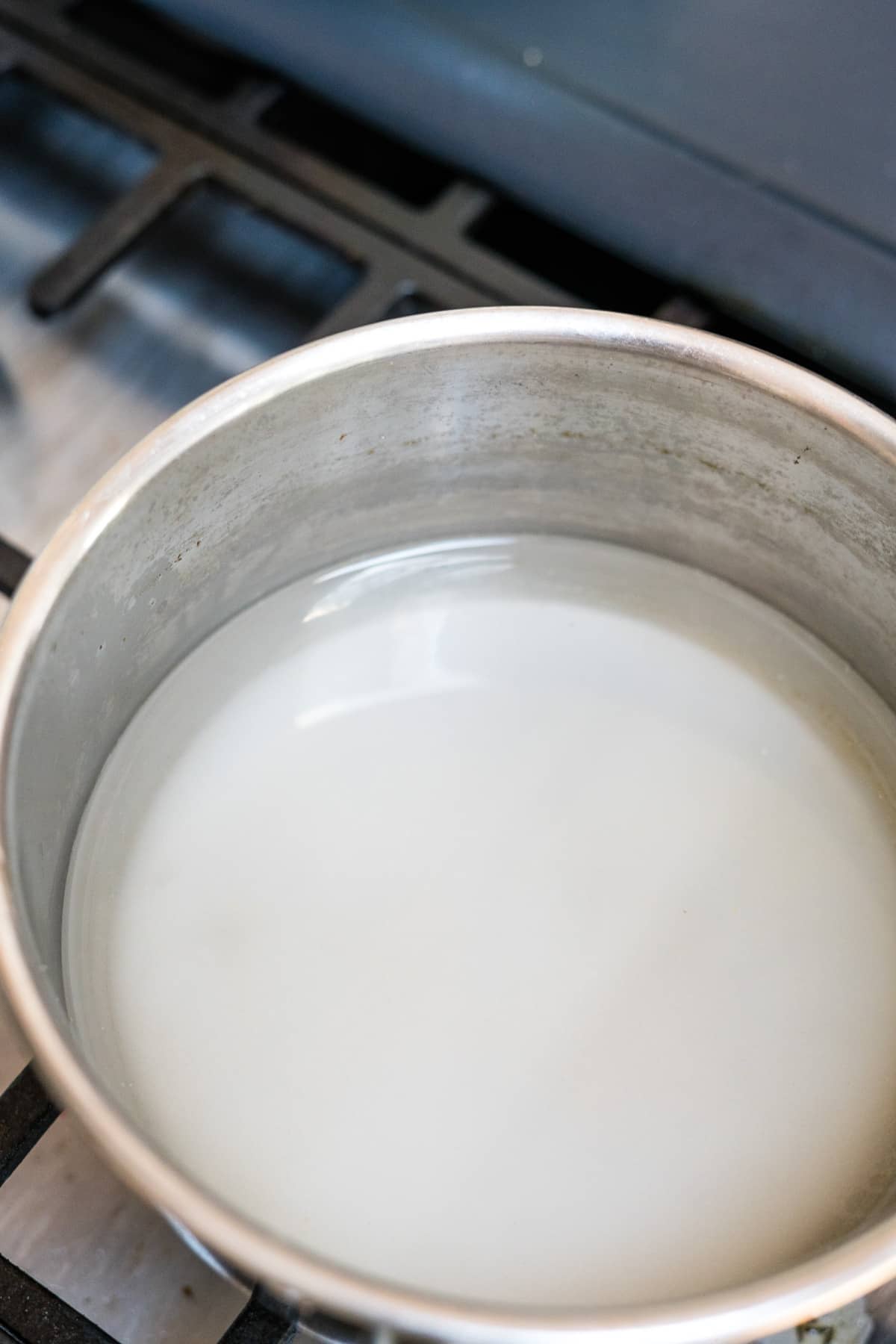 Simmer allulose and water in a pan.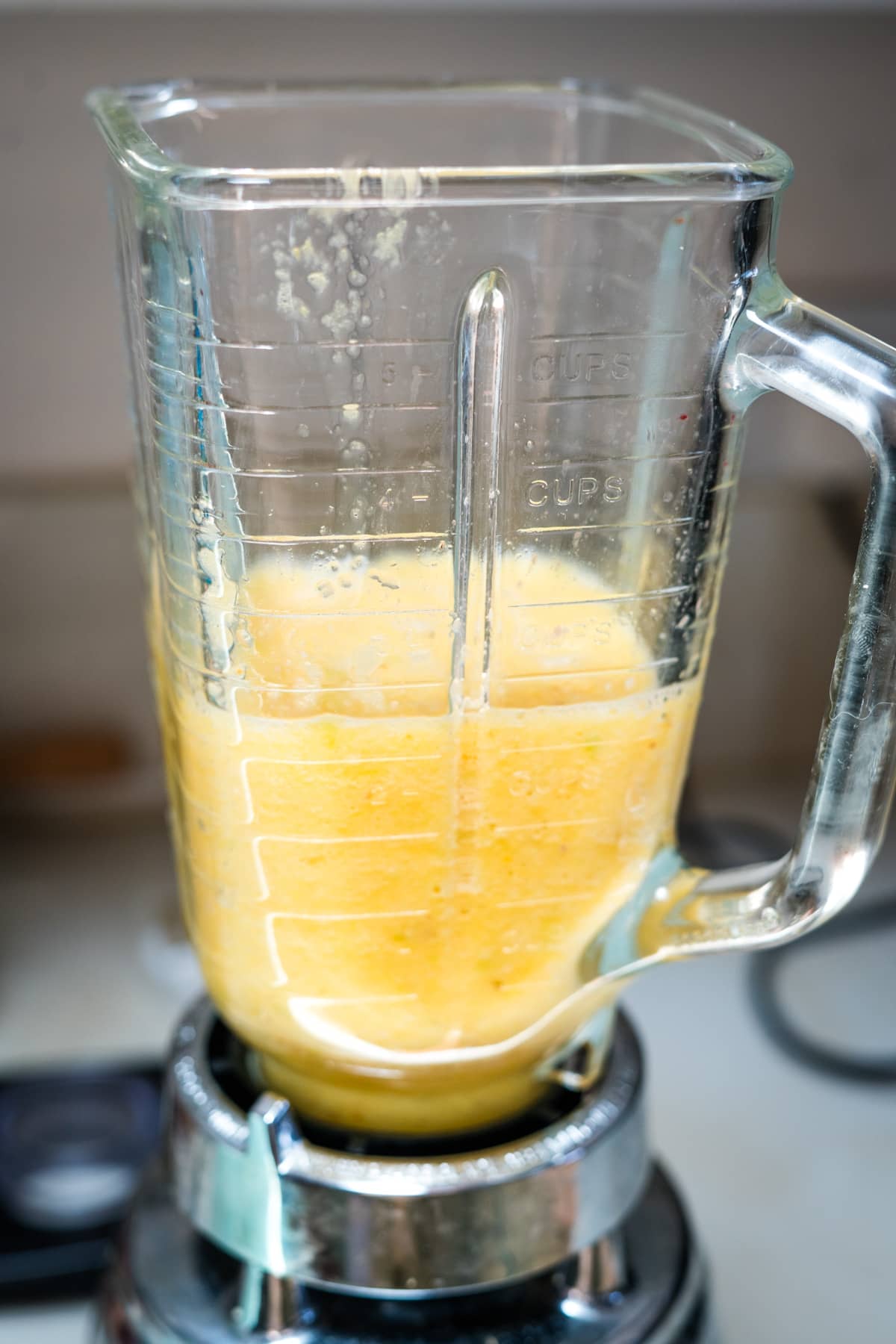 Blend star fruit.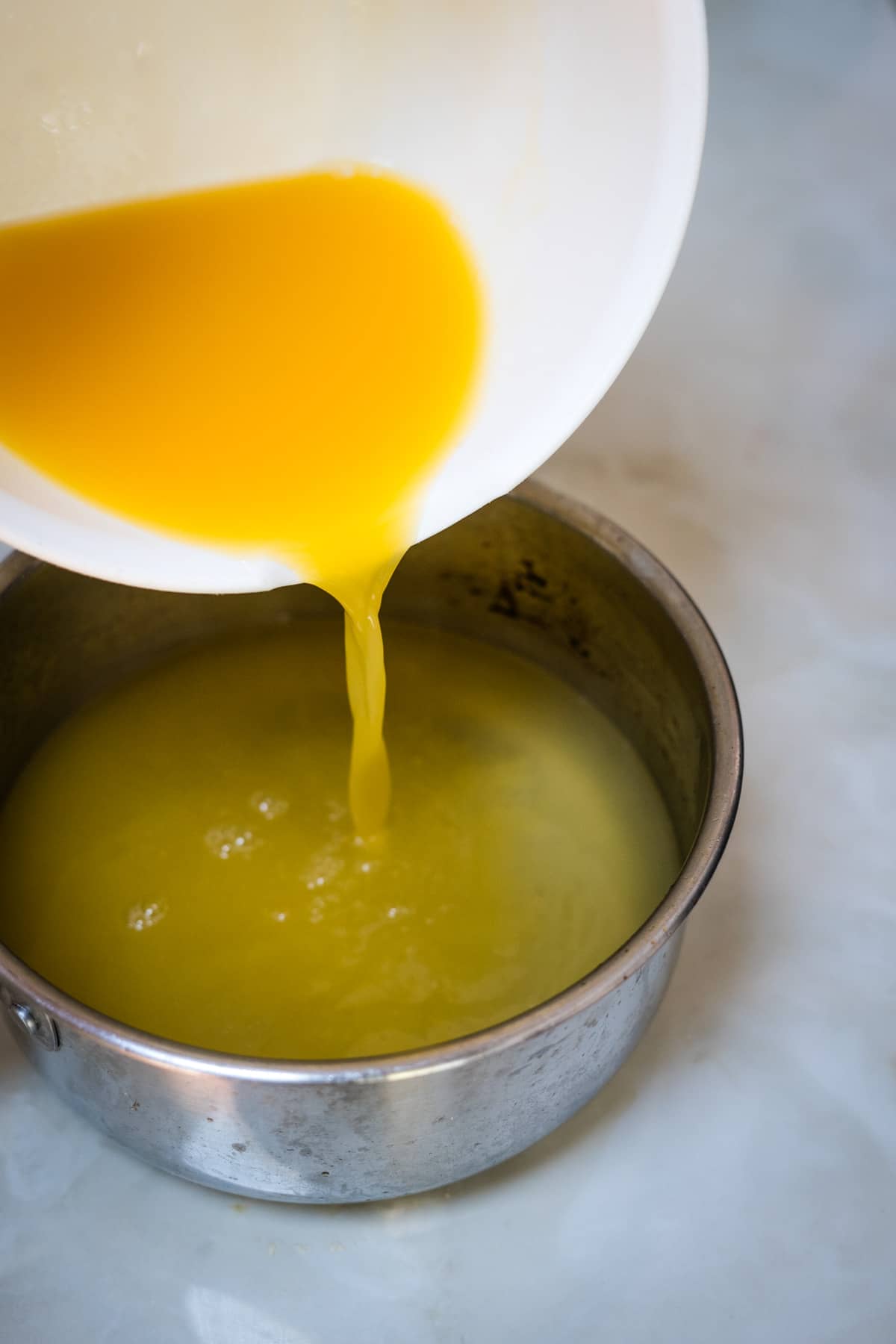 Strain star fruit juice and add to allulose mixture.
Churn in ice cream mixture.
Storage
Place your star fruit sorbet in an airtight container with a lid that seals well. This helps prevent freezer burn and the absorption of odors from the freezer.
To further protect the sorbet from freezer burn, you can press a piece of plastic wrap directly onto the surface of the sorbet before sealing the container. This minimizes the exposure of the sorbet to air.
While sorbet can technically be stored in the freezer for several months, it's best to consume it within a few months for optimal flavor and texture. Over time, ice crystals may develop, affecting the sorbet's quality.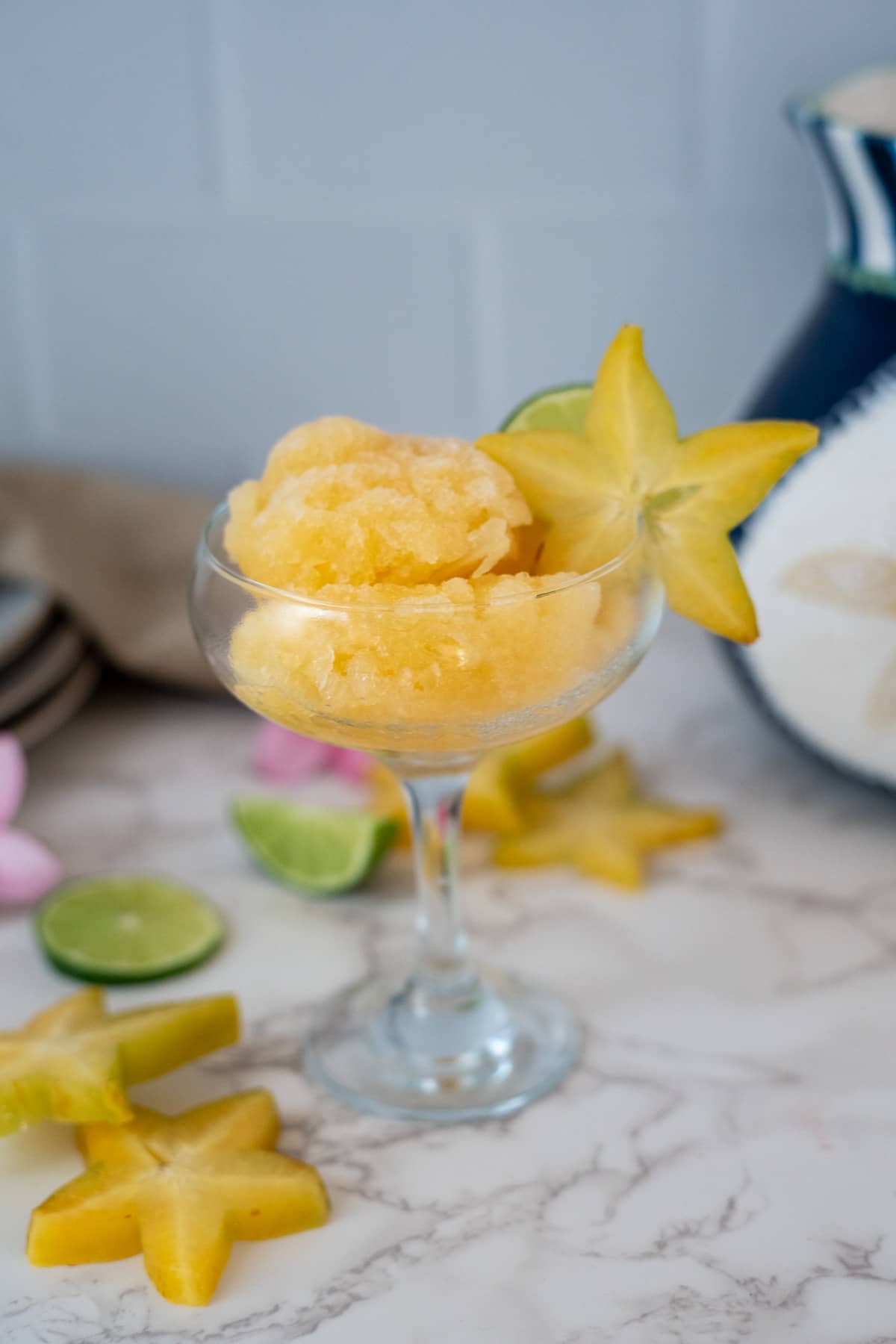 Recipe Tips
Select ripe star fruit for the best flavor. Look for firm fruits with bright yellow skin. Avoid those that are overly green or have blemishes.
Add lime juice for a sharper taste or if you want an extra sweet taste, add vanilla extract to the sorbet.
Allow the sorbet to thaw for a few minutes in the refrigerator before serving. This makes scooping easier and ensures a creamy texture.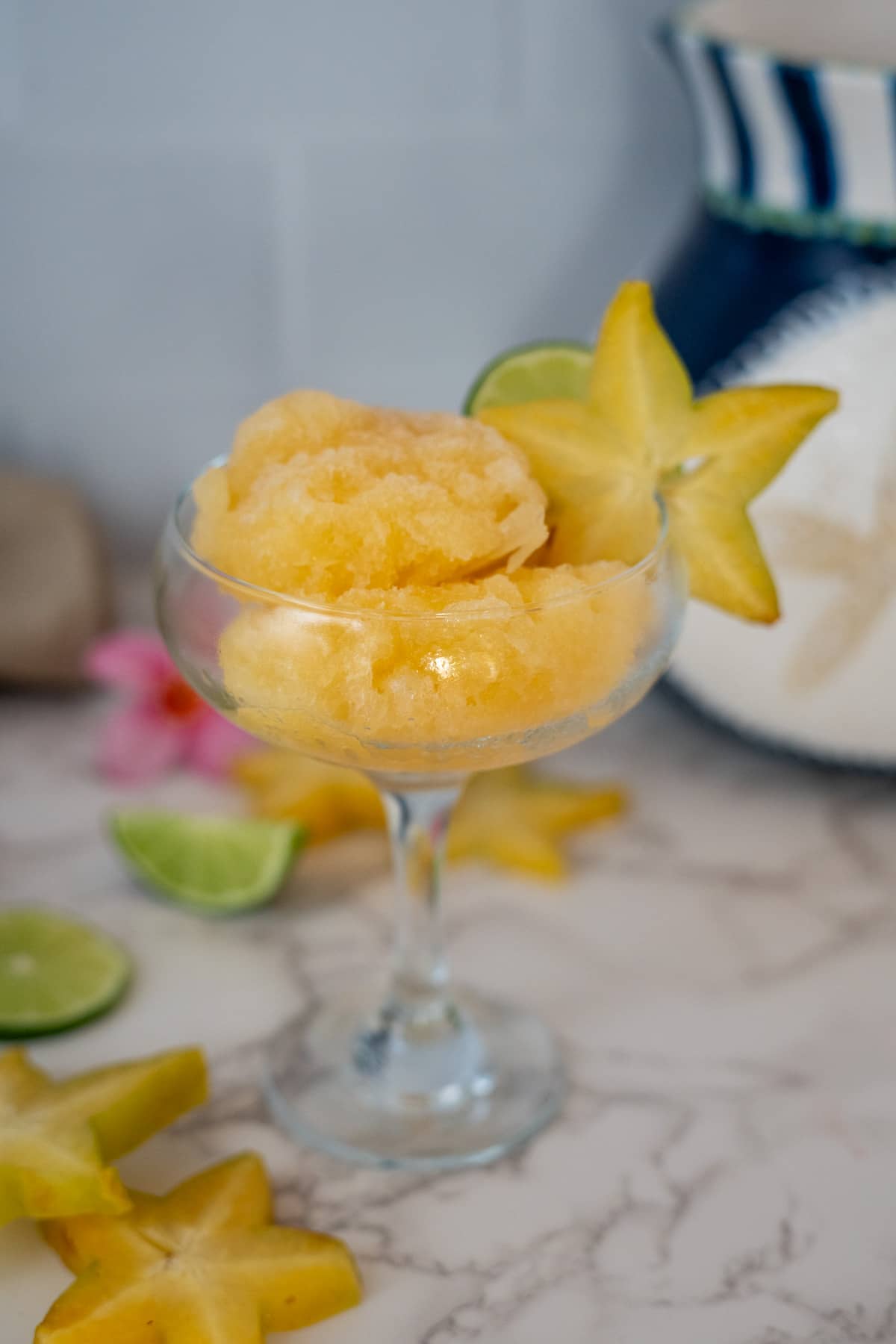 More Low Carb Star Fruit Recipe
Explore star fruit with these low carb and gluten free recipes: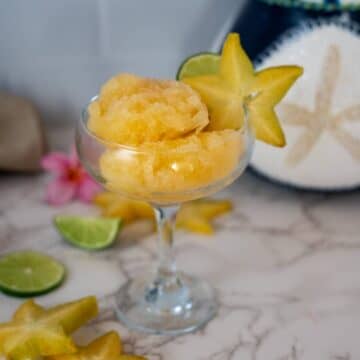 Star Fruit Sorbet
This sugar free star fruit sorbet is a light, tropical dessert perfect for a hot day.
Instructions
In a small saucepan, combine the allulose sweetener and water. Heat over medium heat, stirring constantly, until the allulose is completely dissolved. This will create an allulose syrup. Remove it from heat and let it cool for a few minutes.

Slice the star fruit, removing the ends and any seeds. You can leave the skin on as it's edible and adds texture to the sorbet.

Place the sliced star fruit in a blender or food processor. Blend until you have a smooth mixture.

Strain the star fruit mixture with a sieve to remove the pulp and extract the juice.

Add the star fruit juice to the allulose mixture and stir well.

Taste the mixture and adjust the sweetness or tartness to your liking. You can add more allulose if you want it sweeter.

Transfer the sorbet mixture to a bowl or container and refrigerate it for at least 1-2 hours to chill. Chilling the mixture will make it easier to freeze.

Pour the chilled sorbet mixture into an ice cream maker and follow the manufacturer's instructions for freezing. If you don't have an ice cream maker, you can pour the mixture into a shallow, freezer-safe container.

If you're not using an ice cream maker, place the container in the freezer. Every 30 minutes, use a fork to scrape and stir the mixture to prevent large ice crystals from forming. Repeat this process for about 2-3 hours or until the sorbet has a smooth, scoopable texture.

Once the sorbet has reached the desired consistency, scoop it into bowls and enjoy your sugar-free star fruit sorbet!
Notes
Make 6 scoopable servings.
Any nutritional analysis on the website is based on an estimate, calculated by Spoonacular from the individual ingredients in each recipe. Variations may occur for various reasons, including product availability and food preparation. We make no representation or warranty of the accuracy of this information.
YOUR OWN NOTES
Nutrition
Serving:
1
serving
Calories:
19
kcal
Carbohydrates:
4
g
Protein:
1
g
Fat:
0.2
g
Fiber:
2
g
Net Carbohydrates:
2
g
The information shown is an estimate provided by an online nutrition calculator.