Low carb star fruit jam with dried hibiscus is a delicious and unique spread that offers a burst of tropical flavor with the added benefits of hibiscus.
This unique and flavorful sugar free jam showcases the stunning star fruit, also known as carambola, in a delightful, low-carb spread that is not only delicious but also healthy. What makes this recipe truly special is the addition of dried hibiscus, infusing a delightful floral note and a beautiful crimson hue to the jam.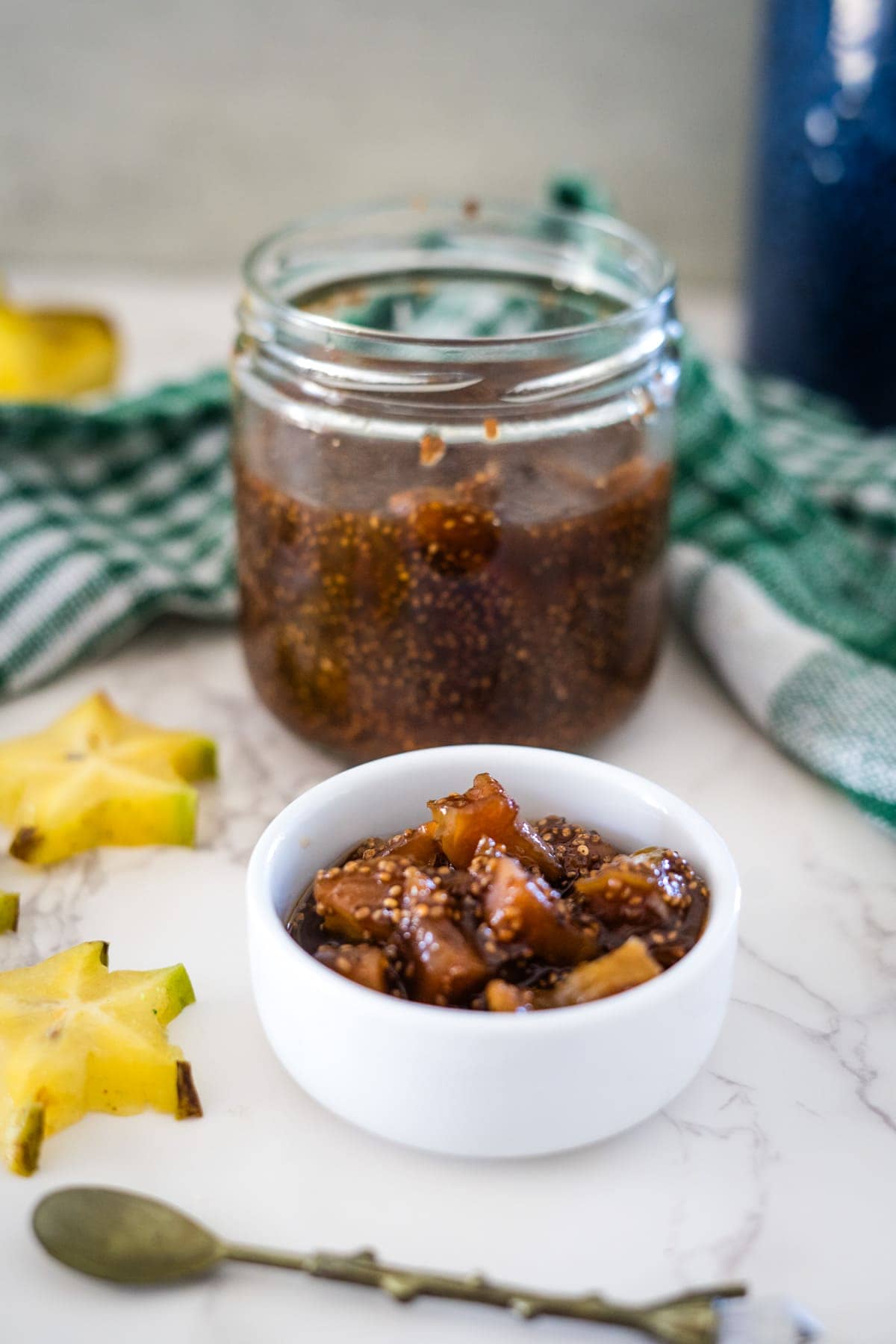 This low-carb star fruit jam with dried hibiscus is not only delicious but also rich in antioxidants from the hibiscus and vitamin C from the star fruit. Chia seeds are used to thicken the jam.
This post may contain affiliate links. Please read my disclosure policy for more information.
Jump to:
What is star fruit?
Star fruit, also known as carambola, is a tropical fruit that gets its name from the distinct, star-like shape it takes on when sliced horizontally. It is native to Southeast Asia but is now grown in various tropical and subtropical regions around the world. Star fruit is well-known for its unique appearance and sweet-tart flavor.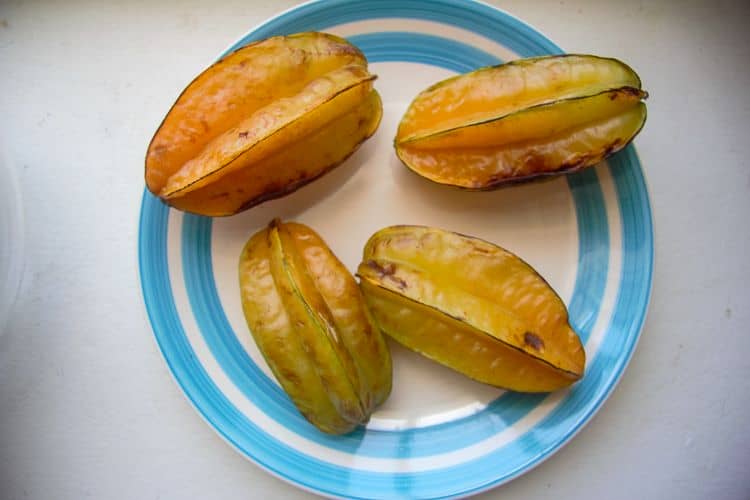 Carbs in star fruit
The carbohydrate content in star fruit (carambola) can vary slightly depending on its ripeness and size. On average, a 100-gram serving of raw, ripe star fruit contains approximately 3-4 grams of carbohydrates.
Star Fruit Caution
While star fruit is generally considered safe to eat, it's important to note that it contains oxalic acid, which can be harmful to individuals with kidney problems. People with kidney issues should consult a healthcare professional before consuming star fruit.
Ingredients
A tropical collection of fruit makes this great jam.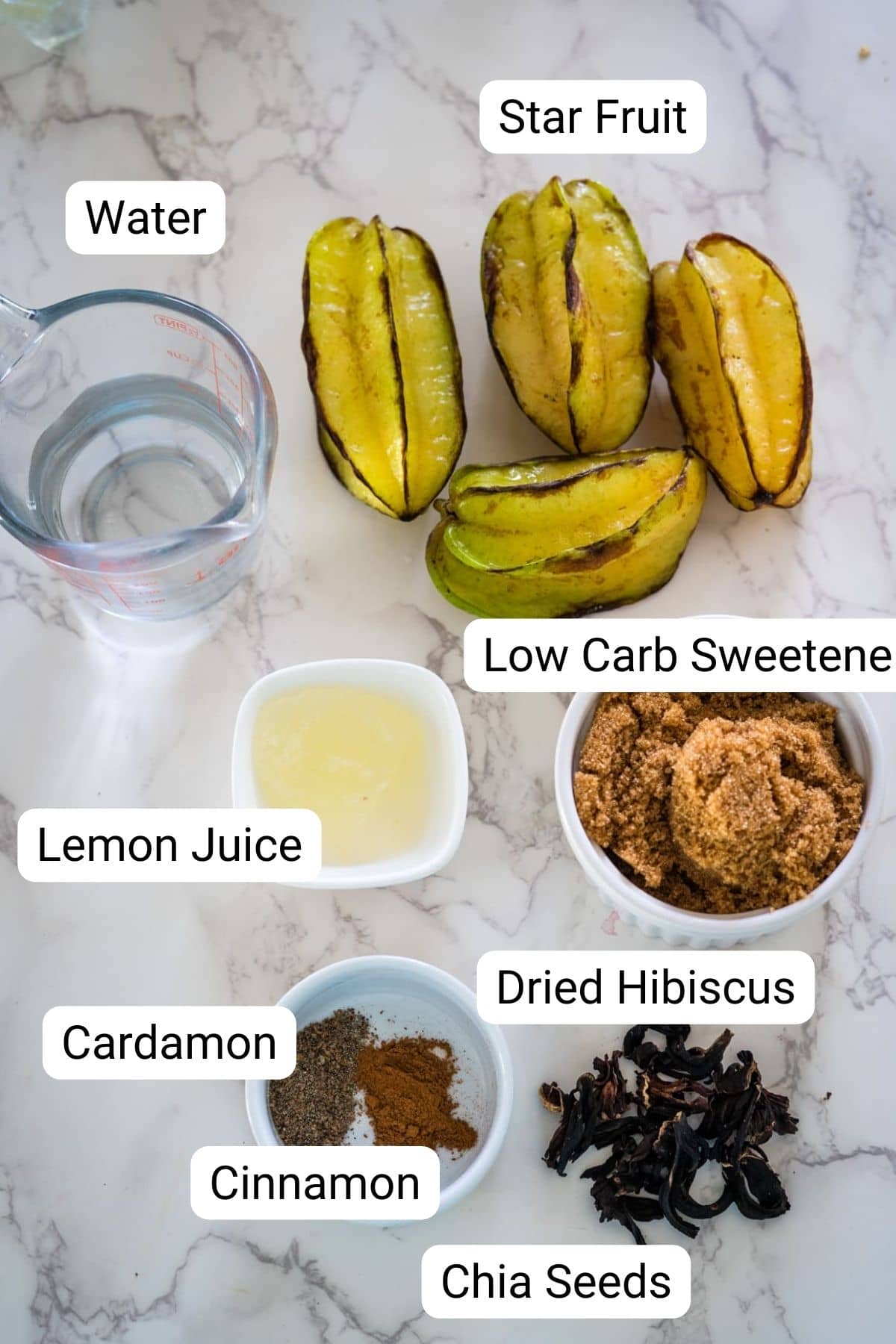 Star fruit - select ripe and bright yellow star fruit.
Hibiscus - we used dried hibiscus, also known as Sorrel in the Caribbean, for it's colour.
Sweetener - brown monkfruit is used but any other low carb sweetener can be used.
Spices - a mixture of warm spices being cardamon and cinnamon give this jam a great flavor.
Chia seeds - a great way to thicken the jam without pectin.
How to make star fruit jam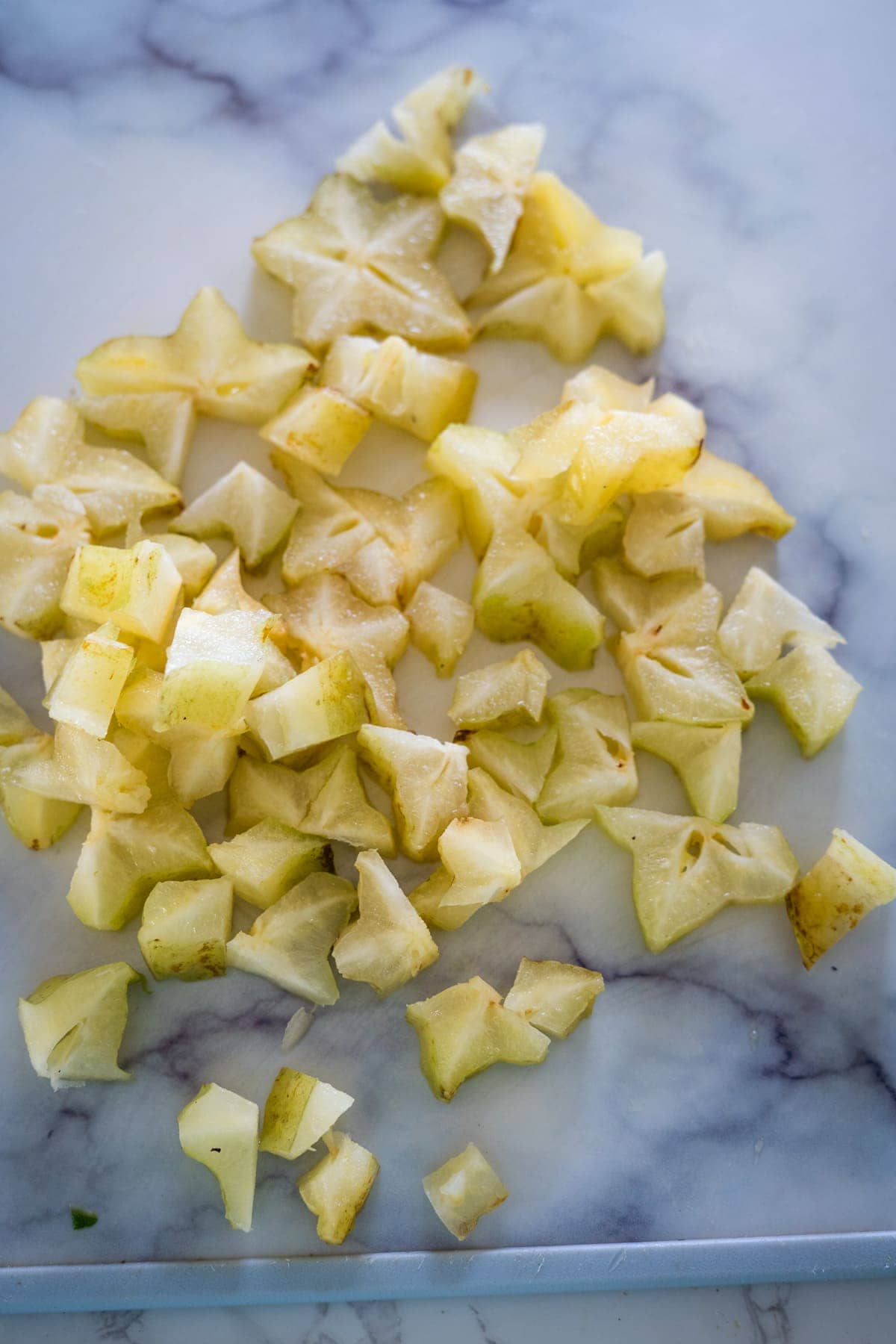 Chop the star fruit and remove seeds.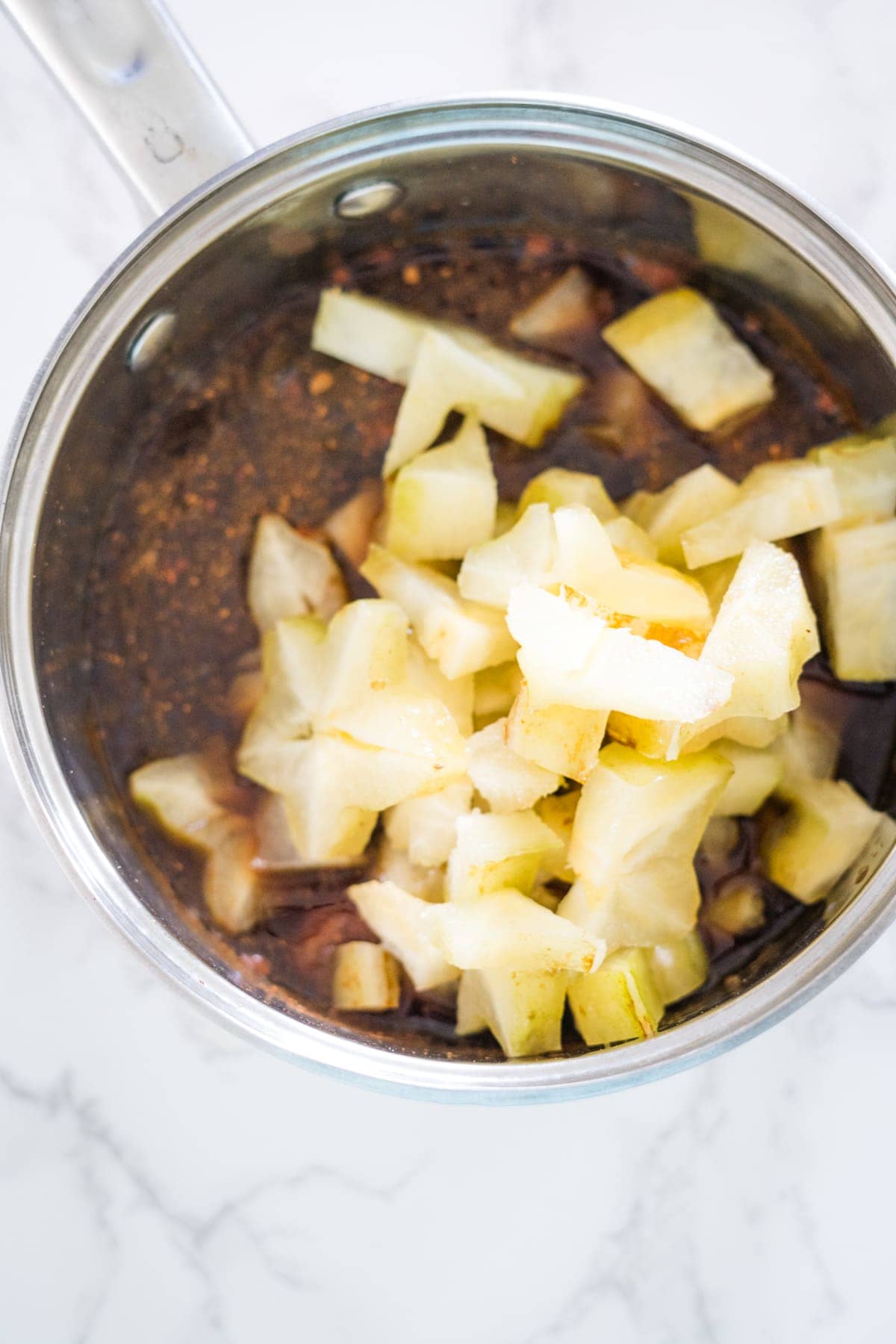 Add to pan with hibiscus, sweetener, spices and water.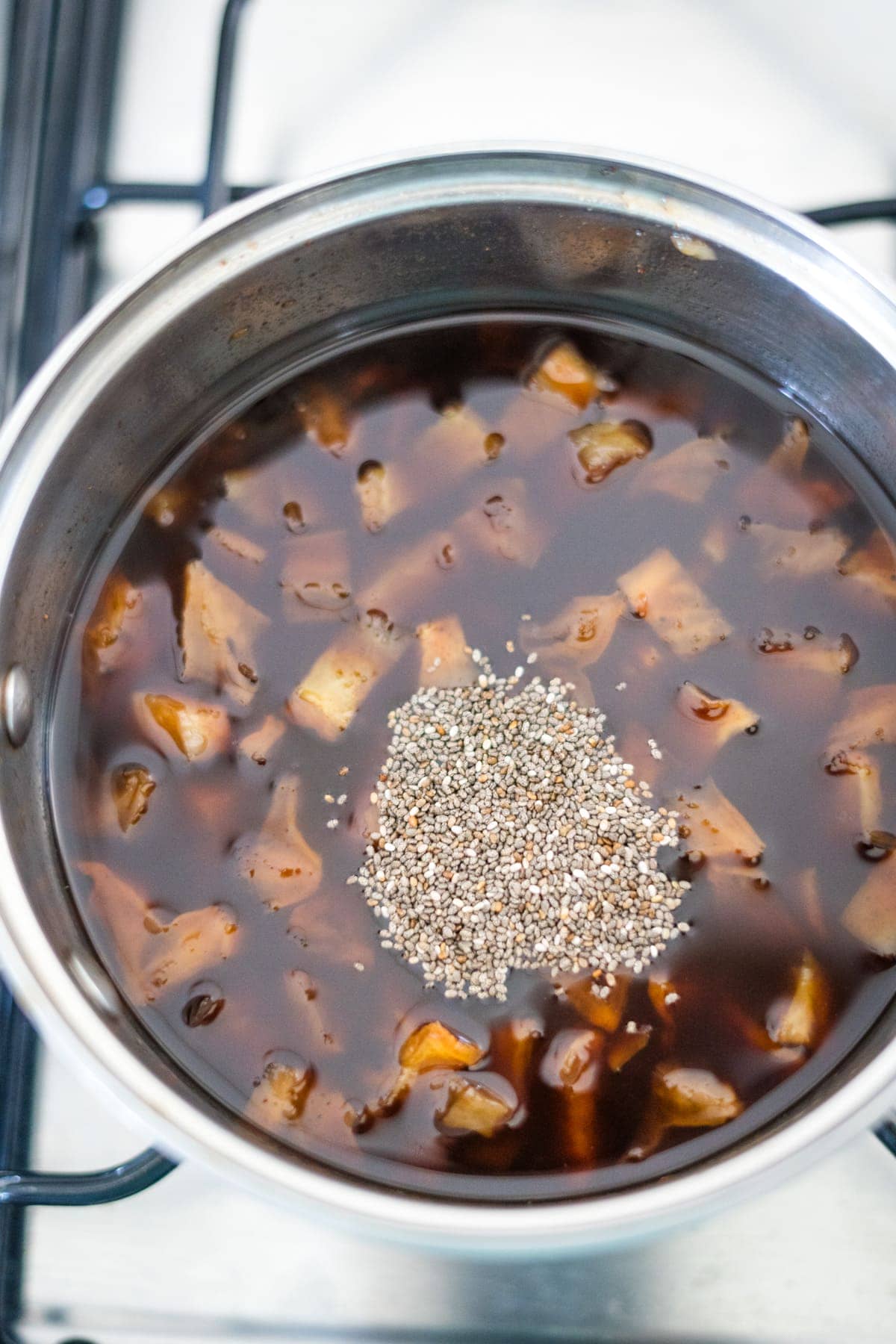 Once softened, remove hibiscus and add chia seeds.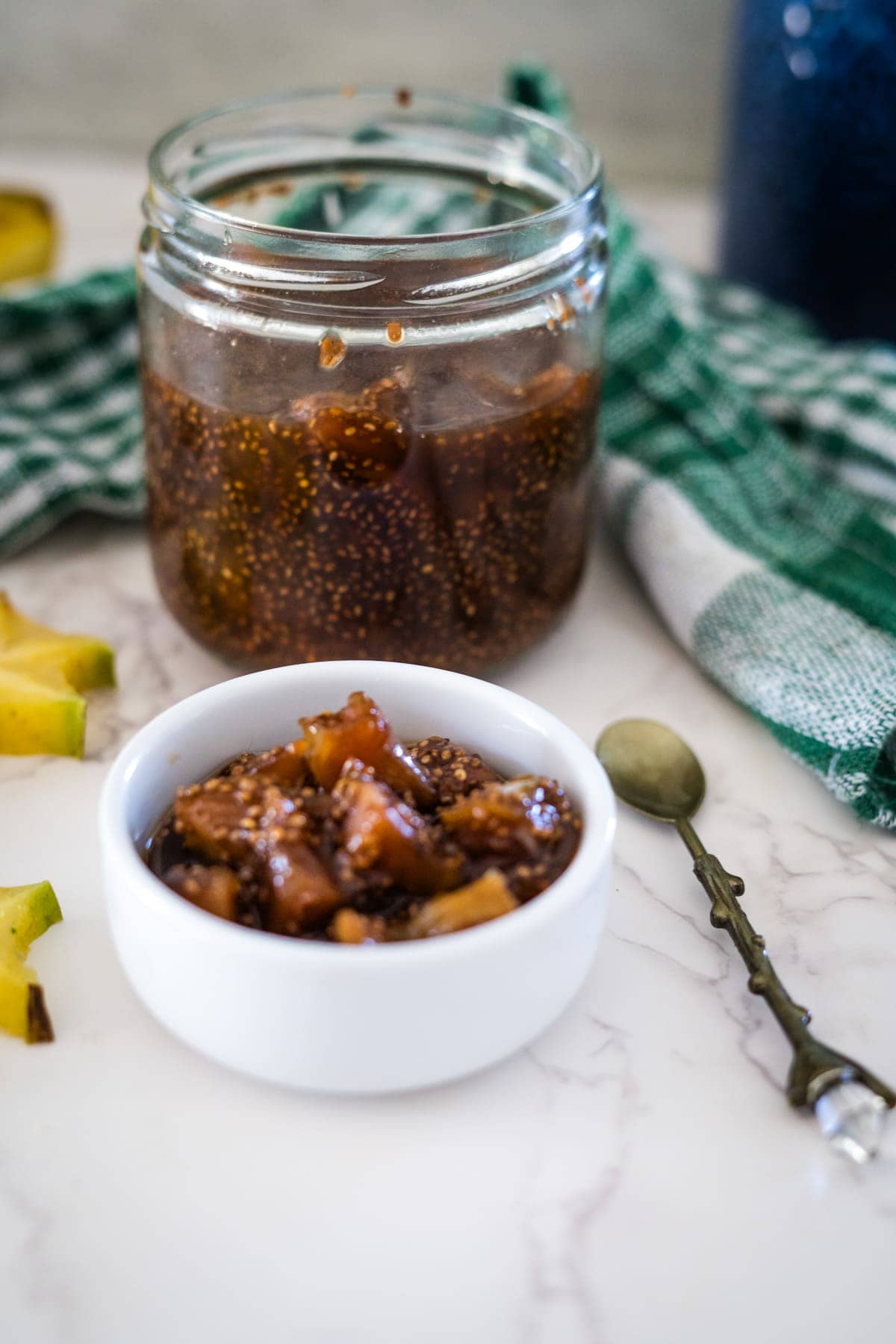 Cool, store in a jar and serve.
Storage
Use clean, sterilized glass jars or airtight containers for storing the jam. Store the carambola jam in the fridge and it should last up to 4 weeks.
How to enjoy starfruit jam
Star Fruit Jam Thumbprint Cookies: Bake a batch of low carb thumbprint cookies and fill the thumbprint indentation with star fruit jam. The sweet-tart jam complements the buttery cookies beautifully.
Star Fruit Jam and Brie Grilled Cheese: Elevate your grilled keto cheese sandwich by spreading star fruit jam inside along with slices of Brie cheese. The jam adds a fruity twist to this classic comfort food.
Star Fruit Jam Parfait: Layer star fruit jam with Greek yogurt and low carb granola to make a delicious and nutritious breakfast or dessert parfait. It's a delightful combination of textures and flavors.
Star Fruit Jam and Cream Cheese Dip: Create a creamy dip by blending star fruit jam with cream cheese. Serve it with fresh fruit slices or keto crackers for a simple and tasty appetizer.
Star Fruit Jam Smoothie: Add a spoonful of star fruit jam to your favorite smoothie recipe for a burst of tropical sweetness.
Star Fruit Jam Salad Dressing: Mix star fruit jam with balsamic vinegar, olive oil, and Dijon mustard to create a sweet and tangy dressing for salads. It pairs beautifully with greens, goat cheese, and candied pecans.
Star Fruit Jam Glazed Tofu or Tempeh: Use star fruit jam to make a glaze for tofu or tempeh. Bake or pan-fry the protein until it's caramelized and delicious.
Star Fruit Jam and Cheese Platter: Serve star fruit jam alongside a selection of cheeses for an elegant and tasty cheese platter.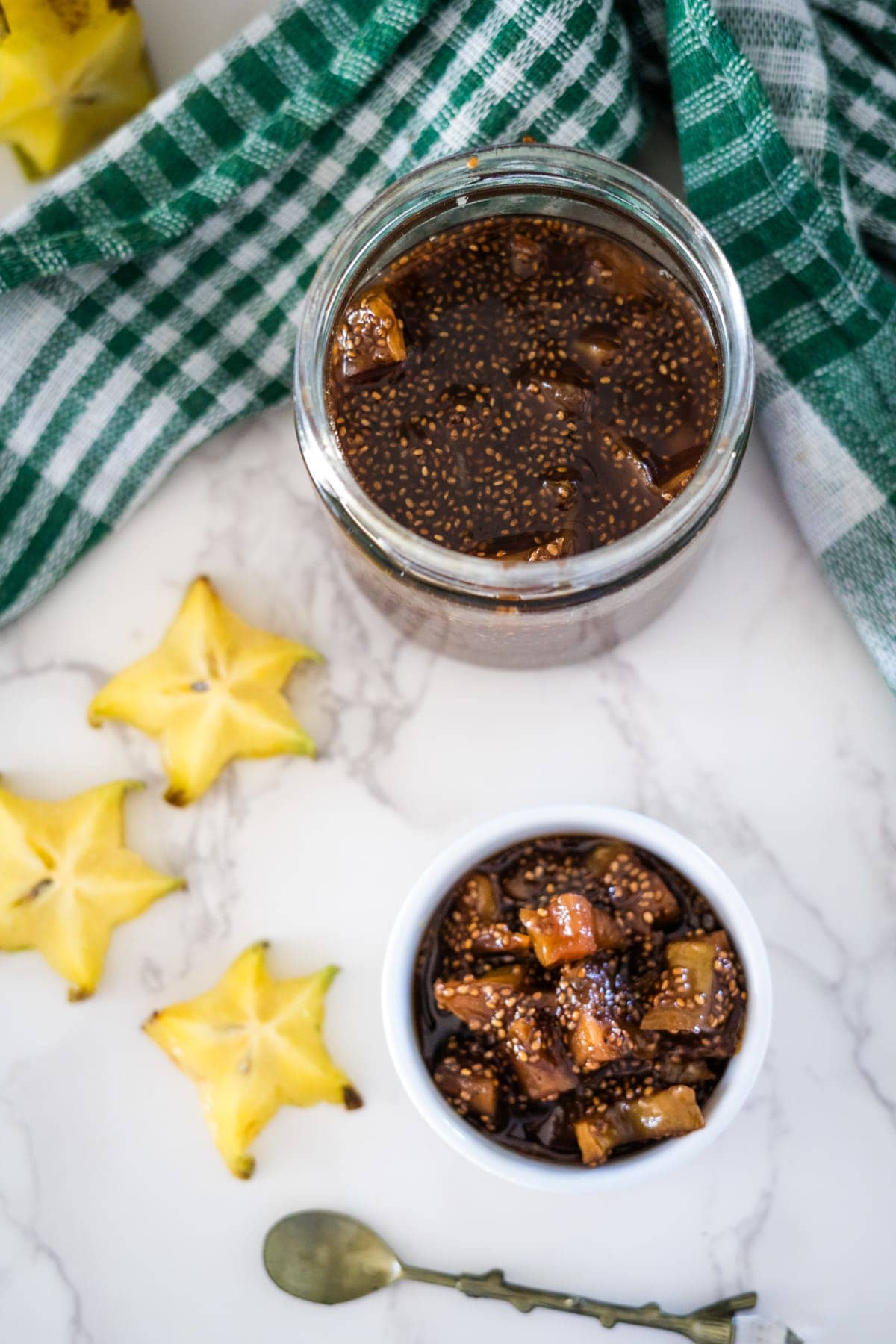 More sugar free jam recipes
Enjoy a sweet or savory sugar-free jam on a slice of low carb bread with these other recipes: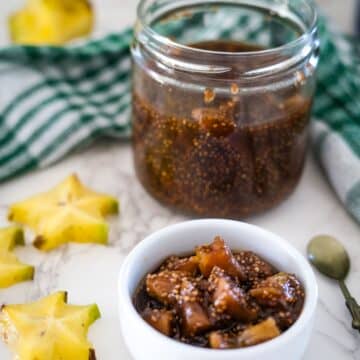 Star Fruit Jam
Indulge guilt-free with our sugar-free star fruit jam! Experience the sweet and tangy goodness of ripe star fruit in a low-carb, diabetic-friendly spread that's perfect for a healthy lifestyle. Enjoy the tropical flavors, minus the sugar.
Ingredients
4

star fruit

1 ½

cups

water

1

cup

brown monkfruit

¼

cup

dried hibiscus

2

tablespoons

lemon juice

½

teaspoon

cardamon

½

teaspoon

cinnamon
Instructions
Remove the edges from the star fruit. Cut into small chunks, removing the seeds.

In a medium saucepan add the water, star fruit, hibiscus, spices and lemon juice.

Bring the mixture to a simmer over medium heat and cook until the star fruit is soft, about 10-15 minutes.

Remove the hibiscus leaves and add the chia seeds. Stir to mix.

Set aside the jam to cool, then spoon into jars.

Spread this star fruit jam on your favorite low-carb bread, pancakes, or use it as a topping for yogurt.
Notes
Makes 1 ½ cups of jam which is about 24 tablespoons. We have listed a serving as 2 tablespoons.
YOUR OWN NOTES
Nutrition
Serving:
1
serving
Calories:
10
kcal
Carbohydrates:
2
g
Protein:
0.3
g
Fat:
0.1
g
Fiber:
1
g
Net Carbohydrates:
1
g
The information shown is an estimate provided by an online nutrition calculator.