Tzatziki sauce with sour cream is a delicious and refreshing Greek condiment that complements a variety of dishes. Made with creamy sour cream and fresh herbs, tzatziki sauce adds a burst of flavor to grilled vegetables, or can be used as a dip for keto pita bread or veggies.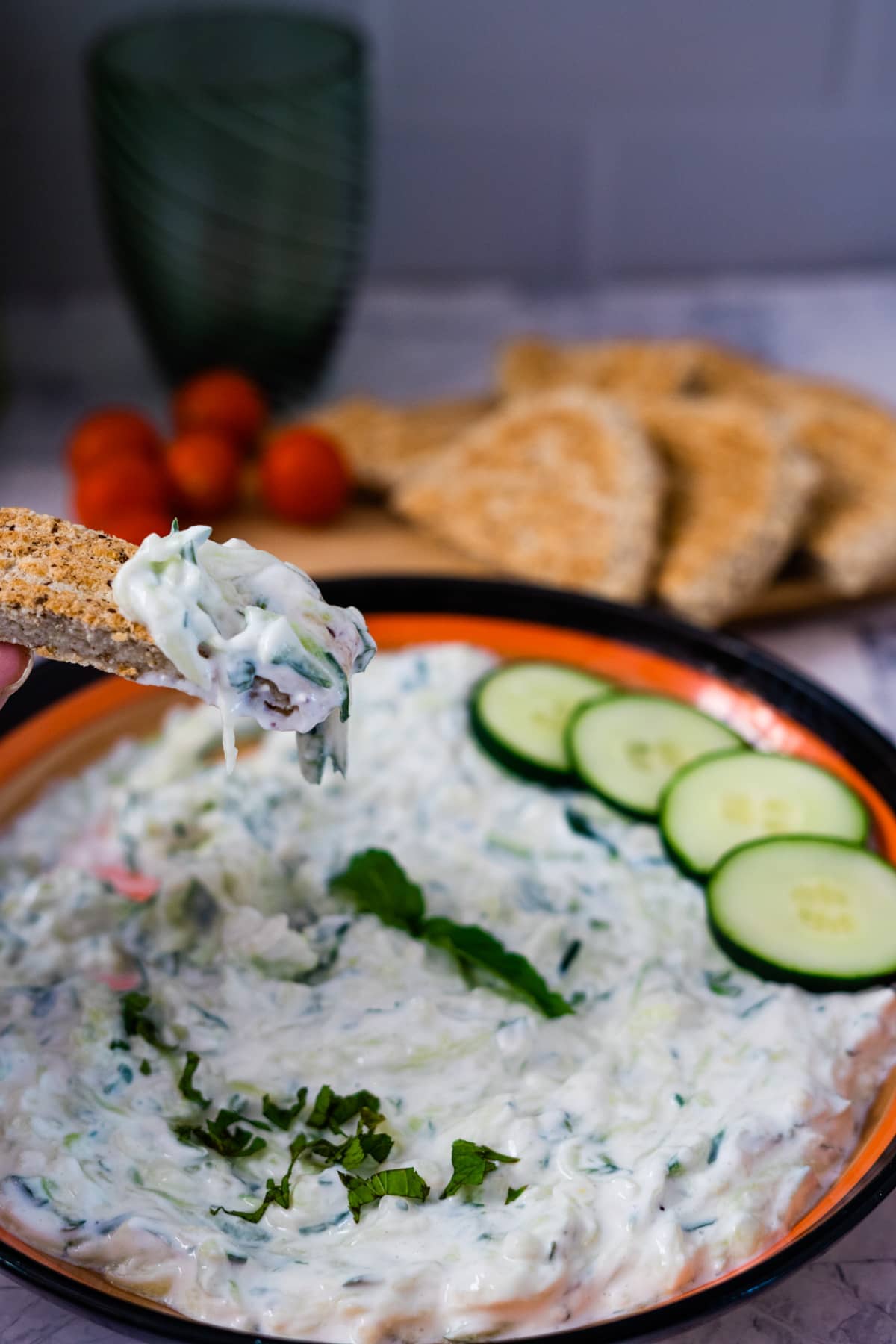 Tzatziki is traditionally made with Greek yogurt but this recipe uses sour cream. It is a tangy and creamy dip for summer. If you are out of yogurt, you can still enjoy tzatziki.
This post may contain affiliate links. Please read my disclosure policy for more information.
Jump to:
Why Use Sour Cream in Tzatziki
While traditional tzatziki sauce is typically made with Greek yogurt, using sour cream as the base for tzatziki can provide a slightly different flavor and texture profile. The use of sour cream in tzatziki can create a creamier and tangier sauce compared to the yogurt-based version. It can also add a subtle richness to the sauce.
It's important to note that using sour cream instead of Greek yogurt will result in a slightly different flavor profile. The choice between yogurt and sour cream ultimately depends on personal preference and the desired outcome for your tzatziki sauce.
Ingredients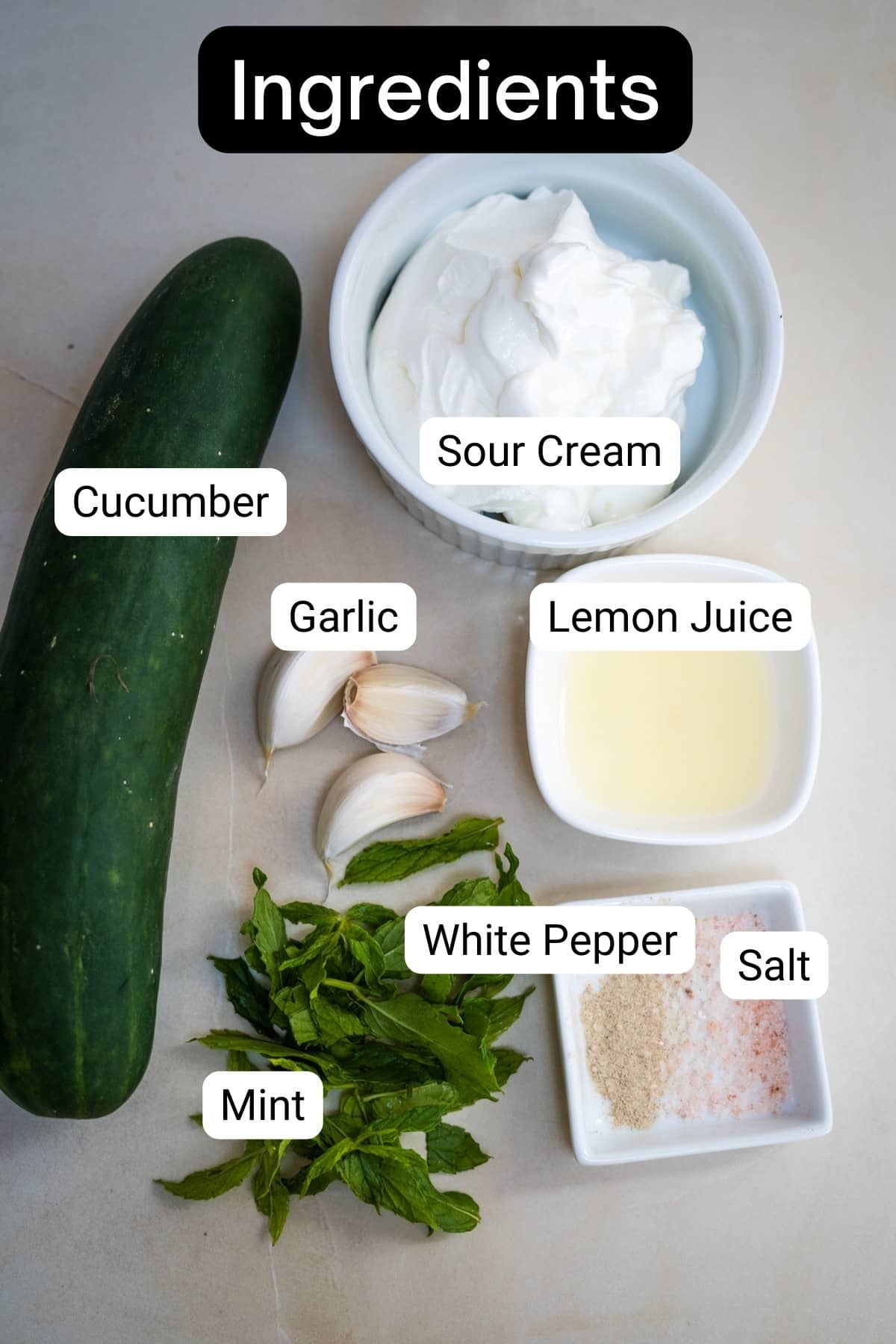 Cucumber - The English cucumber is preferred for tzatziki because its mild flavor pairs well with the other ingredients in the sauce without overpowering them. Additionally, the thin skin of the English cucumber eliminates the need for peeling, allowing for easy preparation.
Mint - Mint adds a refreshing and slightly sweet taste to tzatziki, creating a unique twist on the classic recipe. The addition of mint can provide a brighter and more vibrant flavor to the sauce.
Sour cream - Opt for full-fat sour cream to achieve a richer and creamier tzatziki sauce. The higher fat content contributes to a more luscious texture and enhances the overall flavor.
Herbs - Whenever possible, use fresh herbs instead of dried ones. Fresh dill and mint provide a vibrant and aromatic taste to the tzatziki sauce. Chop the herbs finely to distribute their flavors evenly throughout the sauce.
How to Make Keto Tzatziki Sauce with Sour Cream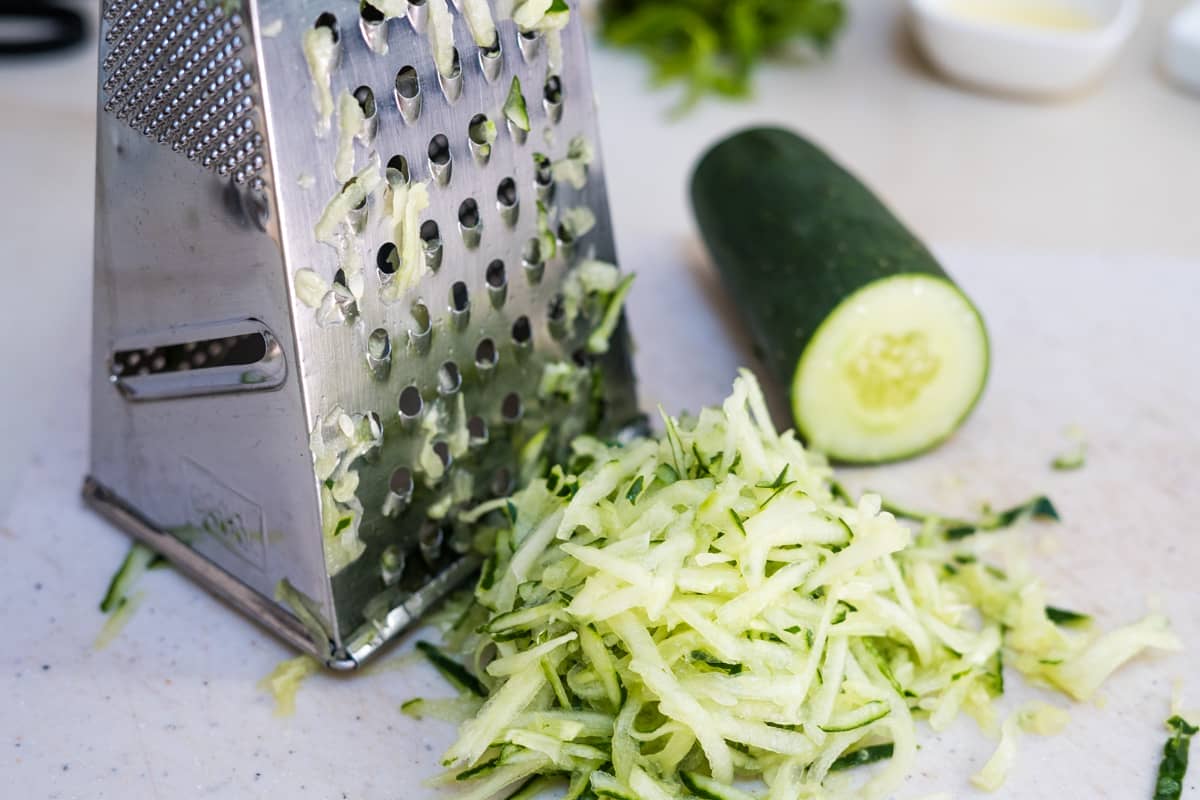 Grate the cucumber.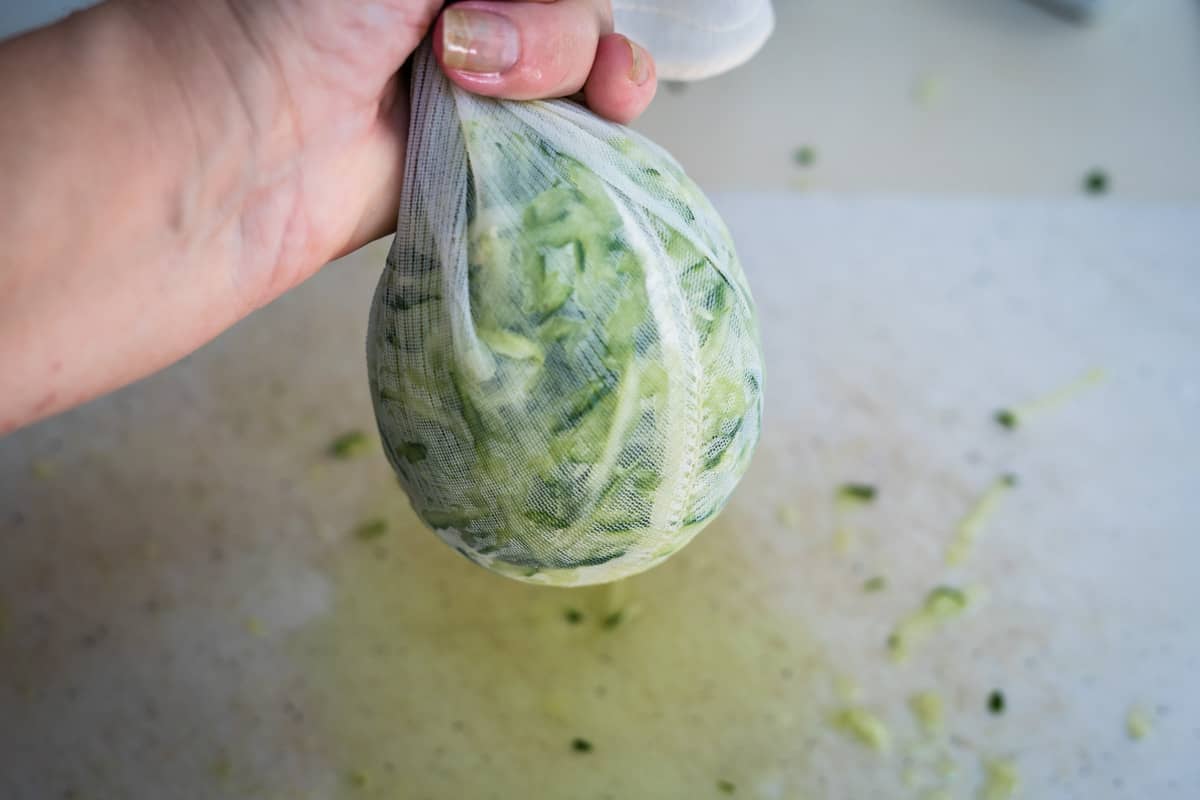 Remove the water from the cucumber.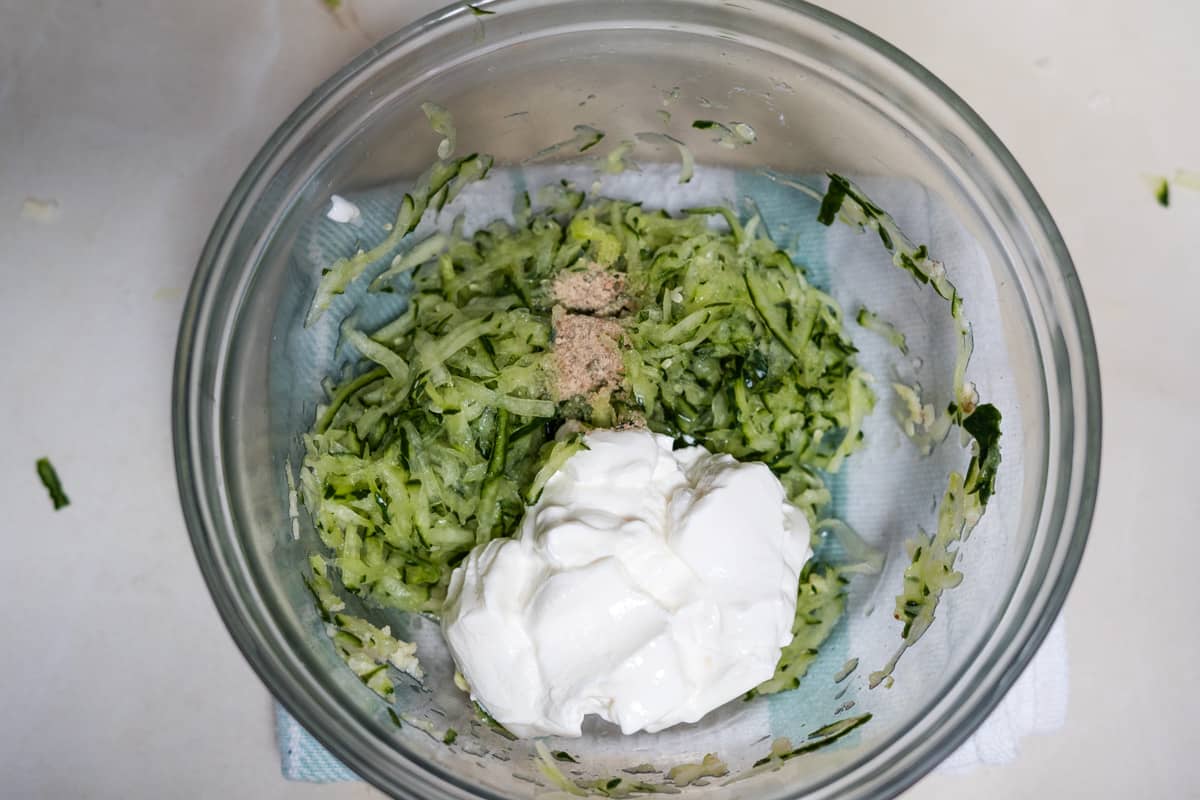 Place all ingredients in a bowl and mix.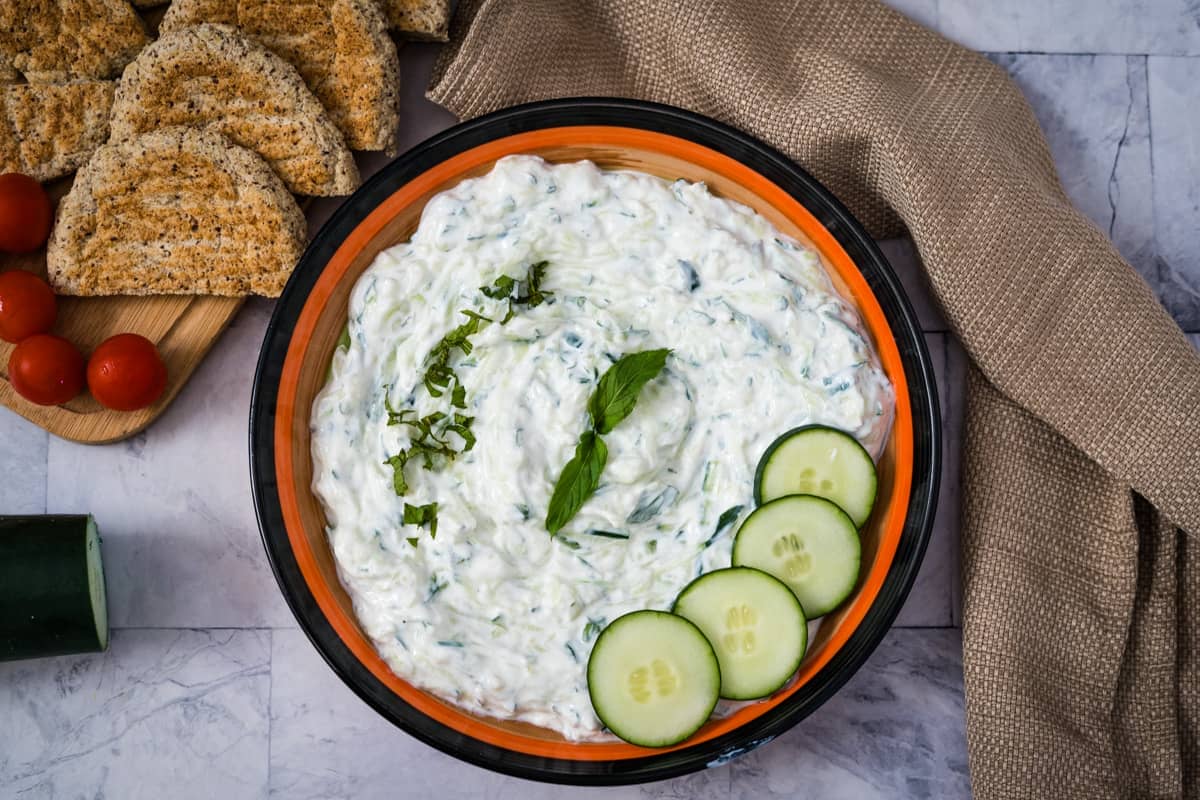 Chill and serve.
Recipe Tips
Dill can be used in place of the mint. Dill adds a fresh and aromatic flavor that pairs exceptionally well with the cool and tangy nature of tzatziki. Its slightly sweet and herbaceous notes enhance the overall taste of the sauce and provide a distinctively Greek flavor profile.
After grating the cucumber, it's important to remove excess moisture. You can either place the grated cucumber in a clean kitchen towel and squeeze out the liquid or strain it in a fine-mesh sieve. This step prevents the tzatziki sauce from becoming watery and ensures a thicker consistency.
After preparing the tzatziki sauce, refrigerate it for at least an hour before serving. This resting time allows the flavors to blend together, resulting in a more harmonious and well-rounded taste.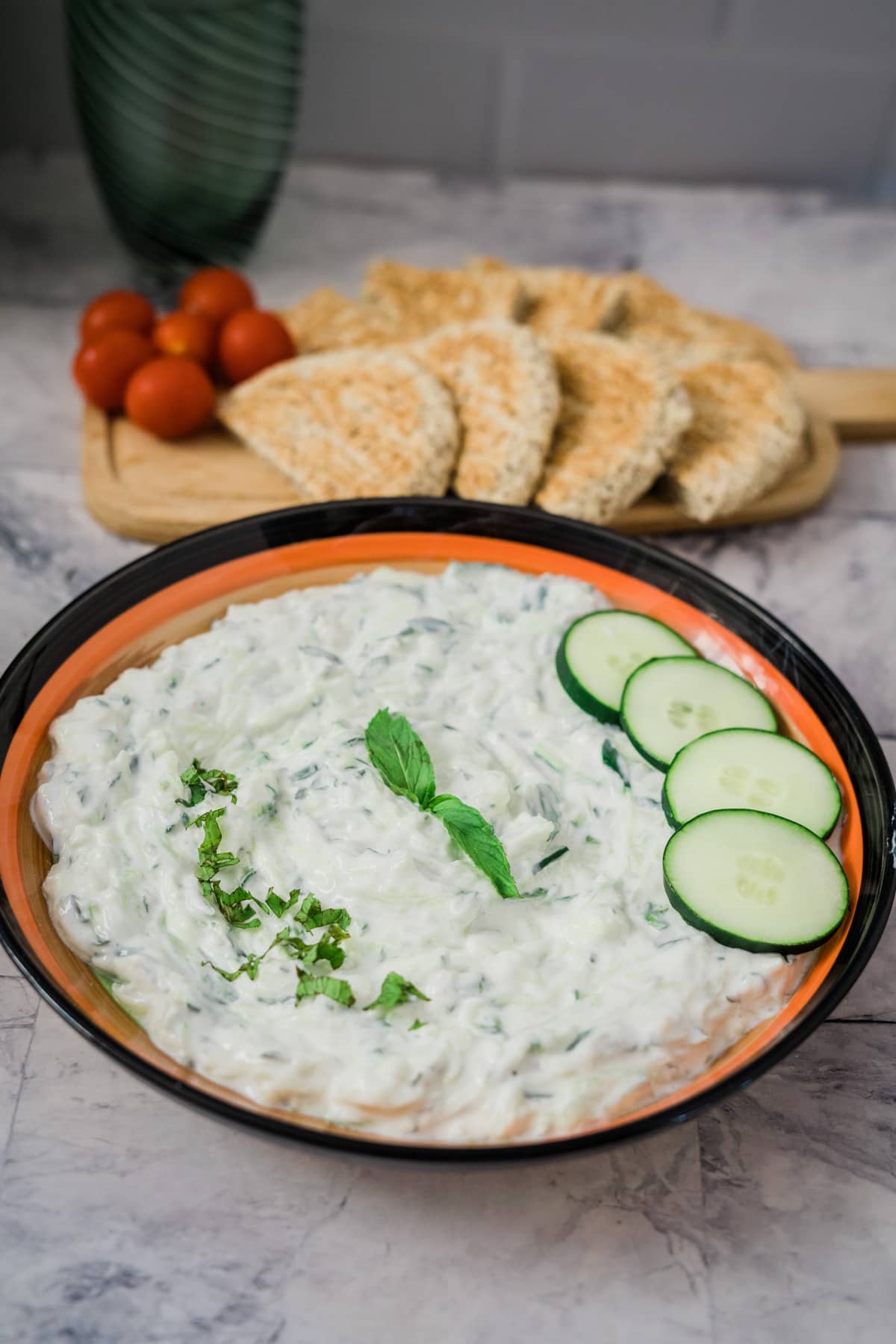 Storage
Store any leftover tzatziki sauce in an airtight container in the refrigerator. It will keep well for 3-4 days. However, keep in mind that the texture may become slightly thinner due to the release of moisture from the cucumber.
Serving Suggestions
Serve tzatziki sauce as a dip with an assortment of fresh vegetables such as cucumber slices, bell pepper strips, cherry tomatoes, and radishes. It adds a creamy and flavorful element to the veggies and is also great drizzled over a salad.
Use this creamy tzatziki sauce as a dipping sauce or drizzle it over grilled vegetables such as zucchini, eggplant, bell peppers, and mushrooms. The sauce adds a creamy and herby element to the smoky flavors of the grilled veggies.
More Keto Vegetarian Dips
Bake a batch of keto crackers and enjoy more keto vegetarian dips.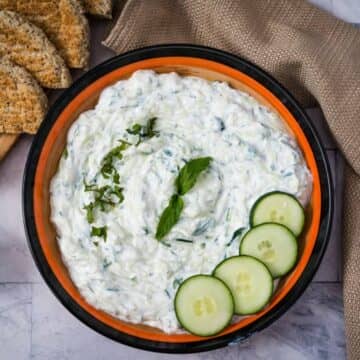 Tzatziki Sauce with Sour Cream
The use of sour cream in tzatziki can create a creamier and tangier sauce compared to the yogurt-based version. It can also add a subtle richness to the sauce.
Ingredients
1

cucumber

1

cup

sour cream

3

cloves

minced garlic

2

tablespoons

fresh lemon juice

¼

teaspoon

white pepper

½

teaspoon

salt

¼

cup

fresh mint, finely chopped
Instructions
Start by peeling the cucumber and cutting it in half lengthwise. Use a spoon to scrape out the seeds from the cucumber halves.

Grate the cucumber using a box grater or a food processor. Place the grated cucumber in a clean kitchen towel and squeeze out the excess moisture.

Add the grated cucumber and minced garlic to the bowl with the sour cream, lemon juice, white pepper and salt.

Mix well to ensure that the cucumber and garlic are evenly distributed throughout the sauce.

Add the chopped mint to the sauce and mix everything together until the herbs are evenly incorporated.

Cover the bowl with plastic wrap or transfer the tzatziki sauce to an airtight container. Place it in the refrigerator for at least 1 hour to allow the flavors to meld together.

Before serving, give it a final stir and taste to adjust the seasoning if necessary.
Notes
Any nutritional analysis on the website is based on an estimate, calculated by Spoonacular from the individual ingredients in each recipe. Variations may occur for various reasons, including product availability and food preparation. We make no representation or warranty of the accuracy of this information.
YOUR OWN NOTES
Nutrition
Serving:
1
serving
Calories:
65
kcal
Carbohydrates:
3
g
Protein:
1
g
Fat:
6
g
Fiber:
0.4
g
Net Carbohydrates:
3
g
The information shown is an estimate provided by an online nutrition calculator.