Keto hummus made with lupini beans is a great alternative for those following a ketogenic diet or looking for a low-carb hummus option. Lupini beans, also known as lupin beans, are high in protein and fiber and low in net carbs, making them a suitable choice for a keto-friendly and vegan hummus recipe.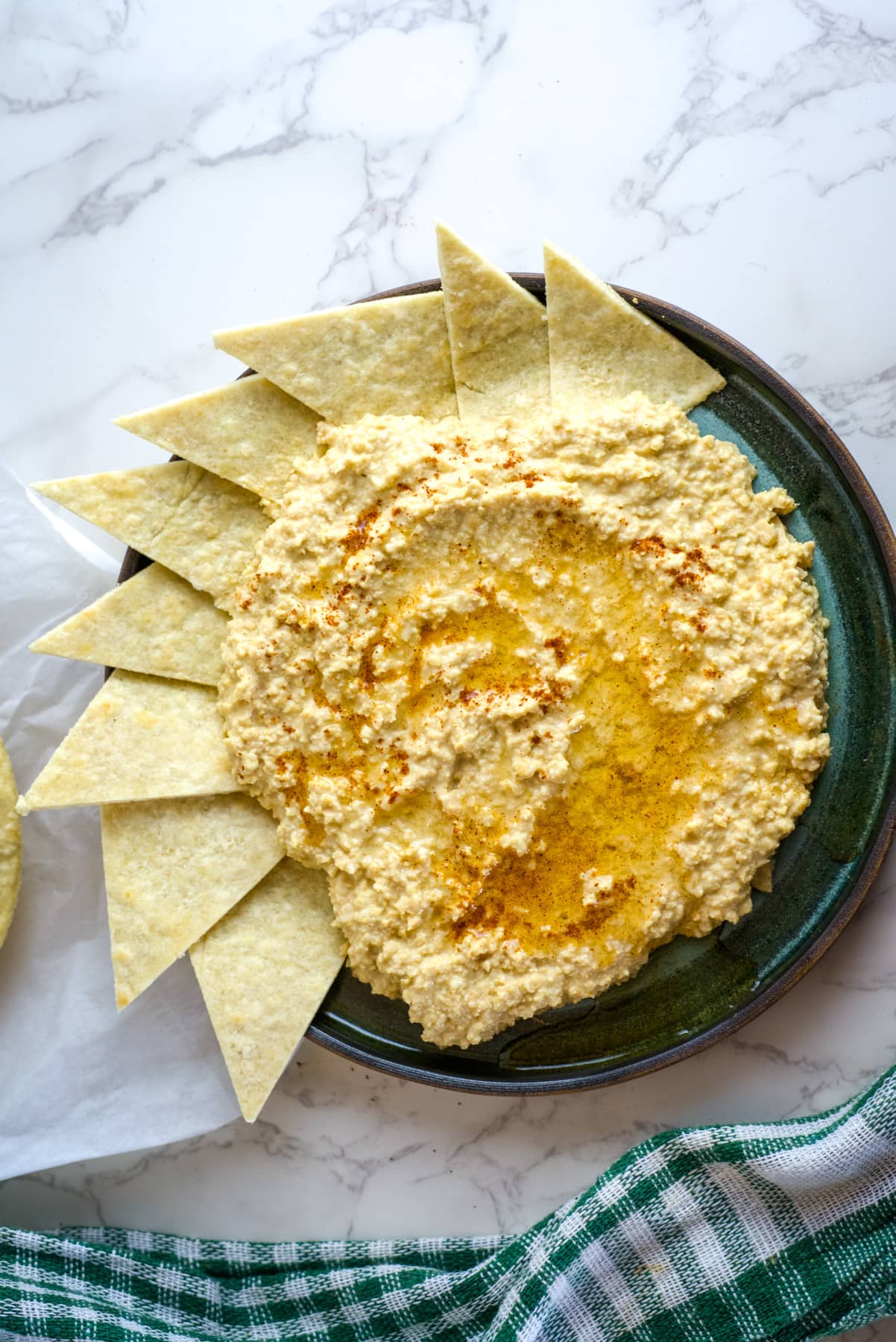 Many keto hummus recipes are made with vegetables such as cauliflower and zucchini, but this hummus recipe is made with lupini beans. Lupini beans are particularly popular as a low-carb hummus base. They are high in protein and fiber and contain fewer net carbs compared to chickpeas.
This post may contain affiliate links. Please read my disclosure policy for more information.
Jump to:
Is Hummus Keto Friendly?
Traditional hummus, made with chickpeas, is not typically considered keto-friendly due to its higher carbohydrate content. However, you can make variations of hummus that are more suitable for a ketogenic diet.
Additionally, it's essential to pay attention to the other ingredients used in the recipe. Ingredients like tahini, olive oil, garlic, lemon juice, and spices are generally compatible with a keto diet as they are low in carbs. However, it's important to keep track of the quantities and portion sizes to ensure you stay within your desired carbohydrate limits.
Are Lupini Beans Low Carb?
Lupini beans are considered low in net carbs and can be a suitable choice for a low-carb or ketogenic diet. While they contain carbohydrates, the majority of those carbs come from fiber, which is not fully digested by the body and therefore doesn't significantly impact blood sugar levels.
Lupini beans have a high fiber content, which helps to reduce the net carb count. The exact carbohydrate content can vary depending on the brand and preparation method, but on average, lupini beans contain around 1-2 grams of net carbs per 100 grams (3.5 ounces).
Ingredients
This keto hummus recipe has most of the traditional ingredients with a swap for chickpeas with lupini beans.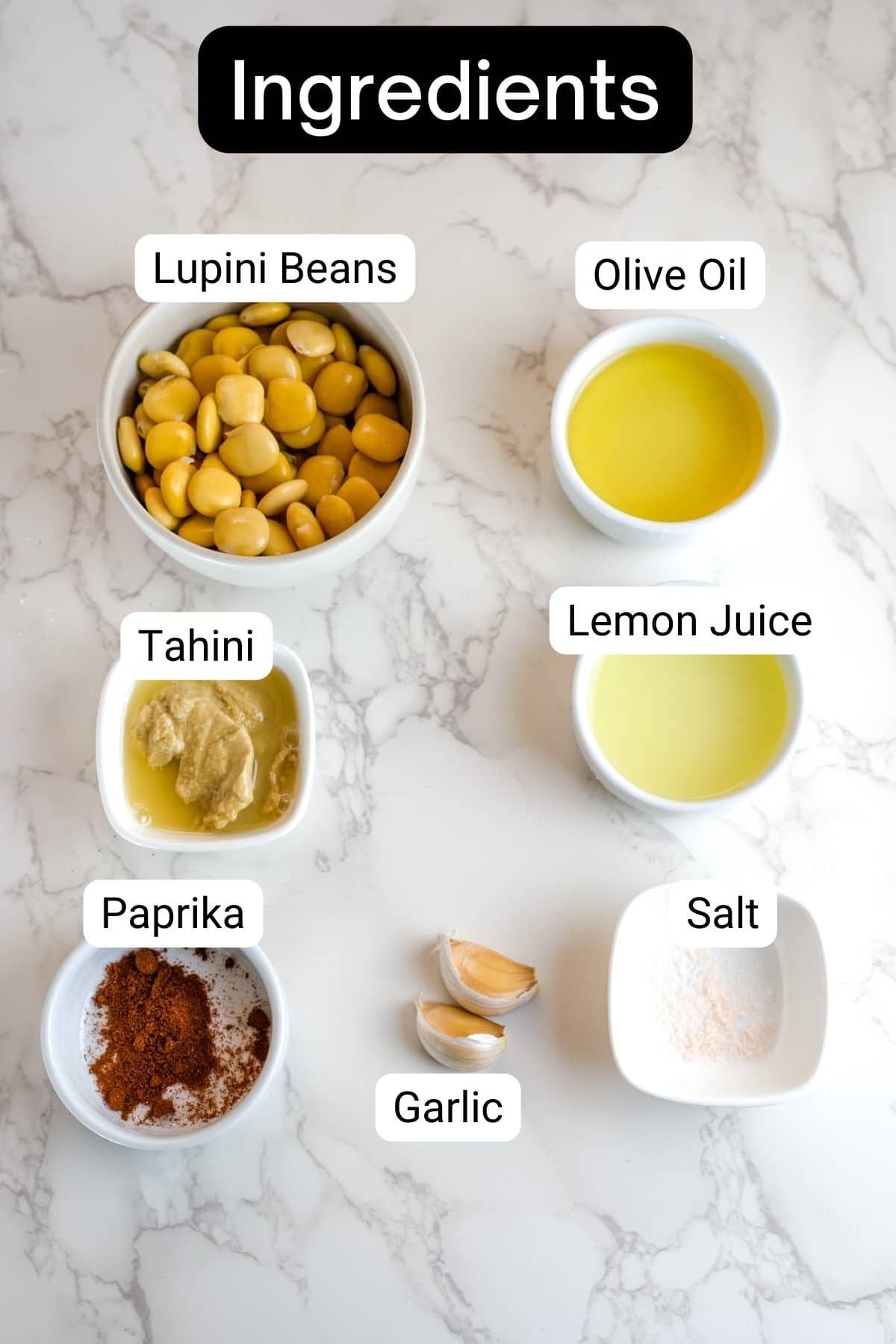 Lupini beans can be found in various places, including specialty grocery stores, health food stores, and online retailers.
When purchasing lupini beans, you may find them either dried or canned. Canned lupini beans are typically pre-cooked and ready to eat, while dried ones require soaking and cooking before consumption.
Add a dash of cumin for a deeper flavor.
How to Make Keto Hummus
This is a simple recipe to make and great for a low carb snack.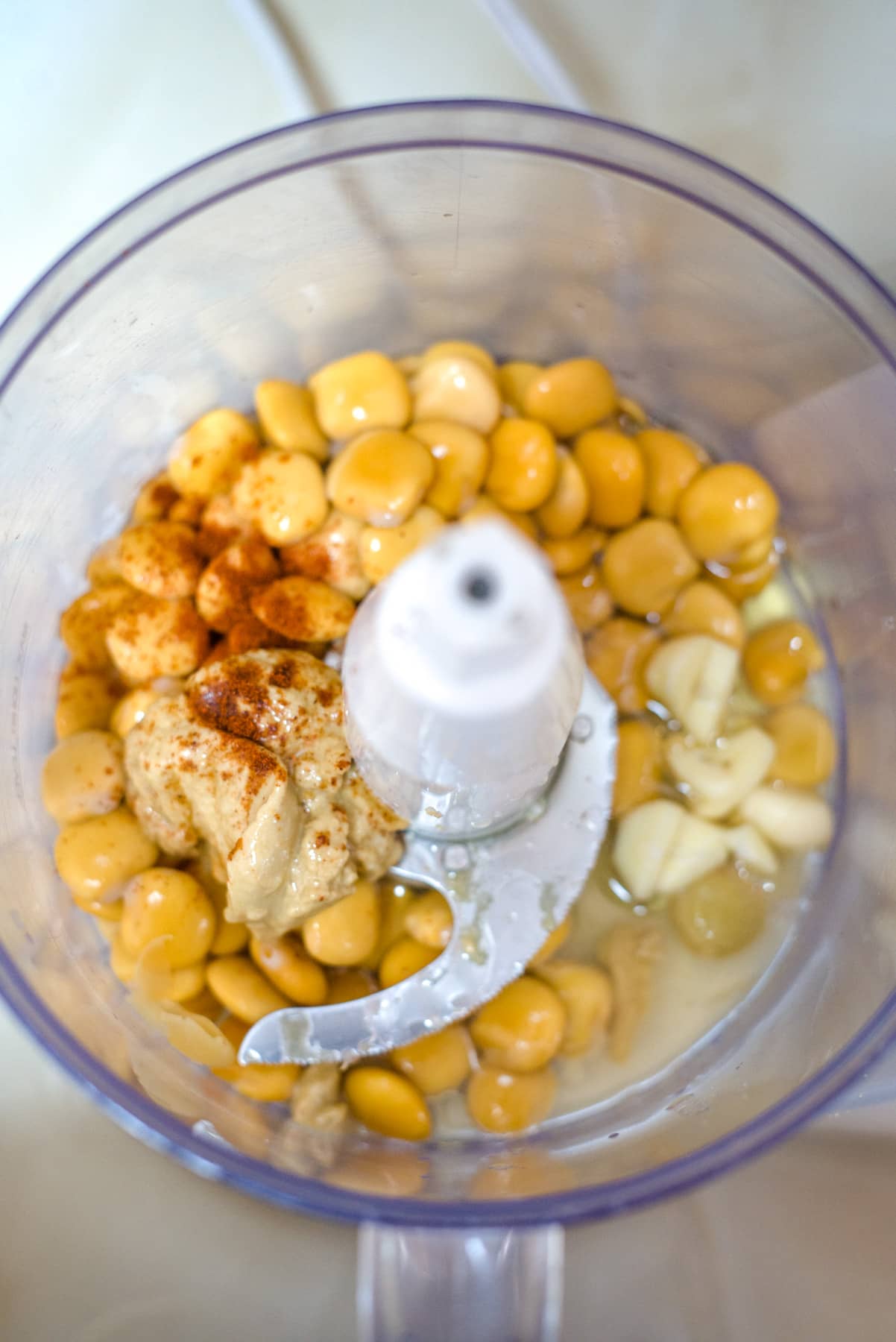 Place all the ingredients in a food processor.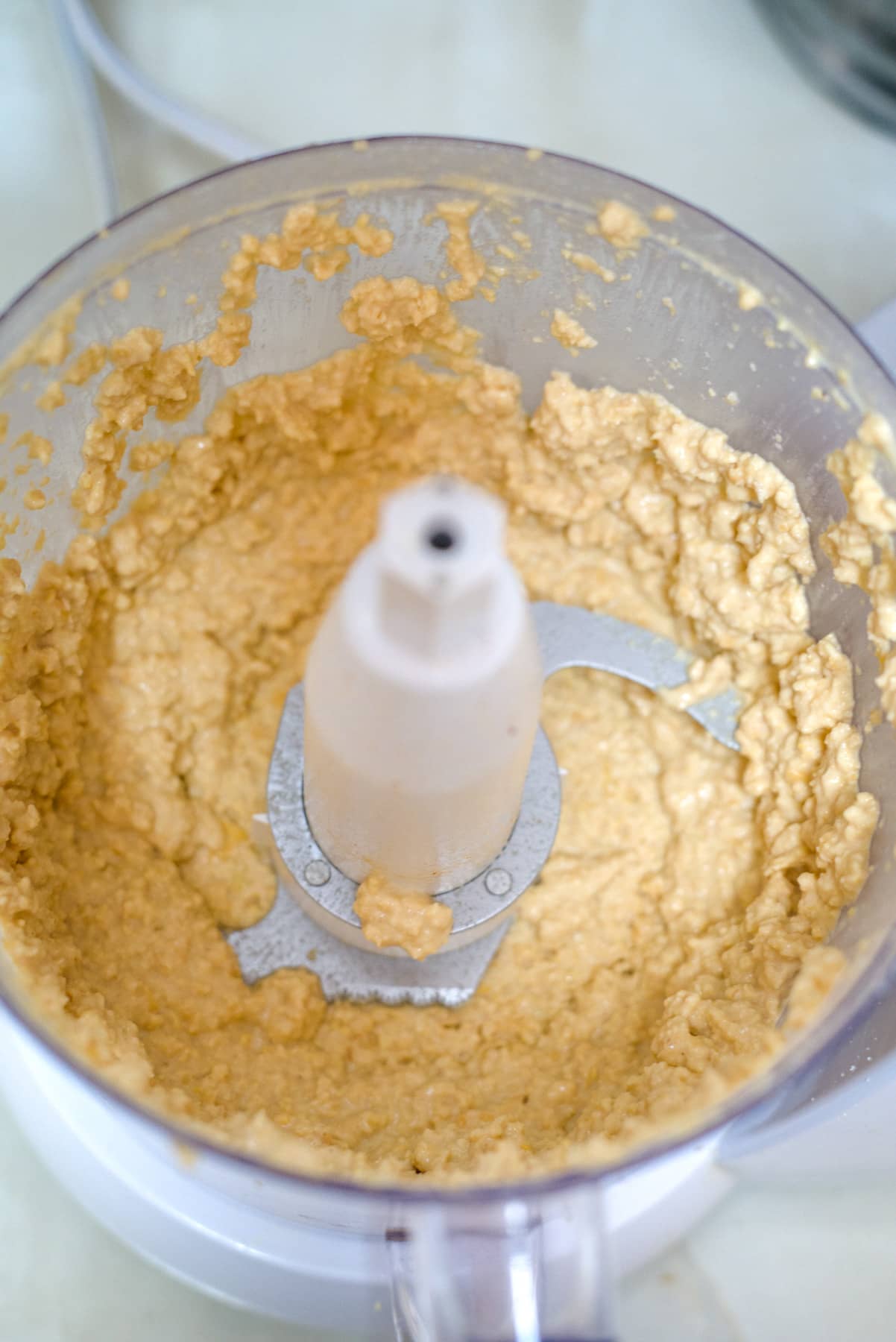 Blitz until smooth. For a smoother texture add a tablespoon or two of water.
Storage
Transfer the lupini hummus to an airtight container. Store it in the refrigerator to maintain its freshness and prevent spoilage. The cool temperature of the refrigerator helps to slow down the growth of any bacteria.
Ensure that the container you use is tightly sealed to prevent air exposure, which can cause the hummus to dry out and oxidize.
Lupini hummus, like most homemade dips, is best consumed within a few days for optimal taste and quality. Aim to use it within 3 to 5 days of preparation.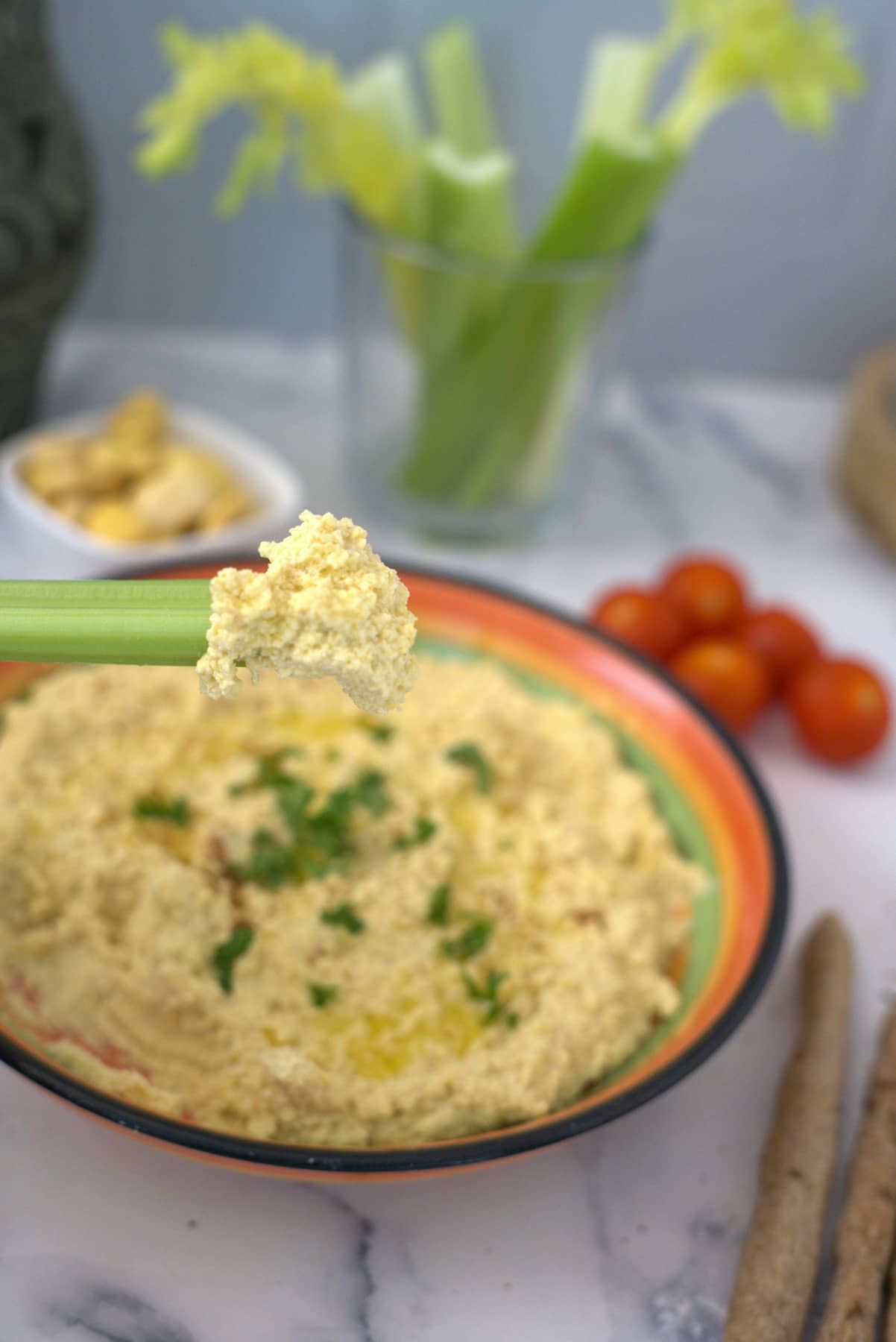 Serving Suggestions
Lupini bean keto hummus can be enjoyed in various ways and paired with different foods. Here are some serving suggestions to enjoy your lupini hummus:
Serve lupini hummus as a dip with keto-friendly vegetable sticks such as cucumber, celery, bell pepper, radishes, or jicama. These vegetables provide a crunchy and refreshing contrast to the creamy hummus.
Spread lupini hummus on low-carb crackers or chips for a flavorful and satisfying snack. Look for options made from almond flour, coconut flour, or flaxseed for a keto-friendly choice.
Use lupini hummus as a spread for lettuce wraps or low-carb wraps. It adds creaminess and flavor while keeping the overall carb content low.
Thin out lupini hummus with a little water or lemon juice to create a creamy salad dressing. Drizzle it over salads to add flavor and creaminess.
More Low Carb Dips to Enjoy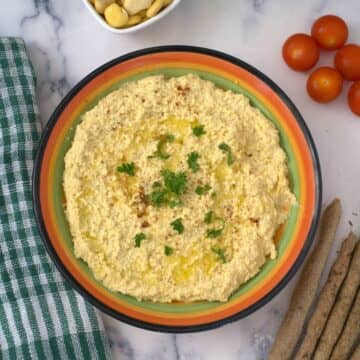 Keto Hummus
By using lupini beans as the primary ingredient, you can create a hummus that aligns better with a ketogenic diet.
Ingredients
1

cup

lupini beans

from a jar

¼

cup

tahini

2

cloves

garlic

peeled and chopped

¼

cup

olive oil

⅓

cup

fresh lemon juice

½

teaspoon

salt

¼

teaspoon

paprika
Instructions
Start by rinsing and draining the lupini beans to remove any excess brine or salt.

Place the lupini beans, garlic cloves, tahini, lemon juice, olive oil, paprika and salt in a food processor or blender.

Process the ingredients until smooth. If the mixture is too thick, you can add water, a tablespoon at a time, until you reach the desired consistency.

Taste the hummus and adjust the seasoning if needed, adding more lemon juice, salt, or spices according to your preference.

Transfer the keto lupini bean hummus to a serving bowl.

You can drizzle some olive oil on top and sprinkle paprika or chopped parsley for added flavor and presentation.
Notes
Any nutritional analysis on the website is based on an estimate, calculated by Spoonacular from the individual ingredients in each recipe. Variations may occur for various reasons, including product availability and food preparation. We make no representation or warranty of the accuracy of this information.
YOUR OWN NOTES
Nutrition
Serving:
1
serving
Calories:
108
kcal
Carbohydrates:
4
g
Protein:
4
g
Fat:
7
g
Fiber:
2
g
Net Carbohydrates:
2
g
The information shown is an estimate provided by an online nutrition calculator.