Star fruit chutney is a delightful condiment with a unique sweet and tangy flavor. This sugar-free version of this delicious chutney is perfect for those looking to avoid added sugars.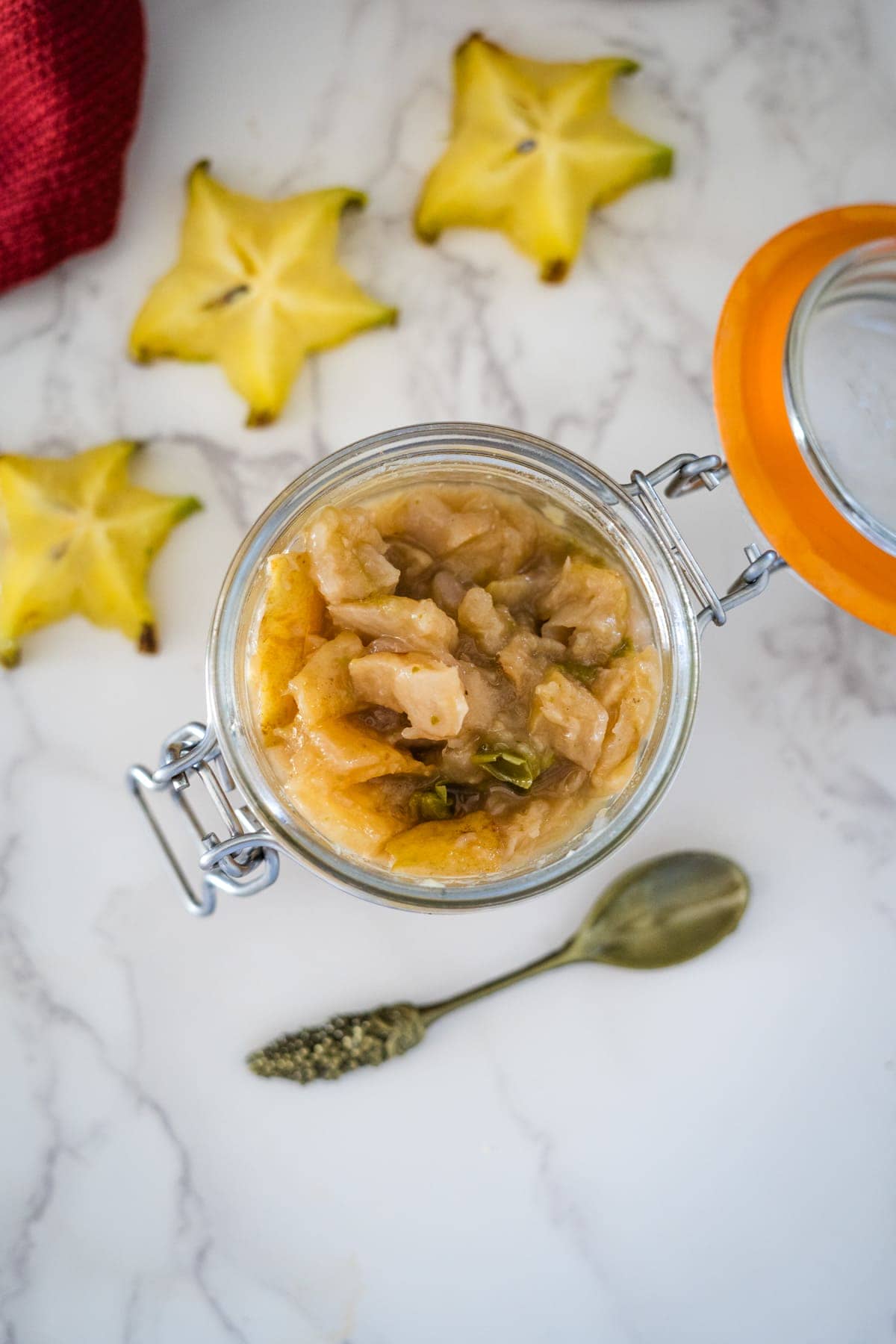 This low-carb star fruit chutney is a delightful addition to various dishes. Enjoy it as a condiment with cheese, on low-carb crackers or as a flavorful side to your favorite dishes.
This post may contain affiliate links. Please read my disclosure policy for more information.
Jump to:
What is star fruit?
Star fruit, also known as carambola, is a tropical fruit that gets its name from its distinctive shape, which resembles a five-pointed star when sliced crosswise. It's native to Southeast Asia and is cultivated in various tropical regions around the world.
It has a unique flavor that's a blend of sweet and tart, often compared to a mix of citrus fruits and apple or grapes.
Star fruit caution
It's important to note that for individuals with kidney issues or those on specific medications, consuming star fruit may not be advised due to its high oxalic acid content. Consulting a healthcare professional is recommended in such cases.
Ingredients
Adjust the sweetness and spiciness according to your taste preferences for a perfect condiment to complement your meals.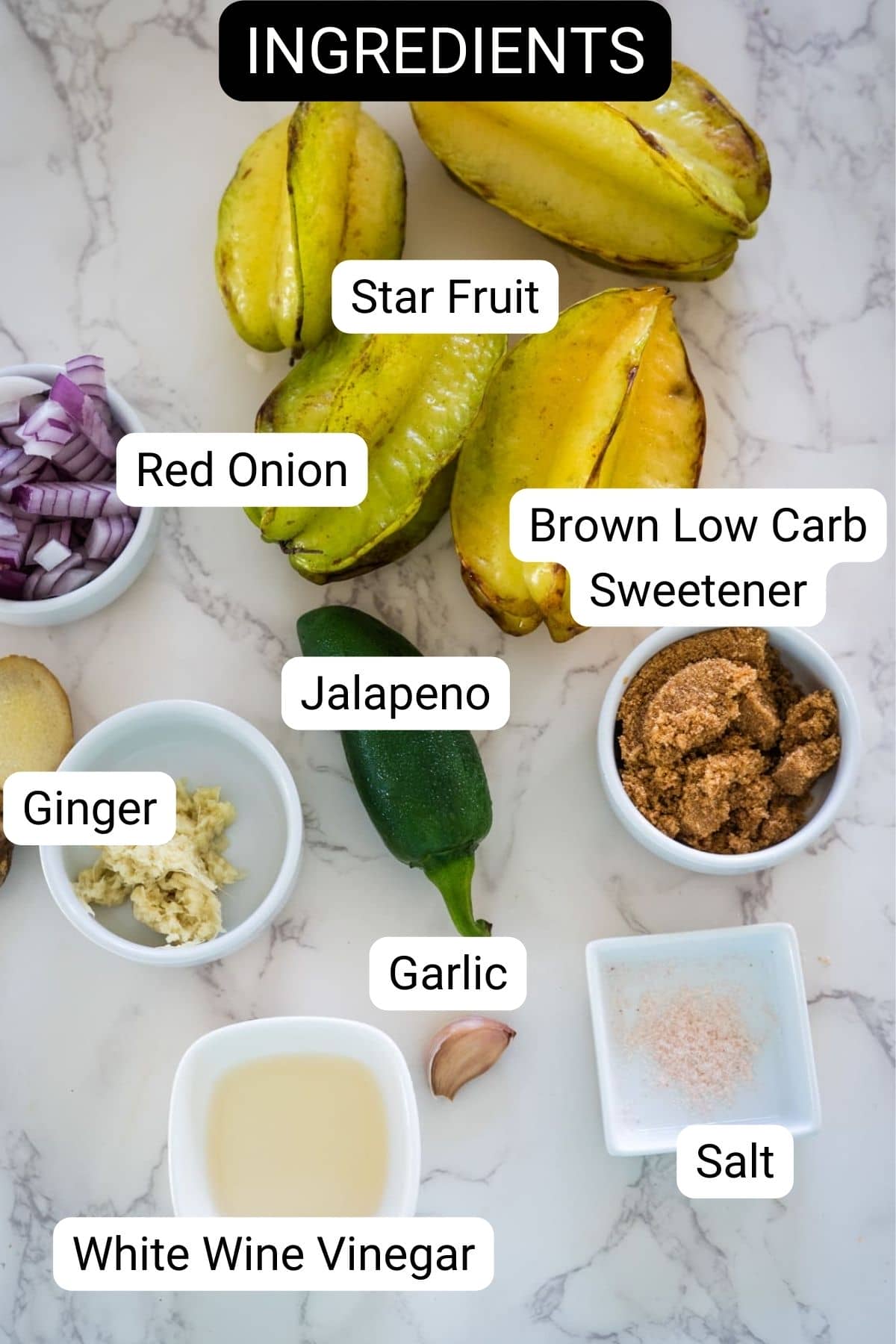 Star fruit - select ripe star fruit.
Red onion - this can be substituted with yellow onion.
Jalapeno - adds a touch of heat to the chutney.
Low Carb Sweetener - we used brown monkfruit but any other low carb sweetener can be used.
Fresh Ginger - grated ginger is preferable to powder for a stronger flavor.
Garlic - add more cloves for a stronger flavor.
White Wine Vinegar - Apple cider vinegar can be substituted.
How to Make Star Fruit Chutney
This is an easy condiment recipe to make in one pan.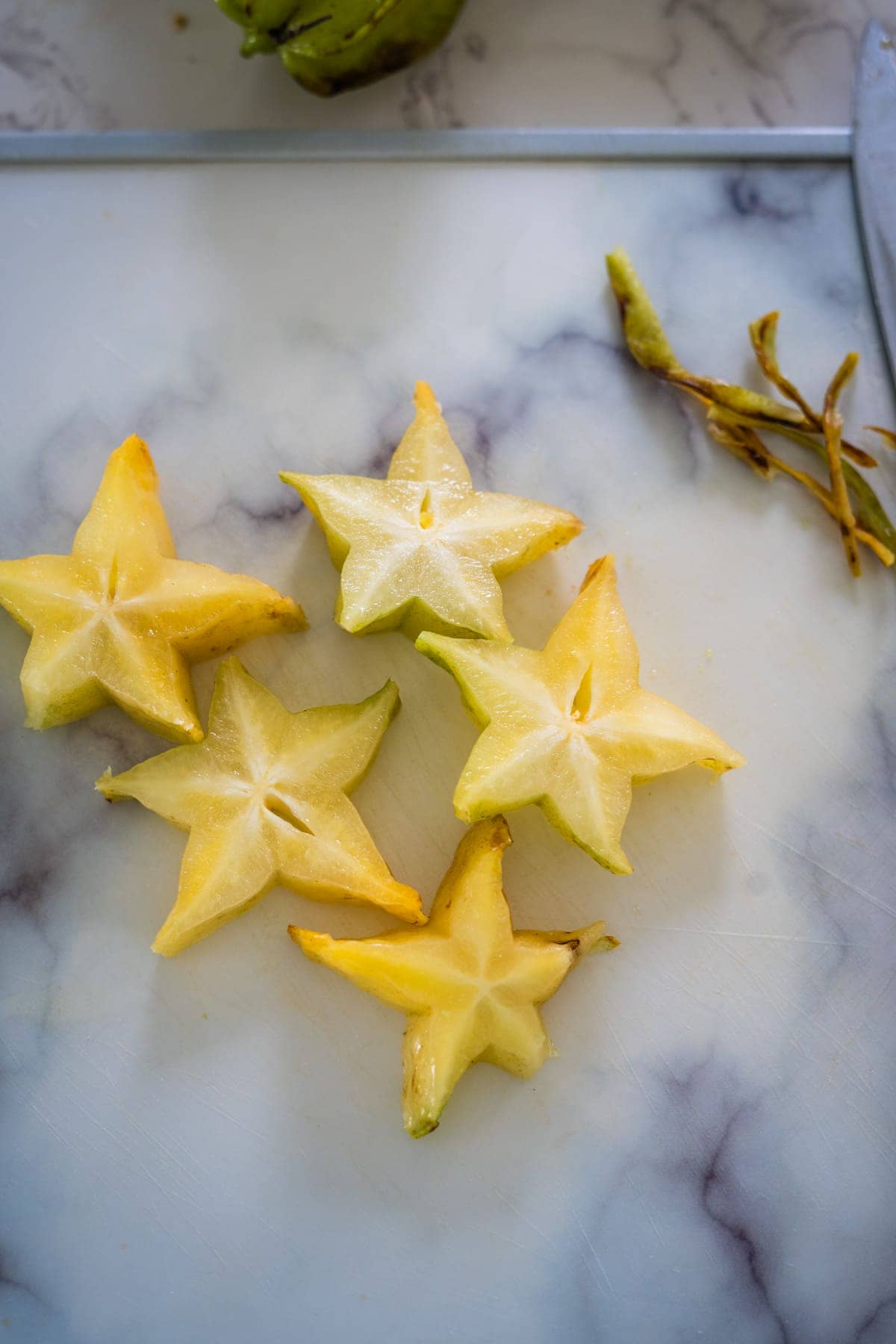 Remove seeds and edges. Chop.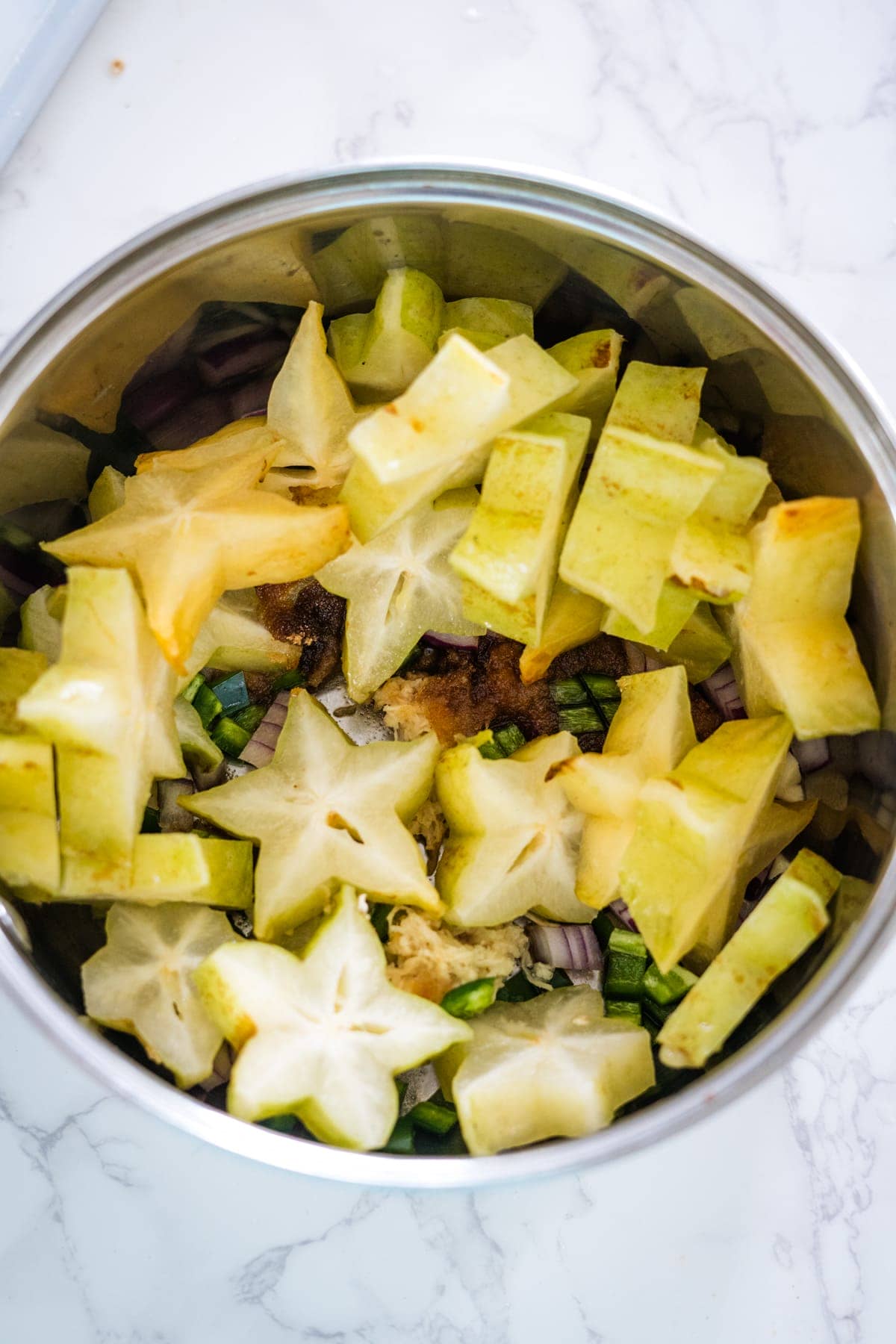 Add all ingredients to the pan and simmer until cooked.
Storage
Allow the star fruit chutney to come to room temperature before transferring it to storage containers. Store the star fruit chutney in the refrigerator. Refrigeration helps maintain the quality of the chutney and prolongs its shelf life. Properly refrigerated, it can typically last for about 1-2 weeks.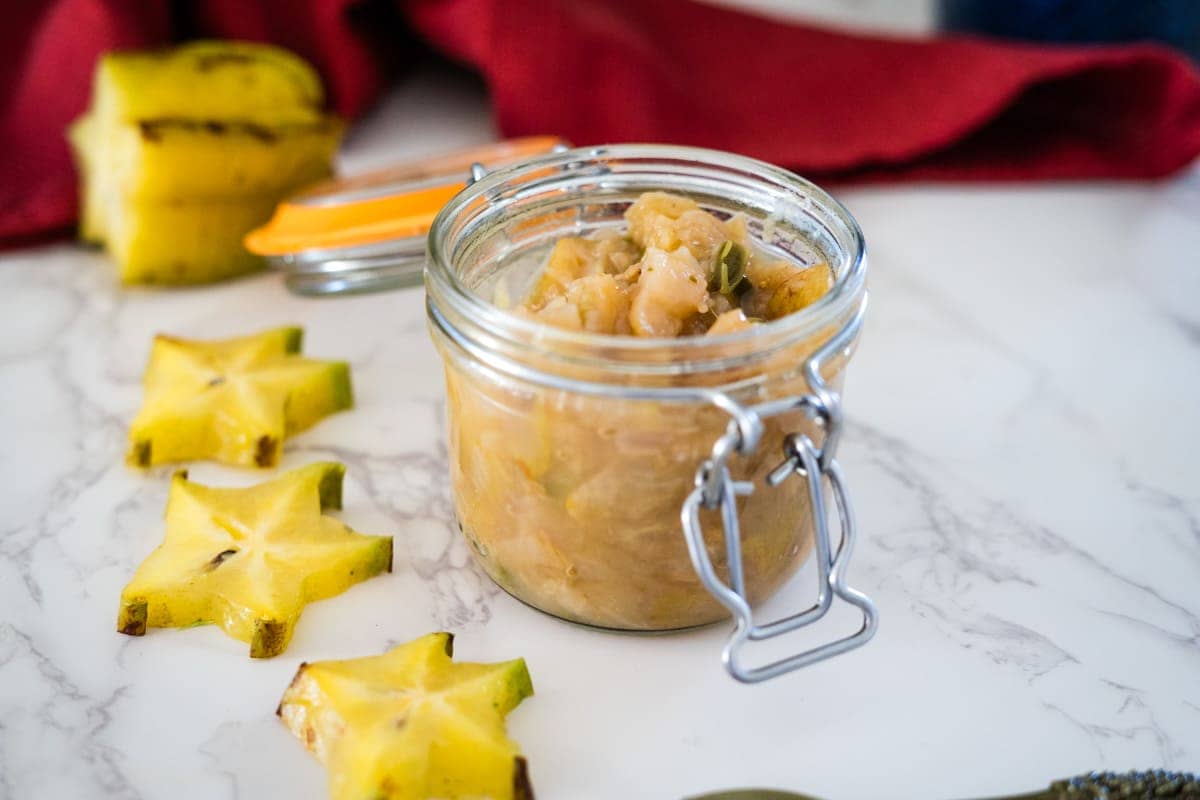 How to Use Star Fruit Chutney
Star fruit chutney can be a versatile and flavorful addition to a range of dishes. Here are several ways to use this chutney:
Cheese Platter: Serve the star fruit chutney alongside a keto-friendly cheese platter. Pair it with various types of cheese like brie, cheddar, or goat cheese for a delicious sweet-and-savory contrast.
Veggie Dip: Use the chutney as a dip for fresh, low-carb vegetables like cucumber slices, bell pepper strips, or celery sticks. It adds a tangy twist to your vegetable snacks.
Topping for Keto Crackers or Bread: Spread the star fruit chutney on keto-friendly crackers or bread. It adds a burst of flavor to your low-carb snacks.
Accompaniment to Keto Curries: Enjoy it as a side condiment with keto-friendly vegetarian curries, enhancing the overall taste with its sweet and tangy profile.
Stuffed Bell Peppers or Zucchinis: Use the chutney as a filling or topping for stuffed bell peppers or zucchinis, adding a unique and delicious taste to your keto-friendly stuffed veggies.
Salad Dressing: Mix a small amount of the chutney with olive oil and vinegar or lemon juice to create a unique salad dressing for your keto vegetarian salads.
Topping for Grilled Tofu or Paneer: Spread the chutney over grilled tofu or paneer slices to add a burst of flavor to these vegetarian protein sources.
Enhance Cauliflower Rice: Mix the star fruit chutney into cauliflower rice to infuse the dish with a sweet and tangy flavor.
Ingredient in Keto Wraps: Use the chutney as a flavorful spread in your keto wraps or lettuce wraps with other low-carb veggies and protein sources.
Omelets or Scrambled Eggs: Add a spoonful of the chutney to your keto-friendly omelets or scrambled eggs for an interesting sweet and tangy twist.
More Low Carb Star Fruit Recipes
Star fruit is a great addition to sweet and savory low carb vegetarian dishes. Try these other star fruit recipes: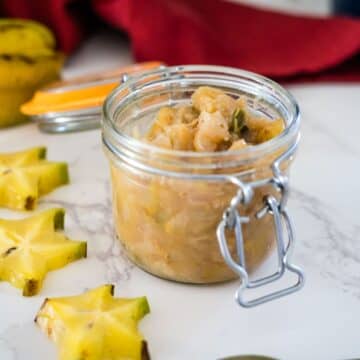 Star Fruit Chutney
This sugar-free star fruit chutney offers a delightful blend of flavors without the use of added sugars. It's a great accompaniment to various dishes, adding a tangy, slightly sweet taste without the extra sugar content.
Ingredients
4

medium

star fruits

¼

cup

brown monk fruit sweetener

or other low carb sweetener

1

Jalapeno, chopped and deseeded

½

red onion, finely chopped

2

tablespoons

fresh ginger, grated

1

clove

garlic, minced

½

teaspoon

salt

2

tablespoons

white wine vinegar
Instructions
Wash the star fruits thoroughly. Remove the ends and seeds, and slice them into thin, even slices.

Add all the ingredients into a medium size saucepan and stir well to combine all the ingredients.

Simmer the mixture on low heat for about 15-20 minutes until the star fruit slices soften and the chutney thickens slightly.

If the chutney appears too dry or starts sticking to the pan, you can add a little water. Ensure it's a thick, spreadable consistency.

Taste the chutney and adjust the seasoning or sweetness as per your preference.

Once done, allow the chutney to cool down to room temperature.
Notes
Makes 24 tablespoons (about 1 ½ cups)
YOUR OWN NOTES
Nutrition
Serving:
1
tablespoon
Calories:
7
kcal
Carbohydrates:
1
g
Protein:
0.2
g
Fat:
0.1
g
Fiber:
0.5
g
Net Carbohydrates:
1
g
The information shown is an estimate provided by an online nutrition calculator.