Keto fried turnips are a delicious low-carb alternative to traditional fried potatoes. Cooked with ghee and seasoned with smoked paprika these turnips are a delicious side dish to any meal.
Ghee not only enhances the flavor but also adds healthy fats to your dish.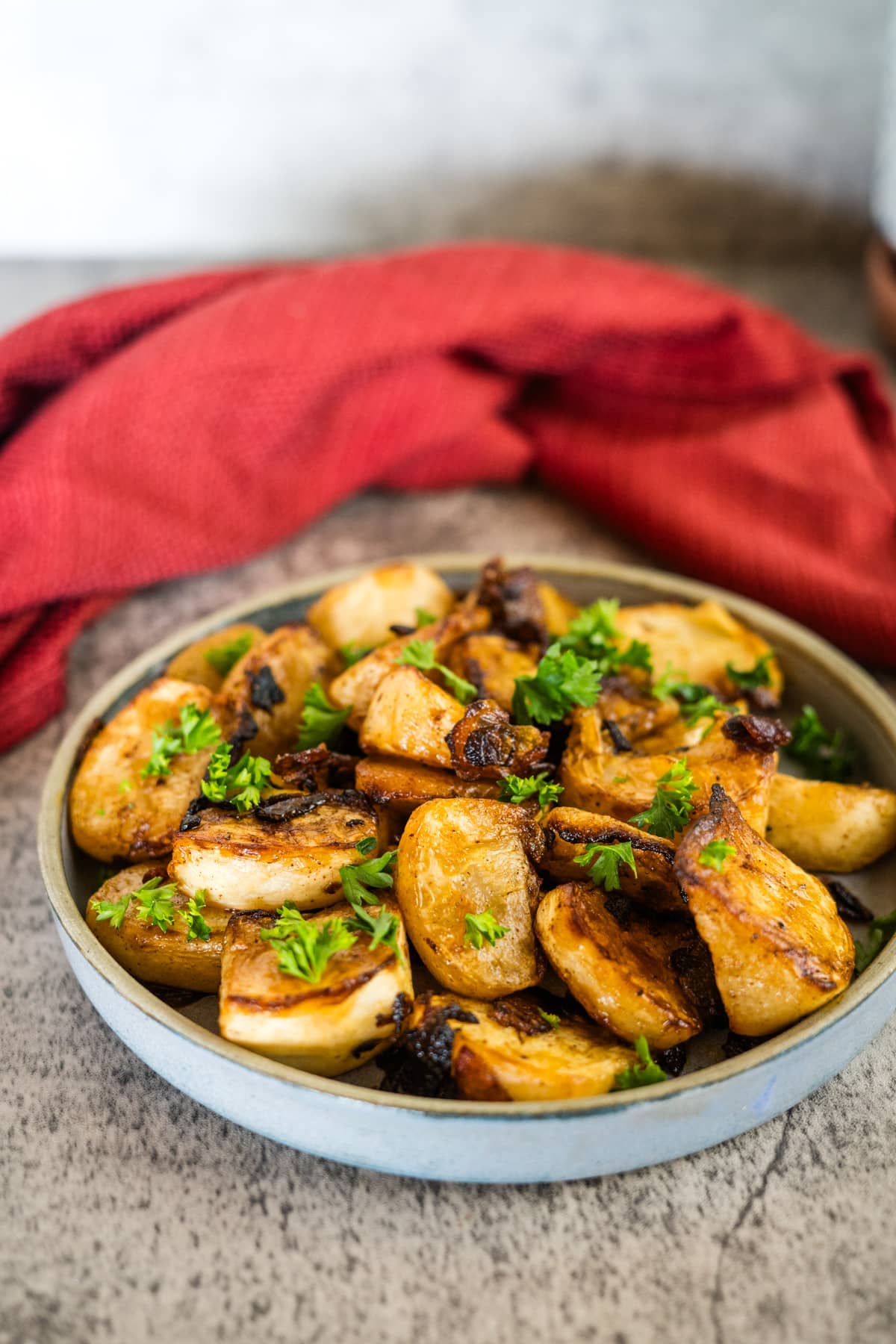 These fried turnips were a success and devoured happily. Although turnips do not taste exactly like potatoes, this recipe is a great substitute with the flavor of the smoky paprika.
This post may contain affiliate links. Please read my disclosure policy for more information.
Jump to:
Are turnips keto friendly?
Turnips are relatively low in carbohydrates compared to starchy vegetables like potatoes. One cup of cooked turnips contains around 7 grams of net carbs.
Turnips are a good source of vitamins and minerals, including vitamin C, vitamin K, folate, and potassium.
Turnips can be used in various keto-friendly recipes, such as turnip au gratin, roasted turnips or turnip fries. They can serve as a substitute for higher-carb vegetables in many dishes.
Ingredients
Just a few simple ingredients with seasoning that can be varied to your own taste are used for this low carb and gluten-free recipe.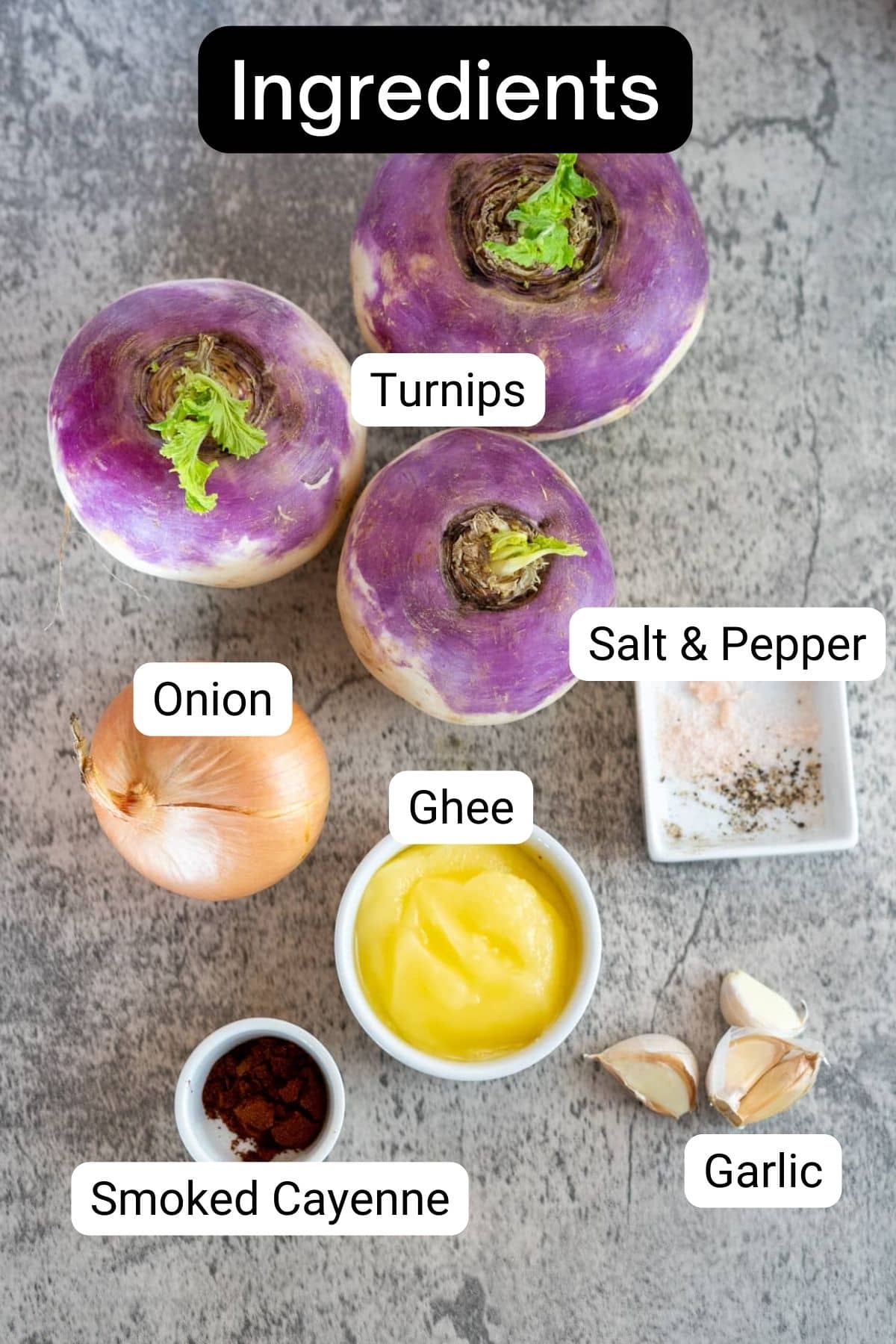 Turnips - Look for turnips that are medium-sized and firm to the touch. Avoid those that are excessively large, as they may be tough and fibrous. Smaller turnips are often more tender and flavorful.
Onion - this can be omitted for a lower carb dish or substituted with shallots.
Garlic - increase the number of cloves to your own taste.
Ghee - this is clarified butter and adds a rich and nutty taste to the turnips. Butter can substituted. To make this vegan, use olive oil.
Smoked paprika - give a wonderful smoky and slightly spicy flavor to turnips, enhancing their taste in a unique way.
Should turnips be peeled before cooking?
Peeling turnips can help reduce their slightly bitter taste, making them milder and more palatable, especially when eaten raw or lightly cooked.
The skin of turnips can be tough and may have a slightly bitter taste, which can be less pleasant for some people. Peeling them can result in a smoother texture.
How to make fried turnips
This is an easy recipe to make in a skillet or pan.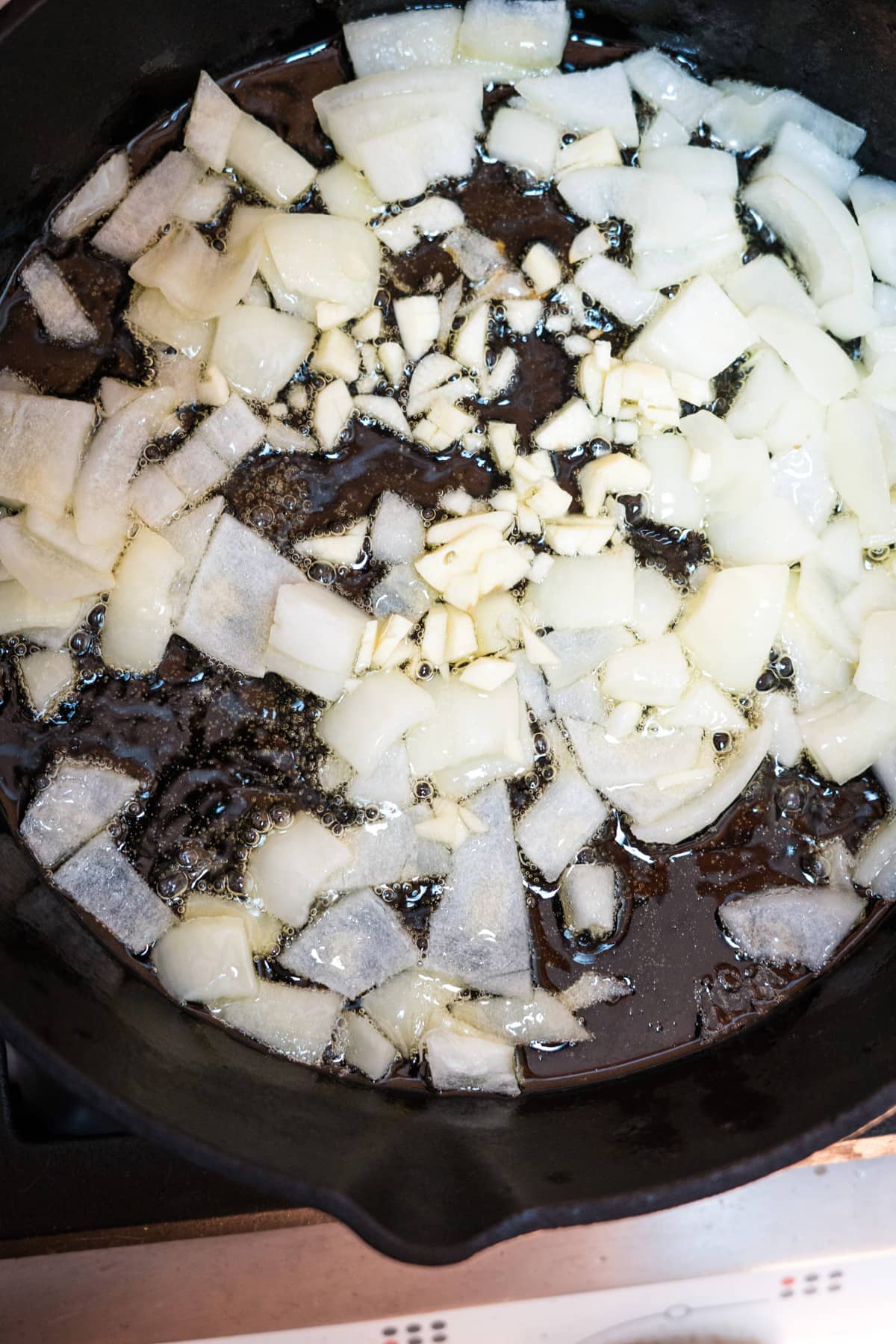 Cook onions and garlic in ghee.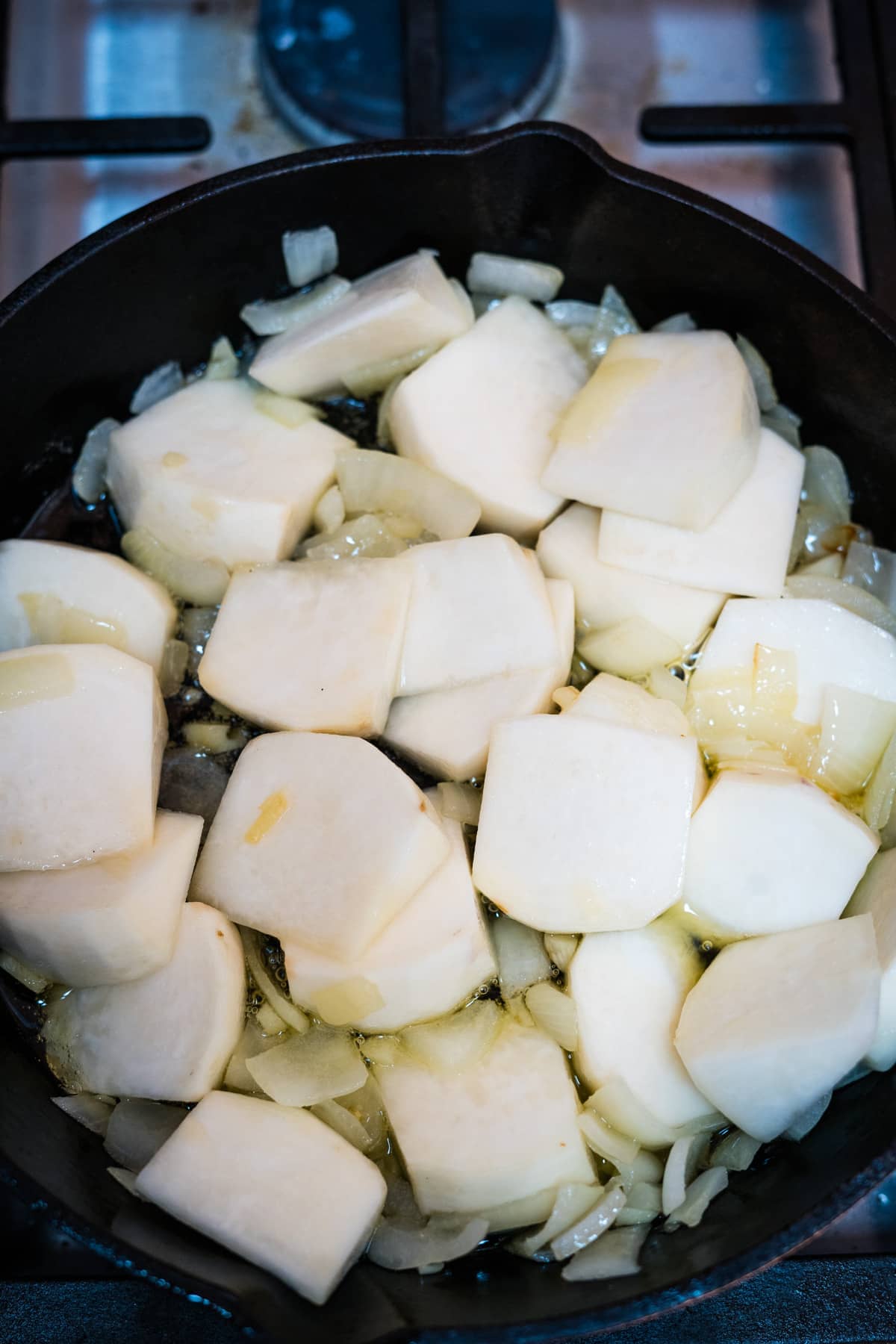 Add chopped turnips.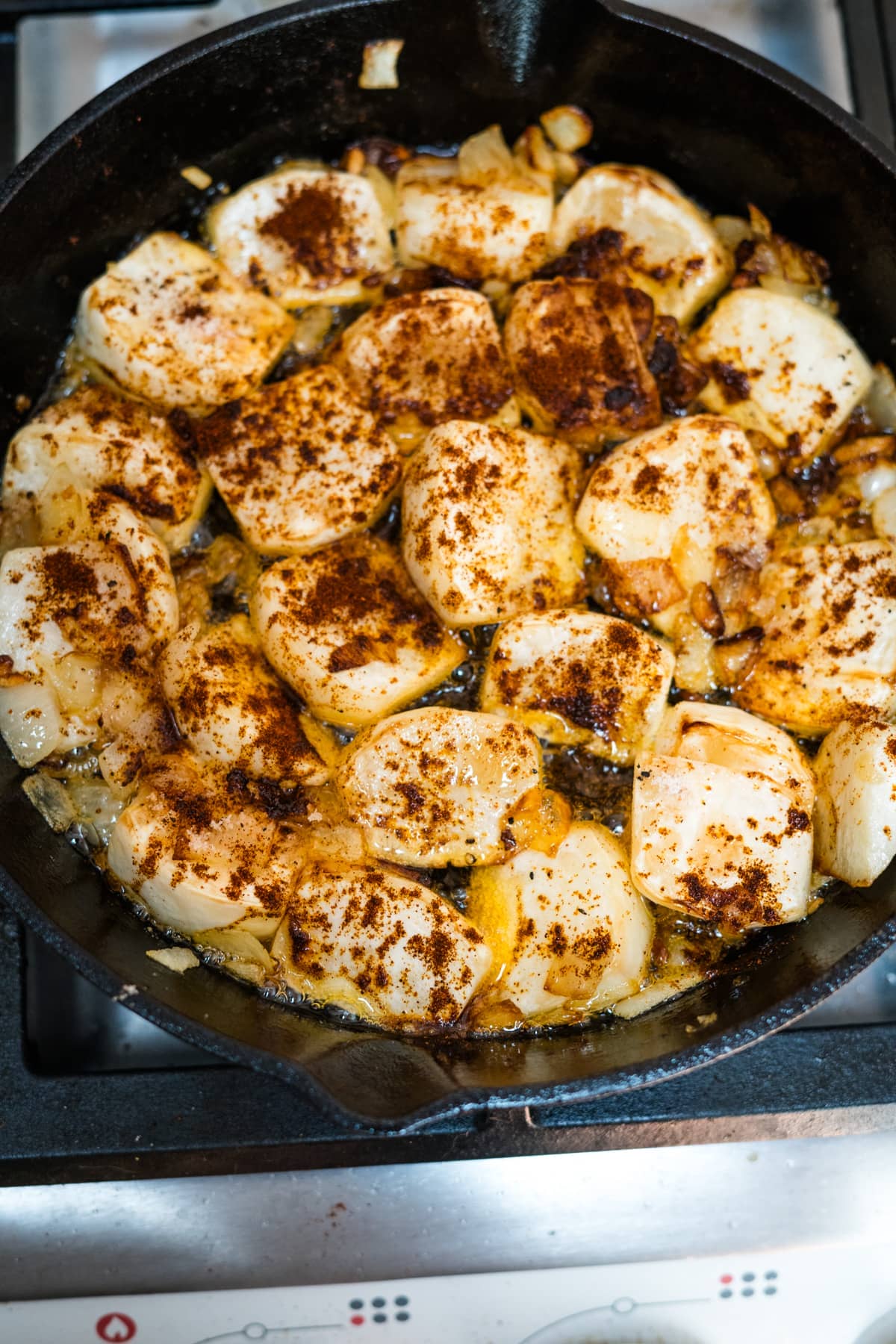 Toss in smoked paprika and cook.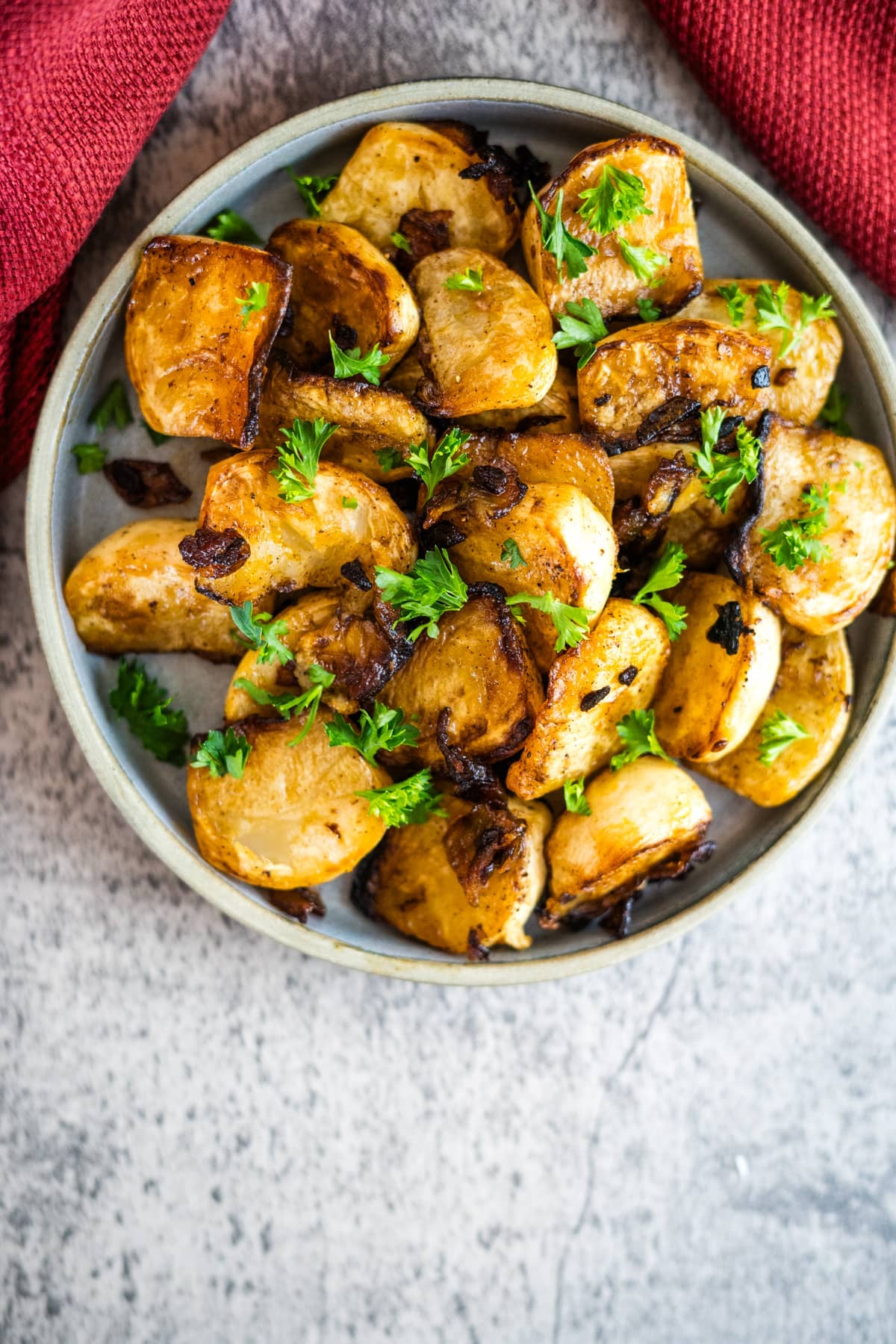 Serve and enjoy.
Fried Turnip Flavors
Fried turnips can take on a variety of delicious flavors and seasonings to suit your taste preferences. Here are some flavor and seasoning ideas for fried turnips:
Classic Seasoning:

Salt and pepper: A simple combination of salt and black pepper can enhance the natural flavor of the turnips.

Herbaceous Flavors:

Fresh herbs: Chopped fresh herbs like parsley, thyme, rosemary, or chives can add a burst of freshness and aroma to your fried turnips.
Dried herbs: Dried herbs such as oregano, basil, or Herbes de Provence can provide a more concentrated flavor.

Spices and Heat:

Cayenne pepper: If you like a bit of heat, a pinch of cayenne pepper can add some spiciness to your fried turnips.
Garlic powder: Garlic powder imparts a savory and aromatic element to the dish.

Onion powder: Onion powder complements the turnips with a mild onion flavor.

Citrus Zest:

Lemon or orange zest: Grated citrus zest can add a zesty and bright flavor to your fried turnips. It pairs exceptionally well with fresh herbs.

Parmesan or Cheese:

Grated Vegetarian Parmesan or other hard cheeses can be sprinkled on top of the fried turnips for a rich and savory touch.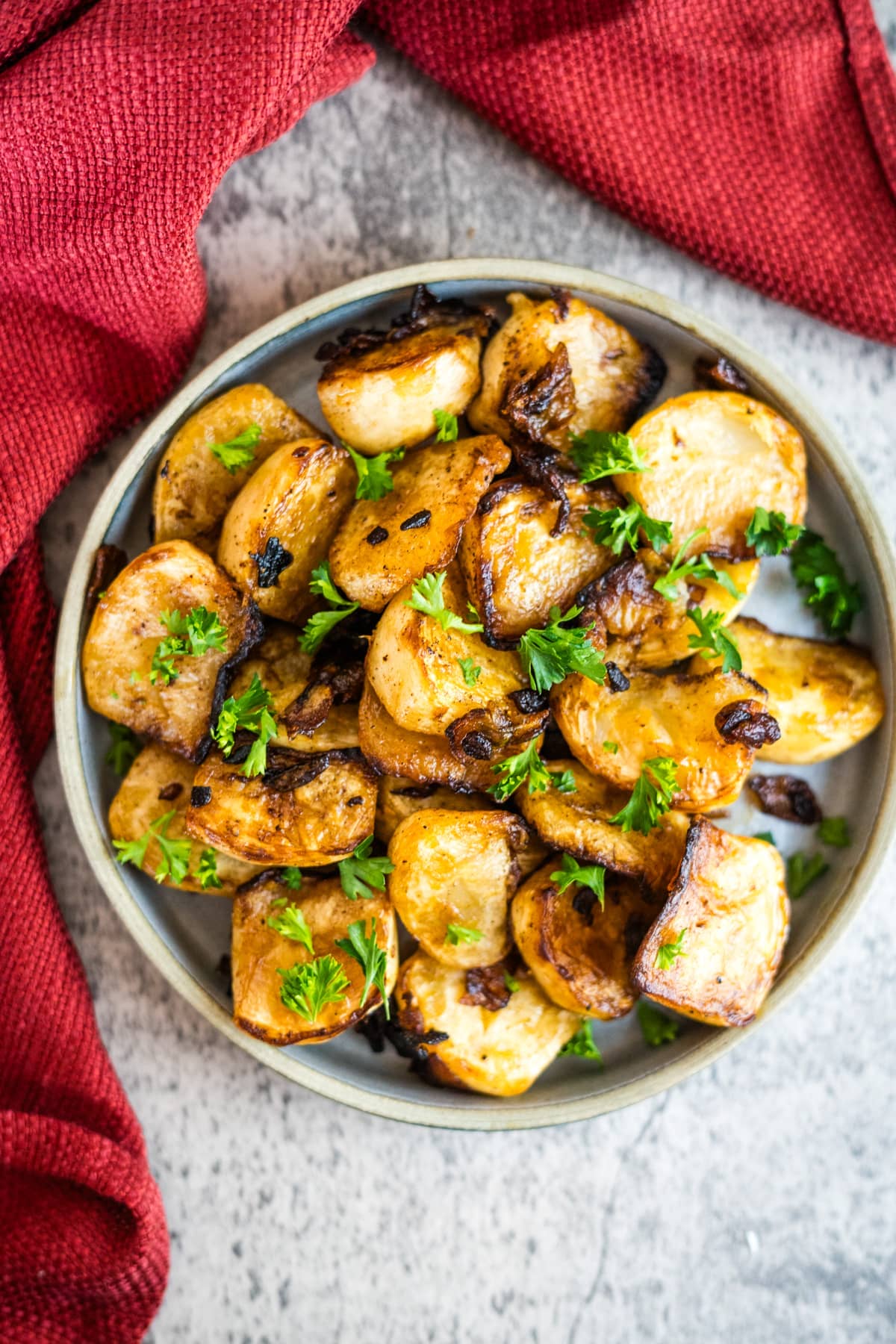 Storage
Keep any leftover fried turnips in an airtight container in the fridge for up to 3 days. They will become a big soggy, but crisp them up in the air fryer to reheat them or on a skillet.
What to serve with fried turnips
Pairing fried turnips with keto vegetarian dishes can create a well-rounded and satisfying meal. Here are some keto-friendly vegetarian dishes that go well with fried turnips:
Spinach and Cheese Stuffed Peppers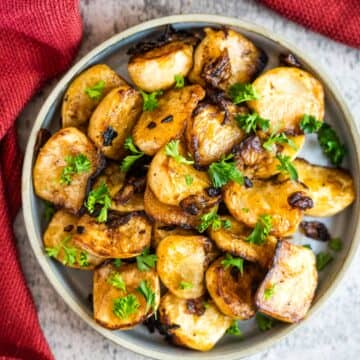 Fried Turnips
Fried turnips seasoned with smoked paprika and cooked in ghee make a delicious low carb side dish and a great substitute for potatoes.
Ingredients
1

lb

turnips

3

cloves

garlic, minced

1

medium

onion, peeled and chopped

2

tablespoons

ghee

or butter

1

teaspoon

salt

½

teaspoon

black pepper

1

teaspoon

smoked paprika
Instructions
Peel the turnips and cut them into evenly sized bite-sized pieces.

In a skillet or frying pan, heat the ghee over medium-high heat until it's fully melted and hot.

Add the chopped onions and saute until soft.

Add the garlic and cook for a further 2 minutes.

Add the diced turnips to the skillet in a single layer. Avoid overcrowding the pan; you may need to cook them in batches.

Allow the turnips to cook without stirring for a few minutes to develop a golden brown crust on one side.

After the turnips have browned on one side, sprinkle the smoked paprika evenly over them. Toss and stir the turnips to coat them with the smoked paprika.

Season the turnips with salt and pepper to taste.

Continue cooking and stirring occasionally until the turnips are tender and have absorbed the smoky paprika flavor. This should take about 10-15 minutes, depending on the size of the turnip pieces.

Taste a piece of turnip to check for seasoning. Add more salt, pepper, or smoked paprika if desired.

Once the turnips are tender and flavorful, remove them from the pan and transfer them to a serving dish.

Garnish with fresh chopped parsley or chives for an extra burst of flavor and a pop of color.
YOUR OWN NOTES
Nutrition
Serving:
1
serving
Calories:
114
kcal
Carbohydrates:
11
g
Protein:
2
g
Fat:
8
g
Fiber:
3
g
Net Carbohydrates:
8
g
The information shown is an estimate provided by an online nutrition calculator.