This sautéed zucchini and mushroom recipe is a simple yet satisfying way to enjoy the goodness of fresh vegetables. The zucchini and mushrooms are cooked together in a hot skillet with seasonings, resulting in a dish that's tender, slightly caramelized, and packed with umami.
This zucchini recipe is so quick that it's a great dish to make when you are hungry but don't want to spend ages in the kitchen. Enjoy it as a side dish or serve it with low carb pasta.
I will confess that I did intend to show it as part of a main dish with low carb pasta but ate it all after "taste testing" it. So I can confirm that it's great by itself, straight from the skillet!
This post may contain affiliate links. Please read my disclosure policy for more information.
Jump to:
Do zucchini and mushrooms go together?
Zucchini tends to be slightly crisp and tender when cooked, while mushrooms have a meatier texture. This contrast in textures adds interest and variety to the dish.
Zucchini has a mild, slightly nutty flavor, while mushrooms offer an earthy and umami-rich taste. When sautéed together, these flavors meld beautifully, creating a well-balanced and savory profile.
Why you will love this dish
Whether you're a fan of mushrooms, zucchini, or both, this dish is likely to become a favorite in your culinary repertoire.
Flavor Harmony: The combination of sautéed mushrooms and zucchini creates a dish with a delightful balance of flavors. The earthy, umami-rich taste of mushrooms complements the milder, slightly nutty flavor of zucchini, resulting in a harmonious and delicious blend.
Textural Contrast: These two ingredients provide an enjoyable contrast in texture. While zucchini is tender and slightly crisp, mushrooms have a meatier texture. This textural interplay adds depth to each bite.
Versatility: Sautéed mushrooms and zucchini are incredibly versatile. You can enjoy them as a side dish, use them as a topping for pasta or pizza, stuff them into sandwiches or wraps, or incorporate them into various recipes like omelets, stir-fries, and more.
Quick and Easy Preparation: This dish is quick and easy to prepare, making it a convenient option for busy weeknight dinners or impromptu gatherings.
Nutritional Benefits: Both mushrooms and zucchini are nutritious ingredients. They are low in calories and provide essential nutrients, including dietary fiber, vitamins, and minerals.
Visual Appeal: The green zucchini and earthy mushrooms create an attractive and visually pleasing dish. The vibrant colors add to the overall appeal of the meal.
Adaptability: You can customize the seasonings and herbs to suit your taste. Whether you prefer a hint of garlic, a sprinkle of fresh herbs, or a dash of your favorite spices, this dish can be tailored to your flavor preferences.
Ingredients
Simple ingredients are used to make this easy low carb and gluten-free recipe. You can add your own flavorings to this too.
Zucchini - also known as courgette, select a firm, medium sized zucchini.
Mushrooms - we used cremini mushrooms but any other types of mushrooms can be used.
Butter - to make this dish vegan use olive oil instead.
Thyme - dried or fresh thyme.
How to make zucchini and mushrooms
This is cooked in a skillet or a pan.
Saute onions and garlic.
Add sliced mushrooms.
Add sliced zucchini and seasonings.
Serve and enjoy!
Storage
Ideally, this zucchini recipe is best served fresh as the cooked zucchini can go soggy when stored in the fridge. If you do have any leftovers, keep them in an airtight container in the fridge and use within 2 days.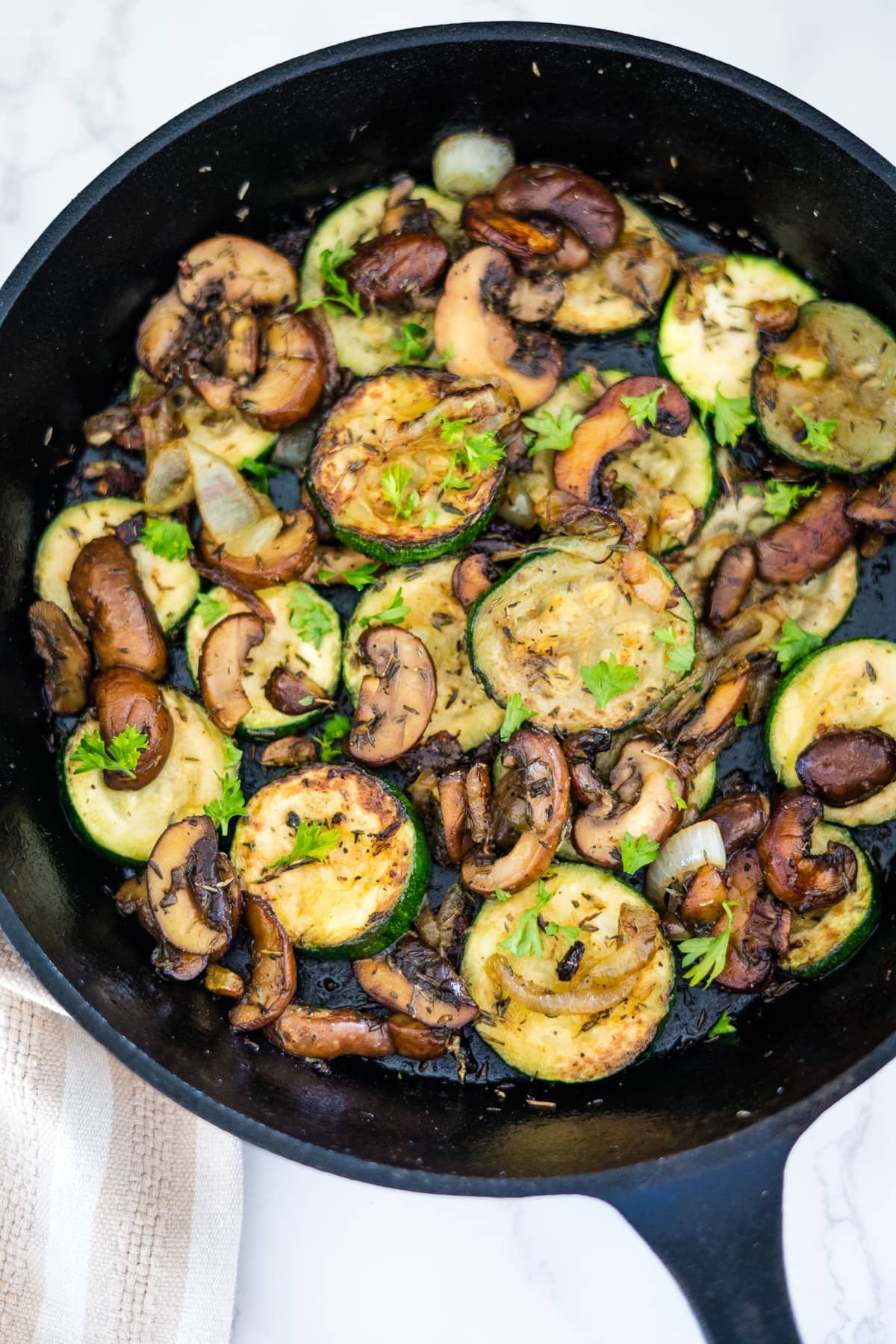 Recipe Tips
Make sure your pan is hot enough so that the vegetables brown quickly & don't steam & get soggy.
Cut the zucchini into chunks for a crispier texture.
Serve with grated cheese for extra protein.
More delicious low carb zucchini recipes
Zucchini is a versatile low carb vegetable that can be enjoyed in many other great recipes. Try these other recipes:
Sauteed Zucchini and Mushrooms
Sauteed zucchini and mushrooms make for a delicious and versatile side dish that's not only easy to prepare but also bursting with flavor.
Ingredients
1

medium

zucchini

8

oz

mushrooms

1

medium

onion, sliced

4

cloves

garlic, minced

3

tablespoons

butter

1

tablespoons

thyme, dried

½

teaspoon

salt

½

teaspoon

black pepper
Instructions
Slice the zucchini and mushrooms into even-sized pieces

In a large skillet, heat the butter over medium-high heat until the butter melts and begins to sizzle.

Add the onions and cook for 3 minutes until soft.

Add the minced garlic to the hot skillet and saute for about 30 seconds or until it becomes fragrant.

Add the sliced mushrooms and cook for 3-4 minutes.

Add the zucchini slices, thyme, salt and pepper. Stir everything together so that the seasonings are distributed evenly.

Cook for about 5-7 minutes, stirring occasionally. They should become tender and develop a golden-brown color.

Taste the sauteed zucchini and mushrooms and adjust the seasoning with more salt and pepper if needed.

Once the vegetables are tender and have a lovely, golden color, remove the skillet from the heat. Transfer the sauteed zucchini and mushrooms to a serving dish. Garnish with freshly chopped parsley, if desired.
YOUR OWN NOTES
Nutrition
Serving:
1
serving
Calories:
152
kcal
Carbohydrates:
10
g
Protein:
4
g
Fat:
12
g
Fiber:
3
g
Net Carbohydrates:
8
g
The information shown is an estimate provided by an online nutrition calculator.