Celeriac rice is a dish made by grating or processing celeriac, a root vegetable also known as celery root, into small rice-like pieces. These pieces can then be cooked and served as a low-carb alternative to regular rice. It can be used in a variety of recipes, such as stir-fries, soups, risotto, salads, and casseroles.
Celeriac rice is an excellent alternative when looking for side dishes suitable for vegan, paleo, gluten-free and low-carb diets due to its low calorie count while still being high in dietary fiber, vitamins C and B6 plus potassium and magnesium among others—all important nutrients needed by our bodies every day!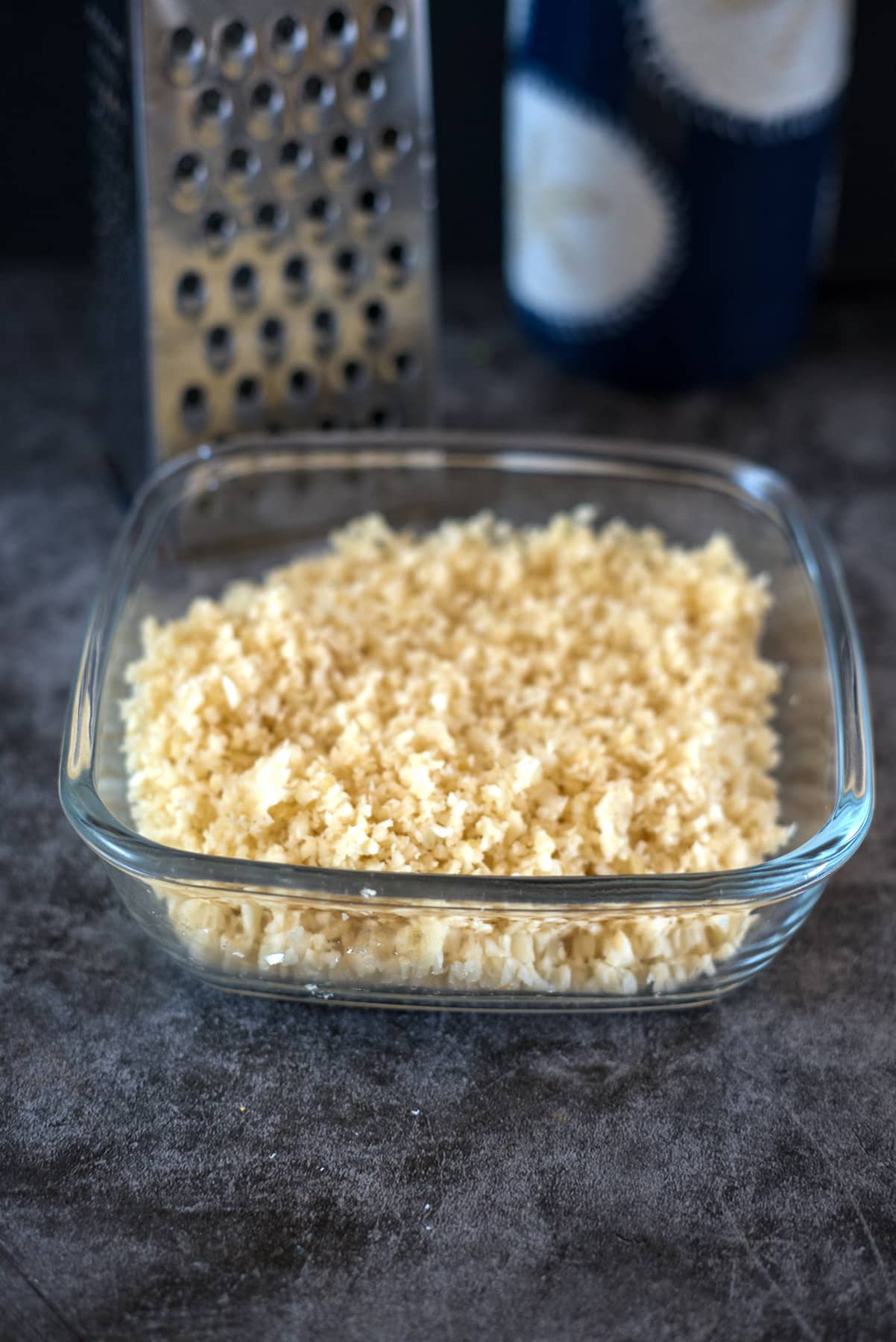 Also known as turnip root or knob celery around the world, this vegetable's versatility lies in its ability to take on various flavors from different herbs and spices making it an ideal ingredient for creative dishes prepared with ease!
This post may contain affiliate links. Please read my disclosure policy for more information.
Jump to:
WHAT IS CELERIAC?
Celeriac, also known as celery root, is a root vegetable that belongs to the celery family. It is a round or oblong shaped root with a tough, gnarled exterior and a creamy white interior. It has a mild, celery-like flavor and a slightly nutty taste.
Despite its rough exterior, the flesh of celeriac is tender and versatile in cooking.
CARBS IN CELERIAC
Although celeriac is a root vegetable which are normally high in carbs, celeriac is suitable for low carb diets as it has 7g net carbohydrates in a 100g serving.
INGREDIENTS
Reach for that celeriac on the supermarket shelf as that's all you need to make celeriac rice.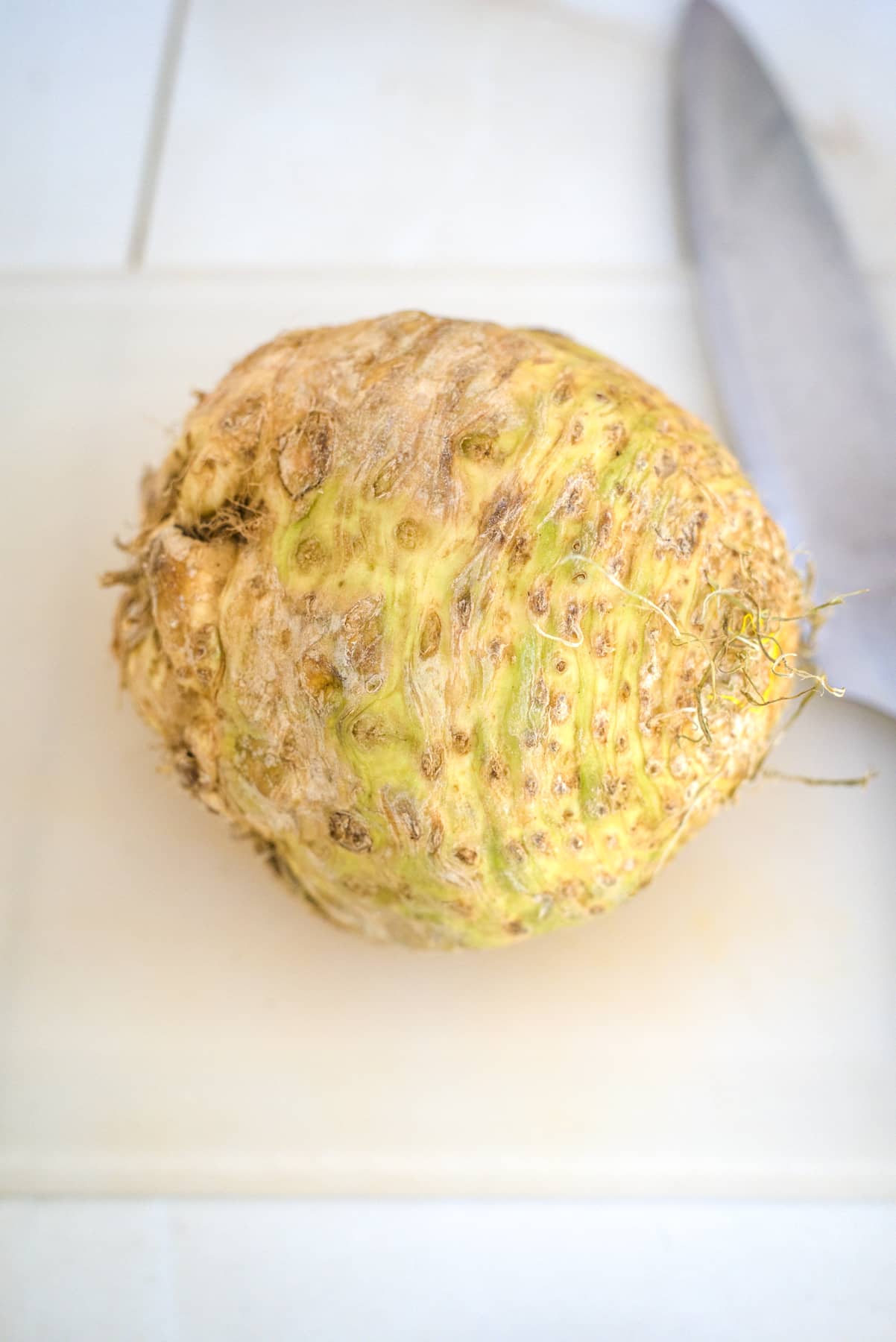 HOW TO MAKE CELERIAC RICE
This is a quick and easy recipe you can make ahead of using the celeriac rice in a recipe.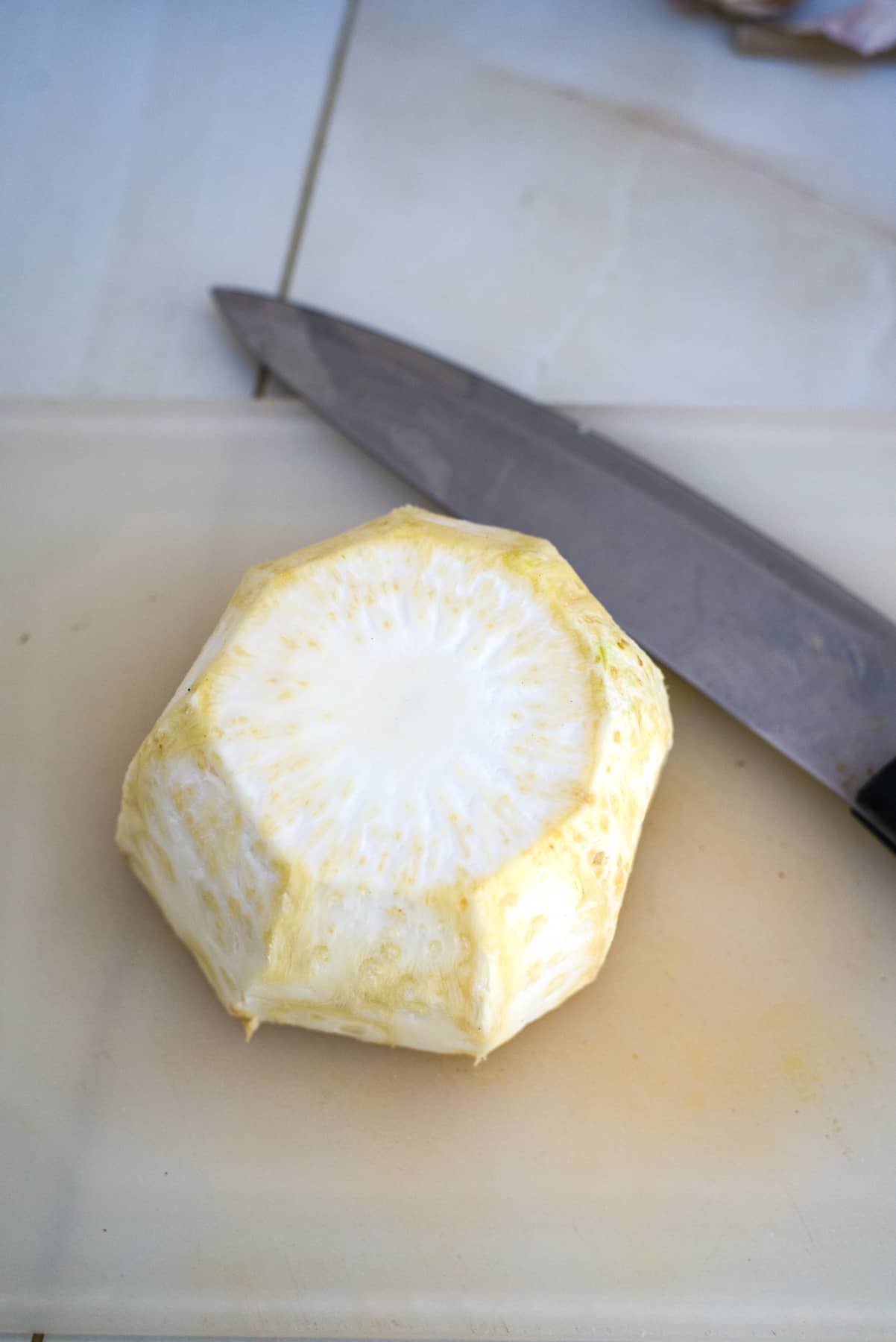 With a sharp knife peel the celeriac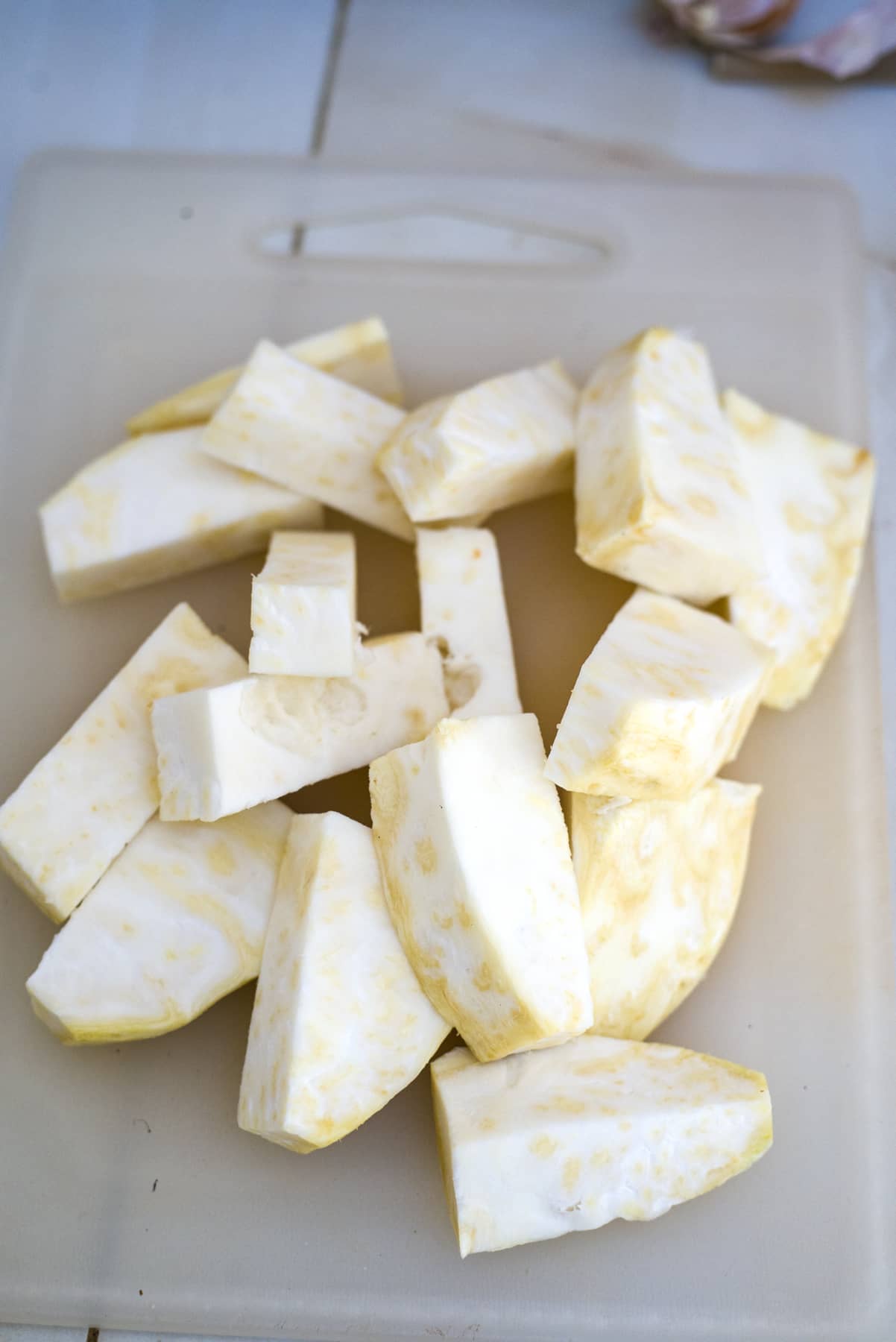 Chop the celeriac into chunks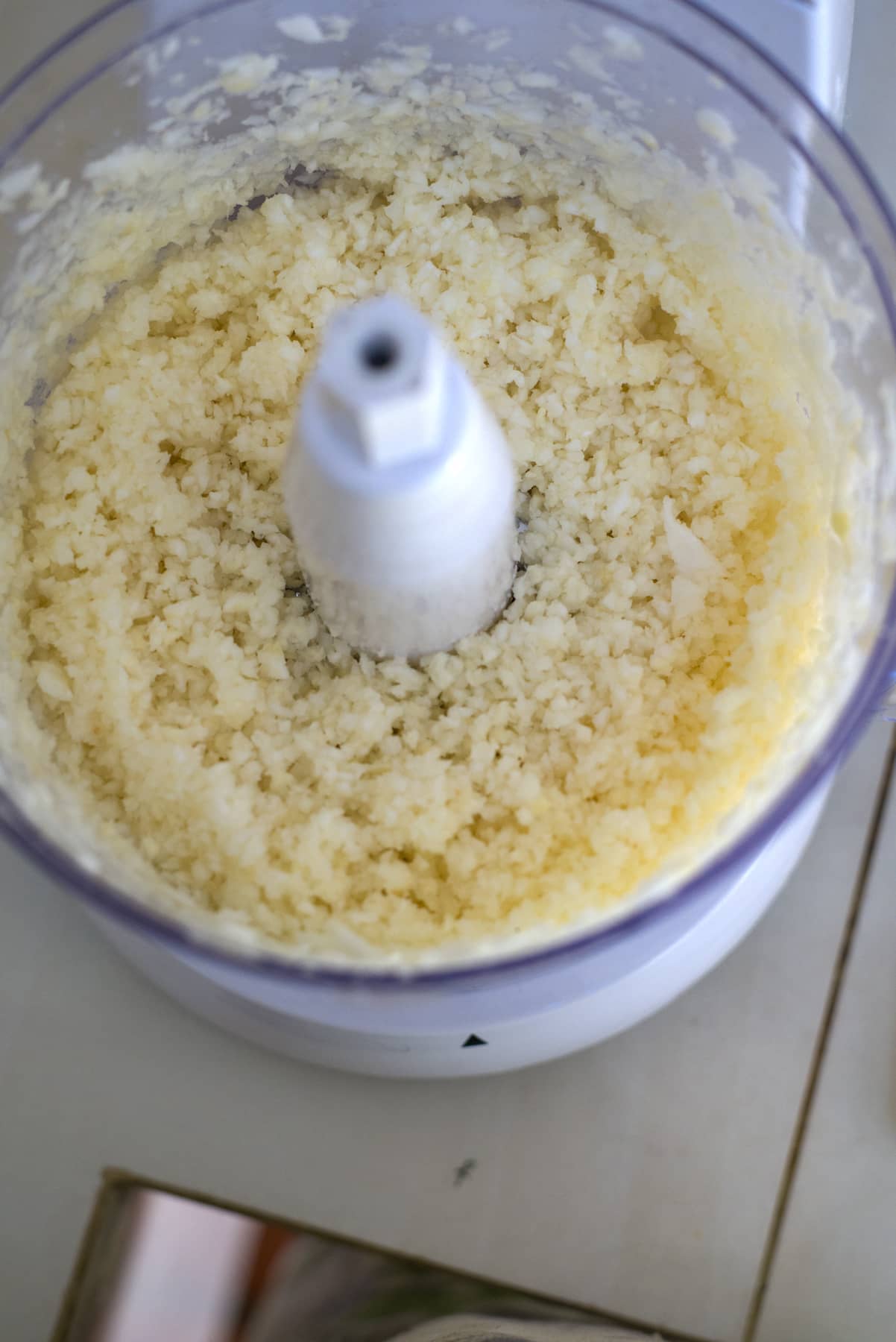 Place the pieces into a food processor and pulse until you have rice like shreds.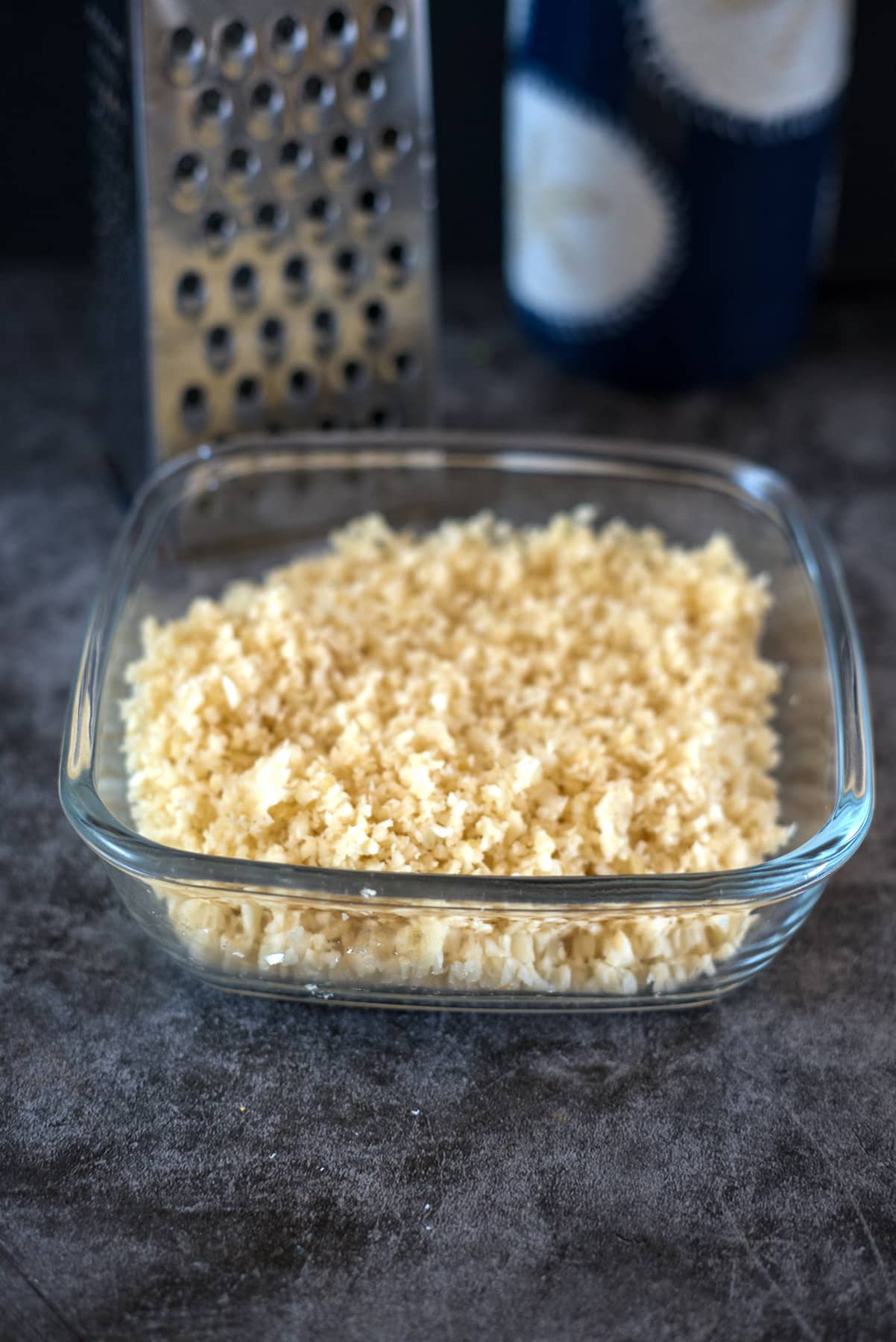 Ready to cook as a side dish or in a recipe
STORAGE
Keep the celeriac rice in an air tight container in the fridge. It should last up to 5 days, ready to be cooked.
You can freeze the celeriac rice. Place it in a zip lock bag and remove any excess air and it will last up to 3 months in the freezer. Defrost before use.
TIPS & SUGGESTIONS
When using a food processor, be careful not to over-process the celeriac root so as to avoid turning it into mush. Once you have achieved your desired consistency, transfer the riced celeriac to a bowl and set aside for later use.
If you don't have a food processor you can also grate the celeriac using a cheese grater or use a knife to chop it finely.
HOW TO COOK CELERIAC RICE
You can cook riced celeriac in much the same way you would prepare any other type of low carb or cauliflower rice dish. To begin, heat some oil or butter in a skillet over medium-high heat and add some onions and garlic (optional). Sauté for about two minutes before adding your riced celeriac and stirring everything together to combine. Continue cooking for about five more minutes or until the celeriac has softened and is slightly golden brown in color.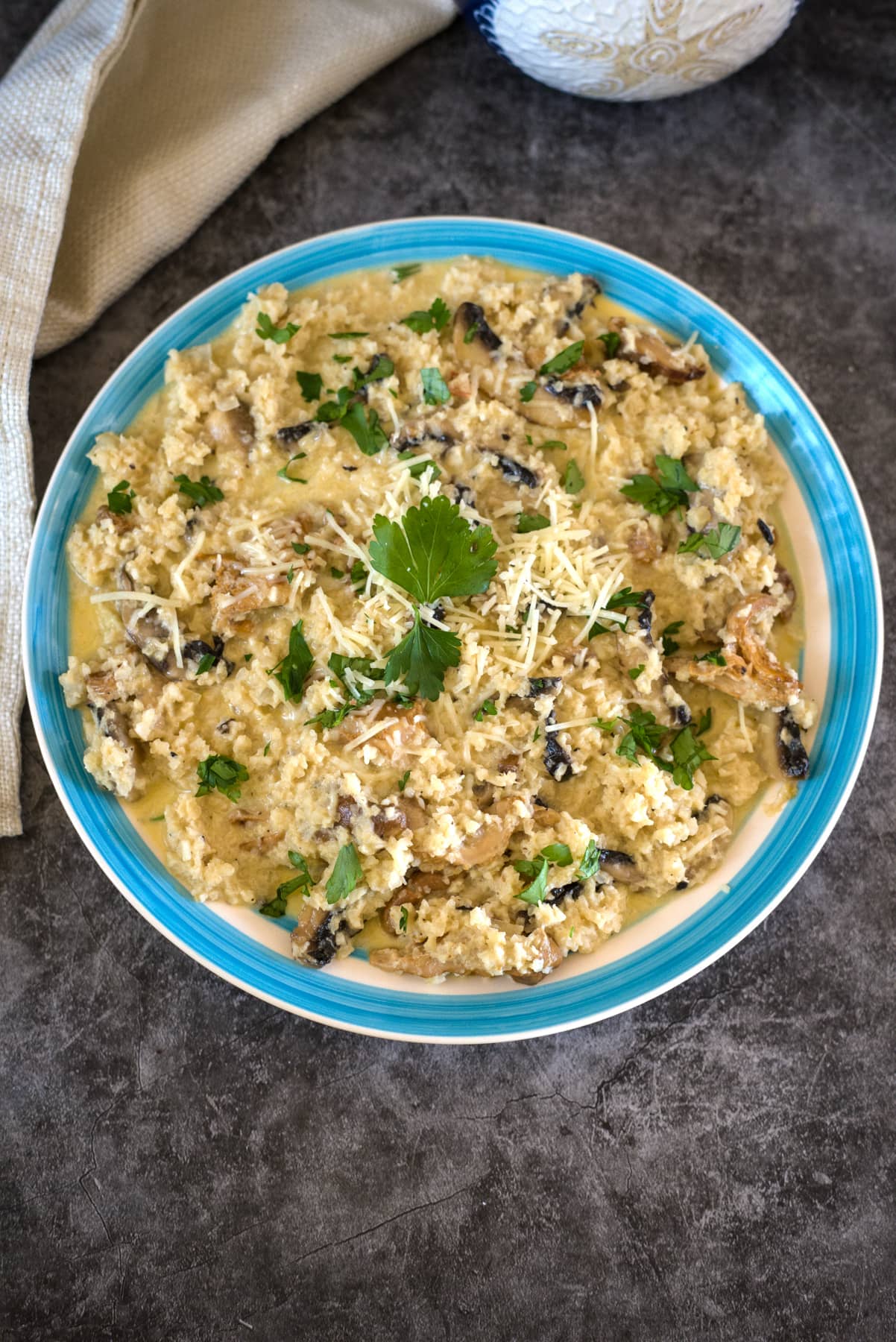 If desired, season with salt and pepper before adding other ingredients such as vegetables or proteins of your choice. For an added nutritional boost, consider adding some nuts or leafy greens such as spinach or kale during the last few minutes of cooking time. Once all ingredients have been combined and cooked through (if applicable), serve your finished dish immediately while hot.
MORE KETO CELERIAC RECIPES
If you enjoy the taste of celeriac, try these other low carb celeriac recipes: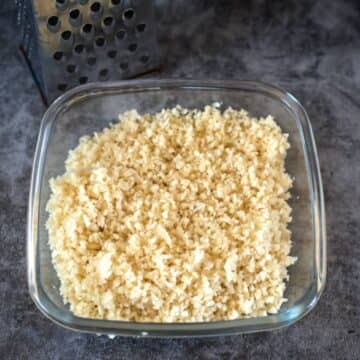 Celeriac Rice
Celeriac rice makes a great low carb side dish and is a keto and gluten-free alternative to cauliflower rice. Use it in stir fries or risottos.
Instructions
With a sharp knife peel the skin from the celeriac.

Chop the celeriac into small or medium chunks.

Using a food processor, pulse the pieces of peeled celeriac until they are broken down into smaller pieces that resemble grains of rice.

Alternatively, you can also grate the celeriac using a cheese grater or use a knife to chop it finely.

Store in an air tight container in the fridge until you are ready to cook it.
Notes
A large celeriac should yield about 3 cups of celeriac rice.
The net carbs will be the total carb count minus the fibre count. Carb count excludes sugar alcohols.
Any nutritional analysis on the website is based on an estimate, calculated by Spoonacular from the individual ingredients in each recipe. Variations may occur for various reasons, including product availability and food preparation. We make no representation or warranty of the accuracy of this information.
YOUR OWN NOTES
Nutrition
Serving:
1
serving
Calories:
46
kcal
Carbohydrates:
9
g
Protein:
2
g
Fat:
0.3
g
Fiber:
2
g
The information shown is an estimate provided by an online nutrition calculator.