Try this air fryer nut roast recipe for a delicious and quick keto vegetarian dinner. Using the air fryer not only makes it a breeze to prepare but also ensures a crispy, golden crust while keeping the interior moist and full of flavor.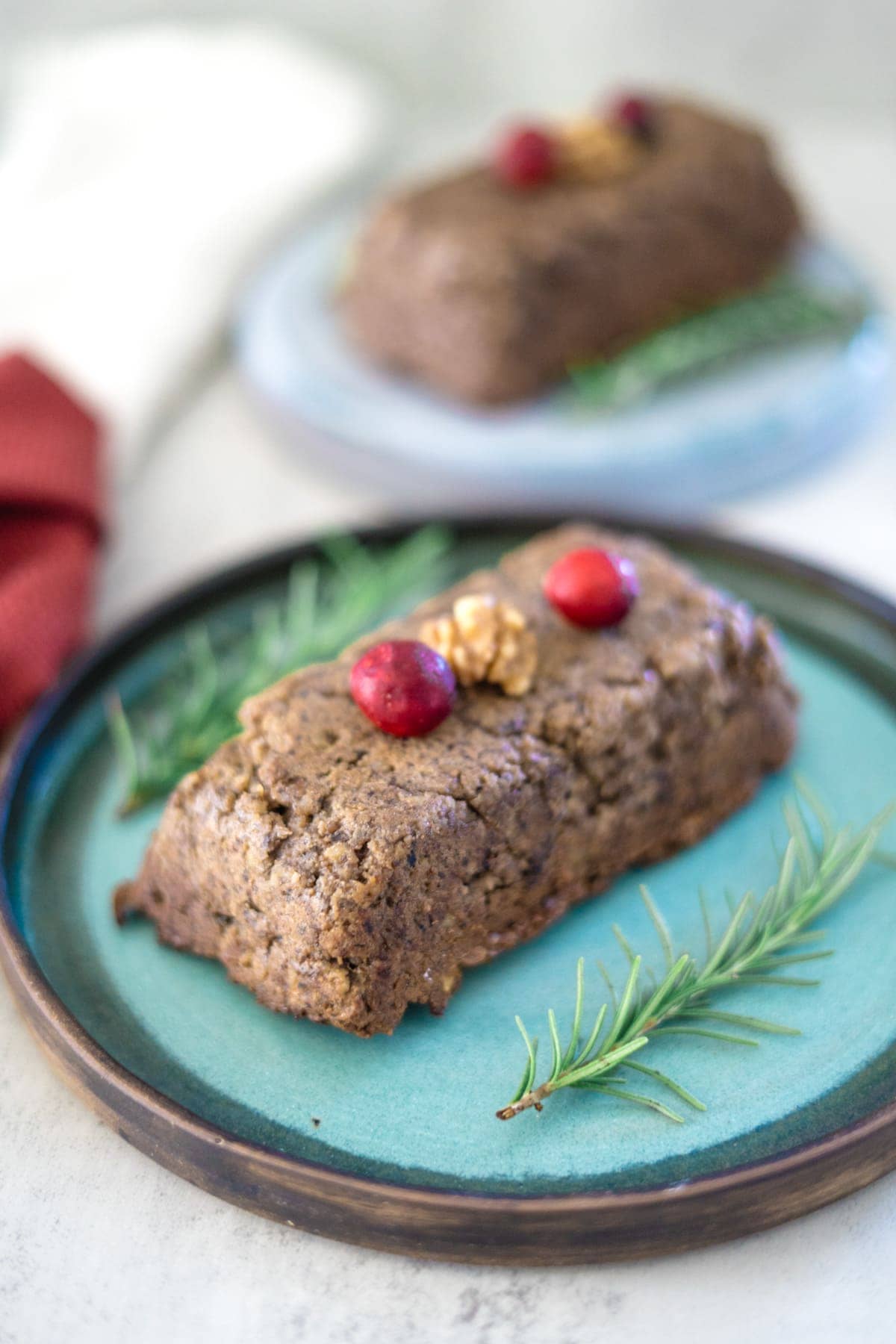 This low carb and gluten-free nut roast recipe came about as I have recently moved house with a smaller oven and was baking a large Sunday dinner with limited space. So I looked over to my air fryer and wondered if making a nut roast would work in it.
Much to my delight, not only did it work but it is so much quicker than baking in the oven. I had to use small mini loaf pans as my air fryer does not accommodate a 1lb loaf tin. But this makes perfect individual nut roast!
This post may contain affiliate links. Please read my disclosure policy for more information.
Jump to:
Are Nut Roasts Low Carb?
A nut roast can be low in carbs, especially if you prepare it with low-carb ingredients. The key to making a low-carb nut roast is to use ingredients that are low in carbohydrates and avoid high-carb additions like bread crumbs or grains.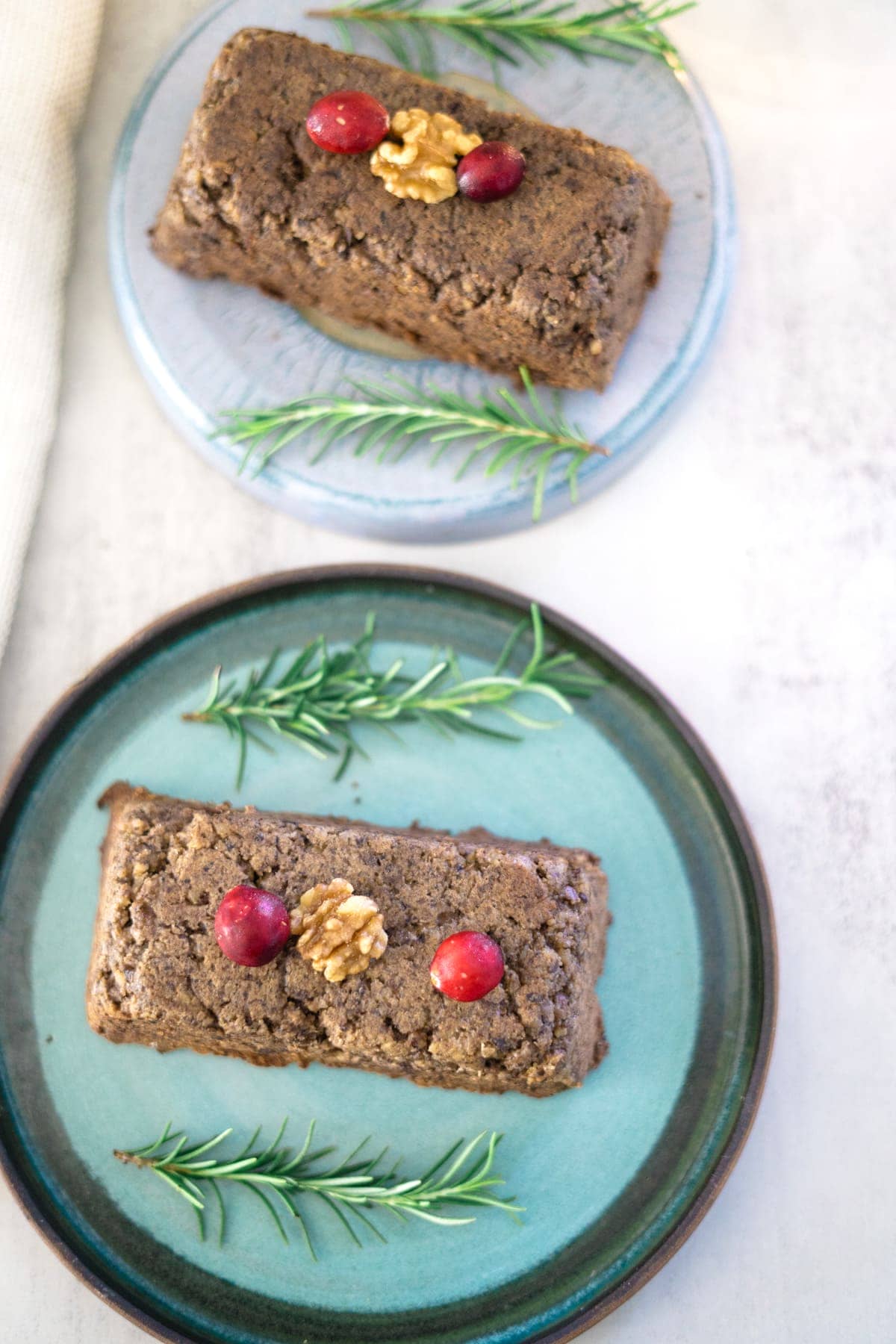 Why Cook a Nut Roast in an Air Fryer?
Cooking a nut roast in an air fryer offers several advantages that can make the process easier and yield delicious results:
Crispy Exterior: The air fryer's circulating hot air allows for even cooking and can create a crispy, golden-brown exterior on the nut roast. This is particularly desirable when making a nut roast, as it provides a satisfying contrast to the moist interior.
Even Cooking: The air fryer's fan helps ensure that the nut roast cooks evenly on all sides, eliminating the need to flip it as often as you might in a conventional oven.
Time Efficiency: Air fryers typically cook food faster than traditional ovens. This means you can enjoy your nut roast in less time, making it a convenient option for weeknight dinners or when you're short on time.
Energy Efficiency: Air fryers are often more energy-efficient than large ovens, making them an eco-friendly option for cooking your nut roast.
Size Adaptability: Most air fryer baskets or trays can accommodate a variety of sizes and shapes, making it easy to adapt the cooking vessel to your nut roast.
Overall, cooking a nut roast in an air fryer can streamline the process, save time, and produce a delicious result with a crispy exterior and a moist interior. It's a convenient and efficient method for preparing this flavorful vegetarian dish.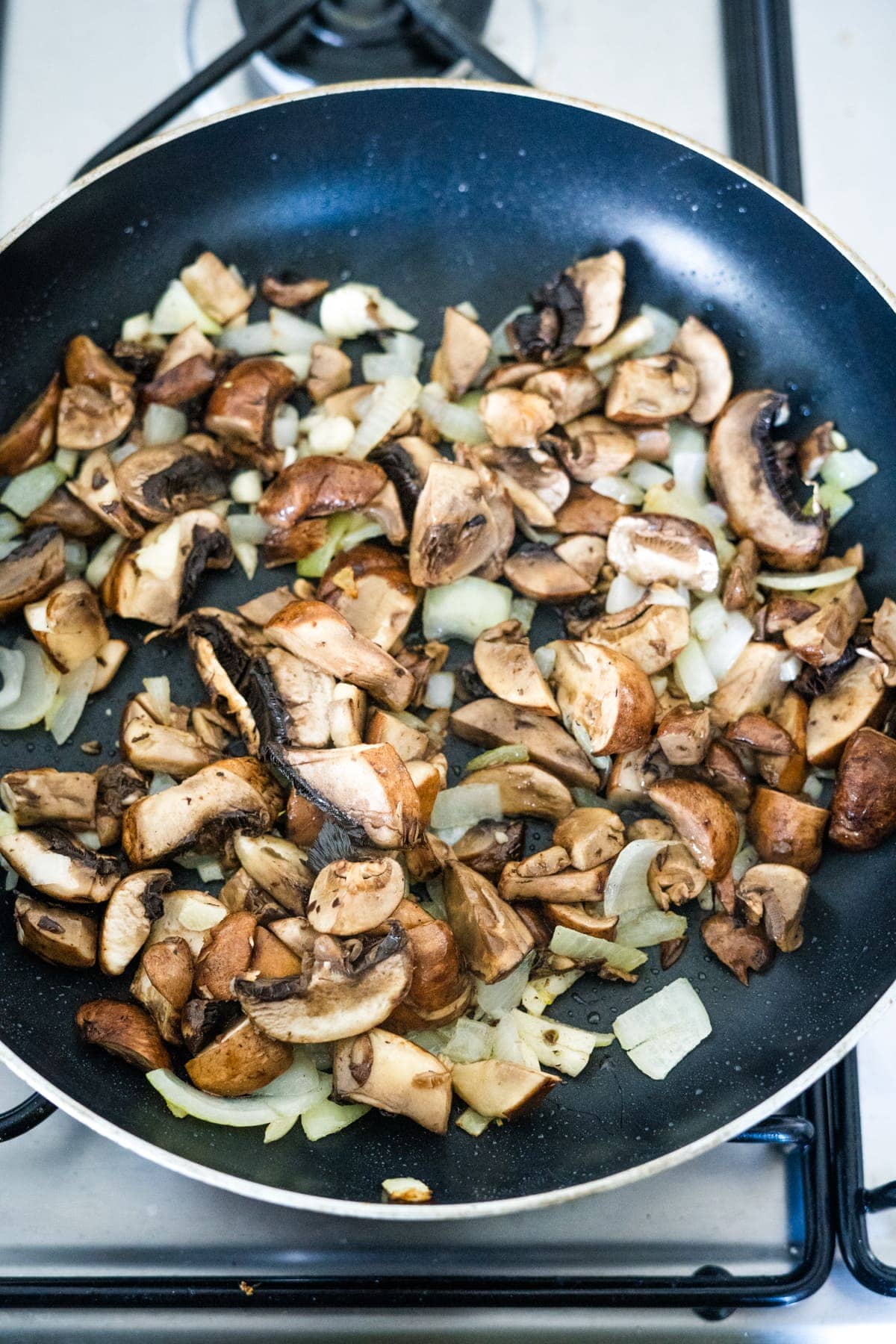 What Other Types of Mushrooms Can be Used?
Button mushrooms are mild in flavor and have a tender texture. They work well in nut roast recipes, especially if you prefer a milder mushroom flavor.
Portobello mushrooms are larger and have a richer, earthier flavor
compared to cremini and button mushrooms. They can be used for a more intense mushroom taste in your nut roast.
Shiitake mushrooms have a unique and slightly smoky flavor. They can add complexity and depth to your nut roast but are often used in combination with other milder mushrooms due to their strong taste.
Ingredients
This recipe is a mushroom and nut based nut roast recipe.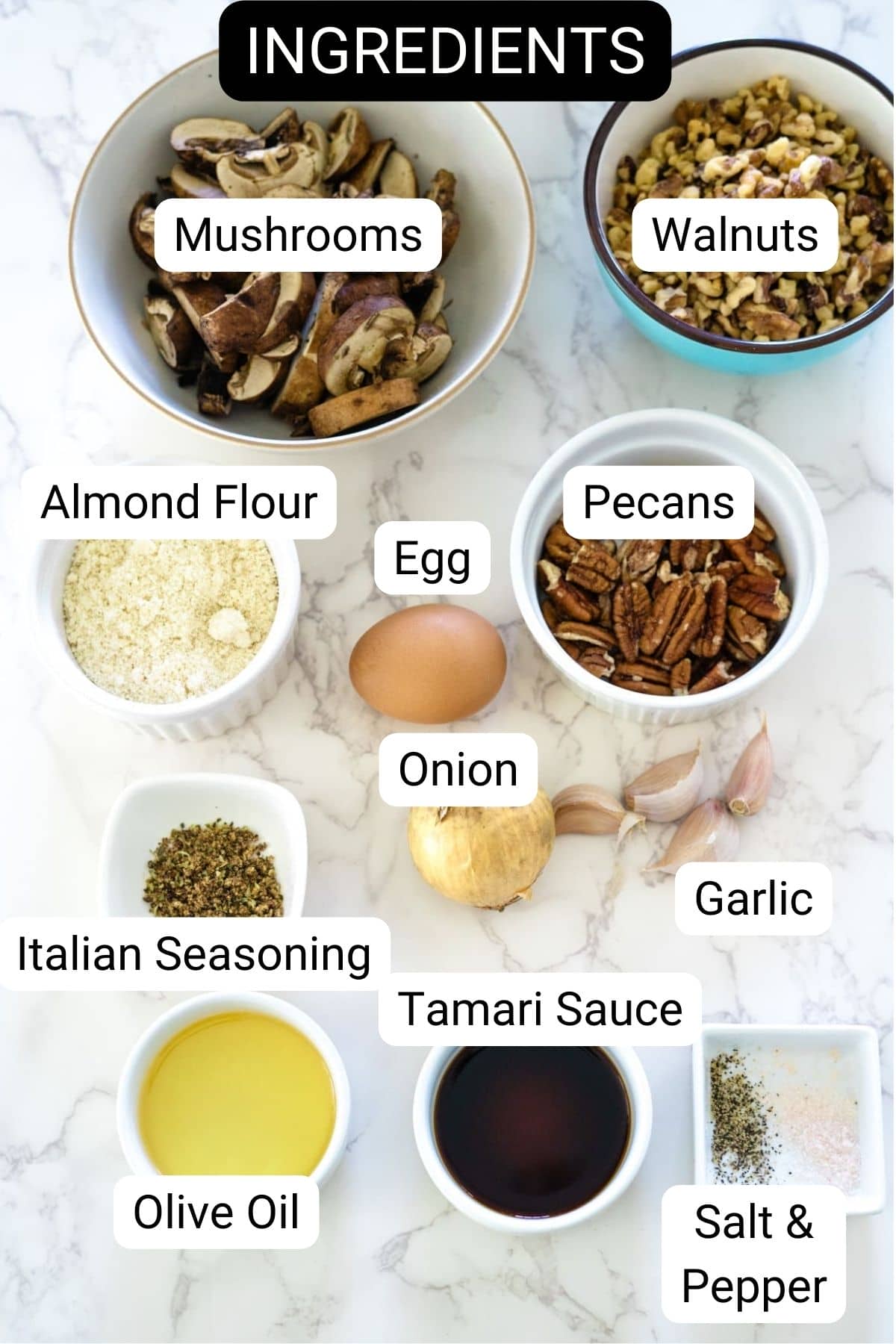 Mushrooms - we used cremini mushrooms for their robust flavor and a meaty texture that complements the nutty and earthy qualities of the roast.
Walnuts - toast or air fry them before use.
Pecans - toasted gives them more flavor before use.
Almond flour - this is used to bind the mixture but can be substituted with ground flaxseed.
Egg - this is used to bind the nut roast mixture but is entirely optional and can be omitted to make this a vegan nut roast. Substitute it with a flax egg.
Seasonings - we used Tamari and Italian seasoning but you can use a variety of herbs to your own taste such as thyme, rosemary, garlic powder and nutritional yeast.
How to make Air Fryer Nut Roast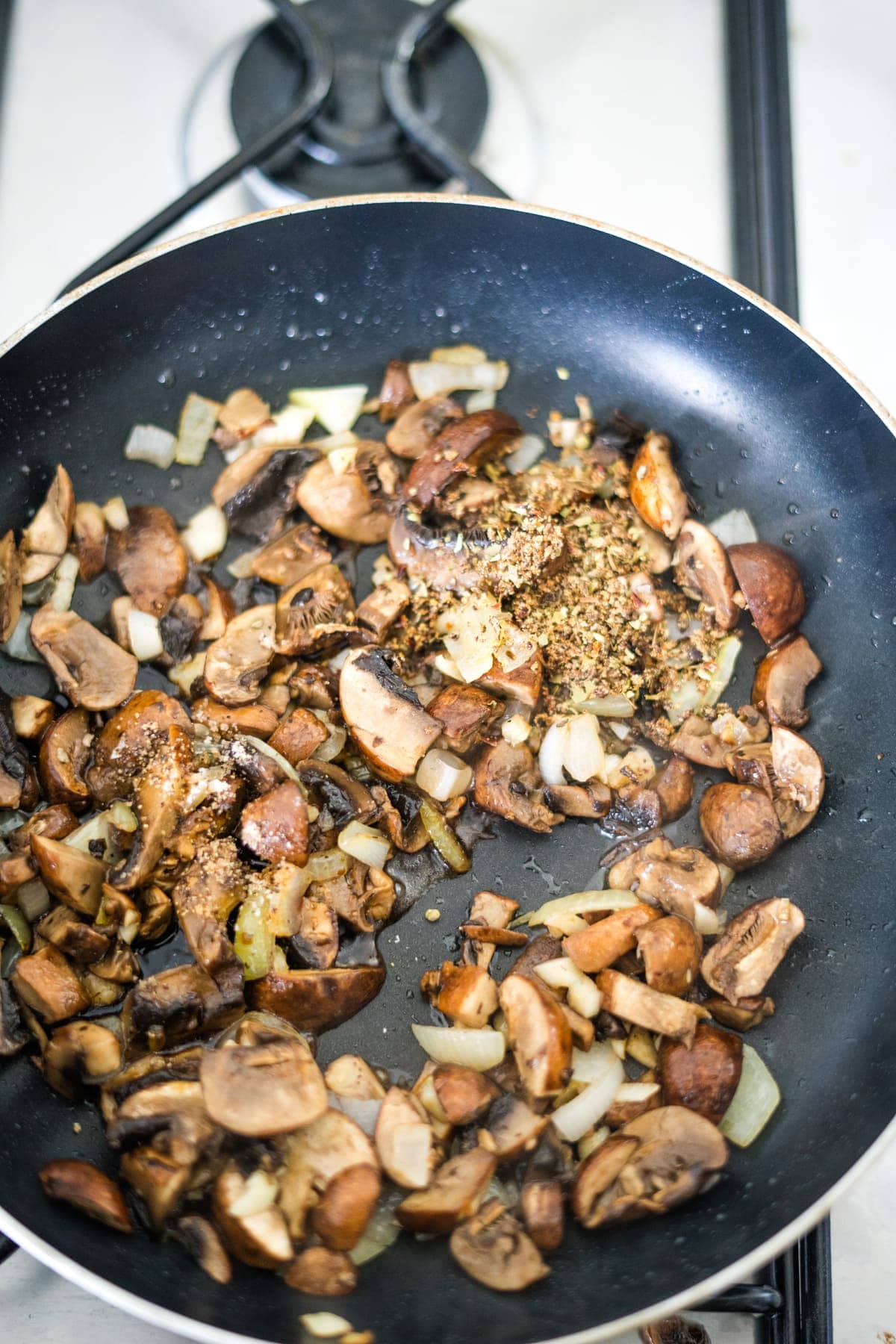 Cook onions, garlic and mushroom in pan.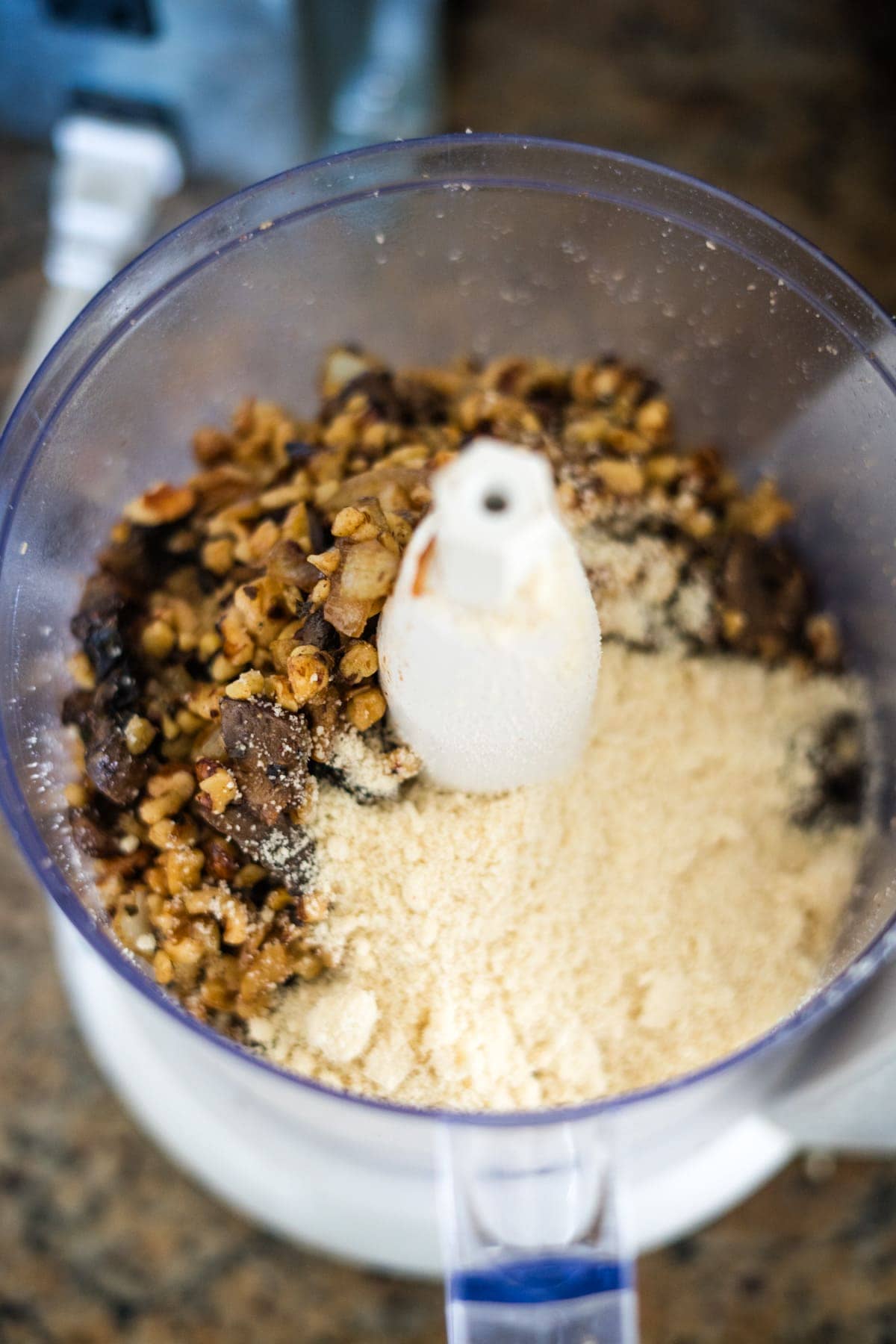 Add nuts, seasoning, almond flour and egg in food processor.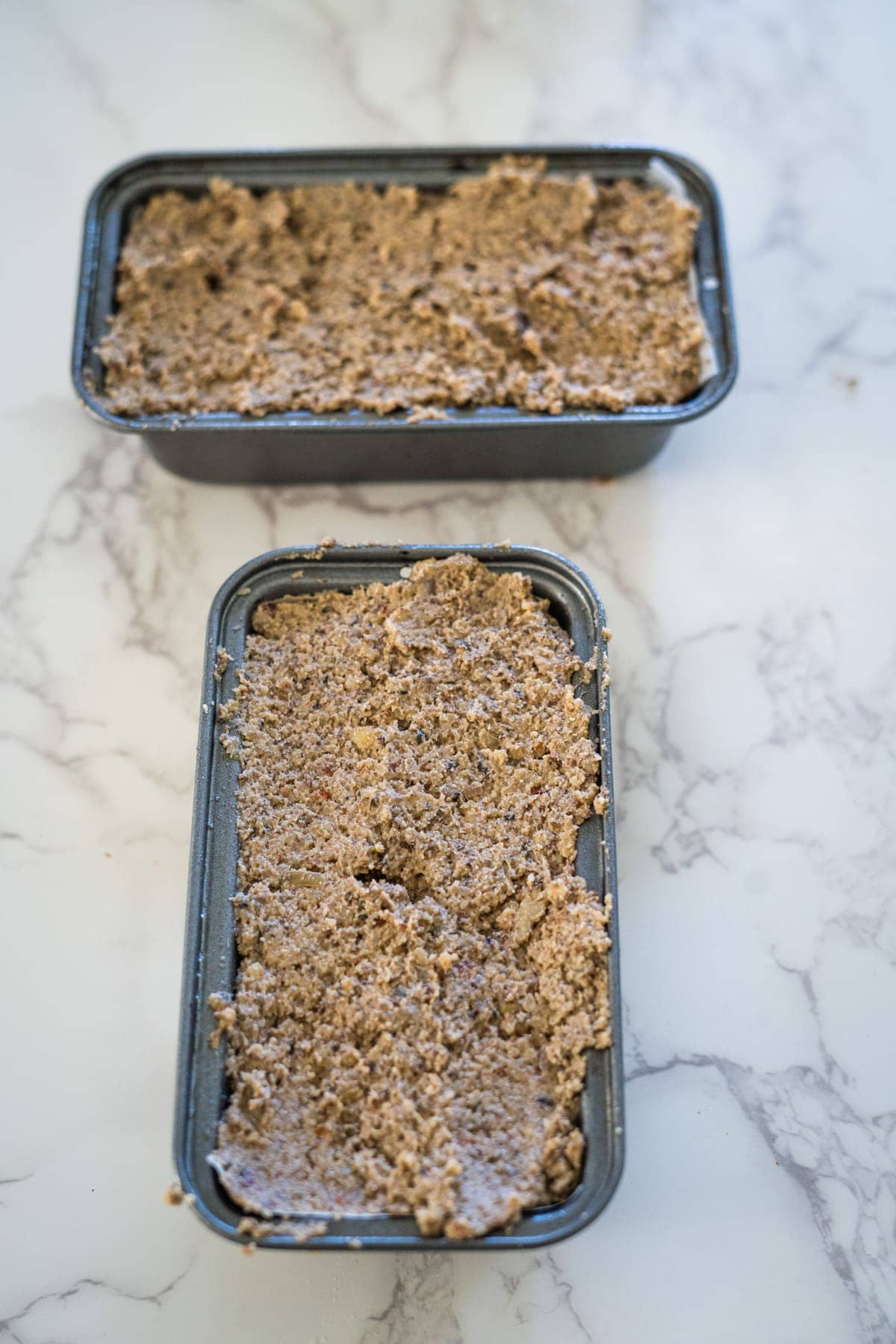 Once blended spoon into small loaf tins.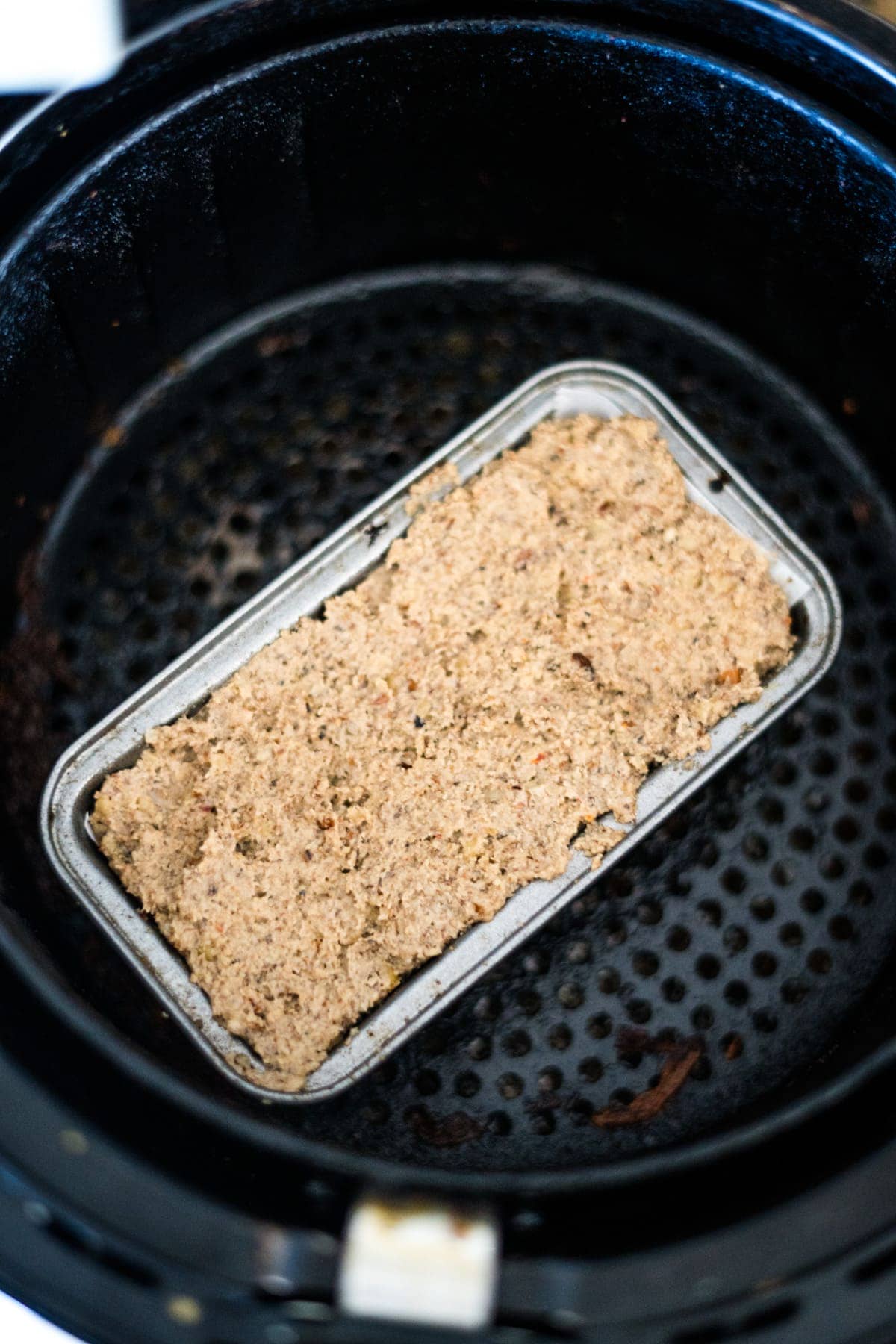 Air fry until golden and firm.
Baking the nut roast in an oven
If you don't have an air fryer, you can bake this keto vegetarian nut roast in the oven. Bake at 180C/350F degrees for 40-45 minutes until the nut loaf is golden and firm.
What size loaf pans are used
This recipe uses two mini loaf pans sized 5 x 3 inches but we cooked them one at a time due to size constrictions of our air fryer. This recipe will fit into a 1lb loaf tin.
If you can use a 1lb loaf tin in your air fryer you will need to adjust the cooking time by another 10 to 15 minutes.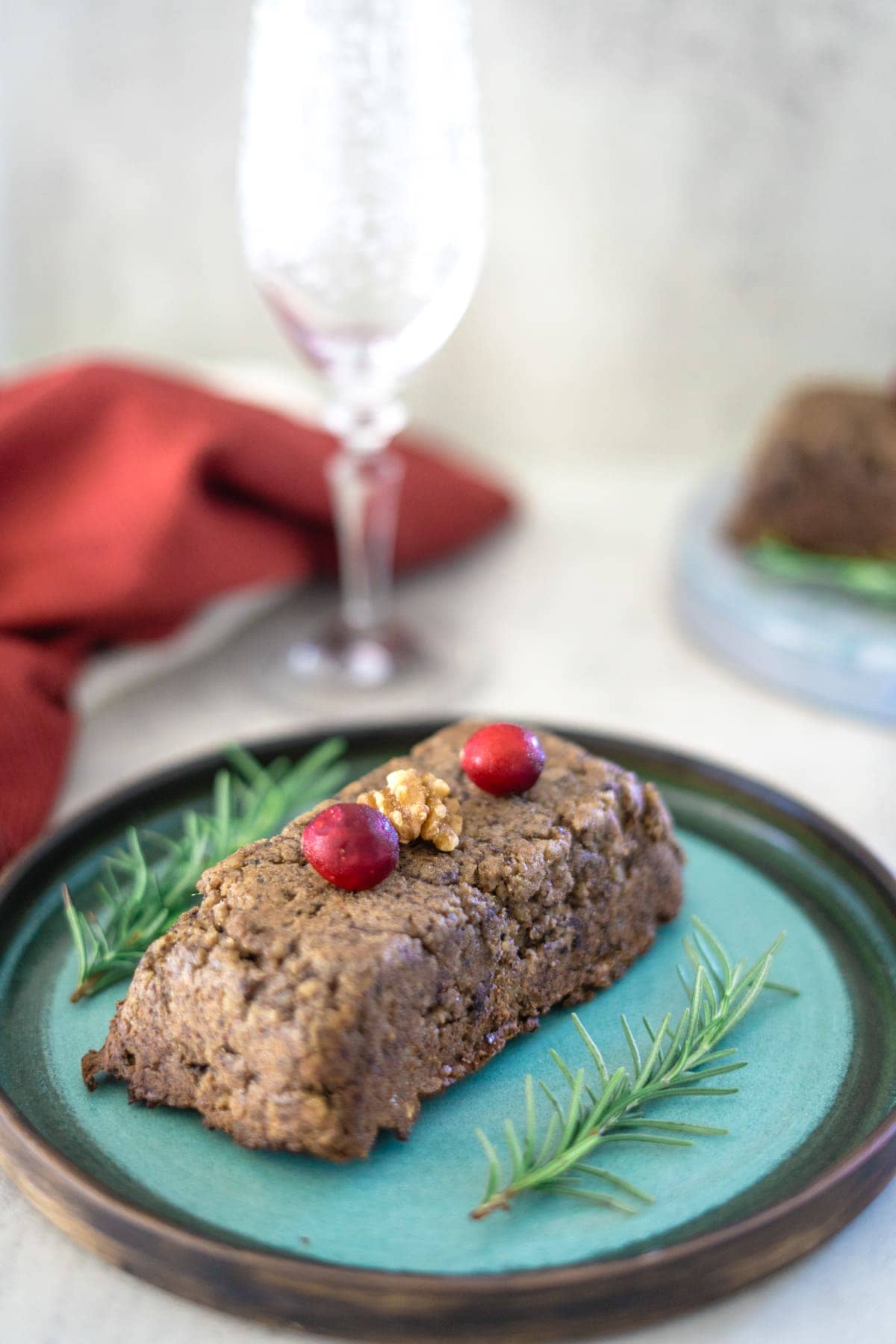 Storage
Keep any leftover nut roasts in the fridge. Store them in an air tight container and they should last 4 to 5 days.
Reheat the nut roasts in the air fryer or microwave.
Recipe Tips
When using nuts in a nut roast, they are toasted before use, but they can also be roasted in the air fryer. Pop them into the basket and cook for a couple of minutes.
Preheat your air fryer for a few minutes before adding the nut roast. This ensures even cooking and helps create a crispy exterior.
To ensure the nut roast is done, use a meat thermometer to check the internal temperature. It should reach 160°F (71°C) for food safety.
Allow the nut roast to rest for a few minutes after cooking before slicing. This helps the flavors settle and makes it easier to cut.
More Keto Nut Roast Recipes
Nut roasts make a great keto vegetarian and vegan main dish. If you make these in the air fryer, let us know how they turn out!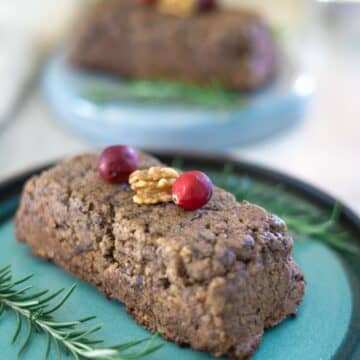 Air Fryer Nut Roast
Air frying your nut roast gives it a delightful crispy texture while preserving the rich, nutty flavors inside. It's a delicious and healthy choice for a keto-friendly vegetarian meal.
Ingredients
1 ½

cups

walnuts

½

cup

pecans

2 ½

cups

cremini mushrooms, chopped

4

cloves

garlic, minced

1

medium

onion, chopped

1

cup

almond flour

1

tablespoon

Italian seasoning

1

1

tablespoon

tamari sauce

2

tablespoon

olive oil

1

large

egg

optional for vegan recipe
Instructions
Roast the Nuts
Start by roasting your mixed nuts in the air fryer. Preheat the air fryer to 350°F (175°C).

Place the nuts in the air fryer basket and air fry them for about 3-5 minutes, shaking the basket occasionally to ensure even roasting.

Keep a close eye on the nuts to prevent them from burning. They should become fragrant and slightly toasted but not overly browned.
Cook the Vegetables
Heat the olive oil in a large pan or skillet on a medium heat. Add the onions and sautee for 5-8 minutes.

Add the garlic and mushrooms and cook for 5-8 minutes until the mushrooms are cooked.

Remove from the pan and add the nuts and seasoning. Stir to combine.
Combine Ingredients
In a food processor, combine the nut and mushroom mixture and add the almond flour and egg.

Blend the mixture until it forms a cohesive mixture that can be molded into a loaf shape.
Assemble
Lightly spray 2 5 x 3 inch mini loaf pans with oil and line with parchment paper.

Preheat the air fryer according to the manufacturers instructions.

Spoon the nut roast mixture into the loaf pans, pressing down to keep their shape.
Air Fry the Nut Roast
Place the mini loaf pan in the air fryer basket. Either one at a time or both together if the air fryer is big enough.

Air fryer at 175C/350F degrees for 10 - 12 minutes until the nut roast is firm. The nut roast is done when it's golden brown on the outside and firm to the touch.

Once the nut roast is done, let it cool for a few minutes before slicing and serving.
Notes
One serving is half a mini loaf. We assume it is served sliced but can be enjoyed whole.
YOUR OWN NOTES
Nutrition
Calories:
631
kcal
Carbohydrates:
18
g
Protein:
17
g
Fat:
60
g
Fiber:
8
g
Net Carbohydrates:
10
g
The information shown is an estimate provided by an online nutrition calculator.