Enjoy a chili omelette with our TVP chili recipe. This makes a great breakfast or lunch and is full of flavor as well as being a great way to use left over chili.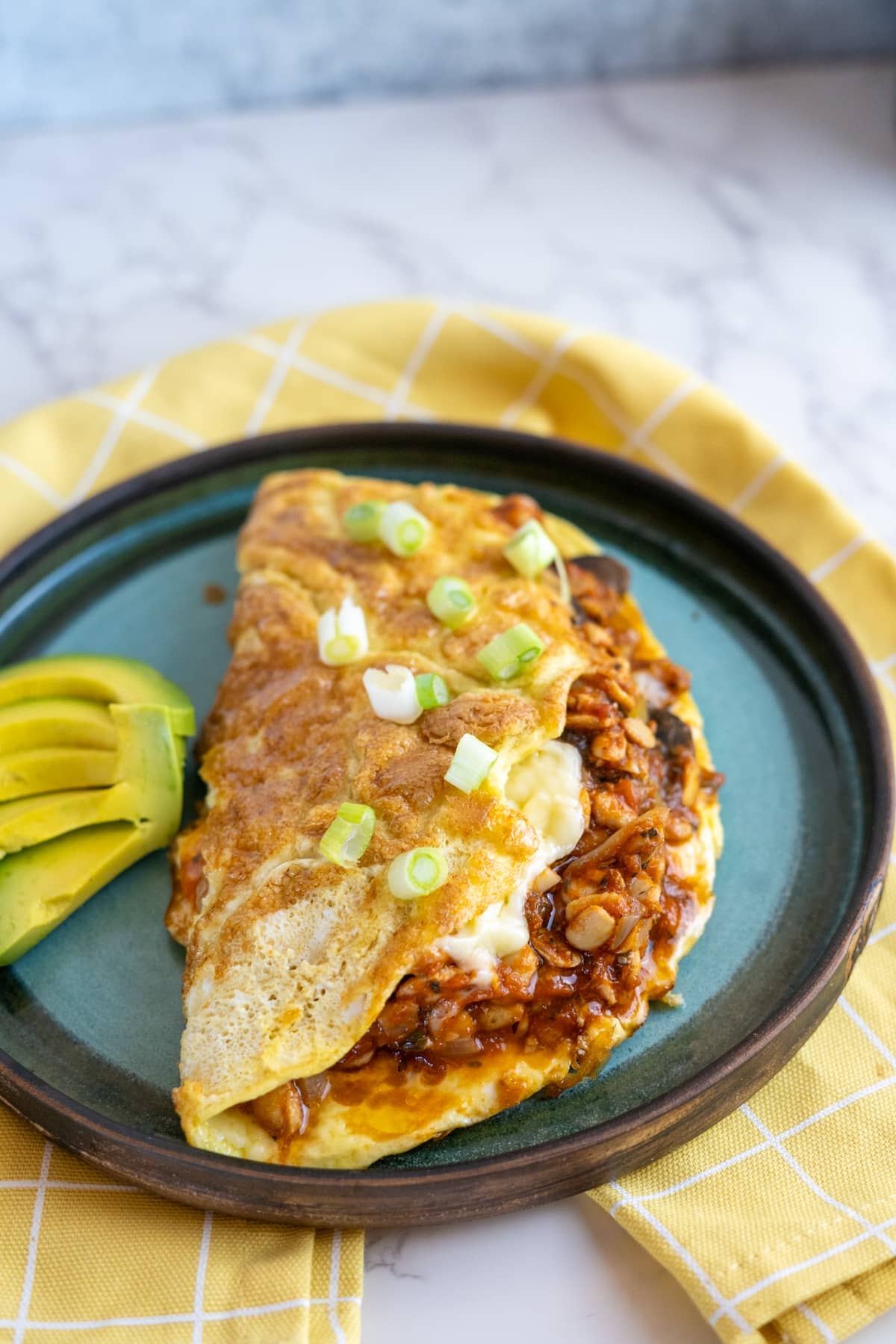 I wanted to use leftover chili in different recipes and as I love omelettes I thought that I would combine the two. To much my surprise, the two went together went very well together. My husband and I devoured chili omelettes all weekend!
This post may contain affiliate links. Please read my disclosure policy for more information.
Jump to:
What is a chili omelette?
A chili omelette combines the creamy texture of eggs with the spicy and flavorful elements of chili, making it a hearty and satisfying breakfast option for those who enjoy a bit of heat in their morning meal. You can customize it to your taste by adjusting the level of spiciness and adding your favorite toppings.
Ingredients
The beauty of this recipe is it's simplicity. Eggs, chili and cheese!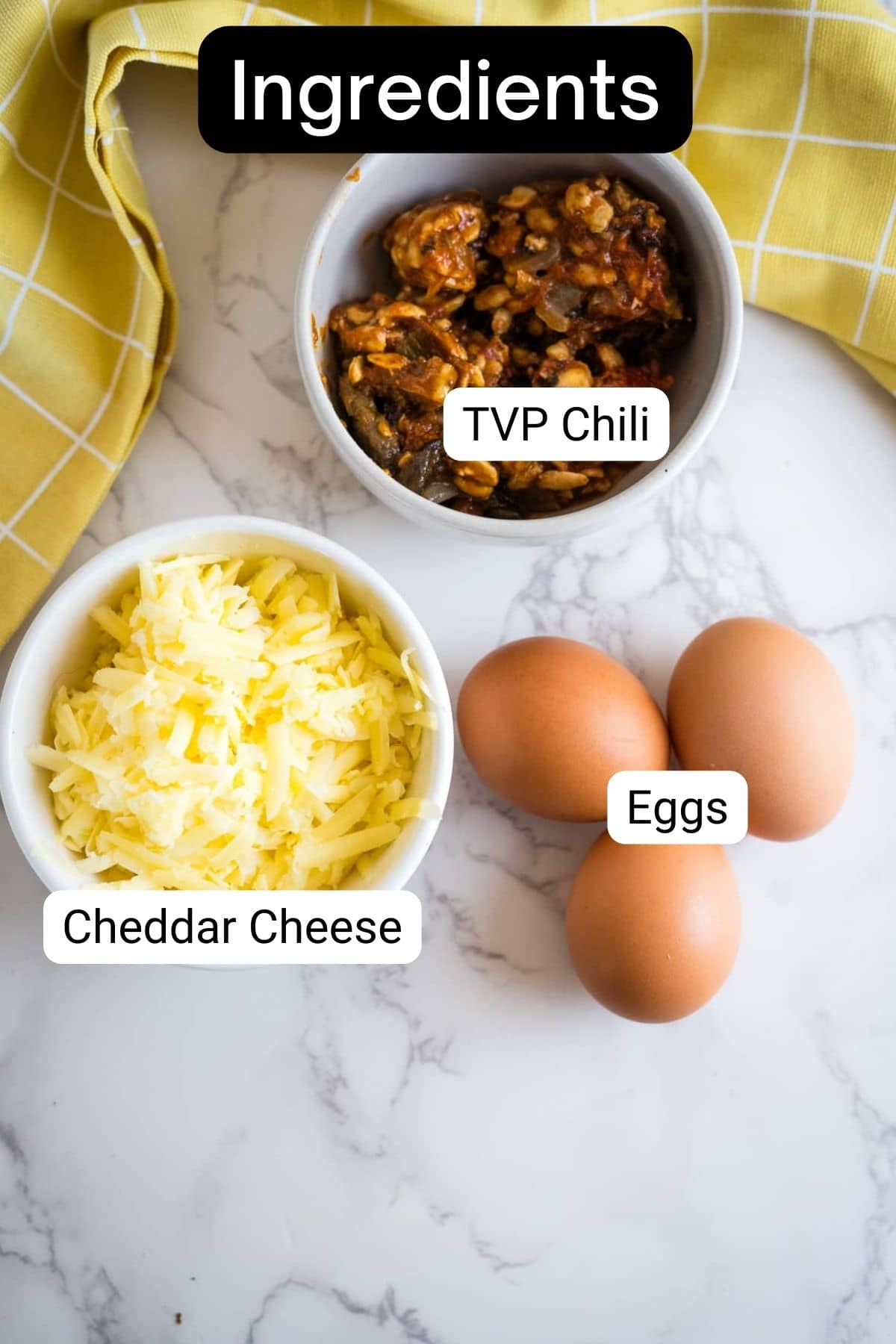 TVP chili - we use our tvp chili recipe but any vegetarian or vegan chili recipe can be used.
Eggs - room temperature rather than chilled eggs should be used. Room temperature eggs can help your omelette cook more evenly and create a smoother, fluffier texture.
Cheddar cheese - other cheeses could be used for this. Try Montery Jack or even Feta cheese.
How to make chili omelette
Cook an omelette, add chili and cheese then serve!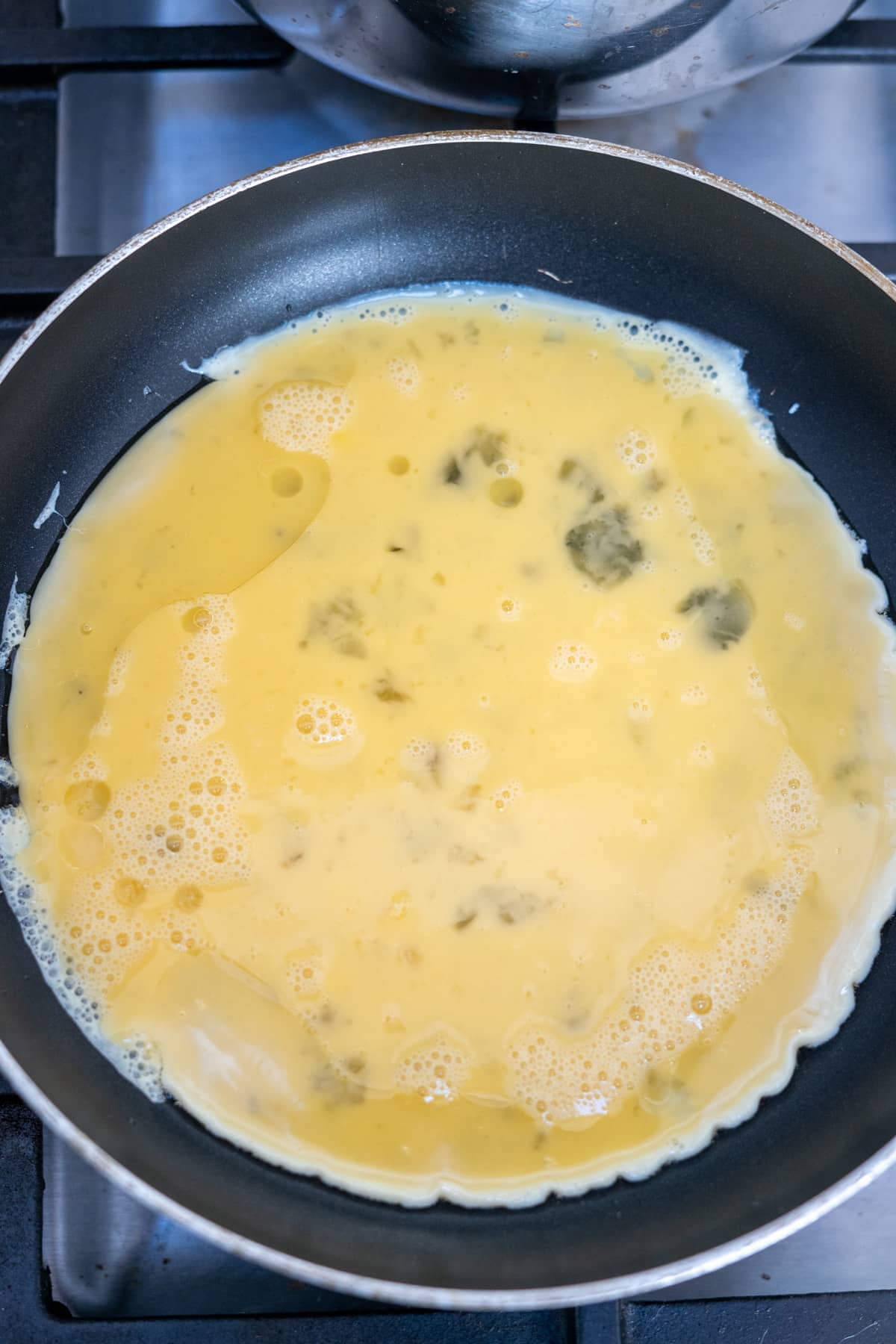 Add beaten eggs to a pan and cook until firm.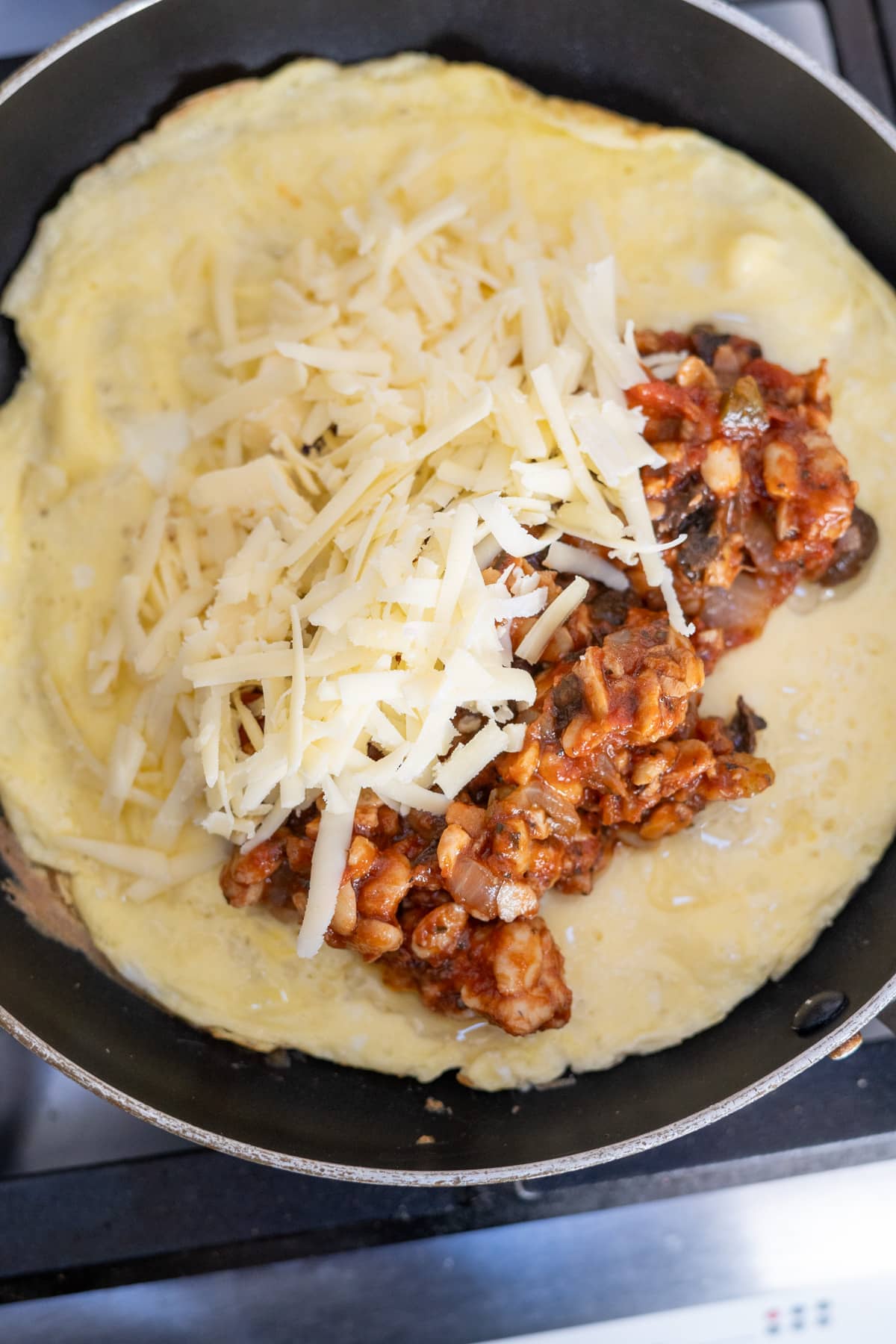 Add the filling of chili and shredded cheese. Fold and cook until warm through.
How to make a good omelette
For cooking eggs in an omelette, you typically want to use a moderate heat, around medium-low to medium.
Heat the Pan: Start by heating a non-stick skillet or omelette pan over medium-low to medium heat. You want the pan to be warm but not too hot.
Add Oil or Butter: Once the pan is heated, add a small amount of cooking oil or butter. Allow it to melt and coat the pan evenly.
Pour in Beaten Eggs: Pour your beaten eggs (usually 2-3 eggs per omelette) into the pan. The eggs should sizzle gently when they hit the pan, but they shouldn't sizzle too vigorously.
Cook Slowly: Let the eggs cook slowly. You'll start to see the edges of the omelette set after a minute or two. You can gently lift the edges with a spatula to let the uncooked egg flow underneath.
Add Fillings: Once the eggs are mostly set but still slightly runny on top, add the chili and cheese filling.
Fold and Serve: When the eggs are mostly set but still a bit runny on top (but not liquid), use a spatula to fold the omelette in half or thirds, covering the fillings. Continue cooking for another minute or so until the omelette is fully set but still moist inside.
Cooking eggs at moderate heat allows for even cooking and prevents them from becoming tough or rubbery. It's important to be patient and avoid high heat, as this can cause overcooking and a less-than-desirable texture in your omelette. The exact heat level may vary depending on your stove, so you may need to adjust it slightly to find the right balance for your omelette.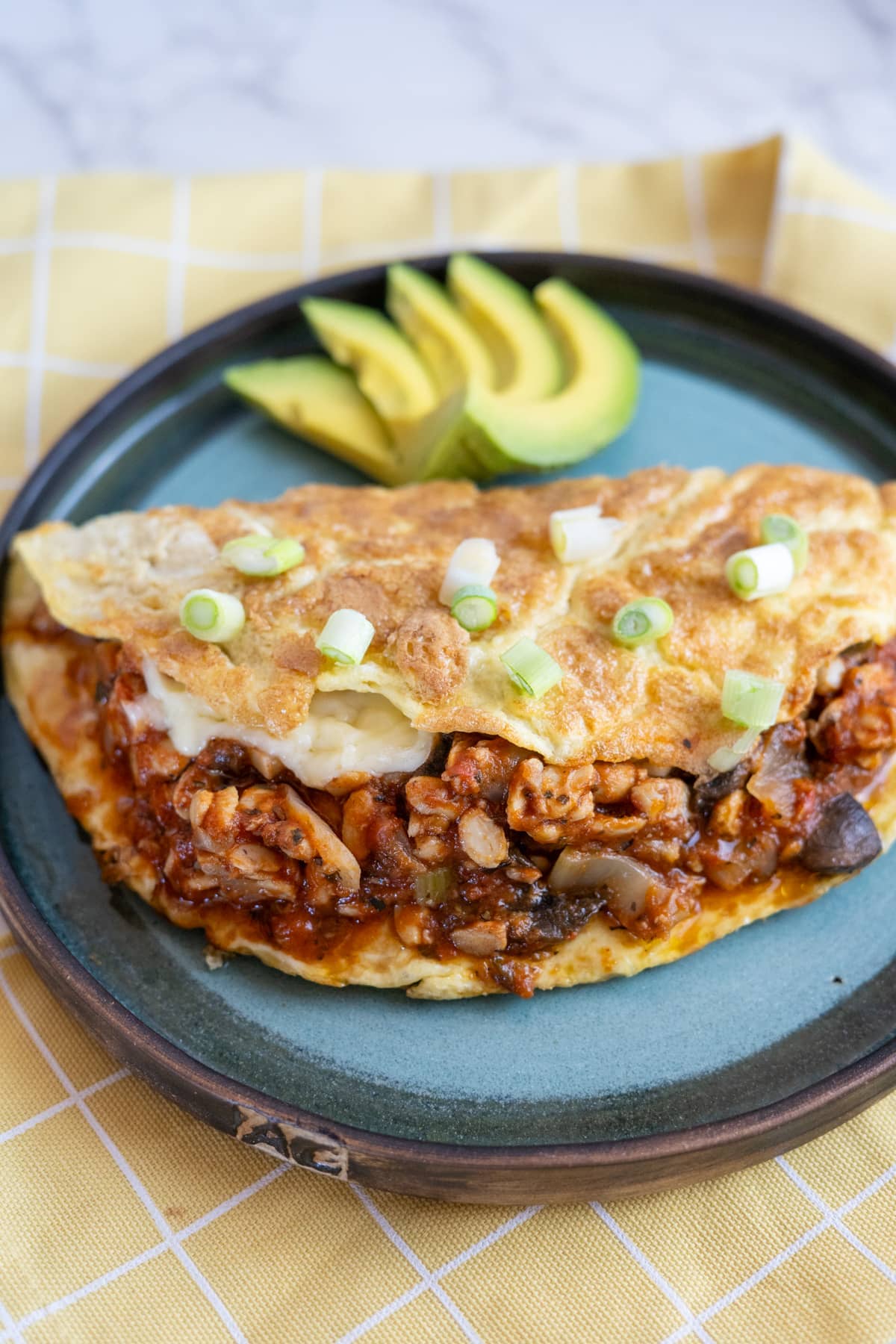 Recipe Tips
Be cautious not to overfill your omelette with chili or other fillings. An overstuffed omelette can be challenging to fold and flip.
Feel free to get creative with your chili omelette by adding other ingredients like diced bell peppers, jalapeños, or avocado for extra flavor and texture.
After folding, you can garnish your chili omelette with additional toppings like cheese, onions, cilantro, or sour cream. Serve it hot.
More Low Carb Breakfast Recipes
Breakfast does not always have to be served at the start of the day. Who doesn't love a breakfast for dinner occasionally?! Try these low low carb breakfast recipes any time of the day!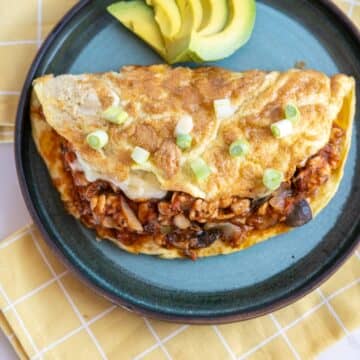 Chili Omelette
A spicy omelette for breakfast made with leftover chili and cheese makes an easy and delicious low carb recipe any time of the day!
Ingredients
3

medium

eggs

½

cup

tvp chili

½

cup

cheddar cheese, grated
Instructions
Crack the eggs into a bowl and beat them with a fork or whisk until the yolks and whites are well combined. Season with a pinch of salt and pepper.

Place a non-stick skillet over medium heat and add a small amount of cooking oil or butter. Allow it to heat up until it's hot but not smoking.

Pour the beaten eggs into the heated skillet, swirling them around to ensure an even spread.

: As the eggs begin to set on the bottom, spoon the tvp chili and grated cheese over one half of the omelette.

Once the eggs are mostly set but still slightly runny on top, carefully fold the other half of the omelette over the chili filling using a spatula.

Cook for another minute or two to ensure the omelette is fully set and the chili is heated through.

Slide the chili omelette onto a plate, and you can add optional toppings like grated cheese, diced onions, chopped cilantro, sour cream, or avocado slices.
YOUR OWN NOTES
Nutrition
Serving:
1
serving
Calories:
489
kcal
Carbohydrates:
8
g
Protein:
36
g
Fat:
34
g
Fiber:
2
g
Net Carbohydrates:
6
g
The information shown is an estimate provided by an online nutrition calculator.