Air fryer pumpkin fries are a delicious and healthy snack or side dish made by cutting fresh pumpkin into thin strips or wedges, seasoning them with your favorite spices or herbs, and then cooking them in an air fryer.
The result is crispy, golden-brown pumpkin fries with a soft interior, offering a delightful combination of sweetness and savory flavors. They are a nutritious alternative to traditional french fries, as they are lower in calories and fat, making them a perfect choice for those looking for a guilt-free, Fall inspired treat.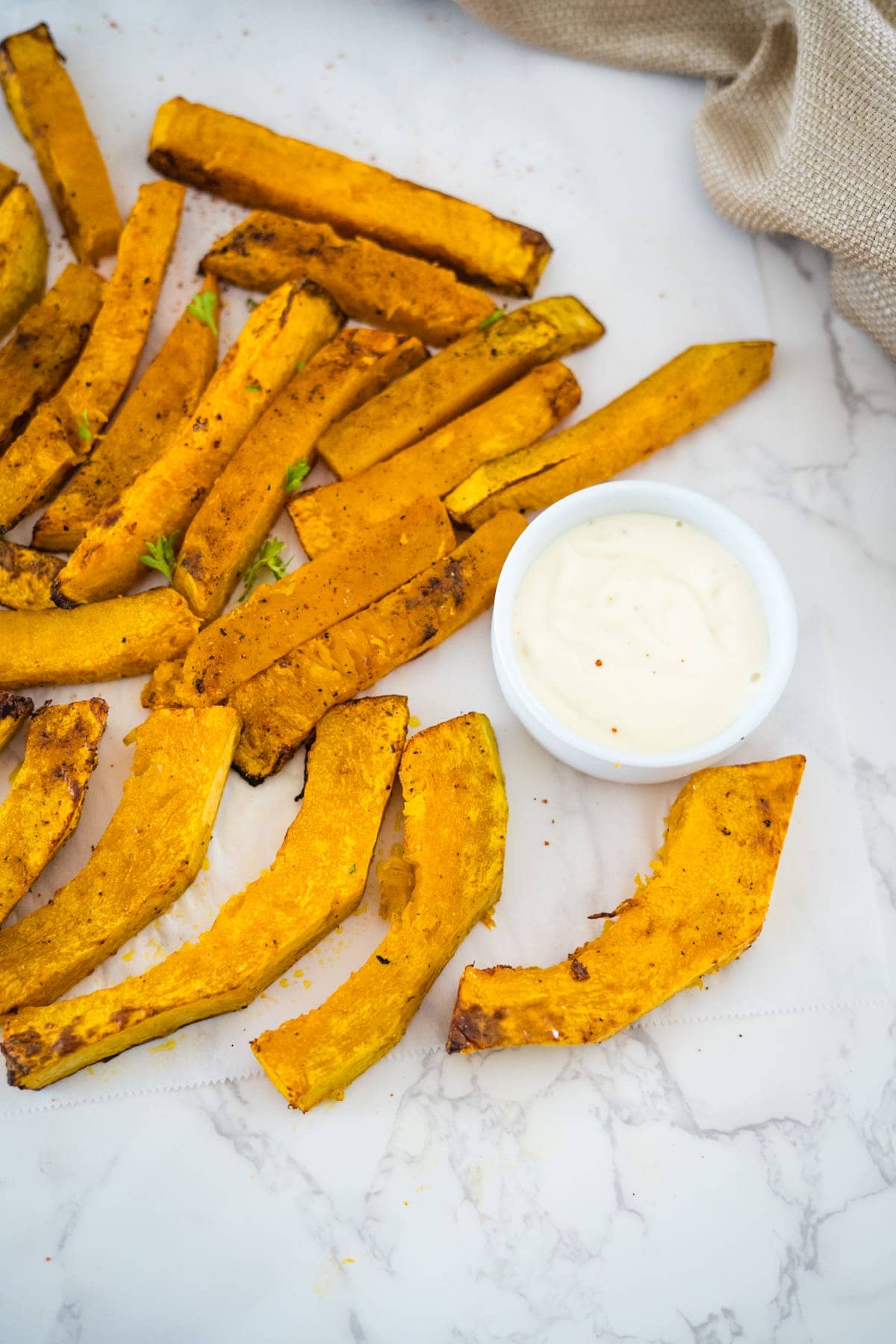 This low carb pumpkin recipe is easy to make and makes a great snack or side dish to a vegetable burger or keto grilled cheese. If you are fans of sweet potato fries and miss them on a low carb diet, you must try pumpkin fries. They are very similar in taste and utterly delicious.
Jump to: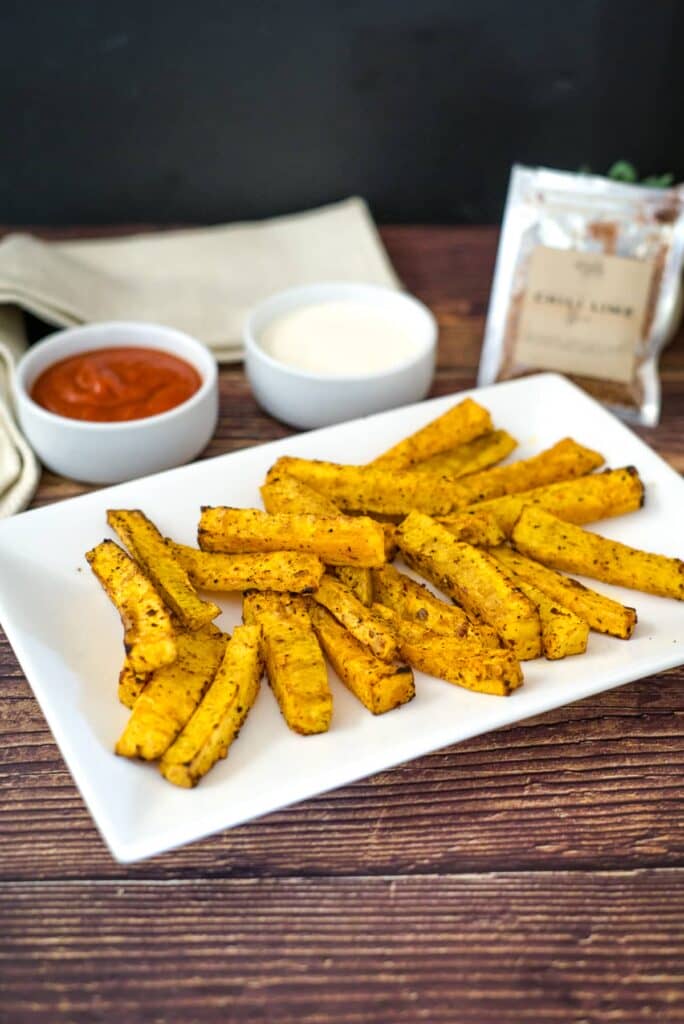 Pumpkin fries make a great low carb alternative to potato fries and can be seasoned many ways. In this recipe I used a chili lime seasoning mix from Wanderspice.com. The flavours of chili and lime pair great with pumpkin and the quality of the spice mix is just superb.
Is pumpkin keto friendly?
Pumpkin is actually a fruit botanically (although we have is listed on our low carb vegetable list) because they develop from the flowering part of the plant and have seeds.
Pumpkin is great for low carb diets and a 100g serving is just 6.5g net carbohydrates. It's also a great source of fiber and vitamin A.
What type of pumpkin is used for fries?
There are many types of pumpkin and to make air fryer pumpkin fries you need a decent sized one to cut. Not all types of pumpkin are suitable for making fries though.
The popular Halloween pumpkin are not a good choice, despite their size, because they are too watery. They don't have enough pumpkin flesh to make fries too.
Pie or Cinderella pumpkins are a good choice for this recipe. We used a Calabaza pumpkin which is very popular in the Caribbean. Easy to cut and thick with flesh.
Ingredients
All you need is a pumpkin, oil and seasoning.
How to make keto pumpkin fries
This is an easy air fryer recipe that can also be made in the oven.
All you need to do is peel and cut the pumpkin into strips.
Toss them in oil and any seasoning.
Then air fry. That's it!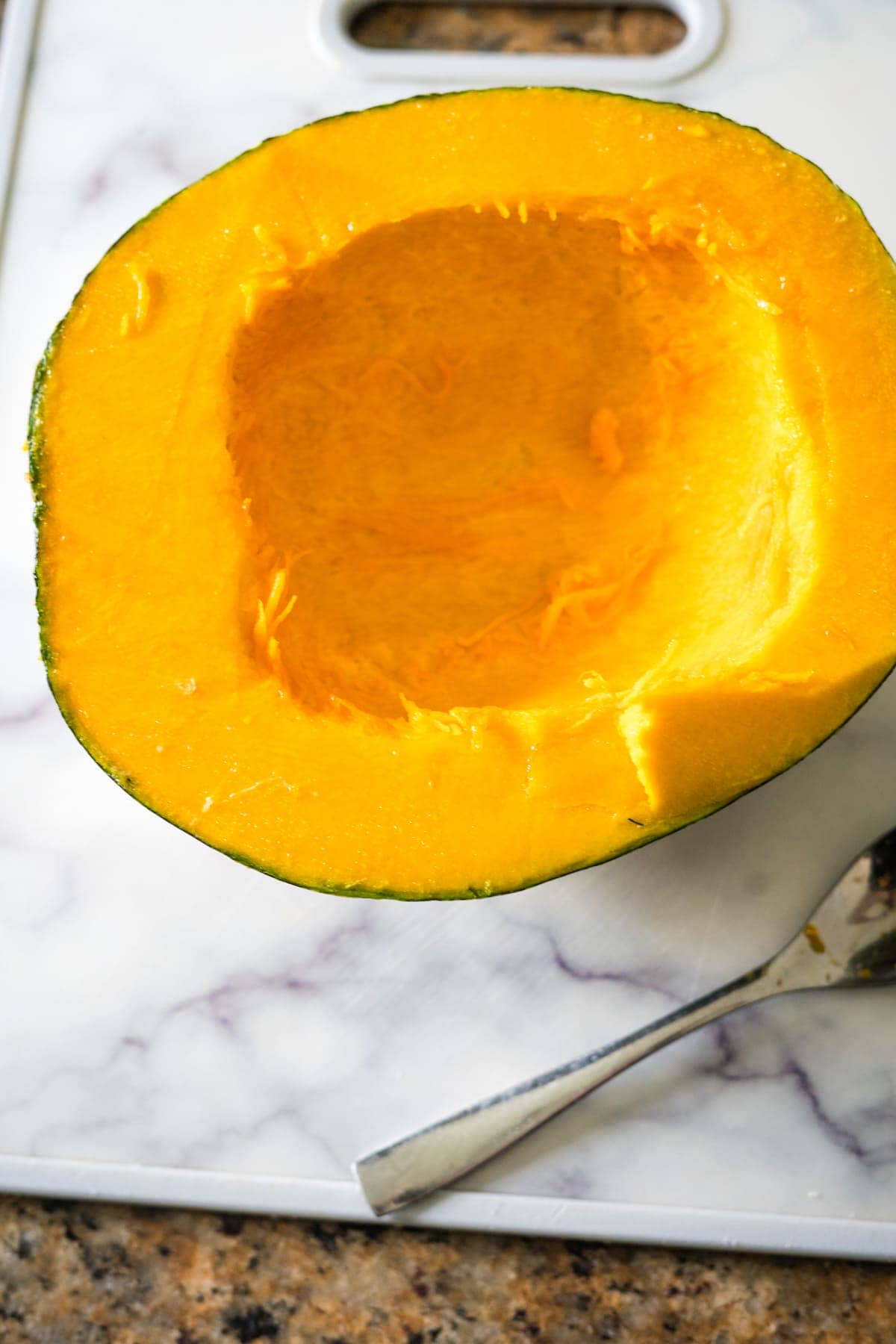 Cut the pumpkin and remove seeds and strands.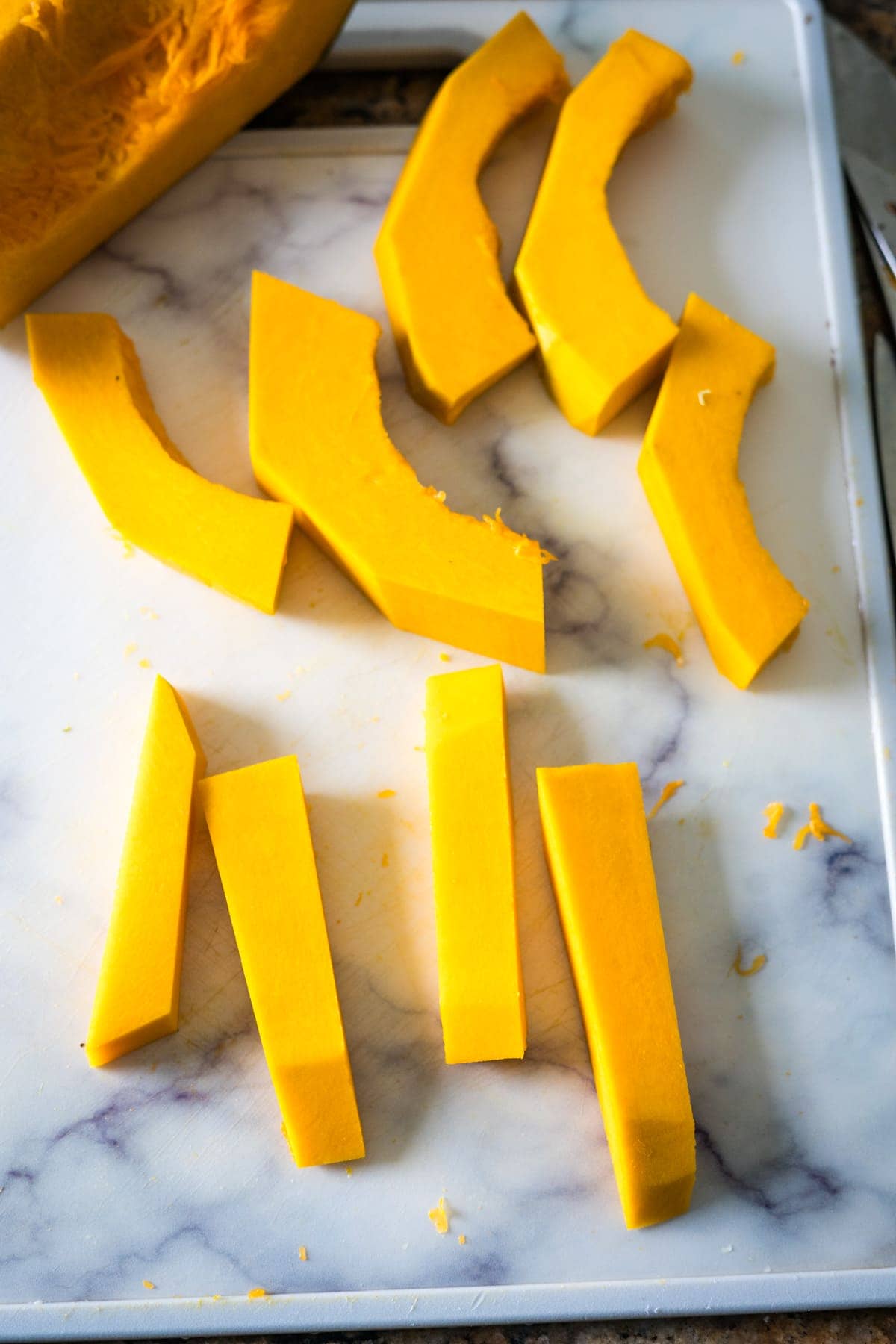 Chop into pumpkin strips.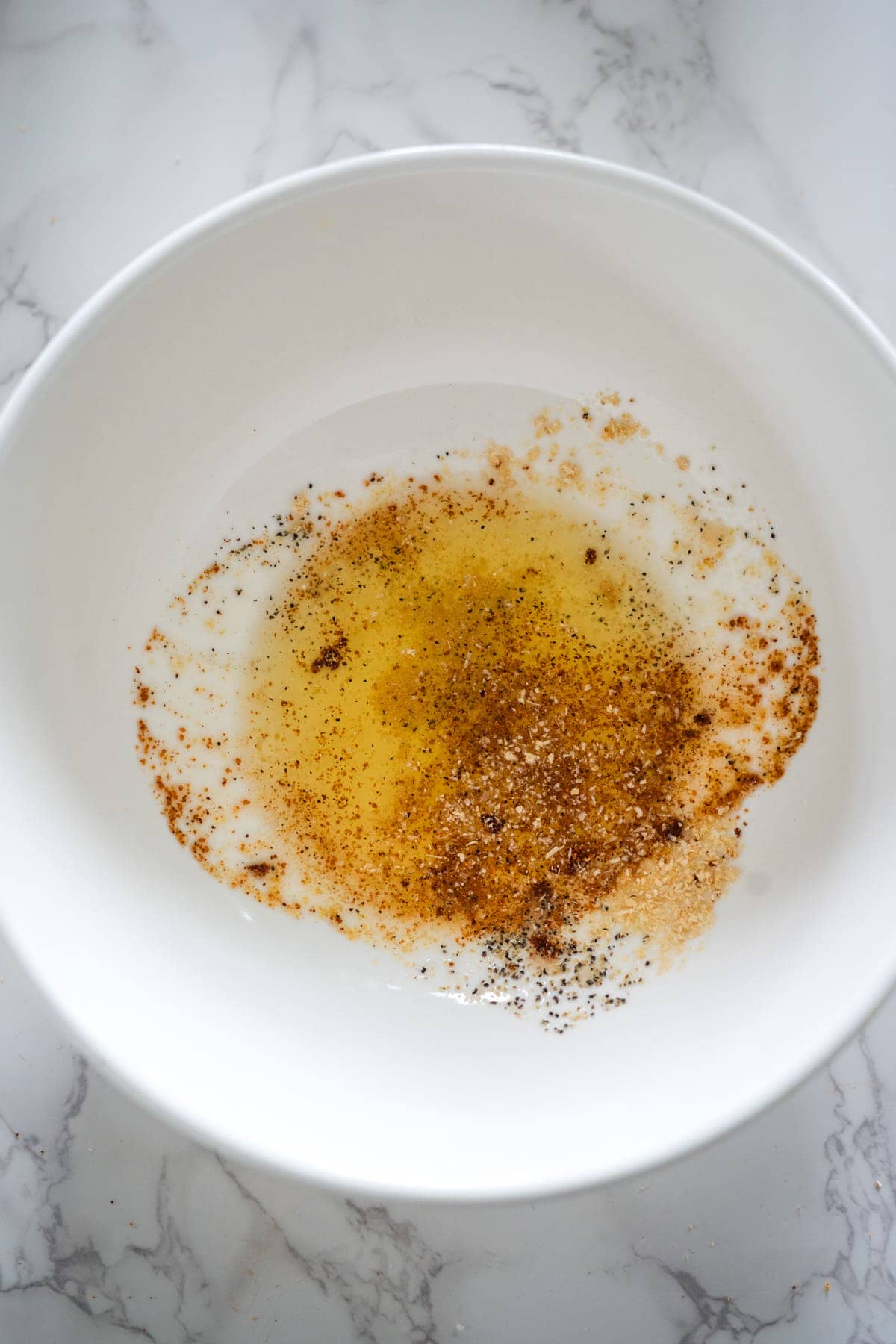 Add oil and seasoning in a bowl and toss with pumpkin fries.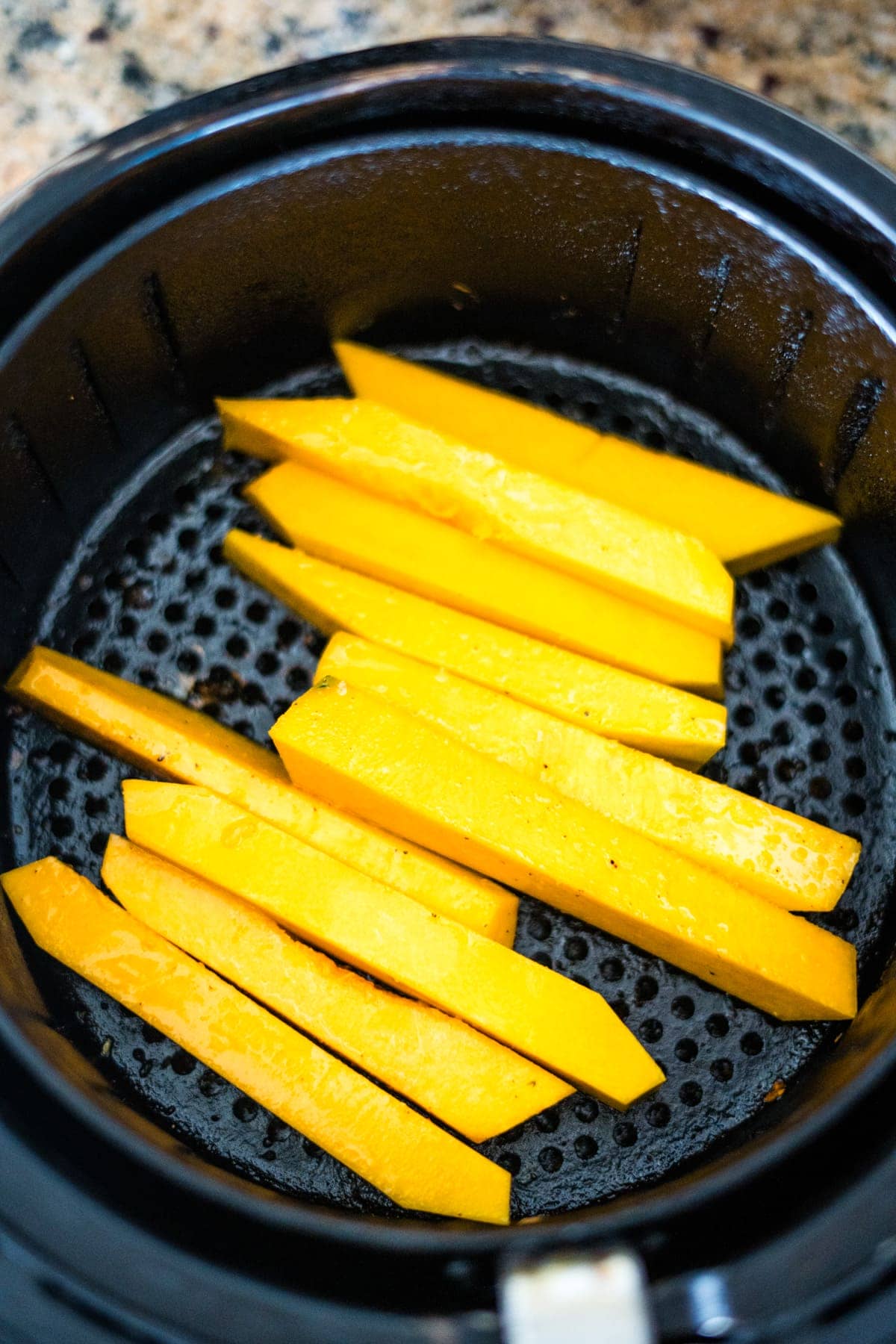 Place in air fryer and cook.
If you are looking for other air fryer pumpkin recipes, try our low carb pumpkin gnocchi. It's vegan and the gnocchi has a great golden color.
What to do with leftover pumpkin
When carving the pumpkin and cutting it into fries, you will have pumpkin left over. You could use it for a pumpkin soup or make a pumpkin puree for your dog. Thinly slice leftovers to make pumpkin chips.
Baking pumpkin fries
If you don't have an air fryer, you can still enjoy crispy fries baked in the oven. Place the pumpkin strips on a parchment paper lined baking sheet and bake in 200C/400F degrees preheated oven for 20-25 minutes, flipping once halfway through, until the pumpkin fries are crisp and golden brown.
Seasoning Suggestions.
Delicious by themselves and seasoned with a dash of salt, try different flavour combinations for your fries.
Chili and lime
Smoked paprika
Garlic powder
Cinnamon
Onion Powder
Thyme
Chili powder
Cayenne pepper
Everything Bagel
Sage
Basil
Oregano
Cumin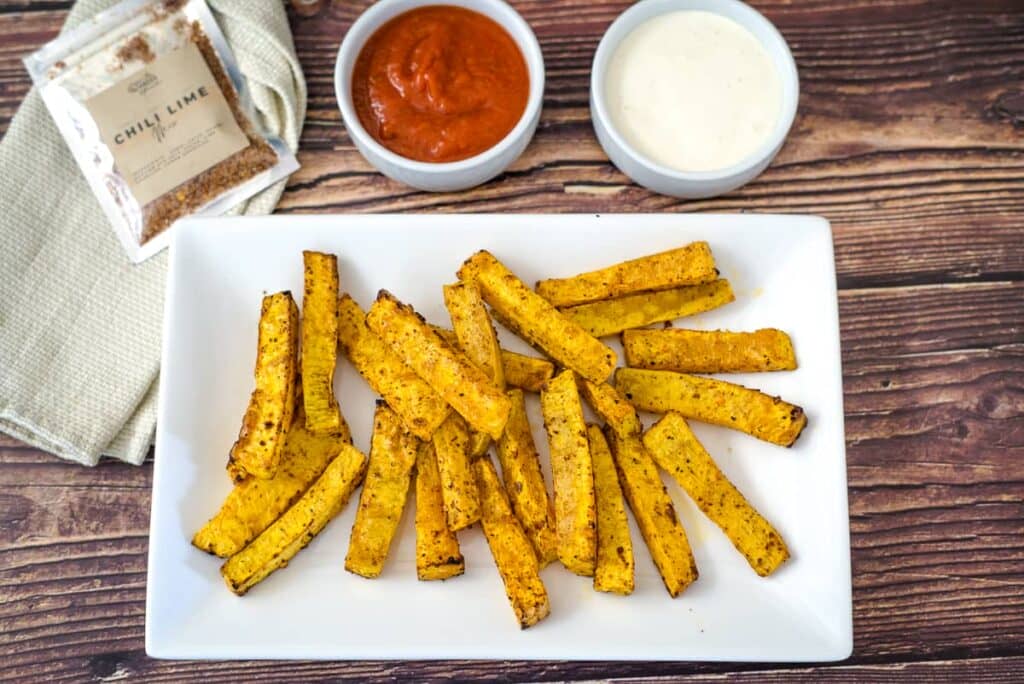 More low carb air fryer recipes
Recipe Tips
Cut the pumpkin slices thin for crispier fries.
Some people have recommended soaking the cut fries in water to remove the starch before frying. I've not tried this yet.
Store any leftovers in an air tight container and reheat in the air fryer for 2-3 minutes at 200C/400F. Ideally, air fryer pumpkin fries are best served fresh.
Cook the fries in batches in the air fryer basket for a crispy result.
Serve with a low carb ketchup, mayonnaise or any creamy dip of your choice.
Any leftover pumpkin pieces from slicing the pumpkin can be set aside and cooked into a pumpkin puree for other recipes. Or make a soup with it.
This post may contain affiliate links. Please read my disclosure policy for more information.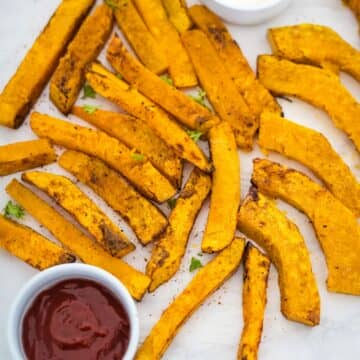 Air Fryer Pumpkin Fries
Easy low carb pumpkin fries baked in the air fryer are a crispy low carb alternative to French fries. They taste similar to sweet potato fries too.
Instructions
Using a sharp knife, cut the pumpkin into quarters. Scoop out the seeds and any pulp.

Cut the pumpkin into French fry slices.

In a large bowl, mix the olive oil with the seasoning.

Toss the pumpkin fries into the seasoning, ensuring that they are all covered.

Preheat the air fryer according to the manufacturers instructions.

Place the pumpkin fries in the air fryer basket in a single layer.

Cook at 200C/400F degrees for 12-15 minutes, turning over half way through until crispy.

Serve with a dip or sauce.
Notes
The cooking time many vary depending on how thin you slice your pumpkin fries.  Check before the end of the cooking time so you don't burn them.
Nutritional information will vary upon the size of the pumpkin used. 
YOUR OWN NOTES
Nutrition
Serving:
1
serving
Calories:
43
kcal
Carbohydrates:
7
g
Protein:
1
g
Fat:
2
g
Fiber:
1
g
The information shown is an estimate provided by an online nutrition calculator.